Artist

ALUSA FALLAX

Augusto "Duty" Cirla (vocals, drums, recorder)
Guido Gabet (guitar, vocals)
Massimo Parretti (keyboards)
Mario Cirla (flute, sax, French horn, vocals)
Guido Cirla (bass, vocals)

A five-piece from Milan, Alusa Fallax were formed in 1969 deriving from Gli Adelfi, and released their first single the same year, with a second one not long after.
Also in 1969 one of the members (there were two of them with the same name) released a solo single as Guido degli Alusa Fallax (Guardarti negli occhi on West Side).
The band kept playing and released their one and only album in 1974 on Fonit; a great little-known gem, in the best Italian prog tradition, led by keyboards with classical influences, it reminds the best things Banco del Mutuo Soccorso ever made.
No less than 13 tracks are listed on the label, but these are connected to form two long suites very well played and sung, and with interesting lyrics.
Unfortunately the band had very little promotion and kept playing in the dance floor circuit until 1979, issuing a commercial single in 1977 under the name Blizzard.

LP
Intorno alla mia cattiva educazione
Fonit (LPQ 09082)
1974
gatefold laminated cover - some copies have a yellow round sticker with recording notes
BTF/Vinyl Magic (VM LP 103)
2008
reissue of the above with gatefold cover and black vinyl - reissued again in 2021 on red vinyl

CD

Intorno alla mia cattiva educazione
Mellow (MMP 229)
1994
reissue of 1974 album
BTF/Vinyl Magic (VMCD 103)
2005
as above, with mini-gatefold cover, obi and booklet

SINGLES (with picture covers)

Dedicato a chi amo
Charleston 1923
West Side (WS 8004)
1969
Tutto passa
Cade una stella
West Side (WS 8011)
1969
long cover with handles

PROMOTIONAL AND JUKEBOX SINGLES (with blank cover)

Dedicato a chi amo
Charleston 1923
West Side (WS 8004)
1969
BLIZZARD

SINGLES (with picture cover)

La soffitta
Tu donna
Atlas (AT077)
1977

Intorno alla mia cattiva educazione is very rare, having been pressed in just 5000 copies. Due to a mistake the album didn't include on the cover any info but the tracks' titles, for this reason some copies had a yellow round sticker on the cover, containing the musicians' names and recording details.

The first italian vinyl reissue came out in 2008 on BTF. No counterfeits exist.
A Japanese vinyl exists on Seven Seas/King label (K25P428), with the same gatefold cover design as the original.
The album exists in two different CD reissues, the first by Mellow released in 1994, and a second one recently issued by BTF/Vinyl Magic in its "Italian progressive rock" series, with gatefold cover, obi and an illustrated booklet with lyrics, pictures and interview.
An odd foreign release came for the solo single of one of the band two Guido's, under the name of Guido degli Alusa Fallax. His 1969 single Guardarti negli occhi/Amore ricordi was released by the West Side label in Germany!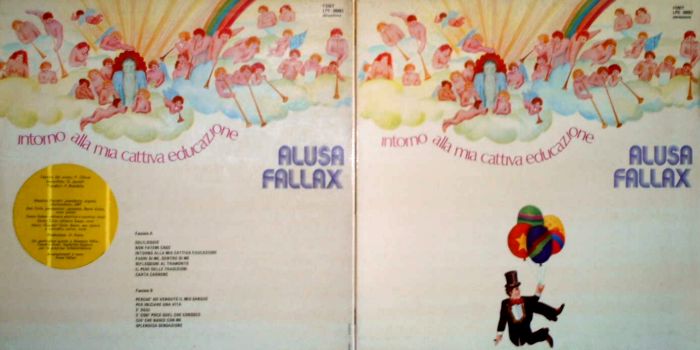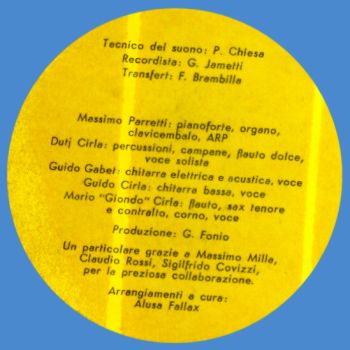 Intorno alla mia cattiva educazione - front cover and detail of the line-up sticker (enlarged)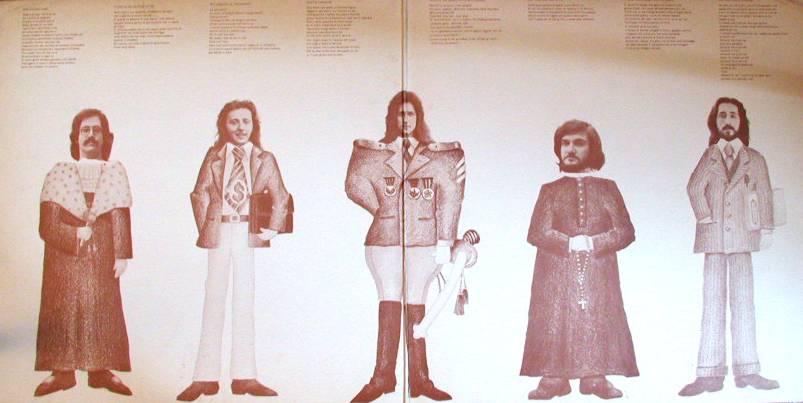 Intorno alla mia cattiva educazione - inner gatefold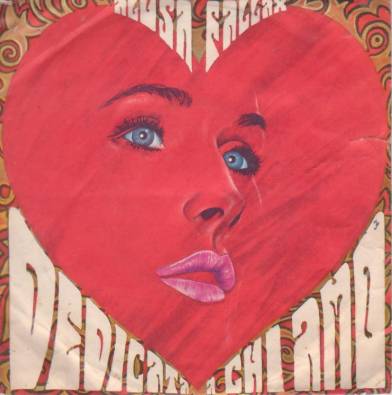 Dedicato a chi amo - 7" single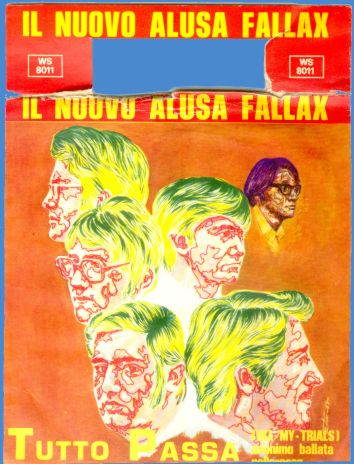 Tutto passa - 7" single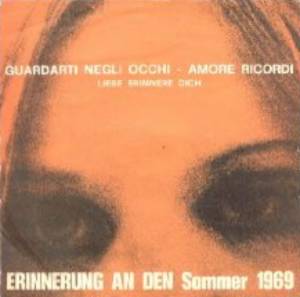 Guido degli Alusa Fallax/Guardarti negli occhi - German single cover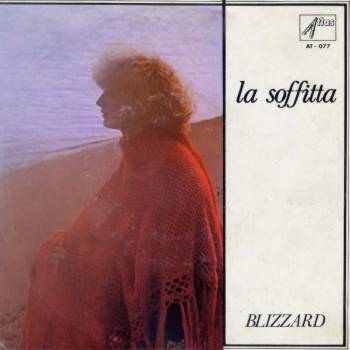 Blizzard/La soffitta - 7" single

An interview with keyboardist Massimo Parretti, by Giovanni Ottone, October 2003
1- How were Alusa Fallax formed?
The group was formed in 1969; it was a couple of years, since when I was at high school and had private lessons for the Academy of Music piano and composition exams, that I was a regular attender of record companies and studios, I had also collaborated with some arrangers among which Augusto Martelli.
One day I was asked by a small discographer to make a song based on Mascagni's Cavalleria Rusticana. I wrote a Procol Harum-styled song, a lyricist wrote the words and the song was ready to be recorded. It was common practice in those days to start with a song and then choose the interpreter, and in this case this was a hard task.
For this reason we looked around for a new group, and I helped in the search. A schoolmate of mine, guitarist/singer Guido Gabet, had just joined a group, Gli Adelfi, that also included a keyboardist and three brothers on guitar, bass and drums. He asked me to go and hear them in their rehearsal room, and I found them very interesting, especially for their enthusiasm in improving and making something good.
So we arranged an audition, choosing the drummer as lead vocalist, changed the name to Alusa Fallax, that we felt more attractive and intriguing, and recorded the single. The keyboardist showed his technical limits, and I had to replace him for the recording session.
The single Dedicato a chi amo had a limited local distribution, I've never known why, and was only distributed in Puglia, where it sold just over 5000 copies, that was an irrelevant quantity in the times when singles sold even a million copies. This strengthened our friendship, and I left my dreams of a career as arranger and composer to enter the group replacing the original keyboardist that had decided to quit.
We recorded another single and started playing live with a manager from Novara, Gianni Fonio, and this is why we had a close connection with Novara and Piedmont. Our repertoire was half way between attraction and dance music: we played the clubs to let people dance, but we often threw in some quality songs, and people stopped to come near the stage and hear us.
These first years were very important as they gave us the chance to know the people's taste, to understand what's more important when playing, both on the musical side and the stage show, and we gave much importance to these aspects in our later career. They were also important to mix our musical influences and find a personal style.
2-Was your debut in Novara?
If you mean the show based on the LP it's partly true, we played in a theatre in Novara in 1974 with the English group Curved Air, but we had already played two festivals in Rome and Naples in the summer of 1973, though with just an unfinished part, around 15 minutes of the whole album.
We were still in our creative phase and hadn't yet prepared the live show scenes. These concerts were important to be introduced to the specialized musical press and to secure a recording deal with Fonit Cetra.
3-How old were the band members, and which were your musical inspirations?
We were all born between 1948 and 1952.
It's difficult to say which has been a musical source of inspiration for us. There has surely been the convergence of many different influences, mixed during long nights of jamming and talking. My first inspiration came in 1969 when I heard the B side of The Beatles' Abbey Road, I was impressed by the long suite of connected tracks that lasted for about a quarter hour. This surprised me because I came from classical music studies, I was into symphonies and I thought, after hearing that suite of mixed tracks, that even in pop music it was possible to make something more than the usual three minutes songs.
A confirmation came a year later when an LP by Vanilla Fudge hit the charts, I can't remember its title, it had a faint style, almost impressionistic, and the same happened with Deep Purple, that weren't too rocking in their beginning, like in their first album, that contained a beautiful arrangement of the Beatles' Help, and their second The book of Talyesin with original reworkings of popular songs.
Also important for its style, though not for its musical content, was the success of Jesus Christ Superstar, this was the real reason why we decided to venture into the project of a rock opera.
As musical influences I could mention the classics: Debussy, Ravel, Stravinsky, Varese and the rock groups we most liked at the time, Santana, Chicago, Emerson Lake and Palmer, Pink Floyd, Jethro Tull, Genesis, Who, Joe Cocker, King Crimson, Alan Parsons.
There was a lot of good music in those years, and even the Italian scene was on a good level though not as successful. It often happened that some artists made good records that went unnoticed and reached the success later with low level songs. Remember that the singles were still very important then, there were very few concept albums around and many albums were just little more than singles compilations.
4-How was your album composed?
Intorno alla mia cattiva educazione was in fact conceived as an opera, or, better, as a concert arranged into scenes, and not as an LP.
Its main character was represented on the stage by a puppet, that we involved in turn into the show, the victim of a hard, strict upbringing that blocked him in his physical and intellectual growing.
You can hear that all the first side of the album is very classical sounding and formal though it contains 5/4 and 7/4 rhythms, until the explosion of madness that closes the side, the boy freeing himself from his inhibitions and resurging to a new life.
In the show we entered the stage in a total darkness with just a lilac lamp, that makes the white look fluorescent; we had the backs of our hands painted in white and started playing one at the time while the others had their hands hidden.
I was the first to start on the congas with a 5/4 pattern of the first song, the audience could only see two fluorescent white hands moving in the air, then the bass player disclosed his hands and they could see them moving as well, then the flutist with the melody, up to the first pause, when all the lights were suddenly turned on.
At the end of the first part, with a "recitation on magnetic tape" there was a collective madness, the puppet was abused, it flied from one to another of us, and all of this happened under the stroboscopic lights that made it all look like a scene of delirium. The end of the show contained a musical crescendo, with the lights being always stronger, some blinding spots even being pointed toward the audience, and after the last chord the lights were totally turned off and five trembling small lights were visible in the darkness in the place where we had been.
5-How was your musical activity? Did you earn a living with the music?
I can say we used to be full-time musicians, we were all university students but never attended the lessons because we were so busy with the music.
We all lived with our families, but we earned enough to live with the concerts, not with the records, and often we played three or four times a week in discotheques with room for 4000-5000 people, that were very common at the time when the "disco-music" was only used to open the exhibitions of rock bands.
And during the summer there were the tours, especially in the south, when we played every night. We played together from 1969 to 1979, and I can say they were fantastic years….
6-How many copies were pressed of the album? And who designed the cover?
It was pressed in 5000 copies. The choice of the cover design was ours, it was made by a Milan studio, I think it was named "Eccetera…". We liked it because it was similar to the old catechism books for the First Communion, and we thought that talking of conformist and subjugating upbringing it was particularly suited.
7-Did you record anything else after your 1974 LP?
As Alusa Fallax we didn't record anything else after the LP, though we had some material for a new album, but the music was going toward a different direction, the disco-music was coming and the record producers didn't want to follow the progressive music way. So we had to return to the dance floors.
We were involved in the recordings of many albums by various solo artists, but always as nameless musicians, and with no group name.
8-Why did you split?
For many reasons, but simply, maybe, because….. "you don't have to carry the joke too far". We knew since the beginning that it wouldn't be anything else than a nice game.
We found ourselves, around 30 years old, married, some of us with children: the life on the road was a bit too heavy. In the end the others took a degree, in economy, engineering, psychology, law. I was at DAMS [sort of Art and Music Academy] but was always too busy with music, as producer or in recording studios.
In late 70's the music had changed, and people's taste as well, DJ's were top attractions in the discotheques and rock groups playing those places were not so welcomed. So, in 1979 we decided to split, and choose our future lives and ways.
With no regrets, knowing that it was not funny as it had been, but happy to have had an exciting experience during those ten years that we still remember.
9-Have you got any relations with former members of the group? And have you ever thought of reforming the group?
Our relationship during the ten years life of the group has always been very good and friendly, though often with discussions, and even when we decided to split it was perfect as ever, though since some years there was not the same kind of life in common of our early years, each of us having his own family.
After the split, we went our separate ways and we don't see each other since many years.
As it happens, I often meet the guitarist that lives in Rome during some business travels, rather than the others who live in Milan like me. I think there's some kind of psychological reason in our decision not to stay in touch, as if we wanted to leave our Alusa Fallax memories intact.
For the same reason, I never thought of reforming the group, our ways are too distant, but probably each of us would like to have the chance of going back to the past to feel the excitement of a concert again, at least for a single time.
10-What do you think of today's music?
I stayed in the music biz up to 1989, especially working with foreign companies.
For many years I've been working as music consultant for an American company, and as art director with an Italian record company that released many hits during those years (Born to be alive, Il tempo delle mele, Voyage, Santa Esmeralda, The Passengers, Patrick Hernandez).
My greatest hit as composer is a song, never released in Italy, sung by Mireille Mathieu, a great French singer that few people know in Italy but very popular in many countries. In the second half of the 80's the agony of the music production has begun, and at the same time I started leaving that world. Those were terrible years for the music, the real artists were ignored, and the successful products were totally built in the studios, incompetent singers had to sing, and incompetent players could play with the help of computers, anyone could release a record, all of them except the true singers, that could be used as no more than backing vocalists….
Since 1989 I escaped from that world, and could survive! I radically changed my life, creating a dubbing and postrecording society, foreseeing the success of VHS tapes and films. Using my experience in audio recording we were the first studio in Italy (in 1989) to use digital technologies in dubbing. In the last four years I've been working in the DVD audio field, creating an old film restoration system that allows a mono-to-stereo signal processing. I only use music for the soundtrack of visual recordings and I enjoy this much more than I did when producing records.
Maybe it's a matter of age, but I listen to very little contemporary music, if I want to enjoy it I have to listen to classical music or to something played by people the same age as me. I think the music on radio or TV is really bad, I still have the impression that record producers are on their way to the abyss!
11-And what do you think of Alusa Fallax' album if you happen to hear it again?
For many years I haven't listened to our album, then, not so long ago, I came in touch with a person who lives in Japan for most of the year, and talking to him I mentioned my past experience with Alusa Fallax.
To my great surprise this person told me he knew the group having seen the CD of Intorno alla mia cattiva educazione on sale in Japan, and having bought it, and he confirmed that the album was much appreciated by Japanese fans, like many other Italian records of the time.
On his return to Japan, he sent me a copy of the CD.
So I had the chance of hearing it again, and I must confess that the excitement was really high, like a leap in the past, every single moment of it took to memory some past emotions from its creative period. Since that day I happen to hear it from time to time, played by one of my daughters, and I'm honoured to think it's appreciated by them, that are usually so critical toward their parents.



Click on the pictures to enlarge

A big thank you to Giovanni Ottone for the interview and the promo pics, kindly supplied by Massimo Parretti.
Also a big thank you to Rockground and Luciano Fassa for scans and information.