Artist

BAFFO (J.B.) BANFI

Giuseppe Banfi, former keyboardist of Un Biglietto per l'Inferno started a solo career using the name J.B.Banfi with an album in 1978, though it had been recorded a year before and released just when he was in the army by the small jazz-oriented Red Record label.
Inspired by the German electronic music of the 70's, Banfi attracted the interest of Tangerine Dream's Klaus Schulze, whom he had first met when on tour in the latest days of Biglietto in 1975. Schulze had already been approached to be the producer of the band's second album, but was never released at the time.
Galaxy my dear was entirely played by Banfi and shows strong comparisons with the German cosmic music, including five long tracks, one of which, Goodbye my little star, is 18 minutes long.
Second album Ma, dolce vita was recorded for Schulze's label, Innovative Communication, and released in Germany, again including all instrumental electronic tracks, while a third work, Hearth from 1981, was the only one to feature a rhythm section of guest musicians.
Following the release of this album Banfi quit the music, creating a video production studio in Milan called La Vetraia. In 2015 he released with producer and keyboardist Matteo Cantaluppi the CD Frontera (AMS 248CD)

LP
Galaxy my dear
Red Record (VPA 123)
1978
single cover - as J.B.Banfi
Ma, dolce vita
Innovative Communication (IC 58.066) - Germany
1979
single cover - as Baffo Banfi - also released in USA
Hearth
Innovative Communication (KS 80.008) - Germany
1981
single cover - as Baffo Banfi - also released in USA

CD

The sound of southern sunsets
Innovative Communication (IC 710.065) - Germany
1988
CD compilation including the full Ma, dolce vita LP, two tracks from Hearth and an unreleased track
Galaxy my dear
BTF/Vinyl Magic (VM 099 CD)
2005
reissue of 1978 album with 1 bonus track - mini LP gatefold cover + obi

VARIOUS ARTISTS COMPILATION ALBUMS

New age music
(with Quella dolce estate sul pianeta Venere and Astralunato)
Innovative Communication (KS 80.051-52) - Germany
1985
2LP compilation with Klaus Schulze, Tangerine Dream, Jean Michel Jarre and others

While the two albums released as Baffo Banfi are rather common and cheap, the first one on Red Record is difficult to find though not particularly expensive.
Galaxy my dear was reissued on CD by BTF with a bonus track and on LP by the Spanish label Wah Wah in 2017 (LPS 192) in 500 copies.
Ma, dolce vita was issued in Germany with a grey label, existing in various versions with German, Italian, Dutch author's rights society logos (GEMA, SIAE, STEMRA) to be sold in different countries. The LP was reissued in 1982 in Germany and USA with a black label. Third album Hearth was released in Germany and USA with the same catalogue number.
.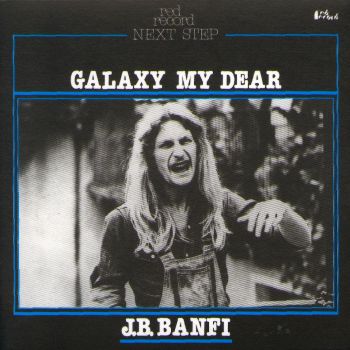 Galaxy my dear - LP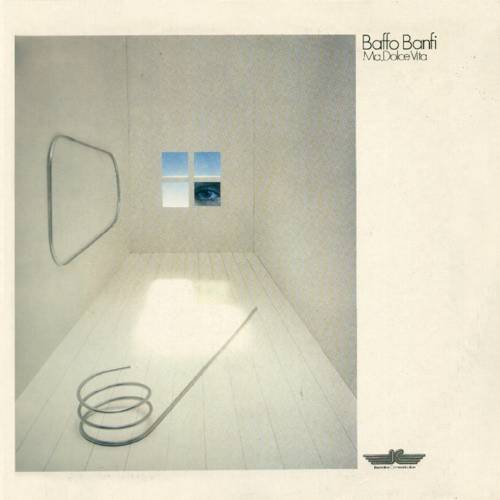 Ma, dolce vita - LP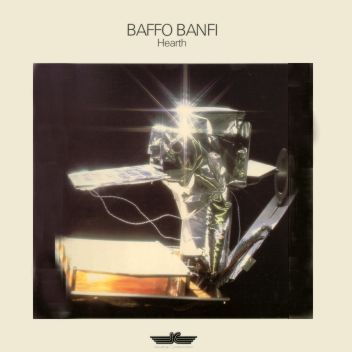 Hearth - LP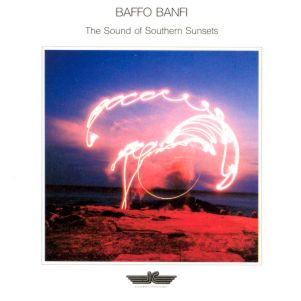 The sound of southern sunsets - CD

Baffo Banfi has two websites dedicated to his current work in the creative video productions, with La Vetraia at www.lavetraia.com (a very small space in this website is dedicated to Il Biglietto per l'Inferno) and Videoland at http://www.videoland.it
Un Biglietto per l'Inferno have their own website, with any kind of information on the group. It's at www.bigliettoperlinferno.com

Thanks to Giacomo Beatrici for one of the pictures in this page