Artist

I COCAI

Theo Byty (Amedeo Biasutti) (vocals, guitar, moog)
Gigi Pandy (Pierluigi Pandiani) (guitar, flute, vocals)
Stheny (Stefano Biasutti) (keyboards)
Paul Blaise (Paolo Biasutti) (bass, percussion, vocals)
Tury (Luigi Turin) (drums)

A band from Venice that only released an album in 1977, with the five members identities hidden under fantasy names. Some of the musicians had played together since 1970 as Draps and New Draps, then around 1975 the definitive line-up changed name to Baronetti participating in various concerts and festivals in Veneto. The name Cocai was chosen just before the album recording.
The group was strongly influenced by the then popular Italian commercial pop sound, producing a soft prog sound that only has little interesting moments, as in the eight-minute long Le mie storie, that's sung in English despite the Italian title. The drums are played on this track by Massimo Iannantuono (in the 80's the drummer in Guido Toffoletti's Blues Society), who had replaced Turin for a short time.
The album contains seven tracks, five of which are over 5 minutes. Despite the length of the songs, the arrangements are never particularly elaborate and vocal parts are rather weak, with the keyboards as the main instrument.
I Cocai broke up soon after the album release and only Luigi Turin kept playing.

LP
Piccolo grande vecchio fiume
Style (CT 7165)
1977
single cover


CD
Piccolo grande vecchio fiume
Mellow (MMP 186)
1994
reissue of 1977 album

Piccolo grande vecchio fiume is a rare album that probably only received a limited local distribution.
It has never been reissued on LP nor counterfeited, but there are copies around with the original vinyl housed in a reissued cover. These are worth less than a complete original.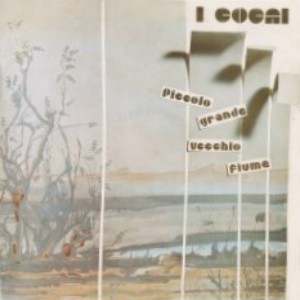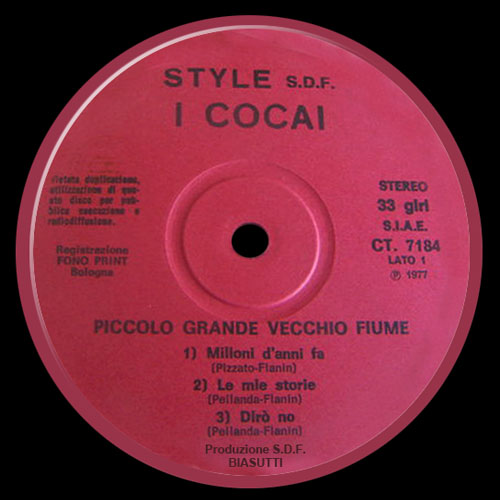 Piccolo grande vecchio fiume - LP, cover and label