Artist

GUERCIA (FIGURA GOFFA)

Vittorio Bonetti (keyboards, vocals)
Giuliano Pantoli (guitar)
Adriano Tarroni (bass)
Daniele Ferretti (vocals, drums, acoustic guitar)

A group active during the early 70's, La Guercia Figura Goffa, from the Ravenna area, had a good live activity but failed to release an album.
They only issued it in 1982, as a self-produced limited pressing, with old tracks re-recorded and the name shortened to Guercia on the cover.
The album has prominent use of keyboards and guitar, the eight tracks all have a good musical structure and competent playing, but the LP sounds probably a bit too distant from a 70's group, especially in the vocal and keyboards arrangements.
An interesting listen, the CD reissue is preferrable for the inclusion of some original recordings from 1973.
The band kept playing during the 80's, and still has regular reunions with some concerts by the original members since 2001.
Keyboardist Vittorio Bonetti has released a solo album in 2002, called Anime marine. He's been always active in the piano-bar circuit and had previously released other CD's with hits covers.
Drummer and singer Daniele Ferretti issued a CD in 2006 under the name Gil'O.

LP
Guercia figura goffa
Guercia (8224882)
1982
single cover


CD
Guercia figura goffa plus...
Mellow (MMP 355)
1998
reissue of 1982 album with 4 bonus tracks

A rare album, due to the small pressing and private distribution, Guercia figura goffa has never been reissued on vinyl nor countefeited, but it's a common find at record fairs, though never cheap. It came with a rather dull single cover.
Some say that there was a later repressing made by the band members during the 90's, and this can be confirmed by the existence of many signed copies.
The CD reissue by Mellow, entitled Guercia figura goffa plus... can be worth a listen, it contains four bonus tracks from the early 70's for around 35 minutes.

Guercia figura goffa - LP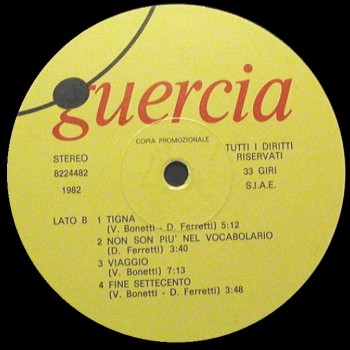 Guercia figura goffa - original label (promo copy)