Artist

HERO

Robert Deller (keyboards, vocals)
Massimo Pravato (guitar, bass)
Umberto Maschio (drums)

Guitarist Massimo Pravato, from near Venice, had played since the late 60's in various groups in the Padova area, The Bart's Group and I Delfini. Around 1970 he joined a group from Udine, Upupa, that included the English born keyboardist Robert Deller, and he played with them for a couple of years, until the two of them split and formed a trio with drummer Umberto Maschio, also from Padova.
The yet unnamed group moved to Germany, having a residency in a Munich club thanks to Deller's father, and they recorded their album in 1972 having had a contact with the Poliband music group (that was specialised in children music) that owned the Pan label.
Despite the death of Massimo Pravato in a car accident in 1973, the album was released a year later, but went largely ignored.
A nice album by a little known group, the LP was only released in Germany, but unlike the Atlantide album Francesco ti ricordi, it's very hard to find even from German dealers.
Hero is a very long album, over 46 minutes, and contains nine songs in the 4-5 minute range, with the only exceptions of the 9-minute Clapping and smiling and the 7-minute long Dew-drops, in a rural hard prog style with English lyrics, well sung by Deller. The sound is not particularly original but a very pleasant listen overall.
An Umberto Maschio playing percussion with guitarist Jacopo Gianninoto from Vicenza is Hero's drummer's son.

LP
Hero
Pan (87 304 IT) - Germany
1974
single cover
AMS/BTF (AMS LP 57)
2012
as above


CD
Hero
AMS/BTF (AMS 104)
2006
reissue of 1974 album with one extra track - mini-LP gatefold cover with booklet

Very hard to find for Italian collectors, the Hero album has only been printed in Germany by the small Pan label in a single cover, and is hence easier to find in Germany, but always at very high prices.
It's been reissued on vinyl in 2001 by a German label and on CD by the Australian Progressive Line label (no.PL560). Along with another Japanese CD reissue, these all appear to be bootleg pressings.
The only existing authorized CD reissue is the one from 2006 on AMS/BTF, which includes as a bonus an alternate version of one of the album tracks. The same label has reissued the LP in 2012.
No other issues exist.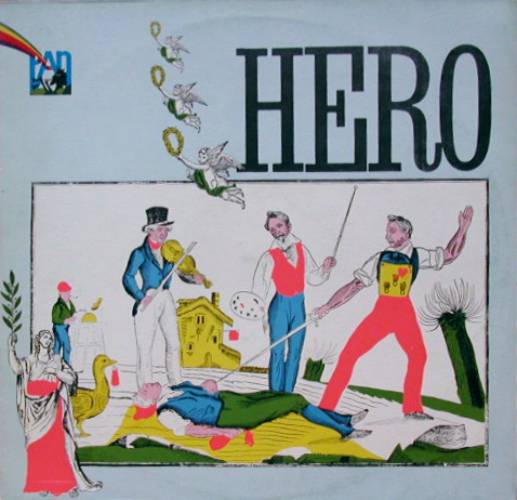 Hero - LP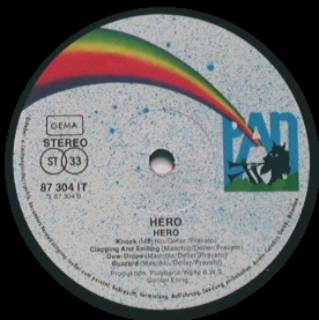 LP label

A very interesting album released back in 1974 on the small German label Pan Records, who released this repress remains unknown, maybe Pan did.
The album has so far been available in Germany and no place else but it is recently that this one finally reached some cult-status among 70s heavyrock fans, even though Hero is a extremely rare album still. A friend of mine gave me a tip of this Lp and I bought it directly without any pre-listen at all.
At the first round I thought that this is an ok album, but the more I played it the more amazed I am, cause there are excellent twists and turns here on this piece of vinyl.
Musically I would consider Hero a combination of artrock and a heavy progressive feel, there is vibes from Gong, Van Der Graaf Generator, early Floyd and King Crimson most definitely but there is also a dark doomy sound to it as well.
Hero was a Italian three piece active in Munich down in southern Germany and were part of the then called avantgarde scene that were happening in Germany at the time acts like Kraftwerk, Can, Amon Duul II, Frumpy, Eloy etc, the deal with Pan was for this Lp. Hero didn't make more records, they should have but I think that Pan didnt have the time and money to put enough effort to push them back then.
The Lp is packed with excellent arrangements classical and acoustic, a very good production and a great tracklist. The songs are mostly 4-5 minutes except Dew-Drops that clocks in at 7+ minutes and 9+ minutes Clapping and smiling, English lyrics on this Lp.
An excellent album, I wish there is a cd-release for this one cause this is a extremely rare piece of vinyl. Recommended
Gabriel Lilliehook (owner of the GL-productions Metal Doom website)

Thanks to Matthias Scheller (of the From Genesis to Revelation prog rock website) and Stefano Pravato for the information on Hero.