The full list
C
FRANCESCO CABIATI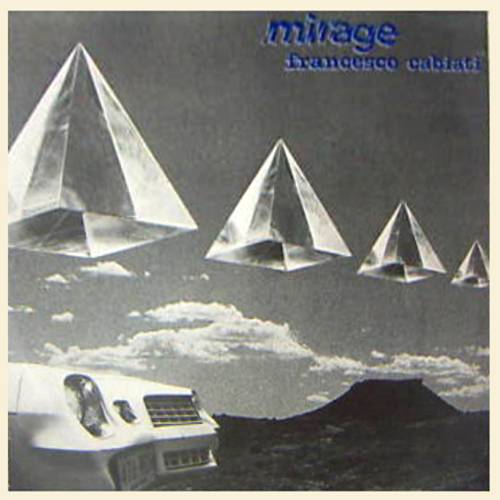 Discography:
LP - Mirage (Mu UM108 - 1979)
Only an album on the Turin label Mu for this keyboardist from Monferrato (Piedmont), in a similar style to the works of Pierpaolo Bibbò or Baffo Banfi, but a bit more relaxed.
Cabiati also released in 1982 with Walter Pascale, Guido Viale and Fabio Queirazza a self-produced album (cat.QV 13000) entitled Colori, which contains three tracks for any of these artists and with help, among others, from Claudio Bazzari, Claudio Ciampini and Ronnie Jackson.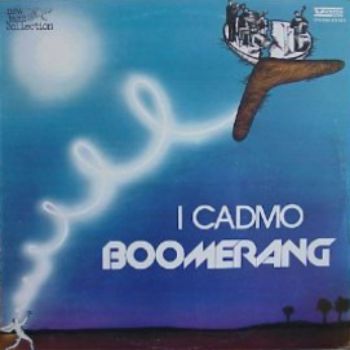 Line up:
Antonello Salis (piano)
Riccardo Lay (upright bass)
Mario Paliano (drums)
Discography:
LP - Boomerang (Vedette VPA 8335 - 1977)
LP - Flying over Ortobene (Edizioni dell'Isola ELS 2026 - 1979)
CD - Boomerang (AMS/BTF AMS129CD - 2008 - reissue of 1977 album)
A trio from Sardinia formed in Alghero in 1973 by keyboardist Antonello Salis, which had a good solo career, mainly in the jazz field, since the 80's.
Their first album Boomerang, issued in 1977, contains four long instrumental tracks, closer to jazz than rock.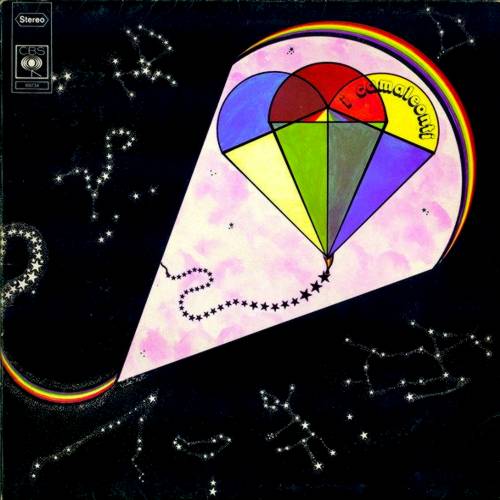 Discography:
LP - Che aereo stupendo la speranza (CBS 69234 - 1975)
CD - Che aereo stupendo... la speranza (BTF VM 150CD - 2011)
+ many other LP's and singles
Very popular in Italy during the 60's and 70's, like many other beat and pop groups I Camaleonti had slight progressive influences in their 1975 album Che aereo stupendo la speranza, like in the track Fantasia with echoes of PFM, though this can't be described as a true prog LP.
CAMEL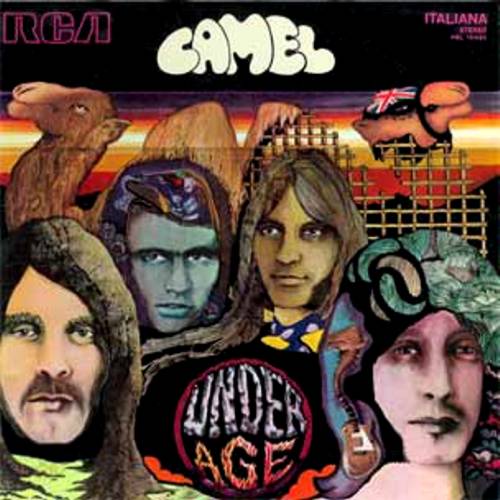 Line up:
Alex Jackson (Alex Ligertwood) (vocals, acoustic guitar, piano)
Dave Summer (guitar, vocals)
Martin Fisher (bass, keyboards)
Pete Huish (drums)
Discography:
LP - Under age (RCA PSL 10449 - 1970)
LP - Under age (Sony Music 88691 98904 1- 2012 - reissue of 1970 album)
45 - Sei la mia donna/Fresh garbage (RCA PM 3478 - 1969 - as "Sopworth Camel")
45 - Mystery tour/Society's child (RCA PM 3497 - 1969)
An English group, one of many that came to Italy during the beat era and chose to stay here afterwards, Camel only released an album in 1970 and two singles, the first of which under the longer name of Sopworth Camel.
All of their production was made of other artists' covers from the 60's, such as The Beatles, Spirit, The Who.
Singer Alex Ligertwood (credited on the cover as Alex Jackson) came from The Senate and continued his career with Logan Dwight, Brian Auger's Oblivion Express, the Average White Band, Santana.
Thanks to the intense activity of the four musicians in the RCA studio in Rome, Camel also managed to appear with four unreleased tracks in a rare library album from 1970, the second volume in the series Espressioni musicali e suoni d'attualità e di moda (RCA SP-10012), which also contains two tracks by Il Balletto di Bronzo.
Discography:
LP - Cenerentola e il pane quotidiano (Cramps CRSLP 4305 - 1976)
LP - Gelato metropolitano (Cramps CRSLP 4593 - 1977)
+ other singles and LP's
A talented session guitarist in the Milan scene, Brazil-born Camerini played in Il Pacco and L'Enorme Maria, with Eugenio Finardi and Donatella Bardi, and later collaborated with many other artists. His solo albums are rock-oriented.
Discography:
LP - Aria mediterranea (Mu UM 103 - 1978)
CD - Imaginations (Mellow/Fruit Salad MMFS 1009 - 1994 - reissue of 1978 album with extra tracks)
+ other CD's in the 90's
The talented guitarist of Procession released an instrumental solo album in 1978 inspired by ethno-world atmospheres. Another past member of the same group, bass player Angelo Girardi collaborated in the album.
CAROTA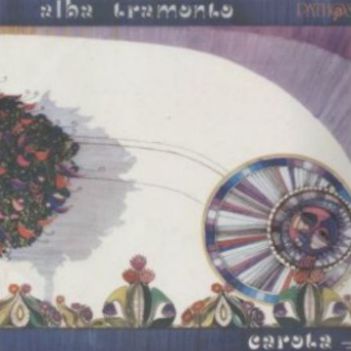 Discography:
LP - Carota (Borgatti BLP 005 - 1978)
LP - Alba tramonto (Pathos LTH 1336 - 1979)
Franco Carotta, former guitarist and bassist with the 60's beat group Judas from Bologna, released two solo albums under the nickname Carota.
The first one, in a singer-songwriter style, also included a song by Fabrizio De André and was released by a small label from Casalecchio di Reno, Emilia.
The second one, in 1979, was more electric though it can hardly be described as progressive.
Carotta is still in activity with the duo Anywise.
CARPINETA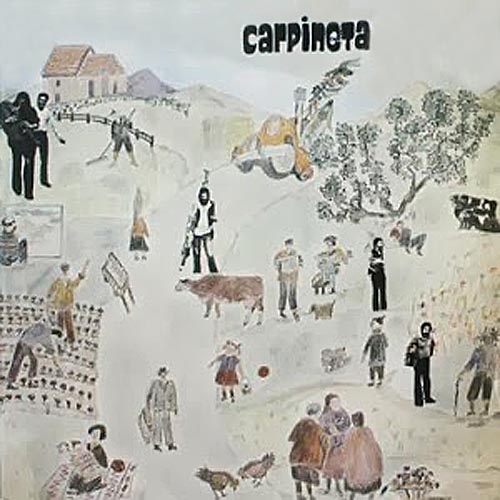 Line-up:
Francesco Fortunato (guitar, mandolin, vocals)
Roberto Leonetti (keyboards, acoustic guitar)
Mario Lauria (sax, flute, clarinet, zampogna)
Francesco Tarantino (bass, vocals)
Franco Bozzi (drums, percussion)
Discography:
LP - Carpineta (Mu.Co. MC 6021 - 1978)
Just a little known album for this group, whose name comes from the hill facing the town of Mormanno (Calabria) where three of the musicians came from, but the notes on the LP explain that it derived from the initials of the words "Carpini Abbandono Rabbia Pianti Incontaminazione Nord-africa Emigrazione Trasformazione Abbrazzamuni".
The album mixes popular music with lyrics dealing with labour and emigration, and modern sounds that show jazz-rock influences, with an interesting result that sometines resembles the latest production of Canzoniere del Lazio.
The record was self-produced, recorded in the band's rehearsal studio in Florence, with the limits of an amateurish production. It had a limited distribution that makes it hard to find now.
To promote the LP the group had some concerts in Tuscany and Calabria, but it broke up soon afterwards.
Line-up:
Jack Marchal (guitar, bass, keyboards, vocals)
Olivier Carrè (lyrics, vocals)
Mario Ladich (drums)
Discography:
LP - Science & violence (Signal 001 EF 57 - 1979)
CD - Science & violence (Cosmorecord CR 0011 - 1997)
This trio, composed by former Janus drummer Mario Ladich along with two French musicians/artists, only released an album in Italy in 1979, a very good record, which shows a much better musicianship and production than Janus' Al maestrale, this is now very hard to find.
All sung in French, but with long instrumental parts, the album is a very good example of guitar-led progressive music with some spacey synth parts. All the tracks were composed by Jack Marchal, hence the record is often considered his solo album.
The CD reissue includes two bonus tracks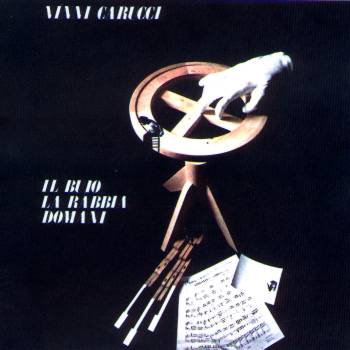 Discography:
LP - Il buio, la rabbia, domani (Two Nuns TTN 35003 - 1973)
LP - Da bambino mi hanno detto (Ultima Spiaggia ZLUS 55184 - 1975)
+ singles
Composer and arranger, this artist from Rome also made two solo albums in the 70's, with good instrumental and orchestral parts. Carucci had played in the 60's with I Gatti Rossi.
CASA DI CURA PIO IX
Line up:
Franco Mele (vocals)
Sergio Giambelli (keyboards)
Fulvio Santoni (guitar)
Roberto Scarpini (bass)
Massimo Santoni (drums)
A group from the Milan area that didn't leave any recorded traces despite a long career, between 1968 and 1975. Their beginnings were under the odd name Strhong and a repertoire made of cover versions, then between 1970 and 1972 the sound became heavier and inspired from Deep Purple and Hendrix.
Since 1972 the band started developing a personal style, playing much in their area, in some cases supporting Pholas Dactylus, with a live act based on a single suite around 45 minutes long, entitled Viaggio oltre il cielo, influenced by King Crimson.
LA CELLULA GENERATRICE
Line up:
Marco Grand (guitar)
Claudio Zoppi (keyboards)
Maurizio Viglianco (flute)
Miky Rissolo (bass)
Enrico Noello (drums)
Discography:
EP + CD - Dedicato ai Pink Floyd (Cosmorecord CR CG1020 - 2020)
This group from Piedmont was formed in 1977, including some members of Vieta, and played an instrumental-only progressive rock. The first line-up was changed in the Spring of 1978 when Zoppi, Viglianco and Rissolo left, replaced by Luciano Priotto (bass) and Paolo Crepaldi (percussion), giving the band a more Latin-influenced sound. The last incarnation of the group included Grand and Noello with Vincenzo Cristiano (bass), Giorgio Comba (keyboards) and Maurizio Viglianco again, but they only played together for a couple of months and split in early 1979.
La Cellula Generatrice only played in their area leaving just some live and rehearsal recordings, that had never appeared before the 2020 release of Dedicato ai Pink Floyd. This includes an EP with two long compositions and a CD with five more tracks that show their good potential, despite the non-professional quality of the recordings and the embryonic form of some of the compositions.
CEMENTO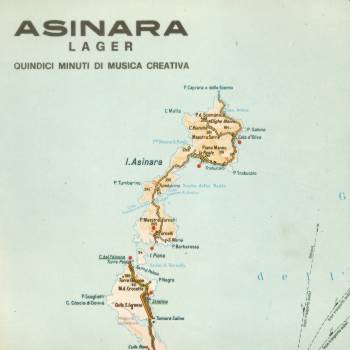 Line up:
Tullio Eusebi (sax, clarinet, flute)
Alex Schiavi (bass)
Luigi Jervolino (percussion)
Nena Avoti (percussion)
Discography:
MC - Catharsis (Belgravia BC 101 - 1978)
45 - Asinara lager pt.1-7 (Belgravia BC EP 201 - 1978)
A group from Milan that featured guitarist Alex Schiavi, who has later released many CD's of electronic experimentation.
Cemento released a cassette album (as a duo with Eusebi and Schiavi) and a 7" EP (as a quartet, under the name Cemento Jazz Group), both self-produced, before disbanding. Their style is mainly improvised jazz.
Also on Belgravia label, Alex Schiavi, along with percussionist Massimo Peloso, produced the LP Musica futurista in 1981.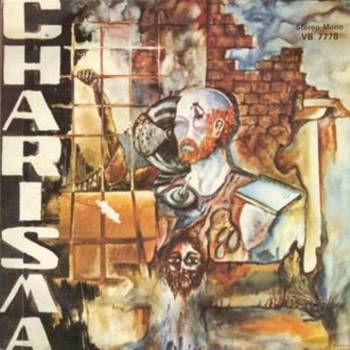 Line-up:
Marcello Cassanelli (vocals, bass)
Giuseppe Degli Esposti (sax, flute)
Gianni Corni (guitar, vocals)
Ermes Brini (keyboards, vocals)
Domenico Simonini (drums)
Discography:
45 - L'ultimo fiore/Da ora senza te (Bambara VB 7778 - 1974)
45 - Passaggio/Parole inutili (Basf Fare 05 13315Q - 1974 - as Azienda Tranviaria)
This group from Vignola (near Modena, Emilia) just issued two nice singles, the second of which under the name Azienda Tranviaria.
Including musicians coming from previous experiences (keyboardist Brini with Romano VIII, guitarist Corni in a band featuring Gaetano Curreri, later to become popular with Stadio), Charisma were formed in 1971 and during their career played many concerts in Northern Italy and Tuscany. In 1972 they met the producer Valbruno (Bruno Valesi) who arranged for them the recording session for their first single, only issued two years later. The single contains two nice progressive tracks, with sax, flute and keyboards to the fore.
In 1974 they were signed by the German label Basf, which at the time was searching for new unknown bands and imposed a new name. As Azienda Tranviaria they released their second single, containing the nice Passaggio on the A-side, with a distinctive flute part in PFM style.
Later the group took again the old name Charisma, playing for a few more years with some line-up changes, until they broke up in 1977..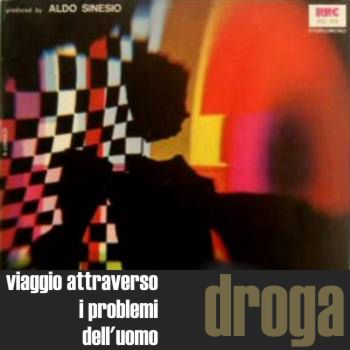 Discography:
LP - Droga (Roman Recording Company AG 101 - 1972)
A very important name in the Italian music scene, guitarist Silvano Chimenti, from Taranto, started playing with the beat group I Planets, which released an LP for ARC in 1967, and then began a long and fruitful career as session musician that still lasts now.
His main work for the Italian progressive music collectors is the Droga LP, released by R.R.C./Fly in 1972 and probably the rarest title in a series called Viaggio attraverso i problemi dell'uomo (Journey through the man's problems - among them Lavoro and Povertà by Enzo Scoppa/Scoen and Cicci Santucci, Spazio by Gianni Mazza, Prima età by Gianni Mazza and Aldo Sinesio, Traffico by Enzo Scoppa and others with titles such as Nevrosi, Thrilling, Tempo libero, all sharing the same cover design).
The album is totally instrumental, with the lead guitar of Chimenti in evidence, and a style halfway between lounge and soundtrack, with strong rock and blues influences.
Chimenti also played in the group I Pulsar, which composed the soundtrack for the film Milano violenta.
Websites:
Silvano Chimenti - www.silvanochimenti.com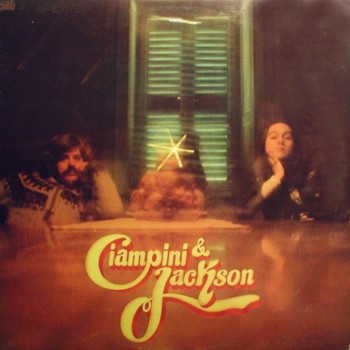 Line up:
Claudio Ciampini (vocals, acoustic guitar)
Ronnie Jackson (vocals, acoustic guitar)
Discography:
LP - Ciampini & Jackson (Motion ZSLB 55275 - 1975)
This duo, formed by Claudio Ciampini and Ronnie Jackson, only released an album in 1975, with 10 tracks all sung in English and mainly in singer-songwriter style with some vaguely progressive arrangements. The two had previously collaborated with Simon Luca on his third album E la mia mente?. Englishman Jackson has been an appreciated session musician in Italy for many years after the demise of this duo.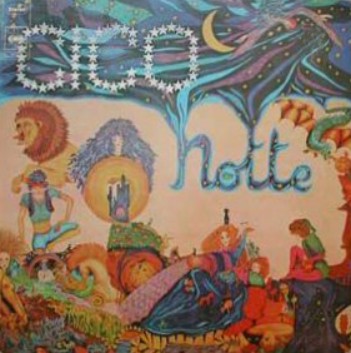 Discography:
LP - Notte (CBS 69085 - 1974)
+ others
Tony Cicco was the drummer and singer in Formula Tre, and tried a solo career after the end of that group under the name of Cico.
All of his works are in a commercial pop style. The first of these, Notte, had a gatefold cover including a large 24 page booklet with lyrics and drawings.
He later formed a pop trio, Fantasy.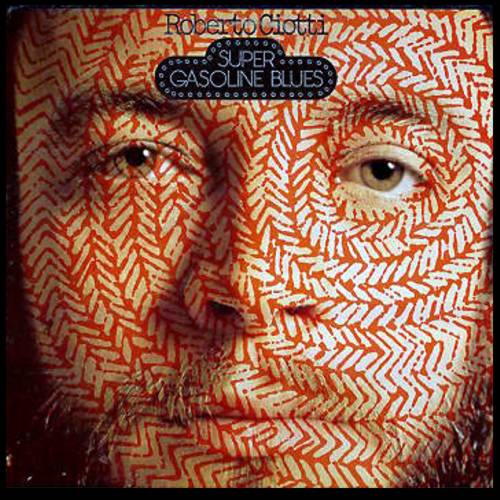 Discography:
LP - Super gasoline blues (Cramps 5205 751 - 1978)
LP - Bluesman (Cramps 5205 752 - 1979)
+ others
Former guitarist with jazz-rock group Blue Morning, Ciotti started his solo career declaring his love for blues since the first album in 1978.
He has released many other albums in his long career and passed away at the end of 2013.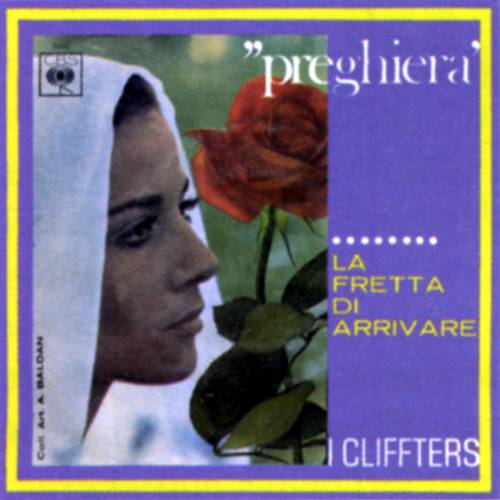 Line-up:
Renzo Tortora (guitar, vocals)
Uberto Saragoni (organ, vocals)
Alberto Solfrini (bass, vocals)
Pasquale Venditto (drums, vocals)
Discography:
45 - Preghiera/La fretta di arrivare (CBS 3416 - 1968)
Beat group from Forlì, existing since 1964 and whose name was chosen to honour Cliff Richard, I Cliffters released a good single in 1968 and were later featured with the melodic pop song Bimba mia on the Fonit compilation Nuovi complessi d'avanguardia da Radio Montecarlo (their name is incorrectly spelt as Clifters with a single "f" on the LP label), but they didn't manage to release any more records, despite a very long career up to 1973, with many line-up changes.
In 1968 they supported Jimi Hendrix in his two concerts at Palasport in Bologna, and in the following years they played in the main Italian clubs, participating in the Villa Pamphili Pop Festival in Rome in 1972.
Tortora and Vendito quit the group in 1971 to form Forum Livii, replaced by the French-tunisian guitarist Christian Souiller (ex-Migrants) and drummer Beppe Leoncini. This line-up recorded an album for It, sadly never issued.
ROBERTO COLOMBO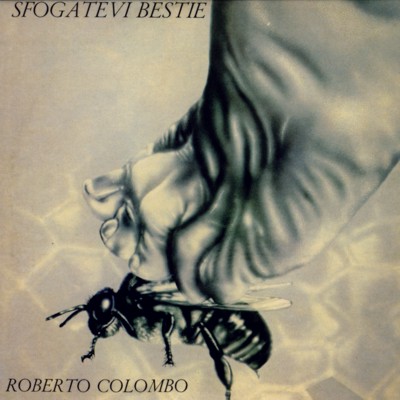 Discography:
LP - Sfogatevi bestie (Ultima Spiaggia ZLUS 55185 - 1976)
LP - Botte da orbi (Ultima Spiaggia ZPLS 34012 - 1977)
LP - Astrolimpix (Ciao 1005 - 1980)
CD - Botte da orbi (Mju:zik C3P8 - 1999 - limited reissue of 1977 album only included in the mju:zik magazine)
CD - Botte da orbi (Sublime Music - 2007 - new reissue of 1977 album)
CD - Sfogatevi bestie (BMG 82876 63953 2 - 2004 - reissue of 1976 album)
45 - Sono pronto/Assurdo p.II (Ultima Spiaggia ZUS 50571 - 1976)
An artist from Milan, whose early albums on Ultima Spiaggia are very interesting, a mix of jazz-rock with some Zappa humour. The last album from 1980 was more in a commercial electropop direction.
The first two albums have only recently had a CD reissue.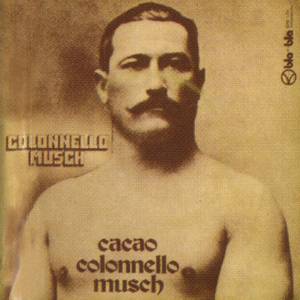 Discography:
45 - Cacao/Colonnello Musch (Bla Bla BBR 1331 - 1972)
Not one of the most memorable releases on the Bla Bla label, this single is rather commercial and was played by Pino Massara, producer and founder of the same label.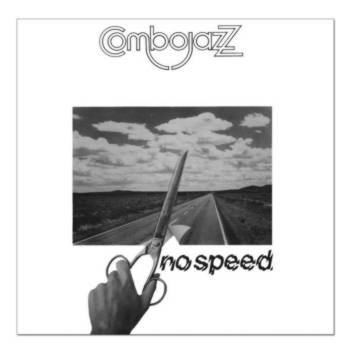 Line up:
Aldo Rindone (keyboards)
Maurizio Gianotti (sax)
Giorgio Marotti (bass)
Giorgio Diaferia (drums)
Discography:
LP - No speed (Mu UM105 - 1979)
CD - No speed (Electromantic TJRS 1965 - 2005)
Another of many jazz-rock groups on Turin label Mu with a single LP release in their career.
Drummer Diaferia came from Esagono, while sax player Gianotti was in the last line-up of Procession.
The album, with six instrumental tracks, is very rare and has been reissued on CD for the first time by Electromantic in 2005.
Line up:
Mario Bortoluzzi (vocals)
Massimo Di Nunzio (guitar, bass)
Gino Pincini (keyboards)
Marinella Di Nunzio (keyboards)
Marco Priori (drums)
Adolfo Moranti (percussion)
Discography:
LP - Terra di Thule (Il Cerchio - 1983)
CD - Terra di Thule (Compagnia dell'Anello CDA 002 - 2004 - reissue of 1983 album)
+ others
Active in Padova since 1974 with various line-ups, in 1977 the band became La Compagnia dell'Anello (one of the chapters in Tolkien's Lord of the Rings), and was strongly connected with right wing youth movements.
Like Janus, they had a good live activity in those circuits since their early years, but could only release a self produced debut album in 1983. The recently reissued Terra di Thule is a good folk-rock album containing dreamy ballads mainly built on acoustic guitar, piano and vocals, while the second side has more keyboards and instrumental parts. The original LP is rare.
A second album, In rotta per Bisanzio, followed in 1990.
Websites:
Compagnia dell'Anello - www.compagniadellanello.net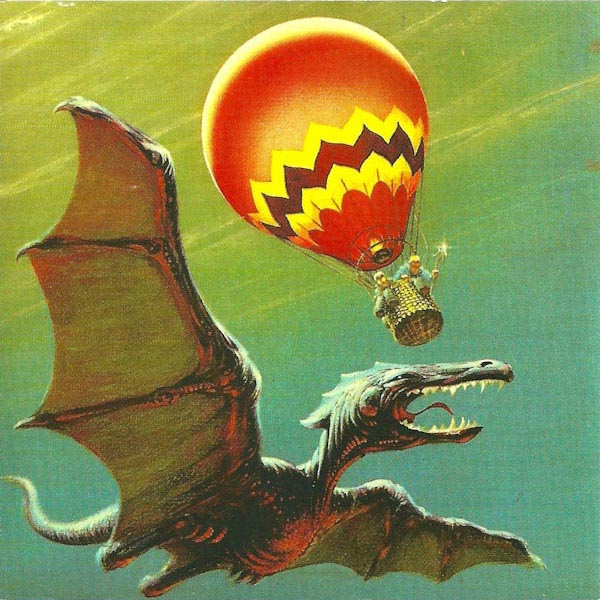 Line up:
Lady Mantide (vocals)
Ciro Perrino (keyboards)
Alex Magazzino (guitar)
Roby Rossi (bass)
Marco Tudini (drums)
Discography:
CD - La compagnia digitale (Mellow MMP 109 - 1992)
CD - La compagnia digitale (Mellow MMP 551 - 2021 - new remastered issue of the above)
LP - La compagnia digitale (Mellow MMLP 110 - 2021 - first vinyl reissue of the 1992 album - red/gold vinyl)
An electronic space-rock group formed by ex-Celeste drummer Ciro Perrino after another short-lived band called St.Tropez. The posthumous CD on Mellow includes a live recording from 1979. The group later became SNC, and a posthumous album credited to this band is also available on Mellow.
The album was reissued on CD and in a limited LP edition in 2021.
COMPAGNIA LOMBARDA DI FORZA MOTRICE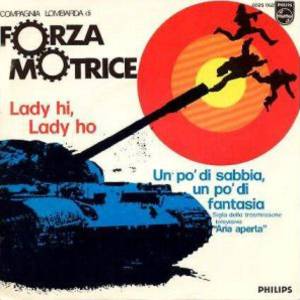 Discography:
45 - Lady hi, lady ho/Un po' di sabbia, un po' di fantasia (Philips 6025 062 - 1972)
Despite the long name of this group, the style of this single is not particularly close to progressive rock.
The track on side B was used as main theme of the TV show Aria aperta.
LA COMUNITÀ DEL VILLINO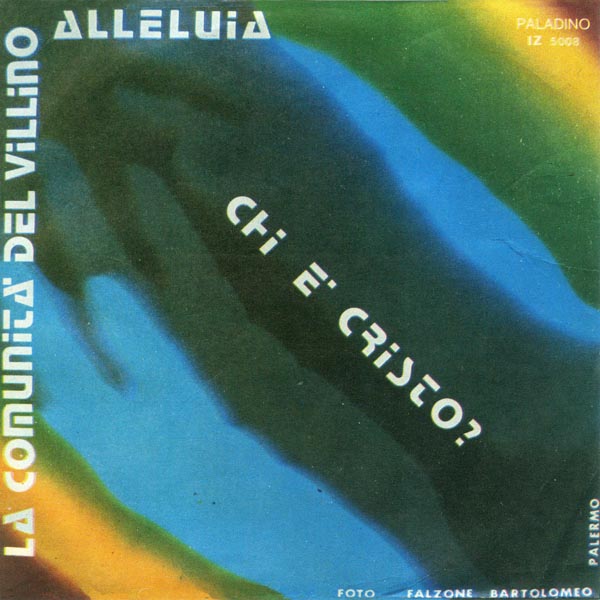 Line-up:
Giovanni Bonfiglio (guitar, flute, keyboards)
Giovanni Morello (guitar)
Tommaso Dia (keyboards)
Paolo Morello (bass, guitar)
Stefano Bonfiglio (drums)
Maurizio Sciabica (percussion)
Pino Di Fresco (tubular bells)
Discography:
45 - Chi è Cristo?/Alleluia (Paladino IZ 5008 - 1972 - reissued in 2015)
One of many Chirstian-inspired groups, La Comunità del Villino took its name from a religious community active in Palermo since the 60's.
The group took a show entitled L'arte di essere uomo to many Sicilian towns and recorded in August 1972 a single that's very rare today. The line-up above was helped, in the live shows only, by around 15 male and female singers.
The single contains a nice tracks of almost six-minutes on side A, with a rather melodic vocal part and interesting instrumental parts. The B-side, a studio recording with fake live effects, is less interesting.
The original record is very rare; it was reissued in 2015 with the original cover and a foldout insert, and was given as a bonus with Fabio Marchignoli's book, Pop italiano di ispirazione cristiana.
CONFUSIONAL QUARTET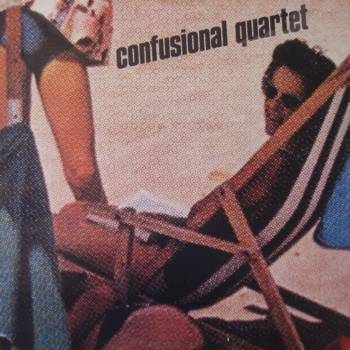 Line up:
Marco Bertoni (keyboards)
Enrico Serotti (guitar)
Lucio Ardito (bass)
Gianni Cuoghi (drums)
Discography:
LP - Confusional Quartet (Italian EXIT 902 - 1980)
10" MLP - Confusional Quartet (Italian EXITM 601 - 1981)
+ others
A quartet from Bologna, active since the late 70's and promoted by the young Italian Records label as a new wave group, just like Art Fleury.
They played in fact an original blend of jazz-rock with some Zappa, Devo and traditional Italian music influences.
The group reunited in 2011 with the original members.
CORMORANO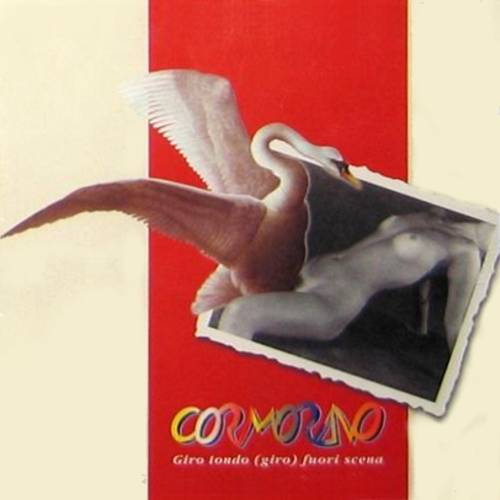 Line-up:
Raffaello Regoli (vocals)
Roberto Tassi (keyboards)
Gabriele Giovanardi (sax)
Loris Tassinari (guitar)
Carlo Alberto Boni (bass)
Antonio Dondi (drums)
Discography:
MC - Verde azzurro (self-produced - 1990)
CD - Giro tondo (giro) fuori scena (Mellow MMP 379 - 2000)
CD - Obliquizioni d'autunno…prima che l'aquilone se ne voli via (Lizard LDV 021 - 2023)
A group from Finale Emilia, near Modena, formed in 1976, Cormorano were led by the distinctive voice of Raffaello Regoli, particularly influenced by Demetrio Stratos.
They kept playing during the years witrh various line-up changes, and released their first album issued on cassette only in 1990. Another album followed in 2000, including, among others, the reworkings of five of the seven tracks from the previous work. The line-up here included original members Regoli, Tassi e Boni, along with guitarist Giorgio Vitali, drummer Giuseppe Borghi and help from singer Anna Malvasio.
In 2023 another record comeback, this time with Regoli joined again by drummer Dondi and saxophonist Giovanardi with new members Francesco Boni (son of the original bass player Carlo Alberto) on bass, Elia Filippini on keyboards and guitarist Michele Zanni.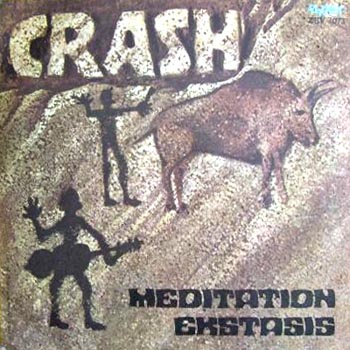 Discography:
45 - Meditation/Ekstasis (Valiant ZBV 7073 - 1977)
A group from Rome, active since 1966, that collaborated with composer Emilio Locurcio in his Eliogabalo rock-opera, and only released a single in 1977, with a prog-inspired track on side B.
Guitarists Claudio and Fabrizio Falco and drummer Mario Achilli, played in the first line-ups of Banco del Mutuo Soccorso, whose keyboardist Gianni Nocenzi collaborated with Crash.
Crash played as backing band of singer-songwriter Rino Gaetano from 1976 to 1980, the year of his sudden death, and still play as a tribute band to this well-loved figure in the Italian pop music field.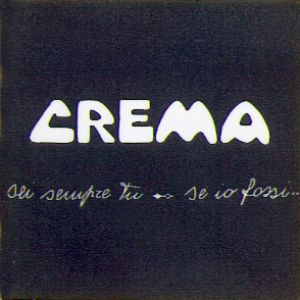 Line up:
Claudio Cabrini (vocals)
Enzo Mantovani (guitar)
Gianni Franzoso (keyboards, vocals)
Elio Mantovani (bass)
Maurizio Senatore (drums)
Discography:
45 - Sei sempre tu/Se io fossi (New Star NSR 1138 - 1976)
A group from Pavia, formed in 1969 and with this line-up since 1972, they only released a good single with a rather anonymous cover in 1976. The style is melodic progressive based on organ, the group had two lead vocalists on the single, Claudio Cabrini on Sei sempre tu and Gianni Franzoso on Se io fossi.
The band broke up in 1978, reforming briefly in 1980 and 1995, and again for a festival in Pavia in 2008.
CRIPTA
Line up:
Mauro Carbone (sax)
Massimo De Pasquale (electric piano)
Augusto Forin (bass)
Mirco Pagano (drums)
Formed in Sori, near Genova, as a trio in the early 70's, Cripta became a quartet with the addition of keyboardist De Pasquale, playing many concerts in their area. Their style was jazz-rock in the same vein as Perigeo. The group broke up in 1976...and reformed 30 years later with a concert and maybe a CD.
Line-up:
Lello Bobo (vocals)
Claudio Baldassarri (guitar)
Carlo Bruno (bass)
Sergio Tappa (drums)
Formed in Rome near the end of 1970 by Claudio Baldassarri (ex Fholks) and Carlo Bruno (from Panna Fredda), who had already played in Condors in 1965. They were joined by drummer Sergio Tappa and singer Lello Bobo, later replaced by Roberto Senzasono (ex drummer with Ricky Shayne, later in Reale Accademia di Musica), and vocalist Pino Ballarini (who had played with Poema in his hometown Pescara, later to join Il Rovescio della Medaglia).
Crisalide, mostly playing cover versions of the first Black Sabbath album, sucessfully played at Kilt Club in Rome during a festival organised on 2/3 april 1971 by the Ciao 2001 magazine, and at the Piper Club supporting Colosseum, Pretty Things and Manfred Mann until they broke up.
Line up:
Luciano Ninzatti (guitar)
Ernesto Vitolo (keyboards)
Stefano Cerri (bass)
Mauro Spina (drums)
Maurizio Preti (percussion)
A group based in Milan, that didn't have a life on their own, they were the backing band of Eugenio Finardi since 1978, and played with him for a couple of years, just being left a small space in his concert for their own compositions. Mark Harris (from Napoli Centrale and briefly Rovescio della Medaglia) replaced Vitolo at the end of 1979.
Five very talented musicians that have played with many other important artists since then. The great Stefano Cerri, considered by many as the best Italian bass player ever, sadly passed away at the end of 2000, just as his first solo CD Fab-four strings, a bass solo tribute to the Beatles, had been released.
TONI CUCCHIARA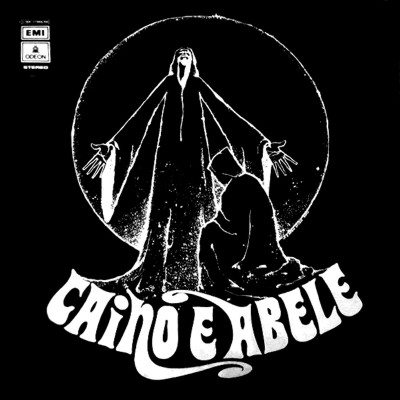 Discography:
2 LP - Caino e Abele (EMI Odeon 3C064-17865 - 1973)
LP - Selezione da Caino e Abele (EMI Odeon 3C054-17913 - 1973)
The only reason to include this folksinger from Sicily was his pop opera Caino e Abele, represented in many Italian theatres throughout the 70's this was also released on record, having a complete 2LP edition, and another on single LP with some excerpts. The style is more folk than rock, with long vocal parts and orchestral arrangements.
The pop opera Caino e Abele was rearranged by Gianni Mazza and Enrico Olivieri (keyboardist of Metamorfosi) for a new edition on double LP issued in 1982 (on the Giò & Giò label).
Cucchiara also wrote another folk-rock opera in 1978, entitled Pipino il Breve. An LP version was issued in 1981 (Giò & Giò DP002), played by Tony Cucchiara & I Dioscuri.
Very popular melodic pop group, and very far from progressive music, only notable for the presence of former Panna Fredda keyboardist Giorgio Brandi in their line-up.
CUNCTI GENS UNA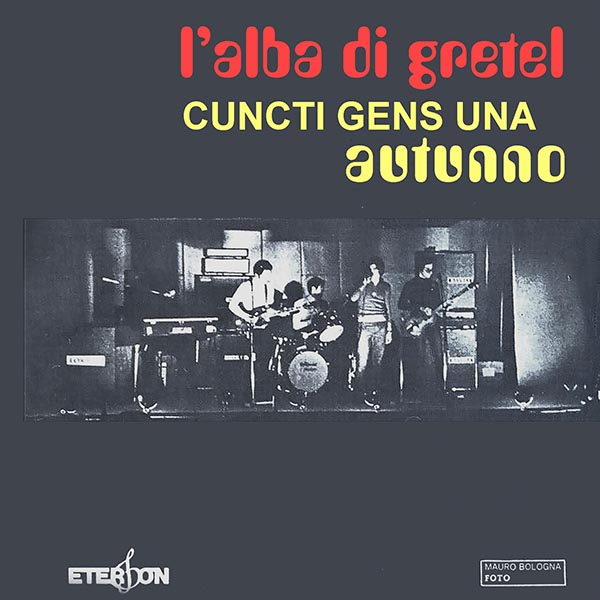 Line-up:
Pasqualino Del Cimmuto (vocals)
Angelo Tollis (guitar)
Cosimo (keyboards)
Lino Fasoli (bass)
Franco Galeota (drums)
Discography:
45 - L'alba di Gretel/Autunno (Eterfon CN 465 - 1971)
A little known group from the L'Aquila area, in Abruzzothat only released a rare single in their lifespan.
The A-side is a melodic progressive song with good use of the electric guitar, with a more conventional slow song on the other side.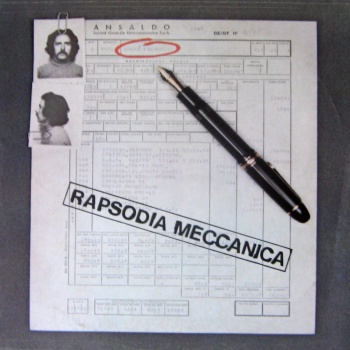 Discography:
LP - Rapsodia meccanica (Ultima Spiaggia ZPLS 34003 - 1976)
LP - Flussi e riflussi (Disco Più DP39020 - 1979)
CD - Flussi e riflussi (Giallo MMM114 - 2009 - reissue with 2 bonus tracks)
CD - Rapsodia meccanica (Giallo MMM120 - 2015 - reissue with 4 bonus tracks - 300 copies only)
Songs played with conventional musical instruments along with industrial and mechanic tools, this is the content of Rapsodia meccanica, the first record release by Francesco Currà, born in Calabria but living in Genova. An unusual album that can be compared with works from Battiato or Juri Camisasca at times.
Currà also released a book with a similar title in 1977, Rapsodia meccanica. Poesia in fabbrica con le canzoni del disco dell'ultima spiaggia (Squilibri, 1977), a second album in 1979, and a new poetry book in 2004.
The first CD edition of Rapsodia meccanica was released in 2015 in 300 copies only by Giallo Records, that had already reissued Flussi e riflussi, and contains 4 bonus tracks which were to be included in an unreleased third album by Currà.
Francesco Currà passed away in 2016.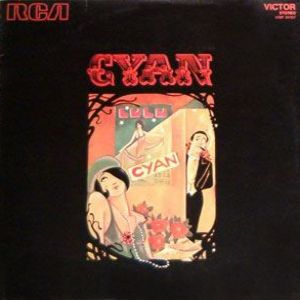 Discography:
LP - Cyan (RCA LISP 34157 - 1972)
+ singles
Like Camel this group consisted of English session musicians living in Italy and working in the RCA studios in Rome (they were Patty Pravo's backing band), but in this case the album only includes mainstream pop. The original album included a poster.
They also released many singles and played in the soundtrack of the Roma drogata film, mostly composed by Albert Verrecchia.

Thanks to John Elvis Gualtieri, Alex Schiavi, Antonio Rosetti, Gianmaria Rizzardi, Fabio Marchignoli, Elio Mantovani, Fabio Locatelli, Franco Sciscio, Claudio Pescetelli, Todd Dudley, Ubaldo (Franco) Cibei, Marcello Cassanelli, Alessandro Cumbo, Raffaello Regoli, Cristian Lazzari, Cesar Montesano, Vittorio Tabacchini, Alesssandro Pomponi of Rockground, Paolo Calbini, for pictures and information published on this page.
Other alphabetical index pages
A B C D E F G HIJK L M N O P QR S T UV WXYZ