The full list
Q R
QUARTA PARTE SOLIDA
A group from Perugia, active in the mid-70's that played many live concerts. Their music was inspired by English jazz rock and groups such as Soft Machine and Henry Cow. Only some amateurish recordings exist of this group, that had various line-up changes. Among the musicians involved Sergio Piazzoli (vocals), Antonio Fazio (guitar), Maurizio Borgioni (keyboards), Roberto Bertinelli (keyboards, sax), Roberto Morbidelli (bass), Fabrizio Fornari (drums), Carlo Bonaurio (percussion), Carlo Piccolini (guitar), Erasmo D'Onofrio (sax), Paolo Padroni (sax), Alessio Burini (keyboards), Maurizio Morettoni (percussion).
Line-up:
Fabrizio Brunetti (voce)
Nanni Civitenga (chitarra)
Sergio Manzari (chitarra)
Vito Manzari (basso)
Sandro Conti (batteria)
A popular group from Rome, active from 1968 to 1972, that had no record releases despite recording some tracks at RCA studios.
In their line-up they had bass player Vito Manzari, who quit in 1970 to join Il Balletto di Bronzo and was replaced by Alberto Forte, and guitarist Nanni Civitenga that went to Raccomandata con Ricevuta di Ritorno and then formed Samadhi.
The group had a constant live activity, supporting the likes of Uriah Heep at Rome's Teatro Brancaccio and playing various festivals, before the split.
QUEL PAZZO MONDO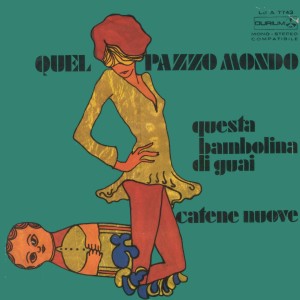 Line-up:
Luciano Piccinno (guitar, vocals)
Vincenzo "Joselito" Pandolfi (keyboards, vocals)
Piero Nano (bass, vocals)
Carlo "Lallo" Schiavoni (drums, vocals)
Discography:
45 - Canzone mia/Brava Maria (Durium LDA 7694 - 1970)
45 - Questa bambolina di guai/Catene nuove (Durium LDA 7443 - 1971)
45 - Più grande del mondo/Dammi il sole (Durium LDA 7792 - 1973)
A group from Alessandria, three of their members (Pandolfi, Nano e Schiavoni) had played as Oscars, the backing band of singer Don Miko.
With the new name Quel Pazzo Mondo they released three singles between 1970 and 1973, mixing pop and slight progressive influences. Their sound was much harder in concert, with covers of Italian and foreign artists' hits, including Uriah Heep, Deep Purple, The Trip.
On their first single, Canzone mia, the group was still a trio, so the guitar parts are played by Mauro Culotta, experienced sessionman who was in Gens and collaborated with Ivano Fossati, Ornella Vanoni, Mina and many others. All of the four musicians sang, though the lead vocalist was drummer "Lallo" Schiavoni.
They even had some TV appearances, but none of their singles was particularly successful. Oddly their second, Questa bambolina di guai, was also issued in some southamerican countries, like Bolivia and Argentina, and that song also appeared in the compilation Raccolta di successi n.2 issued in Greece by Durium (cat.60008) in 1983.
The musicians of Quel Pazzo Mondo backed in the concerts the duo Computers, that issued between 1969 and 1971 three singles for Numero Uno, among which an Italian version of David Bowie's Space Oddity entitled Ragazzo solo, ragazza sola.
LA QUINTA STAGIONE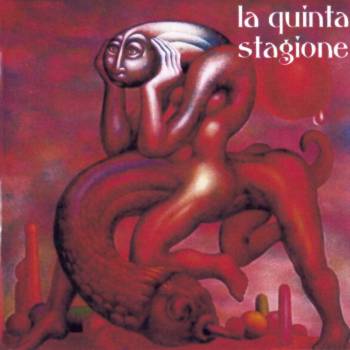 Line-up:
Claudio Cacciatori (guitar, vocals)
Mauro Cocchi (keyboards)
Orlando Morisi (bass, guitar)
Davide Viviani (drums, vocals)
Discography:
45 - Amerò/Preludio n.1 (QS 00717B - 1978)
CD - La quinta stagione (Acqued8 ACQUED809 - 2002)
A group from the Bologna area that was formed in 1976, only releasing a self-produced single at the time. Preludio n.1 on the B-side, is a nice classical prog instrumental with keyboards to the fore, while the A-side is a rocking track not particularly original.
The first line-up included bass player Ermes Contri and drummer Paolo Scagliarini, replaced by Morisi and Viviani.
The group itself produced in 2002 a CD including the 7" single tracks along with 4 unreleased cuts among which the 21-minute long suite Quinta ed ultima stagione. Their production mixes commercial pop songs similar to the Pooh (like Sera vera) with others definitely in a good level prog style. The CD, released in a limited pressing had a local distribution and is hence difficult to find now. The beautiful cover is taken from a painting by the Modena artist Walter Mac Mazzieri (that also made the cover for Uomo di pezza by Le Orme) entitled Teatrino del desiderio antico.
Other members of the band, in the later line-ups, were keyboardists Oscar Bettelli and Samuele Masarati and singer Flavio Leonardi. The last line-up broke up at the beginning of the 80's.
QUO MODO VITAE
Line-up:
Maurizio "Icio" Venezia (vocals)
Renzo Ceroni (guitar, vocals)
Enzo Conti (keyboards)
Riccardo Maso (bass)
Marco Goggi (drums, vocals)

A group from Alessandria, active between 1970 and 1974 with various concerts in their area, and a repertoire of original compositions in a typical progressive style. The line-up also featured, in the last years, singer Patrizia Berengan, bassist Salvatore Pesce and drummer Salvatore Lo Forte.
The original five-piece line-up has reunited many times for live appearances and demo recordings and is still active today.
Website:
http://www.myspace.com/quomodovitae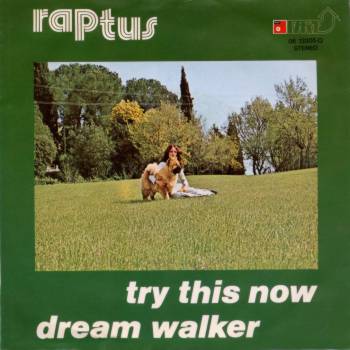 Line-up:
Edmondo Guidi (guitar, vocals)
Mauro Andreini (keyboards, vocals)
Antonio Liotti (bass, vocals)
Edoardo D'Imporzano (drums)
Discography:
45 - Try this now/Dream walker (Basf Fare 06 13305Q - 1974)
An Italian group from Leghorn, which initially included keyboardist Franco La Placa, who left to join the latest Campo di Marte line-up.
They only released a single for the German Basf label. The tracks, sung in English, are very nice and fully progressive-styled with strong hard influences on the first side and good keyboards riffs.
Guidi and Liotti were in a supergroup called Magnum that made a disco-styled 12 inch single, Miscuglio magico, with songs from Lucio Battisti, issued in 1978 by Ricordi.
A different group called Raptus, featuring future guitarist of Le Orme Tolo Marton, were in fact Le Impressioni.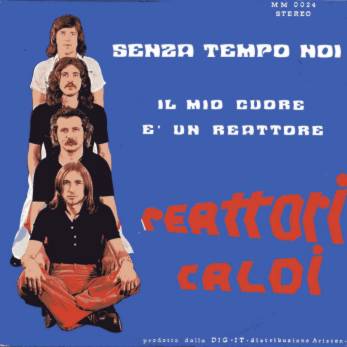 Line-up:
Beppe Pippi (vocals, guitar)
Gianni Treossi (guitar)
Claudio Golinelli (bass)
Nicola Venditto (drums)
Discography:
45 - Senza tempo noi/Il mio cuore è un reattore (Dig It MM 024 - 1973)
A group from Forlì including former Forum Livii member Beppe Pippi and bassist Claudio Golinelli from the beat group I Baci (later with Vasco Rossi, until nowadays), both were also in Hellza Poppin; they only released a single in 1973, mixing a hard rock sound with poppy vocals, and split soon after, never having played live.
CESARE REGAZZONI / ATP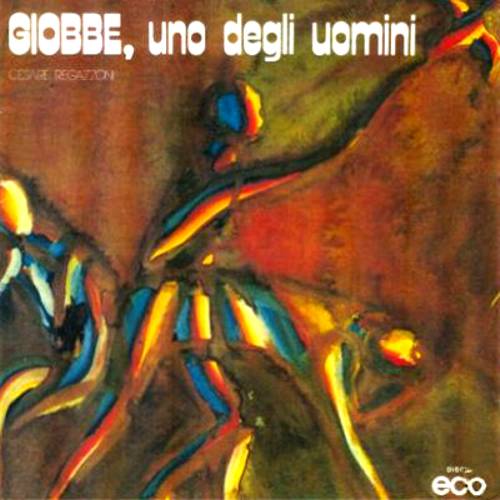 Discography:
LP - Giobbe, uno degli uomini (Eco 600 - 1977)
CD - Giobbe, uno degli uomini (AMS/BTF AMS 169CD - 2010 - reissue of the above)
Credited to Regazzoni on the cover, this expensive record is in fact played by ATP, a six piece group with Roberto Rizzoli (vocals), Tino Carretta (vocals and drums), Alberto Ferretti (guitar and banjo), Umberto Minoliti (keyboards), Otello Azzali (sax and flute), Sergio Podofillini (bass). The style is pop with religious-inspired lyrics, made by 15 tracks with an average length of 2-3 minutes, the progressive influences are very subtle, and can be especially heard in the use of flute.
Cesare Regazzoni, with his real name or as Anaw, composed other religious-inspired records, children songs, and later dedicated to new age.
ATP issued another similar LP in 1980, entitled Profeti, uomini dell'utopia (Eco 630).

Discography:
45 - Mondo malato/Non era un sogno (Delta ZD 50077 - 1971)
EP - Melinda (RCA PG 33406 - 1980)
This artist, that had previously played with beat group I Girasoli, released a rare and beautiful psych-inspired single in 1971, but it went unnoticed.
Righini reappeared with a more commercial mini-LP in 1980, Melinda, a 12-inch "Q-disc" with four tracks.
Line-up:
Luciano Regoli (vocals)
Fernando Fera (guitar)
Roberto Gardin (guitar)
Claudio Simonetti (keyboards)
Walter Martino (drums)
Very popular in Rome in the early 70's, this group couldn't unfortunately release anything on record.
They played at 1971 Caracalla Festival with a five-piece line-up, then reduced to a trio with Simonetti, Martino and bass player Massimo Giorgi, obviously with much more emphasis on keyboards and inspired by the English group The Nice.
After their split, Simonetti and Martino formed for a short time Seconda Generazione and then Goblin, Martino later playing with Libra.
Bassist Giorgi later played with Quella Vecchia Locanda, singer Luciano Regoli with Raccomandata con Ricevuta di Ritorno (which also included Roberto Gardin on bass for a short time) and Samadhi, guitarist Fera formed Alberomotore.

Line-up:
Gianfranco Coletta (guitar, vocals)
Piero Tudini (guitar)
Fabio Pignatelli (bass)
Giorgio Grassi (drums)
Discography:
45 - In tre/Noi eravamo noi (Parade PRC 5073 - 1969 - as "Le Rivelazioni")
LP - The Revelations (Help ZSLH 55018 - 1971 - as "The Revelations")
LP - The Revelations (Schema Easy SCEB 912 - 2013 - reissue of the above, on LP with bonus CD)
This group from Rome is relevant for the presence of Fabio Pignatelli (later with Flea, Cherry Five, Goblin) and Gianfranco Coletta (ex Chetro & Co. and Banco del Mutuo Soccorso), and though still in a beat style they released a single in 1969 and played at Caracalla festival in 1970. The line-up later included the guitarist Nicola Di Staso (then with Reale Accademia di Musica, Logan Dwight and Libra).
A group called The Revelations recorded an all-instrumental psych-beat album on Help, with some tracks written by the composer Gianni dell'Orso under the nickname Proluton.
For many years the groups were presumed to be the same, but on the occasion of the reissue made by Schema Records in 2013 (on vinyl with bonus CD), the record company gave important details on the band, which included in fact some important sessionmen: guitarist Silvano Chimenti, bassists Giovanni Tommaso (from Perigeo) and Mario Scotti, drummer Enzo Restuccia.
ROISIN DUBH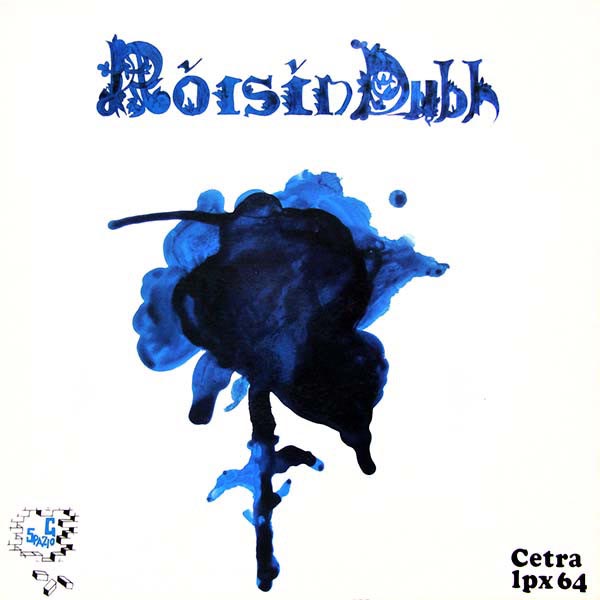 Discography:
LP - Roisin Dubh (Cetra LPX 64 - 1978)
An unusual group from Rome playing irish folk music, Roisin Dubh included, among others, the irish singer Kay McCarthy, Luciano Gaetani on guitar and banjo, and Barbara Barbatelli on violin and mandolin. Their only album from 1978 is now rare and sought after.
LINO RUFO

Discography:
LP - Notte chiara (Una Sors Coniunxit ZPLU 34035 - 1978)
+ others
Singer-songwriter from Molise, active in the Rome area, Rufo had a contract with It and his debut album appeared on the newly-born Una Sors Coniunxit label. Many musicians of the so called Naples Power play on the album, among them Jenny Sorrenti, James Senese of Napoli Centrale, Massimo Guarino, Enzo Petrone and Danilo Rustici from Osanna, Enzo Avitabile from Città Frontale.
Lino Rufo has kept playing as solo musician and with rock and blues groups.
Websites:
www.linorufo.com/
RUMI
Discography:
LP - Il sole di Tabriz (Studio - 1990)
LP - Il volo della bolla (Cosmorecord CR 001 - 1994)
Guitarist and bass player from Lugo, Romagna, Rumi composed and recorded some psych-influenced tracks in 1968-69 that never appeared at the time. These have only seen the light in 1994 on his Il volo della bolla LP, while the first official LP, Il sole di Tabriz, had been recorded in 1989.

Thanks very much to Vincenzo Pandolfi, Paolo Barotto, Giuliano Semprucci, Maurizio Fulvi, Antonio Rosetti, Tolo Marton, Fabio Marchignoli, Alberto Forte, Ermes Contri, Domenico Vinci for pictures and information on groups featured in this page.
Other alphabetical index pages
A B C D E F G HIJK L M N O P QR S T UV WXYZ