Artist

PARADISO A BASSO PREZZO

Ugo Wuillermin (piano, acoustic guitar, flute, vocals)
Paolo Manfrin (keyboards, vocals)
Maurizio Baldassarri (guitar, vocals)
Sergio Cardellina (bass)
Guido Gressani (drums)

One of the few bands to come from Val d'Aosta, in north-west Italy, Paradiso a Basso Prezzo never reached a recording deal during their career, and their only release is a posthumous CD issued by Mellow containing a 1973 recording from a concert in Saint Vincent.
The CD has a mediocre recording quality and shows a good musicianship by the five musicians. The usual ingredients are here, keyboards as lead instruments, good flute and guitar parts, some jazzy influences here and there, but the lack of a professional production is evident in the over-indulgent long introductions, with spoken parts on quiet musical background and fragmented track arrangements.
All the tracks in the live CD were from a proposed concept album entitled Pika Dòn Hiroshima, that the group never managed to record. They broke up in mid-1974.

CD

Paradiso a Basso Prezzo
Mellow (MMP 128)
1992
live recording from 1973

The CD is still easy to find.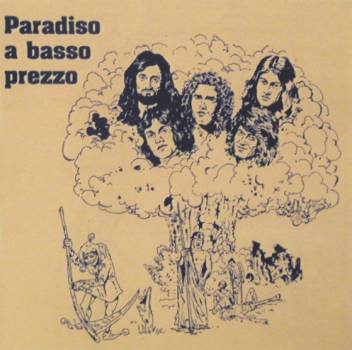 Paradiso a Basso Prezzo - CD cover