Artist

LE STELLE DI MARIO SCHIFANO

Nello Marini (keyboards, vocals)
Urbano Orlandi (guitar, vocals)
Giandomenico Crescentini (bass, vocals)
Sergio Cerra (drums)

Little known in the world until a few years ago, Dedicato a... is among the most wanted and expensive Italian album nowadays. The 1999 Akarma reissue has finally given to many collectors the chance to hear an album that was only known by its fame.
Supported by the pop artist Mario Schifano (who was not a musician, by the way), in the same way that Andy Warhol acted with Velvet Underground, this band from Rome (though Crescentini and Marini were from Veneto and Cerra from Alessandria) was created in 1967 and released their first and only album the same year.
Bass player Crescentini, had briefly played before in the last incarnation of New Dada, a very popular garage-beat group.
Housed in an incredible gatefold cover, painted by Schifano himself, the album contains a side-long improvised track on side 1, with the long title of Le ultime parole di Brandimarte, dall'Orlando Furioso, ospite Peter Hartman e fine (da ascoltare con TV accesa senza volume), a surreal title just like the track itself. Closer to avantgarde or contemporary music performances than to rock, the stunning track gives a good idea of what the group's music and live concerts were about. Side 2 is more conventional, with five short tracks with psych influences.
The band only released another single, this time on CBS, before splitting.
Keyboardist and singer Nello Marini tried a solo career with a commercial single, L'amore è il mio mestiere/Il mio amore per te (CBS 3800) issued in 1968, and later appeared on Venetian Power's LP. In 1993 he released a self-produced CD, entitled Artista with saxophonist Carlo Ponara.

LP
Dedicato a...
BDS (M&F 001)
1967
gatefold cover with 8 page booklet - first copies on red vinyl
Akarma (AK 1008)
1999
cover as above - also exists on red vinyl and picture disc
Akarma (AK 1008)
2011
as above - new reissue on pink vinyl


CD
Dedicato a...
Mellow (MMP 126)
1992
reissue of 1967 album
Akarma (AK 1008)
1999
as above with mini-LP gatefold cover
AMS/BTF (AMS 238CD)
2014
as above

VARIOUS ARTISTS COMPILATIONS

Oracolo
(with Molto lontano (a colori))
Toast (TDLP 859)
1988
2LP - foldout cover in plastic bag - 20-track compilation with 60's to 80's psychedelic artists


SINGLES (with picture sleeve)
E il mondo va
Su una strada
CBS (3442)
1968
both unreleased tracks


PROMOTIONAL AND JUKEBOX SINGLES (with blank sleeve)
E il mondo va
Su una strada
CBS (JB 3442)
1968
same as above, this is the jukebox white label version with blank cover

An extremely rare album, printed in a small pressing of probably around 500/1000 copies, the first batch of which (reputedly 50 copies, but probably a bit more) were on red vinyl. The cover is gatefold with a 8-page booklet glued in the inner.
Many of these copies contained a small card ticket (cm 2,5 x 3) with the text "in case of complaint, include this ticket", a number and the date "30-10-67". This kind of cards were commonly used in industrial products at the time, and the number was probably referred to the employee who had packaged the item (but it may also represent an individual numbering of each copy).
The Akarma reissue faithfully reproduces the original, and, like that, it also had an early limited pressing (250 numbered copies) on red vinyl signed by bassist Crescentini. A limited pressing has also been issued as a picture disc.
The Akarma LP has been reissued twice in 2011 and 2013, with a separate booklet not glued to the outer cover as in the first reissue.
No counterfeits exist nor foreign vinyl issues. The album has been reissued on CD in 2010 by the British label Relics (REL3015CD) with a slightly revised artwork and the title shortened to Dedicato.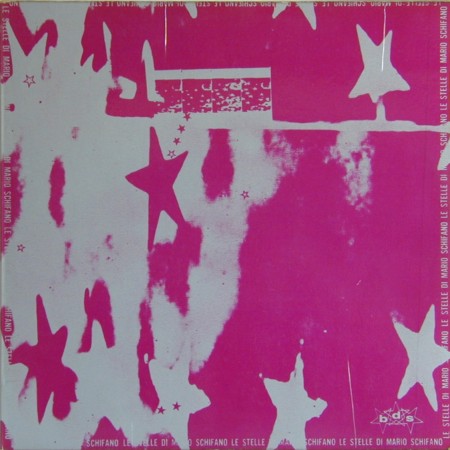 Dedicato a... - LP
Dedicato a... - LP label (from the original red vinyl issue)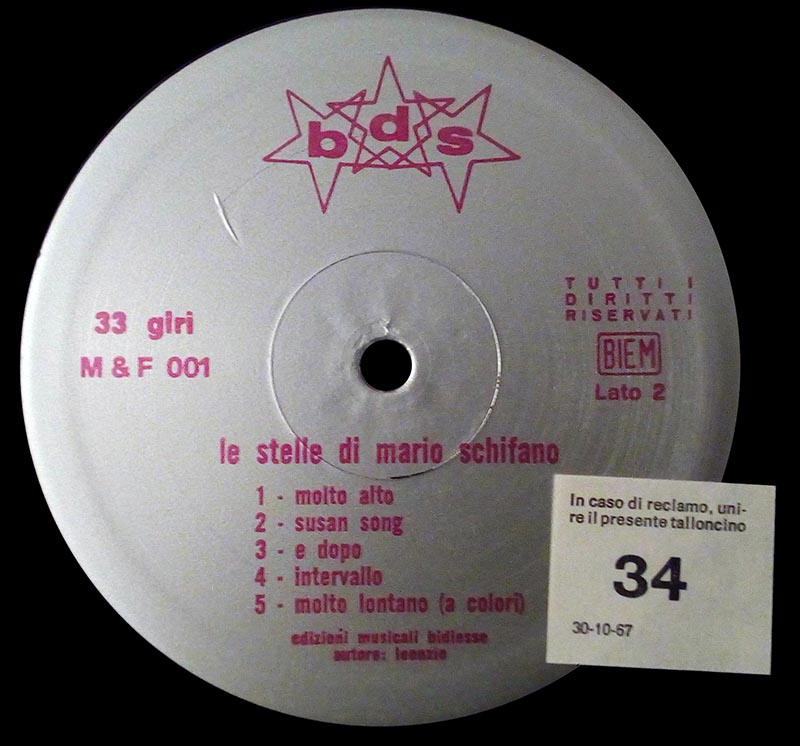 Dedicato a... - LP label and complaint ticket (from the original black vinyl issue)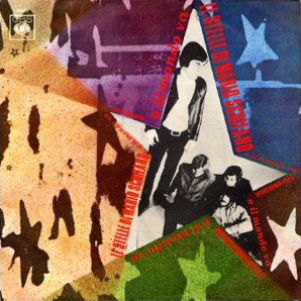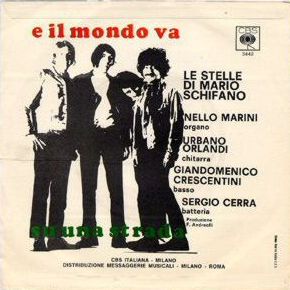 E il mondo va - 7" single cover, front & back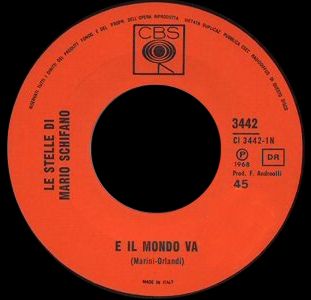 E il mondo va - 7" single, standard & jukebox label

Many thanks to Danilo Ragonesi, Alos and Pino Orlandi for some of the pictures in this page.