Artist

QUEL GIORNO DI UVE ROSSE

Corinna Rosini (vocals)
Ernesto Brancucci (vocals)
Enrico Ciacci (guitar)
Salvatore Accardi (French horn)
Cinzia Treggor (violin)
Mario Scotti (bass)
Adriano Giordanella (drums, percussioni)
Roberto Capasso (narrating voice)

Following the diffusion, in the second part of the 60's, of the "Messa beat", a celebration of the catholic mass with accompaniment of rock instruments, a large number of records were released by religious-inspired labels, containing pop, rock and even progressive styled compositions with lyrics based on Gospel themes.
These records were mostly released in such a limited number of copies that very few people noticed them, often being only sold through religious bookshops.
This was the case of rarities such as Una ragione per vivere by Messaggio 73 (1975), Dentro l'invisibile by Genfuoco (1979 - though not as religious-inspired as some of the others), Trasparente by La Sorgente (1981), and this Quel Giorno di Uve Rosse, released in 1976.
Not the name of a real group, Quel Giorno di Uve Rosse was in fact the title of a book by poet Alfredo Bonazzi, whose lyrics were transposed in music by Giuseppe Cappelletti with orchestral arrangements by Giacomo Dell'Orso.
Released by the catholic book and music publishing company Pro Civitate Christiana on its PCC record label, the album had a very limited pressing and distribution and is a recent addition to many collectors' want lists.
Musically speaking it's a soft-prog album, compared by many with Latte e Miele's Passio secundum Mattheum, with classical influences, male/female vocals and lyrics with a strong religious content.

LP
Quel Giorno di Uve Rosse
PCC (0079)
1976
single cover

A very rare album, Quel giorno di uve rosse had a single cover with extensive liner notes on the back.
It was released by the PCC label in a very limited pressing and primarily sold through catholic bookshops.
No counterfeits exist nor foreign issues.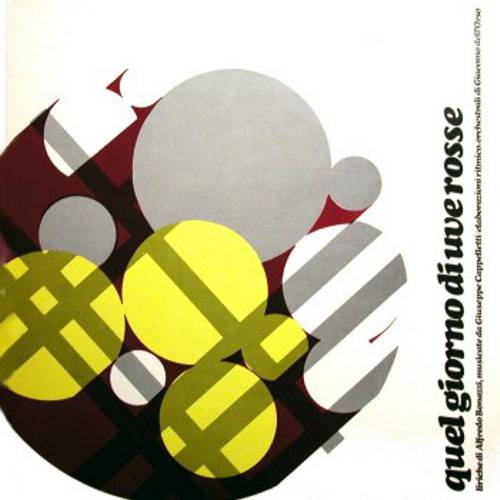 Quel Giorno di Uve Rosse - front cover
LP label