Artist

ANALOGY
THE JOICE - YOICE

Jutta Taylor-Nienhaus (vocals)
Martin Thurn-Mithoff (guitar)
Nicola Pankoff (keyboards)
Wolfgang Schoene (bass)
Hermann-Jürgen "Mops" Nienhaus (drums)

Even if four of the five musicians were foreigners, Analogy absolutely deserve a place here along with the other "Italian pop" groups, having spent their whole career in Italy and having released here their records.
The group was formed by four German musicians living in northern Italy, near Varese (three of them had grown up there, Thurn-Mithoff arrived in 1968), along with two italians, keyboardist Nicola Pankoff (originating from Arona) and bassist Mauro Rattaggi.
The initial name was The Joice, but it was changed by mistake by their record company to Yoice, and it was with this name that their first single was released by the small Produzioni Ventotto label, distributed by Messaggerie Musicali.
In 1972, when Rattaggi quit and rhythm guitarist Schoene switched to bass, the group changed its name to Analogy, and had the chance to play some very important concerts like Caracalla Pop Festival in Rome (first concert with the new name) or the Be-In in Naples, though they remained totally unknown outside Italy, apart from Switzerland.
Their only album, very rare and interesting, shows some rock-blues influences, with the nice voice of singer Jutta Nienhaus in strong evidence, and had a distinctive cover with the group members all naked.
In 1973 keyboardist Nicola Pankoff left the group, though he kept playing and also dedicating to painting, he was replaced by flutist Rocco Abate.
The group split around 1974, after more than 250 concerts in Italy and around 60 in Switzerland.
Jutta Taylor-Nienhaus and Martin Thurn-Mithoff collaborated with Franco Battiato on his Sulle corde di Aries 1973 album, with the musician/composer Paolo Ciarchi and also with director/actor Dario Fo's Collettivo Teatrale La Comune in 1974 (they appear on a cassette called Cammina, cammina).
These two musicians then moved to England, where they formed a new band called Earthbound in 1975. The original group split in 1977 and soon reformed with new musicians, only releasing a rare EP, with a style not far from Curved Air but even some influences from the then popular new-wave. It's odd to notice that Nienhaus and Thurn introduced themselves in the press information sheets as past members of the "Italian group Analogy". During their career Earthbound also played some dates in Northern Italy, and split at the end of 1979.
The same two musicians recorded in 1980 in London an ambitious symphonic-influenced opera, The suite, which had been composed and played live since 1974, but this was only released for the first time in 1993, again under the old name Analogy.
A new CD, released in 1996 by the German Ohrwaschl label but recorded in Italy, includes reworkings of old songs by a line-up including the above duo of Nienhaus and Thurn and original bassist Rattaggi with other musicians. The album was intended as a homage to drummer Mops Nienhaus, passed away some years before.
In 2010 the band's career was celebrated by a nice 3 CD box set featuring the complete Analogy and Earthbound recorded works, including many unreleased studio and live tracks.
The first live appearance of the band after many years was in 2003 when Analogy (Jutta Taylor-Nienhaus, Martin Thurn-Mithoff, Mauro Rattaggi and Geoff Cooper, second drummer of Earthbound) played God's Own Land in a club near Saarbrücken for Jutta's 50th birthday. It was the first concert ever by Analogy in Germany!
Later on, in February 2010, four of the band members (Jutta and Martin with Mauro Rattaggi and Rocco Abate) along with Dick Brett and Scott Hunter from Earthbound played together for a single show on the occasion of the launch of their The complete works box set.
Since 2011 Analogy are playing together again, adding to the line-up of Nienhaus, Thurn, Rattaggi and Hunter, keyboardist Roberto Carlotto (Hunka Munka). This line-up has played many times in Italy in 2012. In the same year AMS issued a DVD entitled The video collection, which includes all the existing video recordings with Analogy and Earthbound.
One of the 2012 concerts, in Lamezia Terme, was recorded for a live album issued in 2013, entitled Konzert.
The long story of Analogy came to its end in 2018, with Martin Thurn passing away in April, followed by Jutta Nienhaus in December of the same year.

LP
Analogy
Ventotto (PRV 2204)
1972
single cover, some copies with poster
Ohrwaschl (OWLP01) - Germany
1997
as above with different poster
Akarma (AK 093)
2000
gatefold cover with obi stripe and bonus 7" single by Yoice
AMS/BTF (AMS LP24)
2010
new reissue with single cover, the first 300 copies contain a poster identical to the original one - later (2021) reissued on clear vinyl
The suite
Akarma (AK 2011)
2000
10" mini-LP previously issued on CD in Germany with different cover
Ohrwaschl (OWLP 019) - Germany
2015
new issue with 1 bonus track and same cover as the CD version - yellow vinyl
Konzert
AMS/BTF (AMS LP70)
2013
glossy single cover - live recordings from 2012


CD
Analogy
Vinyl Magic (VM 017)
1990
reissue of 1972 album
Akarma (AK 093)
2000
as above with mini-LP cover, contains the whole The suite album and the Yoice single as bonus tracks
Garden of Delights (CD 059) - Germany
2001
reissue of 1972 album with a bonus track
AMS/BTF (AMS 232CD)
2015
reissue with mini-LP cover
The suite
Ohrwaschl (OW 019) - Germany
1993
later issued in Italy by Akarma (AK 2011) on 10" mini-LP and on CD along with the Analogy album
Ohrwaschl (OW 019) - Germany
2015
new issue with digipack cover
25 years later
Ohrwaschl (OWR 07) - Germany
1996
1995 new recordings
Analogy/Earthbound - The complete works
AMS/BTF (AMS 154CD)
2010
3CD box set including the complete recordings of Analogy and Earthbound along with unreleased tracks
Konzert
AMS/BTF (AMS 226CD)
2013
glossy mini-LP cover - live recordings from 2012



ETERNITY

PROMOTIONAL AND JUKEBOX SINGLES (with blank cover)
God's own land
VDHO (VDH 502)
1971
promotional single, backed with Ihre Kinder/The dice.



YOICE

SINGLES (with picture cover)
Sold out
God's own land
Ventotto (PRV 28009)
1971
a reissue of this single with identical cover is included in the LP Akarma AK 093 LP (see above)


PROMOTIONAL AND JUKEBOX SINGLES (with blank cover)
Sold out
Ventotto (PRV 28008)
1971
promotional single, backed with Terza classe/It brings a tear.


VARIOUS ARTISTS COMPILATION ALBUMS
Super seven
(with Sold out)
Giallo (SAF 013)
1977
CD compilation also featuring tracks by Bora Bora, Waterloo, III Classe, 20° Secolo



EARTHBOUND

SINGOLI (with picture cover)
Liberated lady
Robot
Archway (AR 27945) - UK
1979
7" single with cover - issued in 2000 copies
Liberated lady
Song for South Kensington
Robot
Archway (AR 17945) - UK
1979
12" single with cover and insert with an extra track - issued in 2000 copies

Analogy is a very rare and expensive album, pressed in around 1000 copies, some of which had a promotional stamp on label. It had a delicate single cover made of thin cardboard, and some copies were wrapped in a giant poster with a foot (pictured also on the back cover, this was in fact an ashtray!), folded in six parts, to hide the naked bodies.
The original picture used for the LP had the six members of Yoice, but at the time of its release Mauro Rattaggi has left the group, so he was hidden under a blue stripe printed on the cover. The Akarma reissue has a retouched picture of the five Analogy members without the blue stripe which has been added to the record like the Japanese albums' obi's.
The album was reissued for the first time in Germany by Ohrwaschl, with a cover identical to the original and a different poster (with the five musicians naked), then by Akarma, with a reworked gatefold cover, and again by AMS/BTF in 2010 with the single cover and the original poster (included in the first 300 copies only).
The CD reissue by Garden of Delights issued in 2001 contains an unreleased extra track, Milan on a sunday morning.
The album has also been reissued on CD in Japan by Belle Antique in 2011 (BELLE 121925) with mini-LP gatefold cover and a reproduction of the original foot poster.
The suite was originally issued in 1993 in Germany on CD by Ohrwaschl, and later in 10-inch form by Akarma in 2000 with a different cover design. Ohrwaschl has reissued it in 2015 on digipack cover CD and LP, the latter containing the bonus track Il viaggio dei grandi spiriti.
Even the single by Yoice is rare. The track Sold out also appears on a promo single backed with a song by Terza Classe.
The song God's own land also appears on a promotional single, but under the name Eternity, on the other side the German group Ihre Kinder. Eternity was the name of the old band of Wolfgang Schoene, and was chosen by the record company for this promo single.
Many Analogy and Yoice tracks appear on CD compilations issued in Germany: Intermission and God's own land on Ohrwaschl Sampler from 1995 (Ohrwaschl OWS 1/2), Sold out and God's own land su Psychedelic Gems 4 from 1999 (Garden of Delights PGCD 04), The Suite A on The art of Sysiphus vol.25 from 2004 (Sysiphus Verlag), Analogy on Psychedelic Underground vol.6 from 2001 (Garden of Delights CD 060), Around the mystic - Psychedelic Art Rock 1965-1975 from 2005 (Moon CD010), Krautrock - Music for the brain vol.3 from 2008 (Target Music/German Rock e.V.)
The Earthbound single is rather rare, having been issued in 2000 copies each for both the 7-inch and 12-inch versions, the latter has an extra track. The 12" version has a laminated cover and an insert.
Singer Jutta Nienhaus also appears on a 1971 single issued on the Cooper label (CPI 7008) by Jutta & Ice, containing Here's to you and Hot love also issued in a juke box version with blank cover.
No bootleg reissues exist.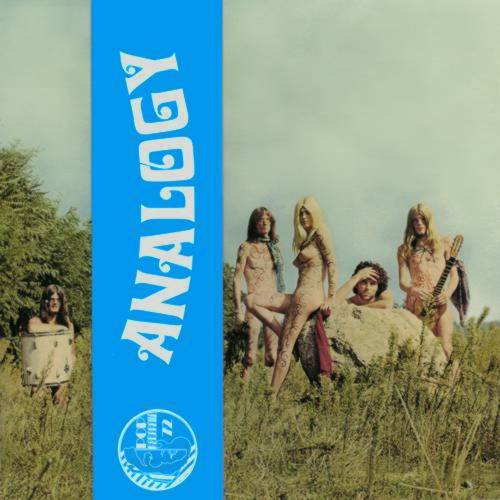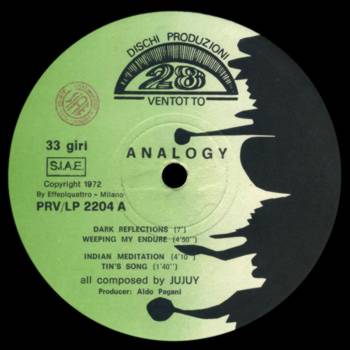 Analogy - LP, cover and label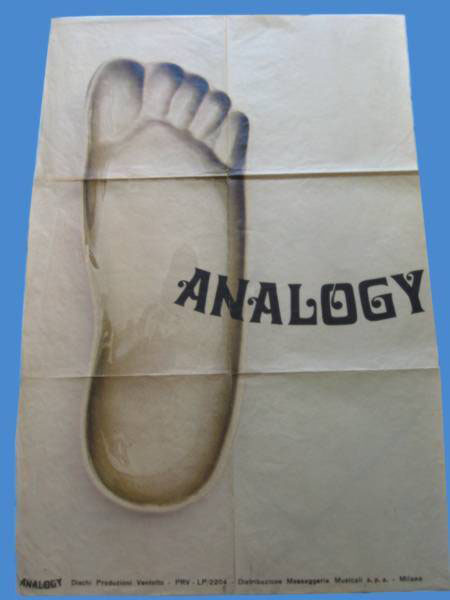 Analogy - original LP poster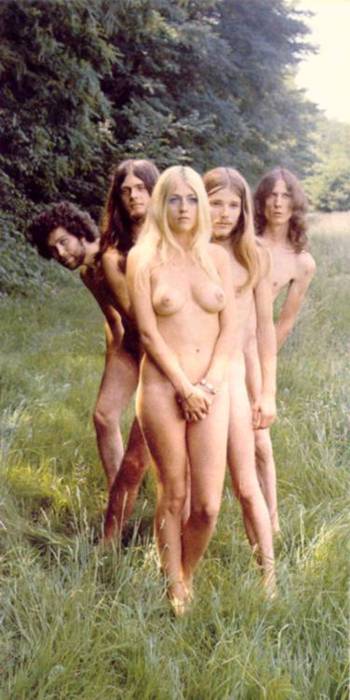 Analogy - Ohrwaschl reissue LP poster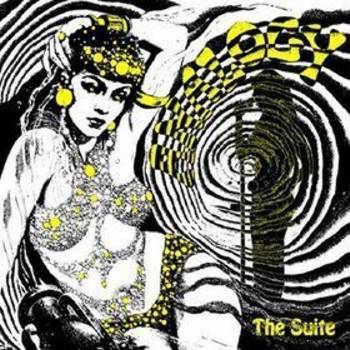 The suite - 10-inch LP and CD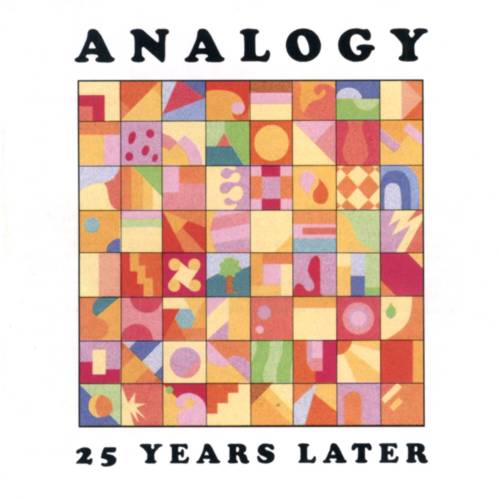 25 years later - CD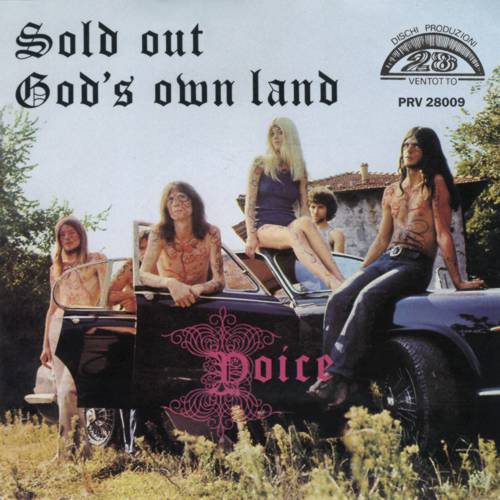 Yoice/Sold out - 7" single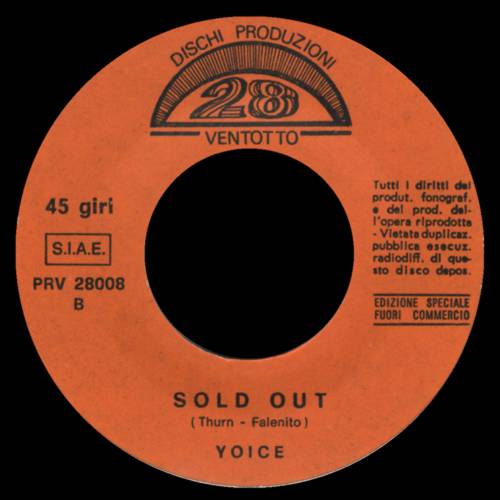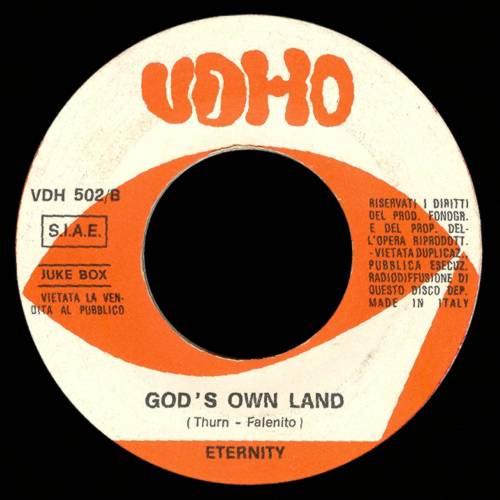 Yoice (Eternity) - promotional singles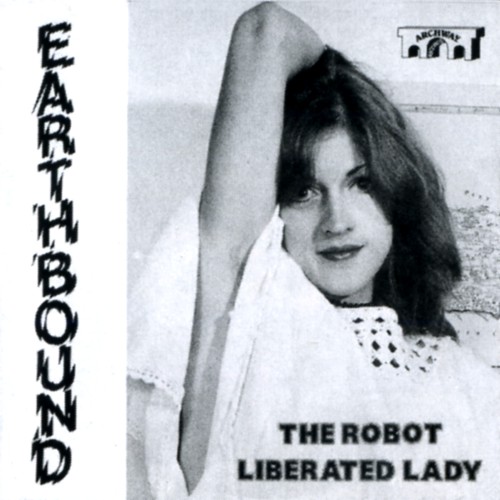 Earthbound/Liberated lady - 7" and 12" single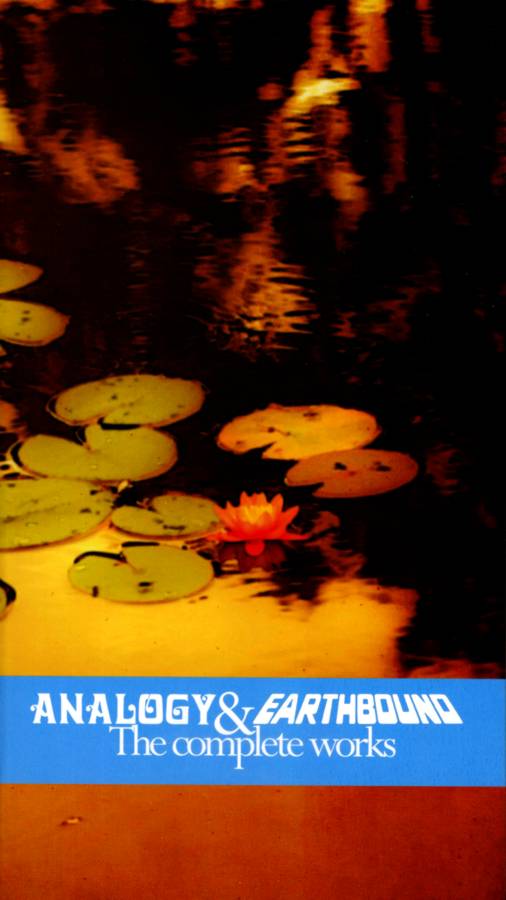 Analogy & Earthbound - The complete works - box set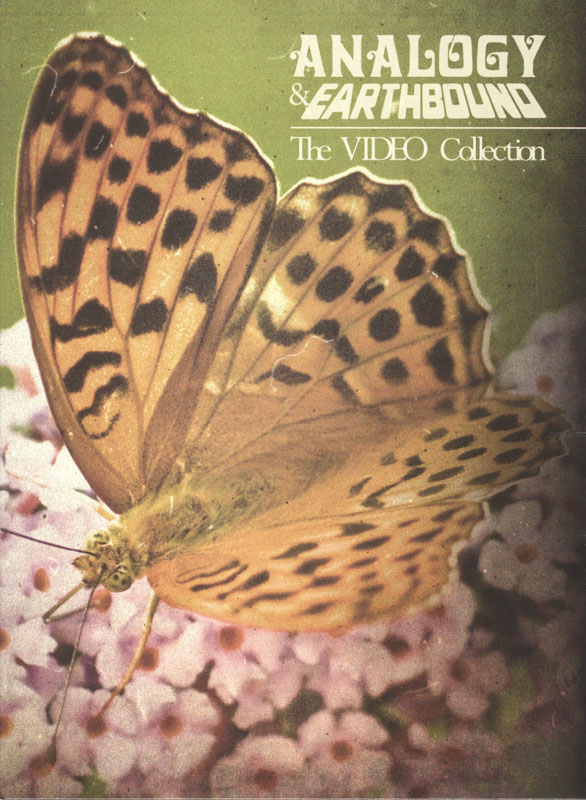 Analogy & Earthbound - The video collection - DVD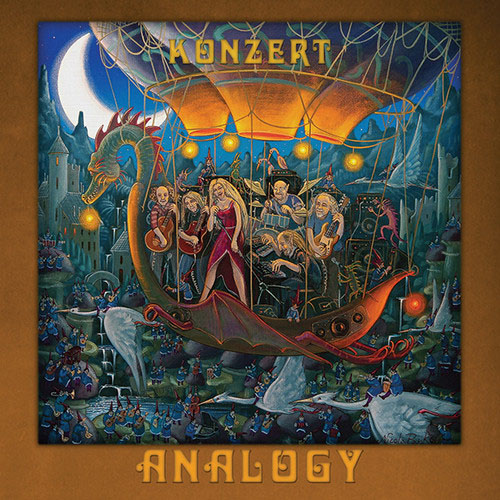 Konzert - CD/LP

An interview with Martin Thurn-Mithoff, by Augusto Croce, January 2008
1-When did you came to Italy and where?
I came to Italy in September 1968.
Jutta, Mops and Wolfgang lived here since their childhood in the Laveno/Luino area, they had their parents working for the Euratom in Ispra [A very important international nuclear research center]. We met at the European School in Varese, which I attended to get an european high school diploma and to avoid the draft in Germany.
Along with Wolfgang and two other schoolmates (a German and a belgian) we formed a cover band called Sons of Giove, playing between December 1968 and June 1969 around Varese (some 15 gigs, among them one with I Cuccioli). Since October 1969 up to the spring of 1970 I played as a duo with Jutta (always around Varese) before starting the Joice project (later Yoice).
2-What's the story behind the different names of the band?
The Joice (a pun, based on "James Joyce" and "joy") was the original name. When the single came out, we discovered that Produzioni Ventotto had made a mistake, but covers and labels had already been printed, so we had no choice but to accept the "new" name. After recording the LP – without Mauro and with a more pretentious style – we decided to change name once again, using the title of one of the new songs which we felt could well reflect the new direction of the group.
Our first concert as Analogy was indeed the Villa Pamphili Festival in Rome in May 1972.
Eternity was a name chosen by Produzioni Ventotto for the jukebox issue of God's own land and we knew nothing about it. I don't know why, but I think it was for a copyright matter.
Sold out was later released in the jukebox circuit with the name The Yoice.
3- Did you earn any money from the record sales?
I can say that we never made any money from our records, though the record company paid for the instruments (Gibson, Hammond, Fender, Ludwig) and for the big festivals where we played (Roma, Napoli etc). The name of Jujuy as composer was a lie, this was one of the nicknames used by Aldo Pagani, our manager/producer, who earned all the SIAE copyright incomes.
4-How many copies have been pressed and sold of your LP?
I have no idea of how many copies were pressed in 1972, there were at least 1000. I remember that the record was easy to find in many Italian stores because Messaggerie Musicali had a good distribution network. There's no unsold copies of the LP. A reissue was not possible because Produzioni Ventotto went bankrupt and we had bad relations with the boss (Antonio Cagnola) and with Aldo Pagani for the above mentioned reasons.
The single was probably issued in a high number of copies because it was easy to find it in every jukebox in Italy.
5- Is it true that the blue stripe on the cover was used to mask Mauro Rattaggi? How come he didn't appear in the poster picture with the five of you naked?
Yes, the pictures on the cover of the Yoice single and the Analogy LP were taken in the same day in 1971 when Mauro was still with us, while the one on the poster was taken later.
Mauro Rattaggi left the bass at the beginning of 1972, staying with us as road technician until April and coming back in this role at the end of his military service (I think it was in April 1973).
6- Did the LP come out with a poster?
The poster with the foot - I think it was a matter of fairness - was indeed "the cover" because otherwise the record couldn't have been exposed in the shop windows, or so they claimed. So, the record in the shops always had the poster wrapped over the internal cover, in fact that foot was an ashtray belonging to Aldo Pagani.
The other poster (with us naked with no body painting) didn't exist at that time, it was added by Vinyl Magic, in the first CD reissue in 1990, which we were totally unaware of.
7-Did you play many concerts in Italy? Some major ones?
Yes, we played almost everywhere in Italy, and we made many big concerts with major names. We made more than 300 concerts, some of which in Switzerland, both as Joice/Yoice and Analogy, and we played among others, with Battiato, Showmen, Quella Vecchia Locanda, Osanna, De De Lind, Rovescio della Medaglia, Area, Perigeo, and foreign names like Chicken Shack, Atomic Rooster, Curved Air, Van der Graaf Generator.
8-How long did you stay in Italy after the record release? And what did you do?
After Analogy, Jutta and I worked for a while with Battiato on his Sulle corde di Aries and then we engaged and moved to London.
9-How was your English experience with Earthbound?
Earthbound were well known in London's rock circuit between 1978 and 1980.
We made two Italian tours (1978/79) with TV shows and concerts (Milano, Genova, San Remo etc), around 50 concerts in London and the release of a 7" single and an EP gave us some attention from the press and the radio, where the popular John Peel helped us with his show.
10-Did you have other musical experiences in the 80's?
Since 1983 until 1990, I played with Alan Dunn as a songwriting duo in Germany, releasing a cassette album entitled Yours Faithfully.
11-Any chance to see Analogy together again?
No! We made 25 Years Later as a homage to Mops and for the pleasure of meeting after 25 years, but that's enough. There was a short "concert" for the 50th birthday of Jutta near Saarbrücken in September 2003 (Mauro, Jutta, me and Geoff Cooper from Earthbound), but it was just a short musical break during her party.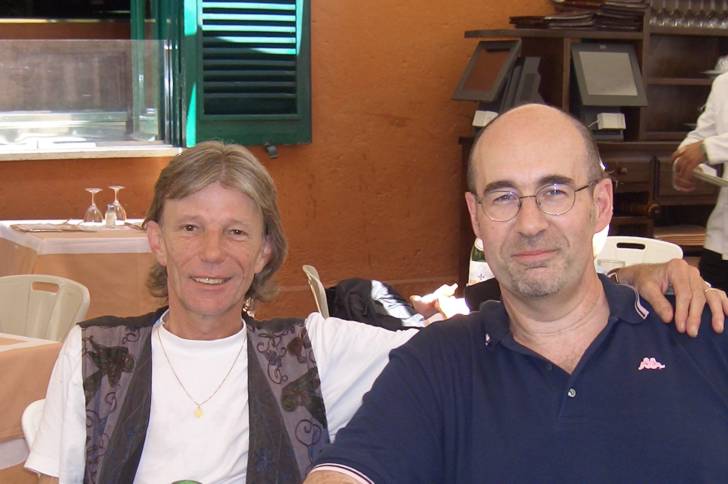 Martin Thurn with Augusto Croce, Rome, July 2008



Click on pictures to enlarge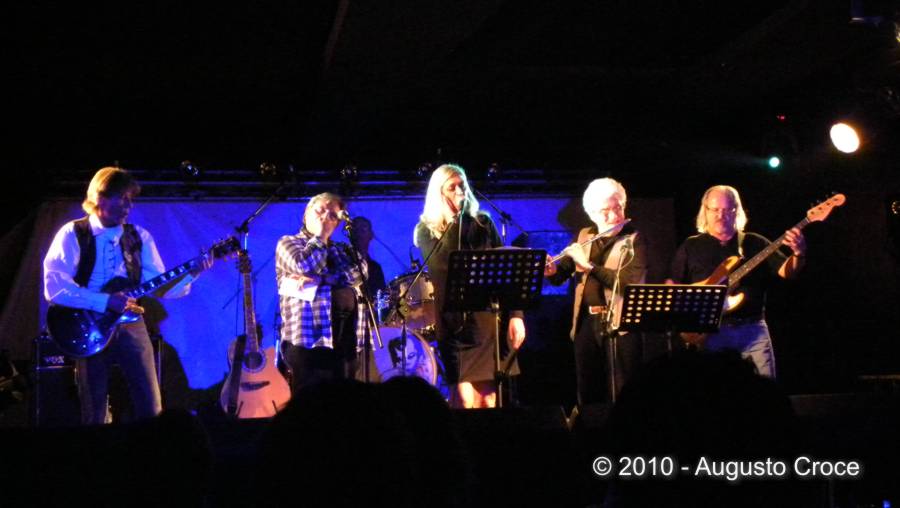 Analogy live at Bloom, Mezzago (Monza), 28-Feb-2010
from left: Martin Thurn, Claudio Fucci (guest), Scott Hunter (Earthbound),
Jutta Nienhaus, Rocco Abate, Mauro Rattaggi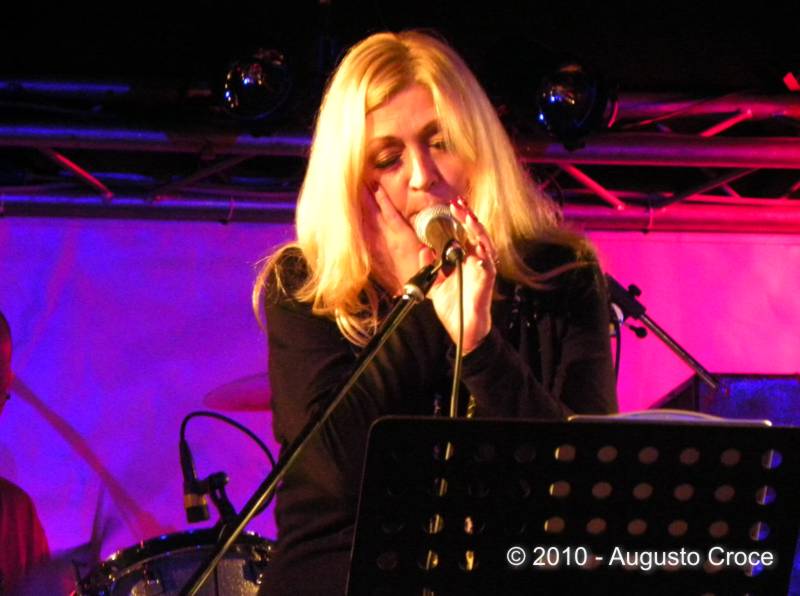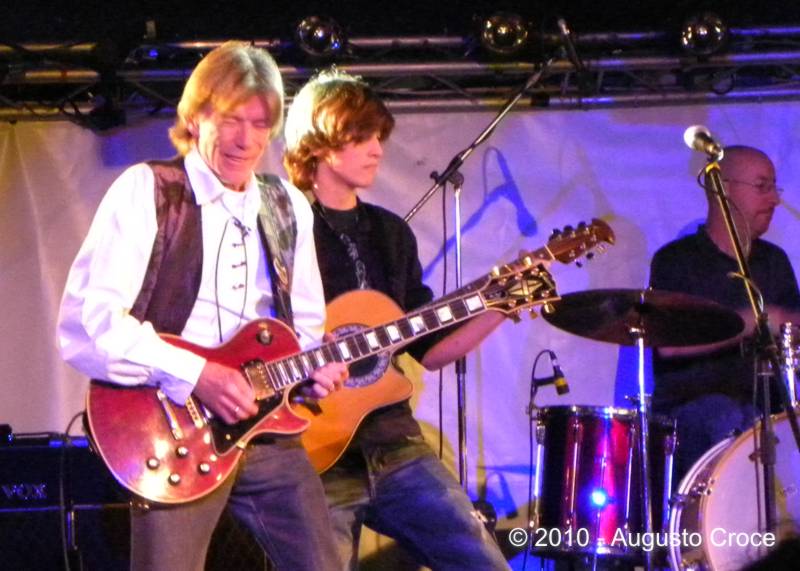 Analogy live at Bloom, Mezzago (Monza), 28-Feb-2010
left: Jutta Nienhaus, right: Martin Thurn with son Nikolai and Scott Hunter (Earthbound)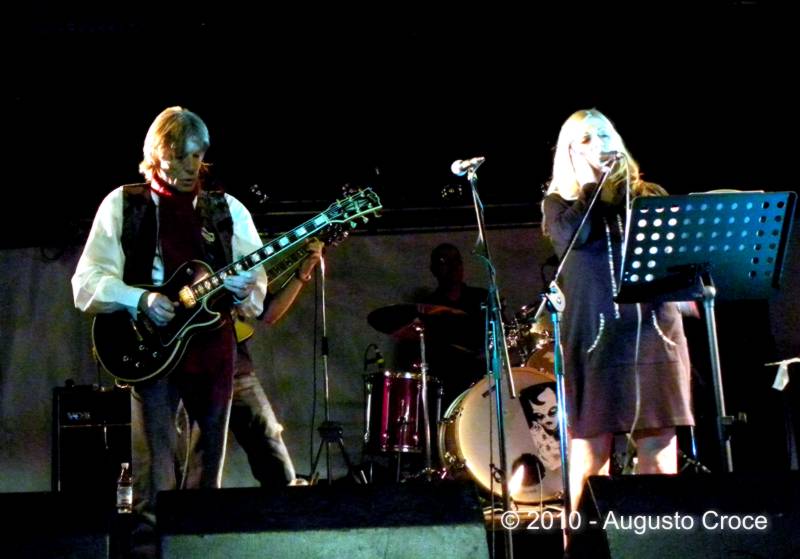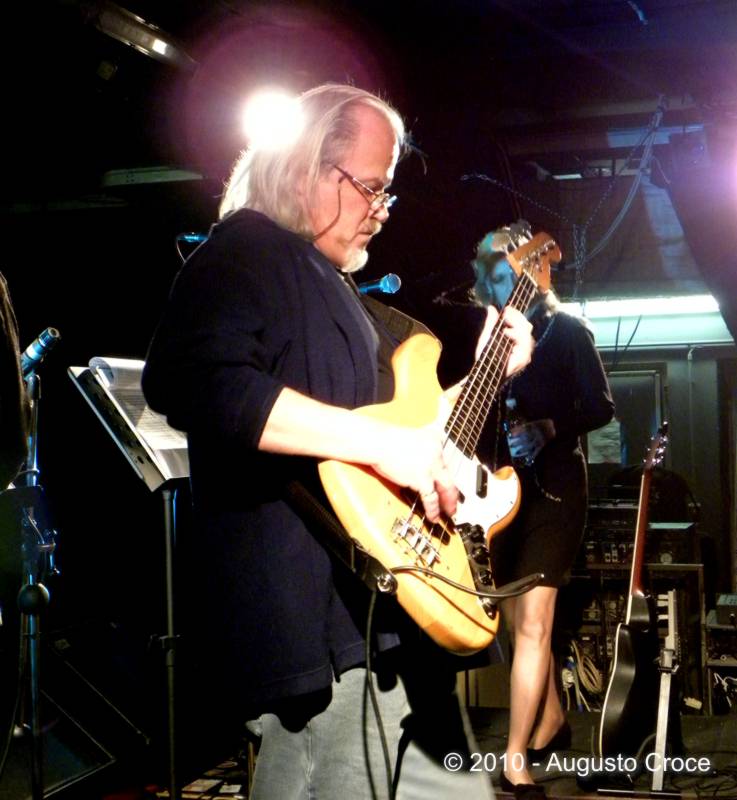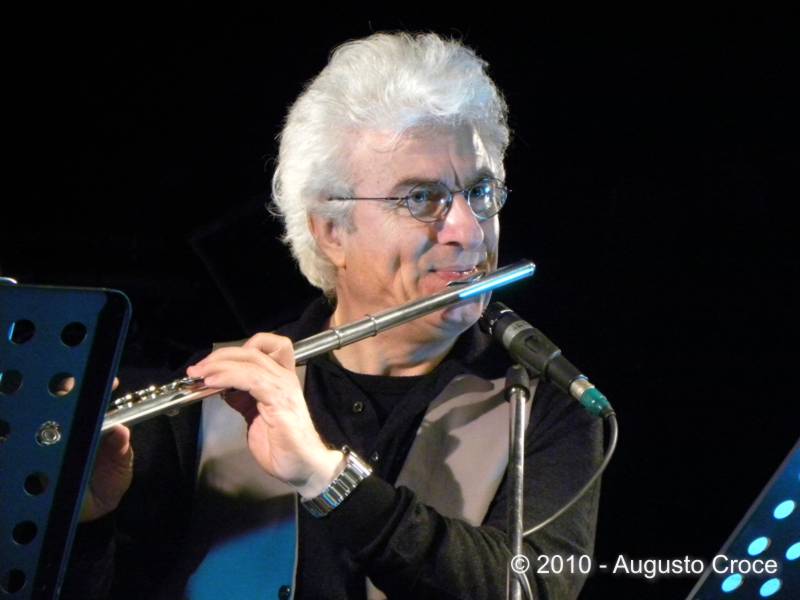 Analogy live at Bloom, Mezzago (Monza), 28-Feb-2010
left: Martin & Jutta, centre: Mauro Rattaggi, right: Rocco Abate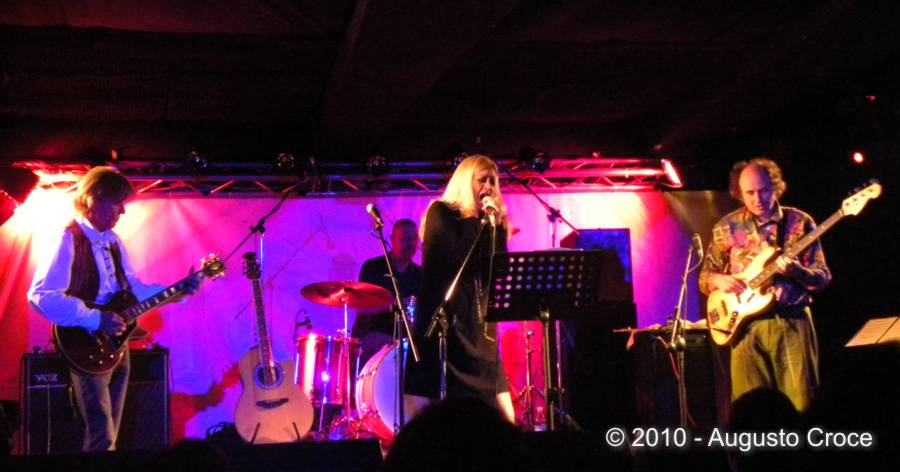 Earthbound live at Bloom, Mezzago (Monza), 28-Feb-2010
from left: Martin Thurn, Scott Hunter, Jutta Nienhaus, Dick Brett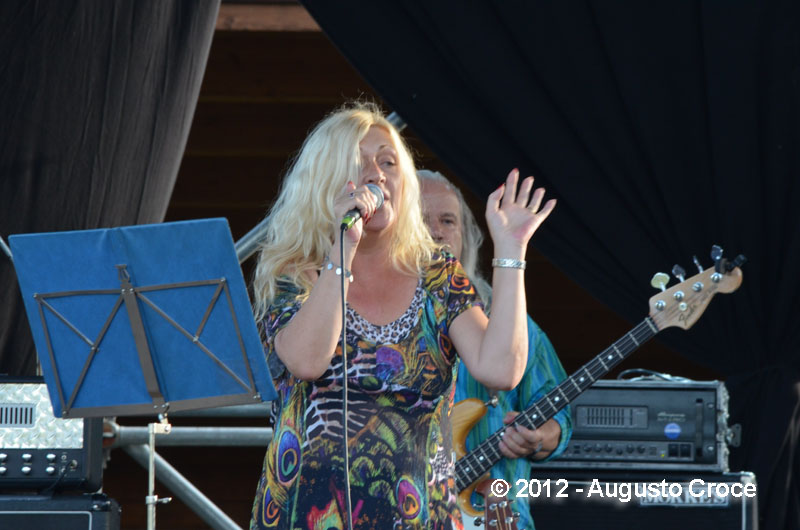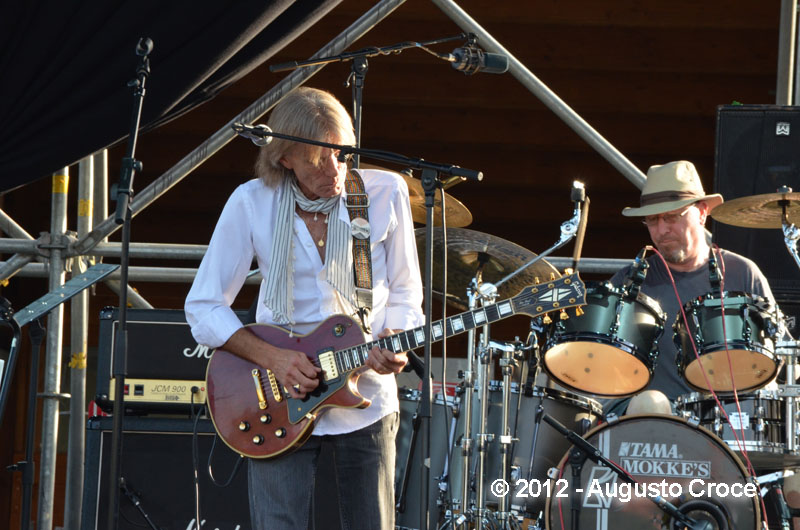 Le Radici del Rock - Viterbo 21-Jul-2012

The official site of Analogy is www.analogy.it
Flutist Rocco Abate has a website at www.roccoabate.it
Earthbound's drummer Geoff Cooper has his own website: www.geoffcooperdrums.co.uk

Reconstructing the story of Analogy was only possible through the precious help of Martin and Jutta, who deserve our sincere memories, and Mauro. They all contributed with friendly help, pictures and detailed information.