Artist

I BOOM

Salvatore Deni (guitar, vocals)
Marcello Saccucci (keyboards, vocals)
Alan Farrington (bass, vocals)
Edoardo Viola (drums)

Not a real progressive band, I Boom were a 60's beat band from Rome who released their only album only in 1973.
In their early days the singer and bass player was Vittorio Lombardi and the group, then known as Boom 67 played often at the Piper Club opening for foreign acts like Pink Floyd, Spencer Davis Group and Small Faces, then taking part in the Cantapiper 1969 tour (with the name changed to Boom 69).
The sound is beat inspired and like similar bands (Il Mucchio, I Raminghi) is closer to the sixties's sound than to prog atmospheres, but the LP is worth listening, if you can have it taped! The album only carries the musicians' nicknames (Alan, Deni, Marcello, Bracco) so the story of this band has been hard to document.
The opening Luce e vita, Improvvisamente notte and the long and more complex Il padre sono io with an instrumental keyboard part reminding of some 70's bands are the best moments of an album that would at least deserve a CD reissue.
After playing in the USA for a while the group broke up and three of its members (drummer Viola, guitarist Deni and singer/bass player Alan Farrington) formed around 1975 Paco Andorra, a melodic pop group that issued many singles and an LP.
Keyboardist Saccucci released in 1981 under the name Marcello an album for New Record entitled L'amante, preceded by the single Foggy eyes/I'll sing for you issued under the name Marcello Ucci.
The original singer/bass player, Vittorio Lombardi, had a long career as soloist with his orchestra.

LP
I Boom
Smash (SM 905)
1973
single flipback cover

An ultrarare and expensive album that has never been reissued in any form. No counterfeits exist.
The vinyl has the matrix date 15/12/73, so it's likely that the few copies sent to the record shops arrived in 1974. Some of the copies found had a triangular deletion hole at the centre of the cover and vinyl.
Some of the album tracks are included, with the same musical background, on the album Rosa (Smash SM-906) by Patrizio Sandrelli, issued by their same label in 1975 and on two of his singles from 1976.
The songs on the Sandrelli LP which had already appeared on the Boom album are Un breve amore and Notte giorno vita morte (originally entitled La soffitta and Luce e vita on the Boom LP), while the two songs issued on single are L'oro del tuo grembo (Smash SM-6008, B-side of Piccola donna addio, entitled Realtà in the Boom version) and Senza di lei (Smash SM-6009, B-side of A letto senza cena, the only one among these tracks to keep its original title).
The presence of I Boom at the Italian Pop Festival held in April 1971 at the Kilt Club in Rome is unconfirmed, as a music magazine of the time mentioned a group called Booc.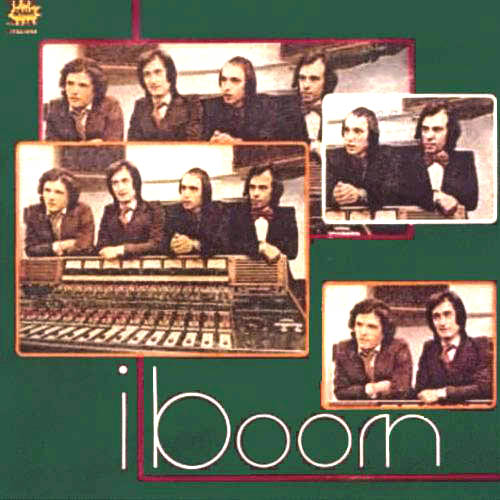 I Boom - front cover and label