Artist

I CALIFFI

1966-1971:
Paolo Tofani (guitar)
Giacomo Romoli (keyboards)
Franco Boldrini (bass)
Carlo Felice Marcovecchio (drums, vocals)
1972-1973:
Vincenzo Amadei (guitar, vocals)
Sandro Cinotti (tastiere)
Franco Boldrini (bass, vocals)
Maurizio Boldrini (drums, vocals)

Once again two almost completely different bands with the same name, Florence band I Califfi included in their first line-up the future Area and Electric Frankenstein guitarist Tofani and Campo di Marte drummer Marcovecchio and were a very popular band in the 60's, before disbanding at the turn of the 70's. They released an album on RiFi and no less than eleven singles.
The band was reformed in 1972 by bass player Franco Boldrini, the only member from the original line-up, for a new recording deal with Fonit Cetra, that only produced an LP.
Fiore di metallo is a good prog album, based on organ and moog sounds, even if the lyrics are a bit naive and too close to the typical Italian beat themes. Some interesting keyboard passages, as in the instrumental Varius or the opening track Nel mio passato, make this album well worth listening.

LP (second line-up)
Fiore di metallo
Cetra (LPX 23)
1973
gatefold laminated cover
Fonit/Vinyl Magic (LPP 420)
1991
gatefold cover - copies with single cover May exist
BTF/Vinyl Magic (VM 122LP)
2008
gatefold cover - first issued with black vinyl, later repressed on orange and clear vinyl


CD (second line-up)
Fiore di metallo
Fonit Cetra (CDLP 420)
1991
reissue of the 1973 album
Warner/Fonit (8573 82054-2)
1999
as above
BTF/Vinyl Magic (VM 122)
2007
new reissue with mini-LP gatefold cover


PROMOTIONAL AND JUKEBOX SINGLES (with blank cover)
Col vento nei capelli
Felicità sorriso e pianto

Cetra (SPD 660)
1973
promotional single with black label - both tracks from Fiore di metallo

A very rare album, probably due to the absolute lack of interest and a small pressing, Fiore di metallo has been re-released in the Fonit/Vinyl Magic series in early 90's from the original matrix. Some copies of this 1991 reissue were reported with a single cover instead of the standard gatefold.
A new LP reissue was produced in 2008 by BTF on black, then some years later on orange and again on clear vinyl.
No counterfeits exist nor foreign vinyl pressings.
A Japanese CD exists, on Strange Days (1010), with mini-LP cover, just like the 2007 Italian reissue on BTF.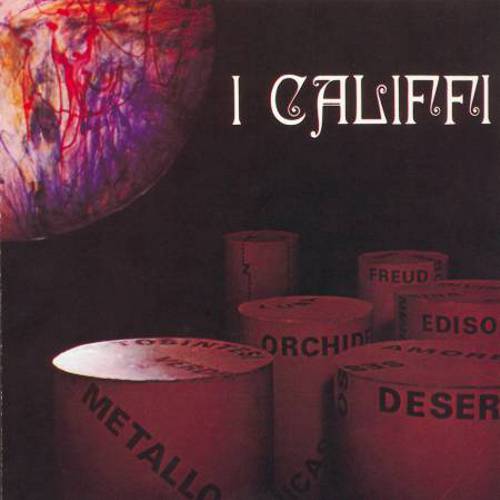 Fiore di Metallo - LP

Thanks to Guilherme Tofani and Mauro Degrassi for information