Artist

CAPITOLO 6

Riccardo Bartolotti (vocals, guitar, flute)
Loriano "Fischio" Berti (sax, flute)
Jimmy Santerini (keyboards, vocals)
Mauro Romani (bass)
Lorenzo Donati (drums, vocals)

In 1969 a couple of musicians from Viareggio band Gli Eremiti (drummer Luciano Casa and keyboardist Jimmy Santerini) joined a band from Livorno (I Rangers), and the resulting five-piece was called Capitolo 6. Two drummers were included in this line-up, though Luciano Casa mostly played 12-string acoustic guitar and sang backing vocals.
The group obtained a record deal with RCA subsidiary It (thanks to RCA producer Franco Tessandori, who was also from Viareggio), a label that was much interested in singer-songwriters than in rock groups, and the first single appeared in 1971, the group being by now based in Rome and a new five-piece line-up with Loriano Berti, from Grosseto, replacing Luciano Casa.
It's likely that the group had various line-up changes in this period, a clip from the yugoslavian Tele Capodistria TV shows them as a four-piece, with Donati as singer, Santerini (on bass), sax/flute player Berti and guitarist Roberto Ghiozzi (former keyboardist and singer in the beat group from Livorno, I Satelliti), the latter as a temporary replacement for Bartolotti who didn't have the passport to go abroad.
They had a good live activity, playing at Viareggio festival in 1971, and recorded in 1972 their only LP Frutti per Kagua.
A mixed album, with two very different sides, the first one containing the 18 minutes long title track, with flute in evidence and a good sound. Guitarist Bartolotti was responsible for the heavier sound of the group.
Side two contains three shorter tracks with good lyrics (by Italian songwriter Francesco De Gregori) but less inspired in their musical content.
A single with Il grande spirito (with an unreleased track on B-side) was also taken from the album, but the band decided to split in October 1972 due to the lack of success. They had also been featured, singing other artists' songs, in some RCA compilations released throughout the world for the Sanremo 1972 festival (see details below), and even played on an album by the composer Mario Capuano.
A new four-piece line-up included Bortolotti, Romani, Antonio Favilla (keyboards) and probably Giovanni Galli (drums), but it's likely that this group had a very short life.
Keyboardist Antonio Favilla was involved in the short-lived second line-up of Campo di Marte, he had drug problems and sadly died in the early 90's.
Even original keyboardist Santerini died, of leukaemia, in 1977.

LP
Frutti per Kagua
It (ZLST 70014)
1972
gatefold cover with flap on the left side
Akarma (AK 1010)
1999
standard gatefold cover
Sony/BMG (88985 42786 1)
2017
new remastered reissue with gatefold cover
It/De Agostini (ZLST 70014)
2020
gatefold cover and 8-page insert - no.63 in the De Agostini "Prog Rock Italiano" series

CD

Frutti per Kagua
Mellow (MMP 257)
1994
reissue of 1972 album
MPR (MPRCD 009)
1997
as above with mini LP cover
BMG (74321 98330 2)
2003
as above with mini-LP gatefold cover
BMG (88697 85362 2)
2011
as above with mini-LP gatefold cover

VARIOUS ARTISTS COMPILATION ALBUMS

Sanremo 1972
(with Jesahel and Ti voglio)
RCA (PSR 72)
1972
also features Nicola di Bari, Claudio Baglioni, Nada, Louiselle, Rita Pavone, Gianni Morandi, Domenico Modugno, Graciela.

SINGLES (with picture sleeves)

M'innamoro di te
L'amavamo in tre
It (ZT 7015)
1971
both unreleased tracks
Il grande spirito
Sole di notte
It (ZT 7034)
1972
B-side is unreleased

PROMOTIONAL AND JUKEBOX SINGLES (with blank sleeve)

M'innamoro di te
It (JBZTA 50202)
1971
yellow label jukebox single - backed with a track by Ricchi & Poveri

A rare and expensive album, Frutti per Kagua came in a gatefold cover with a flap on the left side, that was intended to hang the cover to the wall, the record is inserted in the left side of the gatefold that is closed by the folded flap.
The album has been reissued on vinyl by Akarma in 1999 with a gatefold cover. Early copies of this reissue had the cover drawing printed the wrong way round, opening the cover you can't see the whole indian chief as the two halves are rotated by 90 degrees towards each other. This defect was corrected in later copies.
New vinyl reissues came out in 2017 and 2020. No counterfeits or foreign issues exist of the album.
The album has been reissued on CD in March 2003 by BMG with mini-LP gatefold cover and obi, as part of their "Dei di un perduto rock" series, and later repressed in October of the same year when a second batch of those CD's came out.
The CD was announced by BMG as being also available with standard jewel case (cat.no. 74321-96994-2) but was probably never issued in this form.
According to a source, a 1969 single coupling Cool jerk and Please please please on Atco (cat.no.90175) was released by Capitolo 6.
The existence of this single has been denied by one of the original members. It has to be said that Atco was a very unlikely label for an Italian group!
For what the line-up is concerned, many sources mention a Giovanni Galli as the band's drummer. Galli was in fact the bass guitarist in the Viareggio band Gli Eremiti, playing with Santerini and Casa, and was for a small time among the founder members of Capitolo 6. Anyway, he May even have rejoined the group before they broke up.
As other artists signed to the RCA group, Capitolo 6 were featured on some compilations released on that label. One of these was Sanremo 1972, an album that included both originals and remakes from that year's edition of the Italian TV song contest. Capitolo 6 didn't appear on the show, but were included in the LP with their cover versions of Delirium's Jesahel and Ti voglio, originally sung by Donatello .
A similar compilation, called Hitparade Italia no.4 - San Remo '72 was released in Germany, again on RCA, and this also included Lucio Battisti. Capitolo 6 were only present on this with Jesahel. Other compilations like this, including the above tracks along with Un diadema di ciliegie, originally by Ricchi e Poveri, were probably released in South America.
One of this, called En espaņol: los finalistas del Festival de San Remo 1972 (RCA LPVS-1273) was released in Venezuela and includes the above two tracks in Spanish version, called Jesahel and Te quiero, also issued on single (RCA 3-10713) in that country.
The two tracks from the Sanremo festival, Jesahel and Ti voglio, appeared in Italian version on single in Germany (RCA 74-16165) and even in Angola (RCA/Telectra 30052) both with art cover.
Also in Argentina a San Remo 1971 compilation, entitled Festival de San Remo 1971 (RCA AVLP 3997) featured Capitolo 6 (renamed Capitulo 6) with remakes of Ninna nanna and La sonrisa, il paraiso, both songs originally sung by other artists during the TV show.
The second single, M'innamoro di te was also released in a Spanish language version (titles were Me enamoro de ti and Te amabamos tres), in Argentina and Uruguay (same catalogue number: RCA Victor 31A-2110) and Venezuela (RCA Victor 3-10664).
Some tracks for the south American market were recorded by the band after this single but never released.
A CD reissue of Frutti per Kagua was released in Japan in 2008 by BMG (cat.no. BVCM-35444), with a mini-LP cover reproducing the original.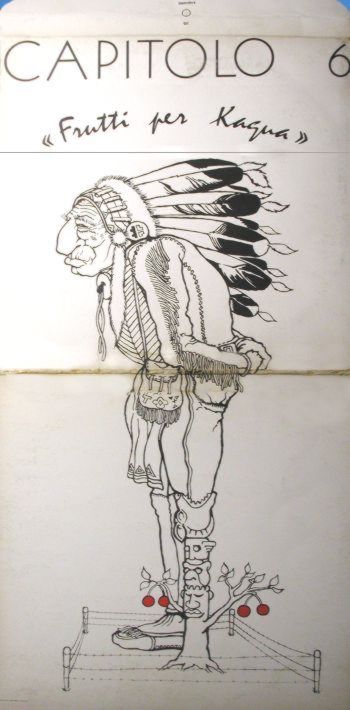 Frutti per Kagua - gatefold cover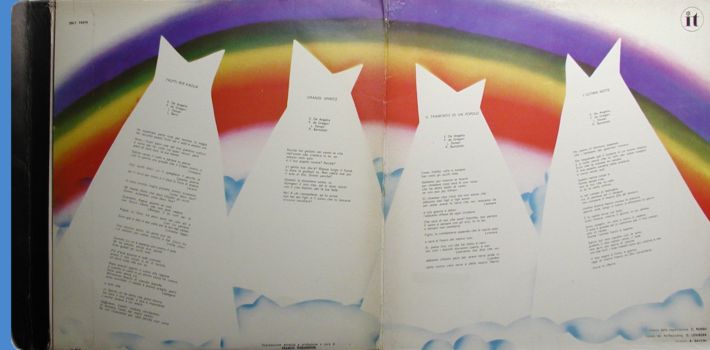 Frutti per Kagua - inner gatefold with open flap on left side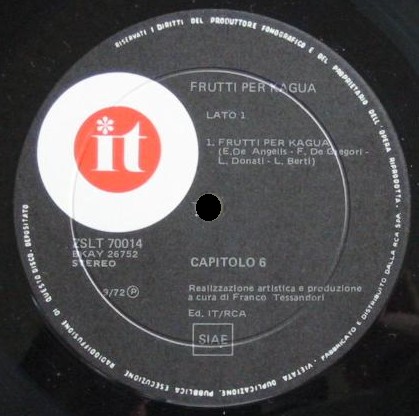 Frutti per Kagua - standard and promo LP labels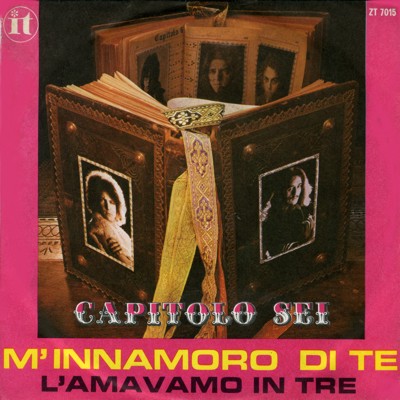 M'innamoro di te - 7" single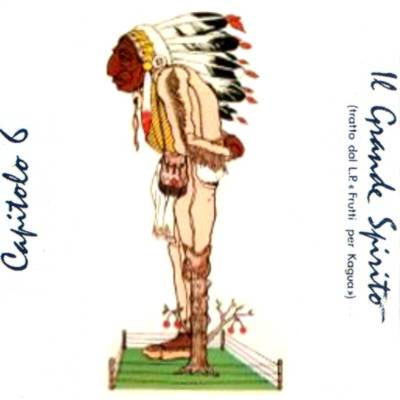 Il grande spirito - 7" single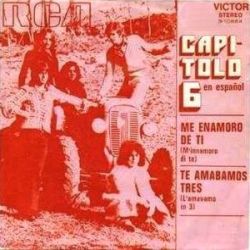 M'innamoro di te - Spanish language 7" single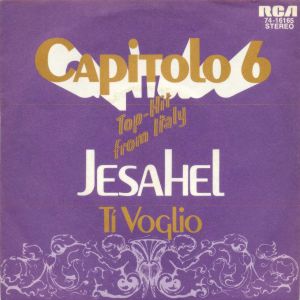 Jesahel - 7" single Germany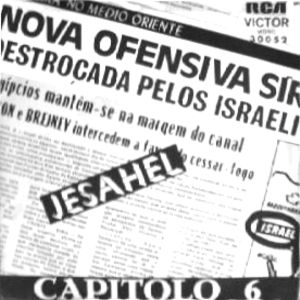 Jesahel - 7" single Angola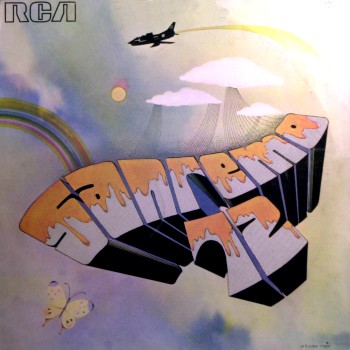 Sanremo 72 - compilation LP

MP Records, that reissued on CD Frutti per Kagua, have a page dedicated to Capitolo 6 on their website http://www.mprecords.it

Many thanks to the original drummer/guitarist Luciano Casa and to Campo di Marte guitarist Enrico Rosa for the information on Capitolo 6.
Enrico's personal website is at http://www.enricorosa.com/
A big thank you to John Zovickian for letting us know about the Sanremo 72 compilation LP and to his friend Subterfugeur for the cover picture.
Also thanks to Juan Carlos Lopez, Alos, Roberto "Pit Ryan" Pettarini, Gabriele Pierdomenico, Tom Hayes, John Bogazzi and Paolo Marchini for information and scans on this page.