Label

RCA subsidiaries
(APOLLO - ARC - BEST SOUND - DELTA - HELP - IT - MIMO - RADIO - SPAGHETTI - TOMORROW - UNA SORS CONIUNXIT - VISTA)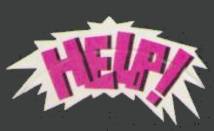 The list of small labels owned by the biggest of the Italian record companies is long and impressive.
Two of these, Numero Uno and Ultima Spiaggia have had their own page on this site, due to the high number of productions or their almost-independent structure, most of the others were strictly connected to the head label and only used from time to time for commercial reasons.
The oldest of these was Arc, born in the sixties as the "young music" label this is mainly connected to the Italian beat boom, and sadly closed at the turn of the 70's.
Most of these labels had in common a unique numbering system, with a five-digit number accompanied by a unique prefix for each of them. For example the album no.55023 was by Sub on Help (ZSLH 55023), while no.55026 was by Flea on the Honey on Delta (cat.no. ZSLD 55026). Not all of the subsidiaries followed this rule.
Along with the ones mentioned here, other RCA subsidiaries were General Music (numbering starting with ZSLGE) and Motion (with ZSLB numbers).

ARC
All concentrated in the 60's the Arc releases were mainly in the beat field. Latest issues came on RCA green label with Arc writing.
Labels were light green with a dark green horizontal stripe carrying the Arc logo.
Since 1967 Arc launched a new series with red/yellow labels sporting the Piper Club (a popular club in Rome) logo.
LP's had ALP and SA series numbers, singles had AN prefix.
Only some relevant LP's are mentioned below:
LP

number


Band/Artist(s)


Title


year


notes
SA 2
Dino
Dino
1964
ALP-11002
The Rokes
The Rokes
1965
gatefold cover first issue
SA 4
The Rokes
The Rokes
1965
second issue of ALP-11002 with glossy single sleeve
SA 8
The Rokes
Volume 2
1966
glossy single cover
SA 16
Lucio Dalla
1999
1967
single cover
SA 22
The Primitives
Blow-up
1967
glossy single cover - red ARC Piper label
ALPS-11005
I Pyranas
Tanti successi per i Pyranas
1968
single cover
ALP-11009
Patty Pravo
Patty Pravo
1968
red ARC Piper label
ALPS-11015
I Pyranas
Motivi di ieri, successi di oggi
1969
single cover - green RCA ARC label
ARC standard LP label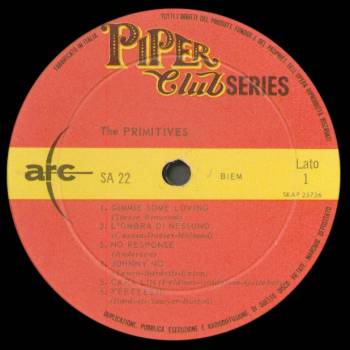 ARC Piper series LP label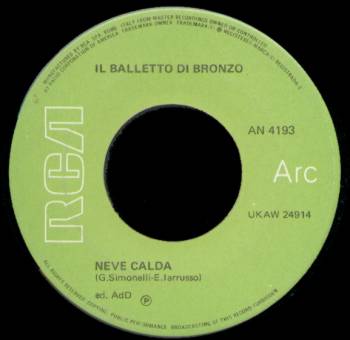 Late period 7" single label with RCA logo
HELP
A very small label that released two albums that are very important in the Italian progressive scene, Quella Vecchia Locanda and Procession's debut LP's.
Along with these, a lot of foreign productions, especially from Germany and Austria, among which the LP's from Free Action Inc. and The Sub, that produced with In concert, a much sought after album.
Label was black with a red/white cartoon-type logo.
Albums had ZSLH + 5 digit number, singles had ZH + 5 digit numbers, following the same numbering sequence as Ultima Spiaggia, Apollo, Delta, Mimo and Numero Uno.
LP

number


Band/Artist(s)


Title


year


notes
ZSLH 55008
The Rattles
The Rattles
1970
single cover
ZSLH 55009
Free Action Inc.
Rock & blues
1970
single cover
ZSLH 55018
The Revelations
The Revelations
1971
single cover
ZSLH 55019
Various Artists
Pop life
1971
including The Climax, Soul Sound, The Rattles, John Woolley & Just Born, The Soulful Dynamics, Under 2000
ZSLH 55020
Rene Eiffel Orchestra
Nice and easy
1971
single cover
ZSLH 55023
The Sub
In concert
1971
single cover
ZSLH 55024
Orchester Ambros Seelos
Ambros Seelos '71
1971
single cover
ZKH 55052
Various Artists
Pop & Marihuana
1972
including The Soulful Dynamics, The Rattles, The Sub, The Lilac Street Band, Jerome Ross, Nevil Cameron - released on cassette, LP version to be confirmed
ZSLH 55091
Quella Vecchia Locanda
Quella Vecchia Locanda
1972
gatefold cover
ZSLH 55131
Procession
Frontiera
1972
gatefold cover with handles
SINGLES

number


Band/Artist(s)


Title


year
ZH 50051
Under 2000
Preghiera d'amore
Taglia la corda
1970
ZH 50052
The Soulful Dynamics
Mademoiselle Ninette
Monkey
1970
ZH 50053
The Rattles
Silly Lilly
Papa san
1970
ZH 50059
Under 2000
Oh my love
Let's get together
1970
ZH 50067
Massimiliano Baratta
Qualcosa che si butta via
Pover'uomo
1970
ZH 50068
The Rattles
The witch
Lady love
1970
ZH 50069
Don Adams
Quando te ne andrai
Un'immagine, un sorriso
1970
ZH 50084
Under 2000
Avvicinami a te
Se tu fossi un'amica
1970
ZH 501??
Soul Sound
Boogaloo for you
Soul bound to soul sound
1971
ZH 50161
The Climax
There goes Maloney
Love me woman
1971
ZH 50162
John Woodley & Just Born
Ruby baby
Make love not war
1971
ZH 50164
Mushroom
Crying for you
(I'm going back to) Where I belong
1971
ZH 50165
Lilac Street Band
I must live
Annelise
1971
ZH 50186
The Rattles
You can't have sunshine everyday
Where is the friend
1971
ZH 50187
The Rattles
Verità
Ice on fire
1971
ZH 50188
The Soulful Dynamics
Birdie
Lousiana race
1971
ZH 50214
Corinna
Colori
Sambada washa
1971
ZH 50259
Folkaldo
Shakidu
Vecchio uomo
1972
Help - etichetta LP standard e promozionale
IT
Founded by Vincenzo Micocci, this label was mostly associated with quality singer-songwriters' productions (with such relevant names as Francesco De Gregori, Rino Gaetano and Rosalino Cellamare later known as Ron), but also released important singles and albums by Capitolo 6 and Pierrot Lunaire. An unusual release for this label, specialised in Italian artists, was englishman Mark Fry's one and only album, recorded in Italy and considered almost impossible to find in its original issue.
Albums had ZSLT + 5 digit number, that became ZPLT since 1977 and ZPGT in the 80's, singles had ZT + 4 digit numbers.
The label was initially green with a white/red logo, but it was soon changed to a black one with white/red (later green/red/white) logo.
LP

number


Band/Artist(s)


Title


year


notes
ZSLT 70006
Mark Fry
Dreaming with Alice
1972
single cover
ZSLT 70007
Theorius Campus
Theorius Campus
1972
gatefold cover with top opening - first issue with green label, then with custom picture label
DZSLT 70010
Rosalino Cellamare
Il bosco degli amanti
1972
ZSLT 70014
Capitolo 6
Frutti per Kagua
1972
gatefold cover with left flap
ZSLT 70017
Francesco De Gregori
Alice non lo sa
1973
ZSLT 70020
Maurizio Bigio
Rock Bigio Blues
1973
laminated single cover
ZSLT 70021
Giorgio Lo Cascio
La mia donna
1973
ZSLT 70024
Rino Gaetano
Ingresso libero
1974
ZSLT 70025
Pierrot Lunaire
Pierrot Lunaire
1974
single cover
ZSLT 70027
Carmelita Gadaleta
Una canzone coltello
1975
ZSLT 70029
Rino Gaetano
Mio fratello è figlio unico
1976
ZSLT 70031
Emma Muzzi Loffredo
Tu ti nni futti
1976
single cover
ZPLT 34000
Pierrot Lunaire
Gudrun
1977
single cover
ZPLT 34001
Alfredo Cohen
Come barchette dentro un tram
1976
single cover
ZPLT 34002
Maria Monti
Muraglie
1977
ZPLT 34056
Stani Labonia
Amarsi
1978
single cover
ZPLT 34062
Arturo Stalteri
André sulla luna
1979
single cover with inner
ZPGT 33423
N.A.T.O.
Logica (Die Logik)
1982
single cover
ZL 71804
Tito Schipa Jr.
Dylaniato
1988
single cover
Q-Disc (four track 12" mini-LP)

number



Band/Artist(s)



Title



year



notes
ZPGT 33436
Stradaperta
Figli dei figli della guerra
1982
single cover
SINGLES

number


Band/Artist(s)


Title


year
ZT 7001
Capuano e la sua orchestra
Concerto per voce e sogni
Dragster
1970
ZT 7002
Rosalino Cellamare
Pà diglielo a mà
Occhi di lillà
1970
ZT 7004
Rosalino Cellamare
Passeggiata
Dolce Susanna
1970
ZT 7005
Elza Soares
Maschera negra
Che meraviglia
1970
ZT 7007
Rosalino Cellamare
Fino a morire
Felicità
1970
ZT 7010
Nino Manfredi
Per grazia ricevuta
Me pizzica me mozzica
1971
ZT 7011
Fiorenzo Fiorentini
Ma cos'è questa crisi
Giacinto
1971
ZT 7012
Rosalino Cellamare
Il gigante e la bambina
Strade su strade
1971
ZT 7014
Nino Manfredi
W S.Eusebio
Me pizzica me mozzica
1971
ZT 7015
Capitolo 6
M'innamoro di te
L'amavamo in tre
1971
ZT 7016
Fiorenzo Fiorentini
Cento campane
Partenza amara
1971
ZT 7017
Marcella Bartoli
Rimani rimani rimani
Non so cos'è
1971
ZT 7022
Fiorella Mannoia
Mi gira la testa
Ore sei
1971
ZT 7023
Le Impressioni
Il prete rosso
E' la fine della vita
1971
ZT 7024
Nino Manfredi
G.& M.De Angelis
Trastevere
Kerry
1972
ZT 7025
Rosalino Cellamare
Figlio mio padre mio
Cielo di maggio cielo di giugno
1972
ZT 7026
Nino Manfredi
M'è nata all'improvviso una canzone
Trastevere
1972
ZT 7027
Rosalino Cellamare
Storia di due amici
Prova a immaginare
1972
ZT 7028
Don Powell
100.001
Black man
1972
ZT 7029
Orch.Sandro Blonksteiner
Causa di divorzio
A zonzo per la città
1972
ZT 7030
Nino Manfredi
M'è nata all'improvviso una canzone
Storia di Pinocchio
1972
ZT 7031
Nino Manfredi
Andrea Balestri
Storia di Pinocchio
Andrea Pinocchio
1972
ZT 7032
Le Impressioni
Appassionatamente lei
Promenade
1972
ZT 7033
Raffaella Perruzzi
Cenerentola
Primo giorno di giugno
1972
ZT 7034
Capitolo 6
Il grande spirito
Sole di notte
1972
ZT 7036
Guido e Maurizio De Angelis
Fortuna sì fortuna no
Fortune for two
1972
ZT 7037
Antonello Venditti
Roma capoccia
Ciao uomo
1972
ZT 7039
Nino Manfredi
Girolimoni
Fataltango
1972
ZT 7040
Orch.Riz Ortolani
Girolimoni
Fataltango
1972
ZT 7041
Maurizio Bigio
Ad ovest c'è il mare
Lady moonlight
1972
ZT 7042
Nino Manfredi
Cuore con la Q
Almeno una volta all'anno
1972
ZT 7043
Rosalino Cellamare
Il bosco degli amanti
Questa casa questo cuore
1973
ZT 7045
Francesco De Gregori
Alice
I musicanti
1973
ZT 7047
Kammamuri
Jacqueline
I love you Maryanna
1973
ZT 7048
Antonello Venditti
L'orso bruno
E li ponti so' soli
1973
ZT 7050
Guido e Maurizio De Angelis
Mammasantissima
Fox dell'irlandese
1973
ZT 7051
Maurizio Bigio
E' l'amore che va
Nei giardini della luna
1974
ZT 7052
Giorgio Lo Cascio
Ninna nanna
Lettera dal fronte lontano
1974
ZT 7054
Rino Gaetano
Tu forse non essenzialmente tu
E la vecchia salta con l'asta
1974
ZT 7055
Anastasia Dellisanti
La parola mai
Un'immagine di noi
1974
ZT 7056
Silvio Testi
Che buio c'è
Buongiorno Marianne
1974
ZT 7057
Rino Gaetano
Tu forse non essenzialmente tu
I tuoi occhi son pieni di sale
1974
ZT 7058
Pierrot Lunaire
Raipure
Arlecchinata
1974
ZT 7060
Rino Gaetano
Ma il cielo è sempre più blu - I
Ma il cielo è sempre più blu - II
1975
ZT 7061
Carmelita Gadaleta
Come va via la pasqua
Samba della speranza
1975
ZT 7062
Rino Gaetano
Mio fratello è figlio unico
Sfiorivano le viole
1976
ZT 7063
Carmelita Gadaleta
Naufragio a Milano
Sandro trasportando
1976
ZT 7064
Rino Gaetano
Berta filava
Mio fratello è figlio unico
1976
ZT 7066
Enzo Carella
Fosse vero
Si rivede ragazza
1976
ZT 7068
Olimpia Di Nardo
Er cane
La notte che j'ho regalato
1976
ZBT 7074
Carmelita Gadaleta
Residui passivi
Canzone di città

1977
ZBT 7075
Muzzi Loffredo
E io ca sugnu bedda
Tiritera di Bagheria
1976
ZBT 7077
Enzo Carella
Malamore
Anima pagliacciona
1977
ZBT 7078
Rino Gaetano
Aida
Escluso il cane
1977
ZBT 7081
Rino Gaetano
Aida
Spendi spandi effendi
1977
ZBT 7085
Grazia Di Michele
Da zero
I sogni
1978
ZBT 7086
Rino Gaetano
Gianna
Visto che mi vuoi lasciare
1978
ZBT 7091
Rino Gaetano
Nun te reggae più
E cantava le canzoni
1978
ZBT 7094
Enzo Carella
Amara
Carme'
1978
ZBT 7098
Sergio Caputo
Giorni di festa
Libertà
1978
ZBT 7116
Stani Labonia
Amarsi
E Jennifer non sa
1979
ZBT 7252
Terra
Angeli e dinosauri
Silenzio il tempo gira
1982
It LP label - early 70's green design

It LP label - early 70's black design

It promo LP label

It LP label - mid 70's and later design

It LP label - 90's reissue label




It - evolution of the 7" single label design
DELTA
A mysterious label that was used in a very long time range throughout the 70's.
Label was multicoloured with a butterfly on the background.
This was NOT the same Delta label that released the rare Preghiera di Sasso/Diapason album in 1975.
Albums had ZSLD + 5 digit number, later ZPLD, singles had ZD + 5 digit numbers, following the same numbering sequence as Help, Mimo, Apollo, Ultima Spiaggia and Numero Uno.
LP

number


Band/Artist(s)


Title


year


notes
ZSLD 55026
Flea on the Honey
Flea on the Honey
1971
gatefold cover
ZSLD 55046
Various Artists
Roma bene (original soundtrack)
1971
includes three tracks by Riccardo Cocciante
ZPLDE 34054
Davide Spitaleri
Thor
1979
former Metamorfosi singer
SINGLES

number


Band/Artist(s)


Title


year
ZD 50071
Century
Woudiwoudi
Why?
1970
ZD 50073
Claude François
Ciao non sarà un addio
Come l'acqua, come il vento
1971
ZD 50077
Roberto Righini
Mondo malato
Non era un sogno
1971
ZD 50078
Sunflowers
Tears of moon
Red bird
1971
ZD 50152
Carlo Giuffré e i Sunflowers
Sunflowers
Dichiarazione d'amore
Red bird
1971
ZD 50154
Flea on the Honey
Louise
Mother Mary
1971
ZD 50155
Time Machine
Bird in the wind
Turn back time
1971
ZD 50156
God Father
Orchestra A.Trovajoli
Campanelli in festa
New girl
1971
ZD 50158
Riccardo Cocciante
Down memory lane
Rhythm
1971
ZD 50159
Country Lovers
Odds and ends
Blue eggs and ham
1971
ZD 50160
Orchestra A.Trovajoli
There is a star
Anyone
1971
ZD 50221
Country Lovers
Run and run
Like a play
1972
ZD 50223
Michel Hamburger
Words
La vieille dame nous l'avait dit
1972
ZBDE 7054
Davide Spitaleri
Donna donna
Con rabbia
1978
ZBDE 7114
Davide Spitaleri
San Francisco
Dondolando dea
1978
Delta standard LP label

Delta promotional LP label

Delta 7" single label
MIMO
Better spelt as MiMo, from the initials of Migliacci and Morandi, owners of the musical company, this was another small label that only produced some interesting singles for the prog fan.
The activity of this label ended around 1972, and it only released a handful of LP and singles.
Albums had ZSKM, ZSLM or DZSLM + 5 digit numbers, singles ZM + 5 digit numbers, following the same numbering sequence as Help, Delta, Apollo, Ultima Spiaggia and Numero Uno.
LP

number


Band/Artist(s)


Title


year


notes
ZSLM 55087
Le Voci Blu
Le Voci Blu
1972
triple gatefold cover
ZSKM 55125
Gli Amici dell'Hobby
Gli Amici dell'Hobby
1972
promo-only, issued with blank cover
SINGLES

number


Band/Artist(s)


Title


year
ZM 50054
Le Voci Blu
Sitar
Emanuela Gianna Luisella
1970
ZM 50096
Mauro Lusini
America primo amore
Il corvo impazzito
1970
ZM 50097
Le Voci Blu
Una vecchia foto
Cosa non pagherei
1970
ZM 50169
Adriano Monteduro
Non è felicità
Tempo di andare
1971
ZM 50199
Forum Livii
Space dilemma
Homesick
1972
ZM 50203
Mauro Lusini
Non sono San Francesco
Tutti i sogni
1972
ZM 50216
Le Voci Blu
Senti..sentimenti
Revival day
1972
ZM 50258
Mauro Lusini
E le stelle...
Notte di luna bianco latte
1972
ZM 50271
Forum Livii
Riverside
Mary
1972
MiMo LP label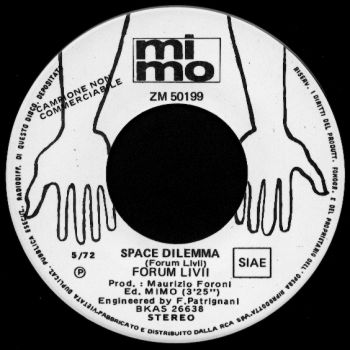 MiMo promotional single label
RADIO
Like Delta, the Radio label had a very long life, being used in a very long time range throughout the 70's.
The label design remanined the same through the years, thgouh the colours changed: initially black with white writings and logo, it became blue/silver and again black/white (with promo LP's having a light blue background with silver text).
The singles' label was white and green with black writing, later black with grey/silver writing.
The company passed under RCA distribution at a later stage, as the first pressing were connected with Tickle and distributed by Ariston, the different numbering system clearly shows that. The label design and the logo on the cover were the same throughout the years.
LP

number


Band/Artist(s)


Title


year


notes
RRS 134
The Underground Set
The Underground Set
1970
RRS 153
In Tre Sulla Strada
In Tre Sulla Strada
1973
ZPLRR 34048
Antonius Rex
Ralefun
1978
ZPLRR 34052
Groupe X
Out off
1978
SINGLES

number


Band/Artist(s)


Title


year
RRS 1030
The Underground Set
Arcipelago
La filibusta
1970
RRS 1043
The Underground Set
Motor road underground
Slaughter on the motor road
1970
RRS 1063
Lydia e gli Hellua Xenium
Diluvio
Conoscevo un uomo
1974
RRS 2075
Scorpyo
Destinazione infinito
Visioni
1977
Radio - LP label (1970)

Radio - LP label (1973)

Radio - promotional LP label (1978)

Radio - 7" single label (1970)

Radio - 7" single label (1977)
UNA SORS CONIUNXIT
Like It, this label with an odd latin name was founded by Vincenzo Micocci, and produced a handful of Italian singer-songwriters's records along with Emilio Locurcio's L'eliogabalo rock opera.
Among their records, the solo singles by Gaio Chiocchio from Pierrot Lunaire.
The labels have a pale yellow background, initially with red logo and text, later with brown logo and black writing.
LP's

number


Band/Artist(s)


Title


year
ZPLU 34023
Emilio Locurcio
L'eliogabalo
1977
ZPLU 34035
Lino Rufo
Notte chiara
1978
ZPLU 34087
Alberto Beltrami
Correndo
1980
ZPLU 34088
Goran Kuzminac
Ehi ci stai!
1980
ZPLU 34143
Goran Kuzminac
Prove di volo
1981
Q-Disc (four track 12")

number


Band/Artist(s)


Title


year
ZPGU 33409
Gaio Chiocchio
Londra
1980
SINGLES

number


Band/Artist(s)


Title


year
ZBU 7012
Lino Rufo
Vittorio Marino
Ancora i nostri errori
Il rock non muore mai
1976
ZBU 7013
Geppi Patota
Emilio Locurcio
Fiore delicato uccello forte
Giovanna Labbromorto
1976
ZBU 7014
Goran Kuzminac
Alberto Beltrami
Io
Venezia
1976
ZBU 7044
Alberto Beltrami
Il salto
Prigioniero di libertà
1977
ZBU 7053
Lino Rufo
Laura G.
Fa' che mi telefoni
1978
ZBU 7099
Goran Kuzminac
Stasera l'aria è fresca
Passeggiata
1978
ZBU 7153
Lino Rufo
Ballerina (L'altra parte di te)
Fuoco
1979
ZBU 7181
Alberto Beltrami
Non ti drogare
Luci del sud
1980
ZBU 7183
Goran Kuzminac
Ehi ci stai
Tempo
1980
ZBU 7194
Alberto Beltrami
Silvia non lo sa
Sogno l'America
1980
ZBU 7238
Goran Kuzminac
Stella del nord
Donne di musica
1981
ZBU 7240
Gaio Chiocchio
Piccolo fuso
Transfert
1982
ZBU 7263
Tony Cicco
Settimo cielo
Velocità
1982
ZBU 7273
Alberto Beltrami
Supporter
Radiolena
1982
P-7351
Roberto Kunstler
Saranno i giovani
Gente comune
1982
Una Sors Coniunxit - LP label (1st type)

Una Sors Coniunxit - LP label (2nd type)

Una Sors Coniunxit promotional LP/12" label

Una Sors Coniunxit standard 7" single label

Una Sors Coniunxit promotional 7" single label
APOLLO
Apart from record releases by some commercial artists like I Vianella and Ricchi e Poveri, this small label produced a very rare single by I Fiori di Campo, a band from near Rome featuring guitarist Marcello Todaro, soon to join Banco del Mututo Soccorso. The single A side was an Italian remake of The Nice's Thoughts of Emerlist Davjack.
Singles had ZA + 5 digit numbers, following the same numbering sequence as Help, Mimo, Delta, Ultima Spiaggia and Numero Uno.
LP

Number


Band/Artist


Title


Year
ZSLA 55005
Various Artists (Wilma Goich, Edoardo Vianello, Pierfranco Colonna, Ricchi e Poveri, Daniela Modigliani, Fiori di Campo)
Apollo Records
1970
SINGLES

number


Band/Artist(s)


Title


year
ZA 50014
Fiori di Campo
Fuori città
Due bambini nel cortile
1970
ZA 50225
Baba Yaga
Good morning love
The man and the sparrow
1972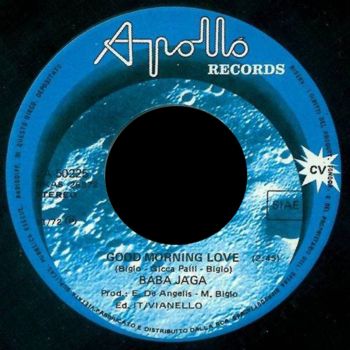 Apollo 7" single label
SPAGHETTI
A small label founded by Alessandro Colombini, Shel Shapiro (producer of most the label releases) and Silvio Crippa, Spaghetti Records & Tapes mostly released commercial artists.
These included the singer-songwriter Ron, disco-oriented female trio Le Streghe, and groups like Judas and Decibel, among the first (commercial) punk bands in Italy, the latter led by Enrico Ruggeri that subsequently had a very successful solo career.
LP

numero


artista


titolo


anno
ZPLS 34041
Le Streghe
Iniziazione
1978
SINGOLI

numero


artista


titolo


anno
ZBSR 7036
Le Streghe
Don Don Baby
I Feel It With Love
1977
ZBSR 7096
Le Streghe
B.B.L.S.S.T.
Cosa mi succederà?
1978
BEST SOUND
A small label (founded by Franco Godi) which produced in 1980-81 a single and an album by Dragon, an Italian pop-prog band; later, totally acquired by BMG, it found an enormous success in the 90's thanks to Articolo 31, which released their greatest hits with this Milan label.
Singles had ZBBS + 4 digit numbers, albums ZPLBS + 5 digits.
LP

number


Band/Artist(s)


Title


year
ZPLBS 34125
Dragon
Dragon
1981
SINGLES

number


Band/Artist(s)


Title


year
ZBBS 7195
Dragon
Down on my knees
City music
1980
TOMORROW
Depending from It and presumably intended to host its least commercial artists, this label had a short life, only two LP's in 1973, and no other productions are known.
Both records have on the back cover the writing "È un prodotto It" [An It product].
LP

number


artist


title


year
ZSTOM 2000
Blue Morning
Blue Morning
1973
ZSTOM 2001
Mario Schiano
Sud
1973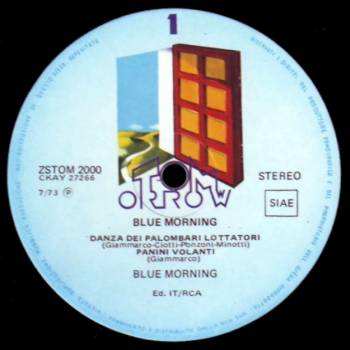 Tomorrow LP label
VISTA
Like Tomorrow, this short-lived label was intended as a haven for jazz, avantgarde and generally alternative artists, but it only produced a handful of LP's and a lonely single, all the albums being released in May 1975.
The label was revived in 1976 and was planned to release Pierrot Lunaire's second album Gudrun, but this came on It instead, and only a single by that group appeared on Vista.
Both albums and single shared the same numbering sequence as contemporary RCA releases.
The records had a silver label, with promotional releases having a white label.
A large 12"x12" information sheet on Vista releases (see picture below) was included in early copies.
All the issues carried the writing "prodotto dalla IT per conto della RCA-Italiana", that means they were produced by It on behalf of RCA.
The discography below is the complete Vista production.
LP

number


Band/Artist(s)


Title


year
TPL1-1082
Mario Schiano/Marcello Melis
Perdas de fogu
1975
TPL1-1097
Steve Lacy
Flakes
1975
TPL1-1113
Patrizia Scascitelli
Ballata
1975
TPL1-1114
Maurizio Giammarco / Andrea Centazzo
Davanti e oltre la soglia
1975
TPL1-1115
Dusko Gojcovic
Slavic mood
1975
TPL1-1116
Enrico Rava
Pupa o crisalide
1975
TPL1-1117
Mario Schiano
Partenza di Pulcinella per la luna
1975
TPL1-1149
Gato Barbieri/Luis Enriquez Bacalov
Desbandes
1975
SINGLES

number


Band/Artist(s)


Title


year
TPBO 1208
Pierrot Lunaire
Plaisir d'amour
Giovane madre
1976
Vista LP label

Vista LP promotional label

Vista promo sheet - front and back

Thanks to Domenico Giordano for his invaluable help and information on rare promos and little known singles, and to Zeev Barkai for some of the scans.
Valerio D'Angelo deserves the warmest thanks for the full information and scans on the Vista label along with info on other labels mentioned in this page.
Also thanks to Annunziato Cangemi for the detailed information on Arc, Help, MiMo, Spaghetti and Delta discographies, Massimo Pozzi and Giacomo Beatrici for various information and scans, Giuliano Semprucci for discography and info on the Help label, Claudio Checchi for pictures and information on the Tomorrow label.