Artist

ENEIDE

Gianluigi Cavaliere (vocals, guitar)
Adriano Pegoraro (guitar, flute, vocals)
Carlo Barnini (keyboards, vocals)
Romeo Pegoraro (bass, vocals)
Moreno Diego Polato (drums, percussion, vocals)

A group of teenagers from Padova playing together since 1970 (initially under the name Eneide Pop), Eneide had the big chance when, after some dates supporting Van der Graaf Generator, they were offered a recording deal with Trident label. An album was scheduled for release and recorded in late 1972, but for mysterious reasons, never issued.
The LP was only released in 1990 by some of the band members on their own label, in a very limited pressing, hence its current high price. It's a very good album, with ten short songs with little instrumental parts but competent playing, especially when the solo instruments (especially organ, guitar and flute) are given a leading role, like in the longest track on the album, Non voglio catene, or Ecce omo and the instrumental Oppressione e disperazione.

LP
Uomini umili popoli liberi
Trident (TRI 1003)
1973
never released
LPG (101)
1990
numbered and signed copies
first 500 with gatefold cover
brown or light blue label
AMS/BTF (AMS LP 59)
2016
new reissue with gatefold cover


CD
Uomini umili popoli liberi
Mellow (MMP 274)
1995
reissue of 1973 album
AMS/BTF (AMS 190CD)
2011
new reissue with mini-LP gatefold cover and two bonus tracks

Original issue on Trident label should have had the TRI 1003 number but was never released.
The official reissue on group's own LPG label came in a small batch of 500 numbered copies (around half of which were signed on the plain inner cover by guitarist Cavaliere) with a gatefold cover containing lyrics in the inner, while a later issue (around the same number of copies as the first one) had a single cover, again with some of them numbered and signed.
These reissues have different labels, apparently the first copies had a brown/golden label with white writings (side A reproduces the album cover, side B contains the titles), and the second issue was light blue.
No counterfeit exists, nor foreign reissues.
The 2011 CD reissue on AMS label contains two unreleased bonus tracks, taken from the 1995 project Il sogno di Oblomov. The same label has reissued the album on vinyl in 2016 with gatefold cover but no bonus tracks.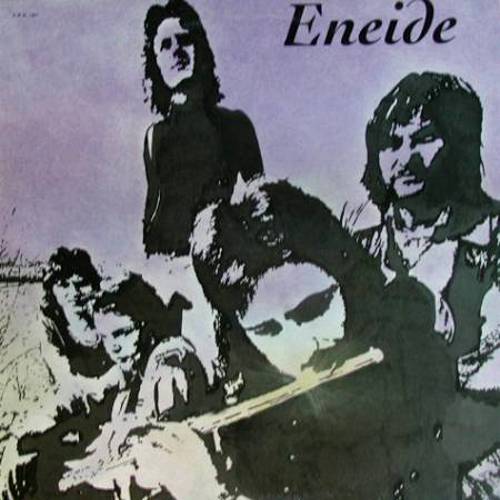 Uomini umili popoli liberi - LP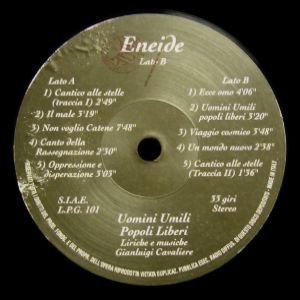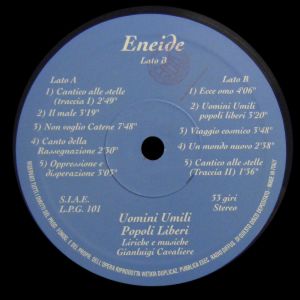 Uomini umili popoli liberi - two different labels

A conversation with Gianluigi Cavaliere, by Augusto Croce, September 2003
1-How did Eneide start?
As a group of young boys playing the clubs in the weekends, often in the afternoon. It was 1970, and we started as Eneide Pop, playing covers along with some original material, and we had a good following, kids used to sit on the floor to hear us playing.
In 1972 we changed the name to Eneide, we were still very young, all 17 and the drummer was just 16.
2-So you had an intense live activity, did you?
We played a lot in Veneto, and we even had some dates as support act for Genesis and Atomic Rooster, and then we made this tour with Van der Graaf Generator, six dates with managers Maurizio Salvadori and Luciano Tosetto of Trident agency.
3-What's behind your 1972 album?
Trident asked us to record an LP, they were working as a concert agency and then they decided to start this record label.
The LP was recorded and mixed and ready to be released, but this happened during the Trident label's failure, so it was never issued.
Anyway we kept the tapes, and in 1990 thanks to a friend's interest we had the chance to release it with the help of the Black Widow shop in Genova.
It was released in a limited quantity of 500 copies, with 250 of them being signed by myself. A later pressing came soon after, probably the same number as the first, or even less, but these had a single cover.
4-Did you keep playing after the recording of the LP?
Yes, for some time, in 1973 we played as backing band with Maurizio Arcieri [former singer with beat/garage band New Dada and later successful solo artist], we used to open his concert with our own set as Eneide, and then we played as his band. We played together until aroud 1974.
5-And later?
I've remained in the music biz as musician and producer, and I still play with bassist Romeo Pegoraro in a band called Chantango, fusing different musical and poetry styles with tango.
Romeo plays as a professional double bass concert player in Maggio Musicale Fiorentino.
The drummer Polato still plays in various prog bands, like his son, and even the guitarist Adriano Pegoraro still plays today.
The only one who's left the music is keyboardist Carlo Barnini, who's a veterinarian.
6-Have you ever thought of an Eneide reunion?
In 1995 we started recording a prog opera, called Il sogno di Oblomov, that had a very interesting subject, I had reunited with bassist Romeo Pegoraro and drummer Diego Polato, and it was intended to be released on CD, but our professional commitments didn't allow us to end the recordings and it was stopped halfway. We still have the tapes and who knows, maybe we can complete it and release this album. At the same time we also had some offers for live concerts, but couldn't make anything.
7-Are you still in touch with Van der Graaf Generator?
With David Jackson, he's a friendly person and I've met him a few times, but we're still in touch.
He played in 1994 with Peter Hammill and I met both of them, we discussed on David playing on our Il sogno di Oblomov CD, but we didn't make anything.



Click on pictures to enlarge
Eneide live - 1972
Eneide live - Gianluigi Cavaliere 1972
Eneide - promo picture used on the album cover
Gianluigi Cavaliere with
Van der Graaf Generator's David Jackson - 1994

A big thank you to Eneide guitarist Gianluigi Cavaliere for the interview and the pictures