Artist

FILI D'ERBA

Frank Del Giudice (vocals, bass)
Paolo Moderato (vocals, keyboards)
Luigi Liguori (guitar)
Jean Pierre Olivas (drums, percussion)

A four-piece band formed in Milan around 1971 that only released an album in 1972 on the Italdisc label. The group had much in common with others such as I Romans or Flashmen, offering a mixture of typical Italian pop and some prog passages. Like in Ping Pong case, the 11-tracks album includes some songs in English, five in this case, and the rest in Italian, among which a translation of Rod Stewart's Jo's lament with Italian lyrics by Roberto Vecchioni and Renato Pareti.
The music is mostly based on the organ, but there is some honky-tonk piano here and there, with little space left to instrumental parts. Among the best and most progressive-inclined moments of the album, the opening V.I.P., that's also the longest track at 3:59, and Confusion (an Italian-sung track despite the title).
The group's leader, italo-canadian Frank Del Giudice has long collaborated with Franco Califano, a popular Italian singer, and has kept working in the music business as A&R producer in an independent record company.
In the 2000's Fili d'Erba have been reformed with a line-up including the original members Del Giudice and Moderato and newcomers Jacopo Ardit (guitar) and Pippo Perconti (drums).

LP
Fili d'Erba
Italdisc (LPD 197)
1972
gatefold laminated cover


CD
Fili d'Erba
NAR International (104052)
2005
reissue of 1972 album with different design and one track less - digipack cover

Not particularly rare, the Fili d'Erba album came in a gatefold laminated cover. The unattractive design is balanced by a good band picture in the inner gatefold, that also contains the lyrics.
The album has been reissued on CD in 2005, in a remastered issue and with similar design as the original but with a red background instead of green. For copyright reasons the CD reissue only includes 10 of the original 11 tracks, Sono un po' ubriaco questa sera is missing.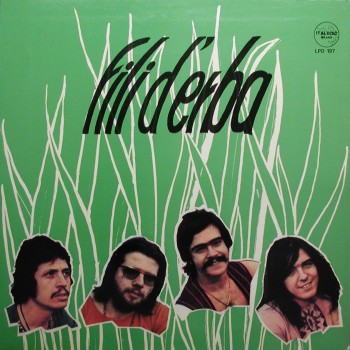 Filid'Erba - LP

A new website dedicated to Fili d'Erba has been published at www.filiderba.info From this site it's possible to download a nice unreleased track from 1974, originally only issued on acetate.
The group also has a Myspace page: www.myspace.com/filiderba.

Thanks to Ubaldo Cibei (Franco) for some information included in this page