Artist

LOCANDA DELLE FATE

Leonardo Sasso (vocals)
Ezio Vevey (guitar, vocals)
Alberto Gaviglio (guitar, flute, vocals)
Michele Conta (keyboards)
Oscar Mazzoglio (keyboards)
Luciano Boero (bass)
Giorgio Gardino (drums)

WIth a rich twin guitar and twin keyboards line-up and an excellent musicianship, Locanda delle Fate from Asti went totally unnoticed at the time their only LP came out on Polydor, arriving too late for the declining Italian prog movement.
It's a pity, because their rich, symphonic blend of progressive rock is well inspired and original, despite the obvious influences by the romantic side of English prog bands. Forse le lucciole non si amano pił has lately become an example of the Italian classical-oriented prog, with the nice interplay between the multiple keyboards, dreamy atmospheres and good vocal parts, like in the long title-track, Profumo di colla bianca or the closing Vendesi saggezza.
The Live CD, recorded in 1977 and released in 1993, can interest the group fans, though it only contains an unreleased track, La giostra, the other six cuts coming from the LP.
It has a good bootleg-like recording quality.
Disappointed by the lack of interest, the band released two more commercial singles in 1978, with the line-up reduced to a five-piece, and in 1980 under the name La Locanda, before disbanding.
The group reunited in 1996 with five of the seven original members (less singer Sasso and keyboard player Conta), and they released a new album in 1999, Homo homini lupus, an 11-track work, good but more oriented towards a classy pop and very far from the dreamy sound of their great album.
Guitarist Ezio Vevey took part in 2002 in the rock-opera La rete di Ulisse with the group Genoma, that also included Nik Comoglio (keyboards), Cyrus Scognamiglio (bass) and Steve Abrate (drums).
The other guitarist Alberto Gaviglio issued a solo single in 1981, Cosa resterà/Vacci piano (Fonit Cetra SP 1754). He passed away in 2021.
In 2006 the group reunited again to work on a new album, closer to the style of their 1977 LP, but nothing came out of those sessions and they disbanded soon.
Only in 2010 the name Locanda delle Fate has been finally revived for some concerts, with a line-up comprising the original members Leonardo Sasso, Oscar Mazzoglio, Luciano Boero and Giorgio Gardino along with guitarist Massimo Brignolo and keyboardist Maurizio Muha.
2012 saw the release of a CD entitled The missing fireflies, containing some new studio recordings of old tracks along with an excerpt from a 1977 concert, and an LP called Live in Bloom, recorded during the 2010 reunion. Another album including new tracks along with some old unreleased recordings is Lucciole per sempre, issued in 2018.

LP
Forse le lucciole non si amano pił
Polydor (2448 055)
1977
gatefold cover with inner
BTF/Vinyl Magic (VM LP166)
2014
reissue with gatefold cover and inner - clear blue or black vinyl - later reissued with green or red vinyl
Polydor/De Agostini (2448 055)
2020
gatefold cover with inner and 8-page insert - no.71 in the De Agostini "Prog Rock Italiano" series
Polydor (5290737)
2021
volume 2 in the Universal "Prog Rock Italia" series - gatefold cover with inner - issued on blue (99 copies) or standard black vinyl (899 copies)
Live in Bloom
AMS/BTF (AMS 46LP)
2012
gatefold cover - exists on both black or orange vinyl
The missing fireflies
Altrock/Fading (FAD-001LP)
2013
already issued on CD in 2012 - gatefold cover
Homo homini lupus
AMS/BTF (AMS 81LP)
2014
first vinyl issue of the 1999 CD
Lucciole per sempre
AMS/BTF (AMS 143LP)
2018
gatefold cover - taken from a 1977 TV special + two new unreleased bonus tracks


CD
Forse le lucciole non si amano pił
Polydor (519 389-2)
1992
reissue of 1977 album - now deleted
Polydor (523 688-2)
1994
as above with 1 bonus track
Universal (0602527122038)
2009
new reissue with 2 bonus tracks and mini-LP single cover, issued as part of the box set Progressive Italia - Gli anni '70 vol.2
Live
Mellow (MMP 140)
1993
recordings from 1977
Homo homini lupus
BTF/VM 2000 (VM CD 066)
1999
AMS/BTF (AMS 241CD)
2014
reissue of the above with mini-LP cover
The missing fireflies
Altrock/Fading (FAD-005)
2012
new studio recordings + 3 live tracks from 1977
Bloom live
AMS/BTF (AMS 225CD)
2013
CD+DVD - 1000 copies with gatefold mini-LP cover in slipcase
Lucciole per sempre
AMS/BTF (AMS 295)
2018
large triple gatefold cover with CD, DVD and 64-page book - taken from a 1977 TV special + two new bonus tracks and four 1974 recordings, all unreleased


VARIOUS ARTISTS COMPILATIONS
20 successi 20 K.O.
(with Non chiudere a chiave le stelle)
K-Tel (TI 107)
1978
20-tracks low price compilation


SINGLES (with picture sleeve)
Non chiudere a chiave le stelle
Sogno di Estunno
Polydor (2060 148)
1977
both tracks from Forse le lucciole non si amano pił
New York
Nove lune
Polydor (2060 169)
1978
both unreleased tracks
Annalisa
Volare un po' pił in alto
RiFi (RFN NP 16802)
1980
as La Locanda


PROMOTIONAL AND JUKEBOX SINGLES (with blank cover)
Vendesi saggezza
Non chiudere a chiave le stelle
Cercando un nuovo confine
Polydor (AS 5001 502)
1977
12" promotional three-track EP taken from Forse le lucciole non si amano più - some copies were distributed with the LP cover
Annalisa
RiFi (RJB NP 98198)
1980
as La Locanda - jukebox single, backed with The Veterans/There ain't no age for rock'n'roll

Forse le lucciole non si amano pił is a very rare album though one of the latest Italian prog releases. Despite good press reviews at the time it probably sold very little, becoming an expensive collector's item since quite a few years. Original copies had a gatefold cover and a lyric inner sleeve.
A very rare three-track 12" single was taken from the album for promotional diffusion.
The album has also been released in Japan (on Polydor, with two different catalogue numbers, 18MM0584 and 23MM0148) and Korea (Si-Wan SRML 0010) with the same gatefold cover as the original, but with no inner.
Also from Japan, a mini-LP compilation called Italian rock single compilation (Polydor/Edison DMI 23134) released in 1987, included both sides of the 1978 single New York along with Balletto di Bronzo and Latte e Miele singles tracks unreleased on LP.
No counterfeits or other foreign issues exist.
The album has been newly reissued by Universal in 2009 as part of the 6CD box set Progressive Italia - Gli anni '70 vol.2 (no. 0602527122021). It includes two bonus tracks, New York and Nove lune from their 1978 single.
In the group's line-up, Ezio Vevey was listed on the original album as flutist. The flute was actually played by Alberto Gaviglio, as demonstrated by many official sources and a TV special that Rai dedicated to the band at the time.
The first Italian vinyl reissue ever made is from 2014 on BTF, with the same cover design as the original and clear blue or standard black vinyl.
The 2010 concert at Bloom in Mezzago was issued on vinyl in 2012 in edited form and again in 2013 in a CD+DVD edition which contains the integral recording. This edition, with a different cover to the LP, was issued in a limited pressing of 1000 copies with an oversized gatefold cover in a protective slipcase.
The 2018 album, Lucciole per sempre, includes the tracks from a 1977 TV special that were previously unreleased on record, along with two new recordings. It has been issued by AMS on vinyl with gatefold cover, and in a deluxe CD+DVD version that also contains a 64-page book.
The album also came out in a limited 50 copies box set only sold through BTF site, including CD, DVD, white vinyl LP and a signed poster. The set had the catalogue number AMS 05 BOX.
The story of Locanda delle Fate was told by the group's bass player Luciano Boero in his 2017 book Prati di lucciole per sempre.

Forse le lucciole non si amano più - LP

Live in Bloom - LP

Lucciole per sempre - LP

Non chiudere a chiave le stelle - 7" single

New York - 7" single

Vendesi saggezza - 12" promo EP - label

La Locanda / Annalisa - 7" single

Live - CD

Homo homini lupus - CD

The missing fireflies - CD



Click on the pictures to enlarge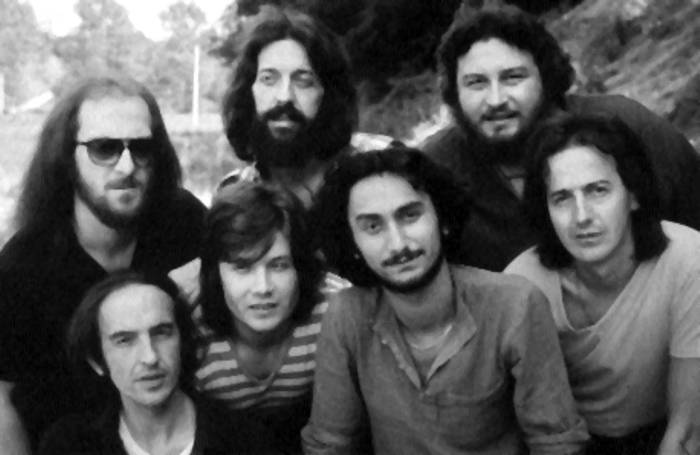 Promotional picture, around 1977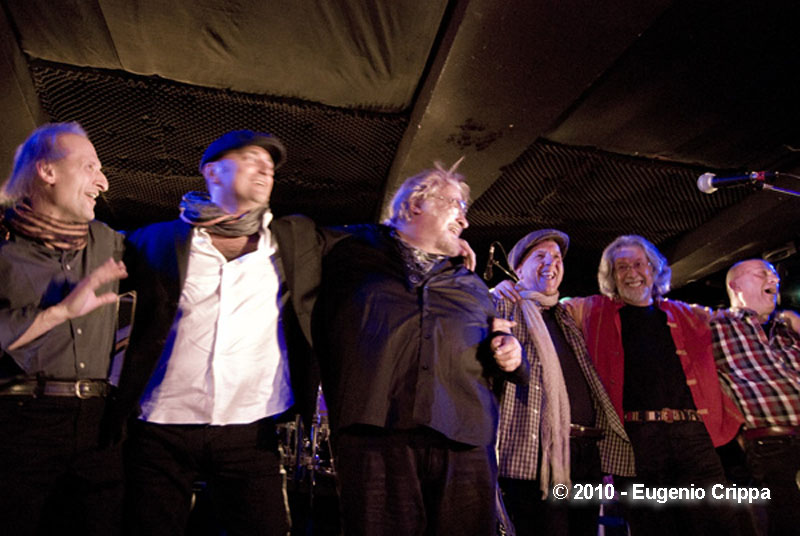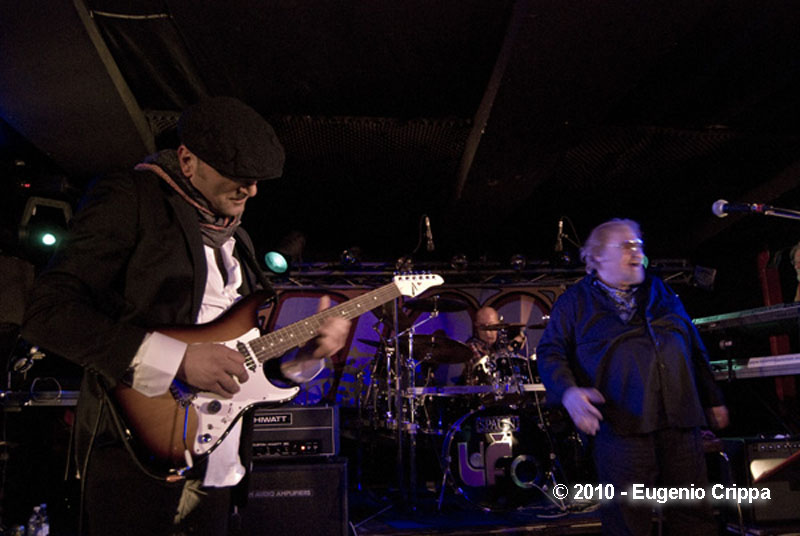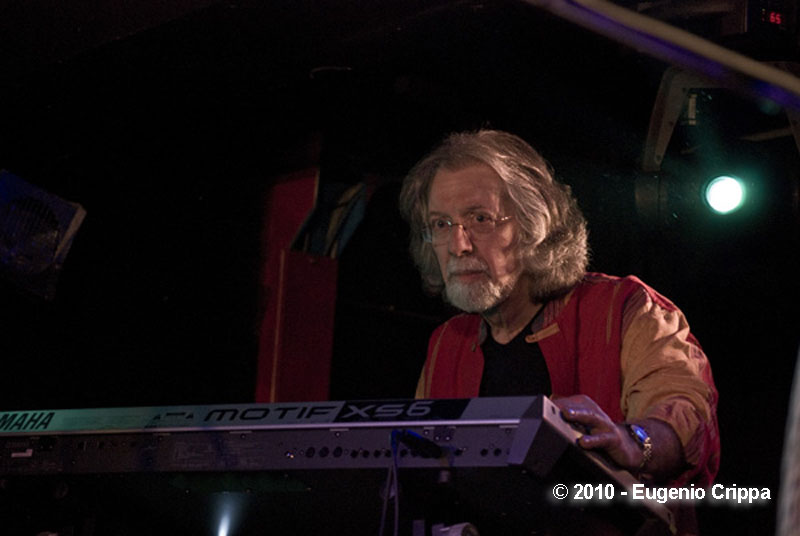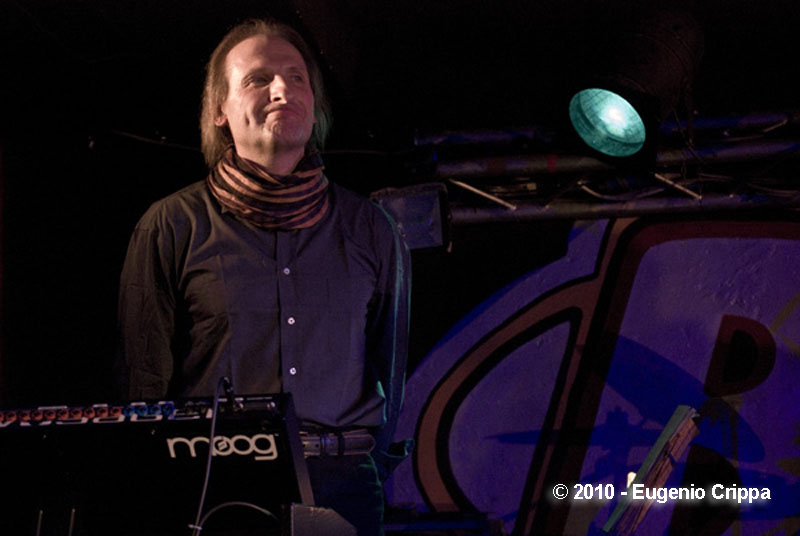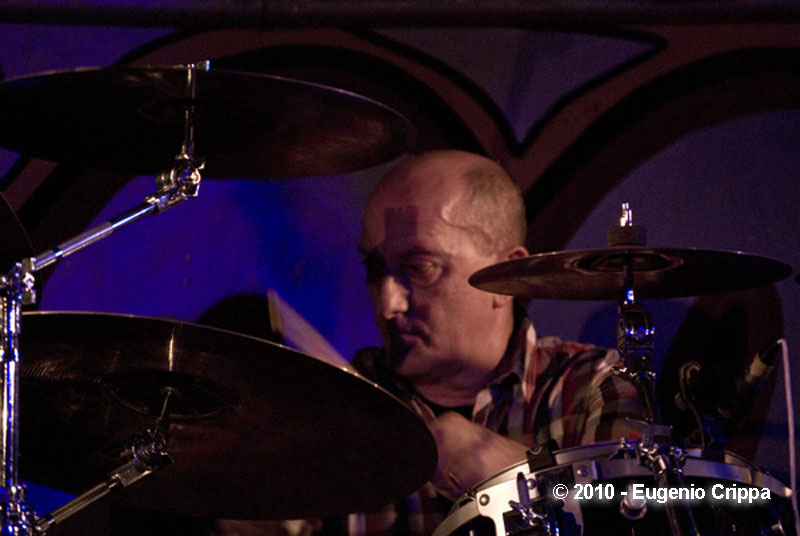 Live at Progvention 2010
Bloom, Mezzago, 6-nov-2010
Photos by Eugenio Crippa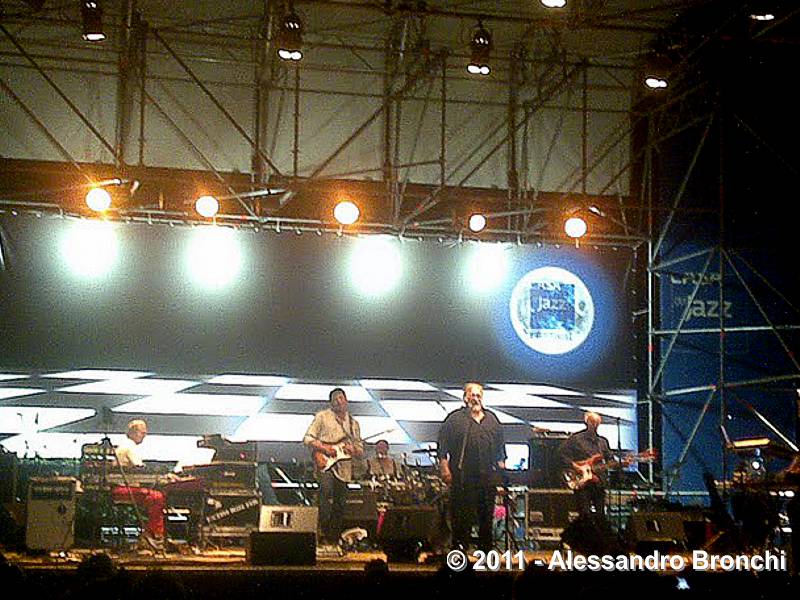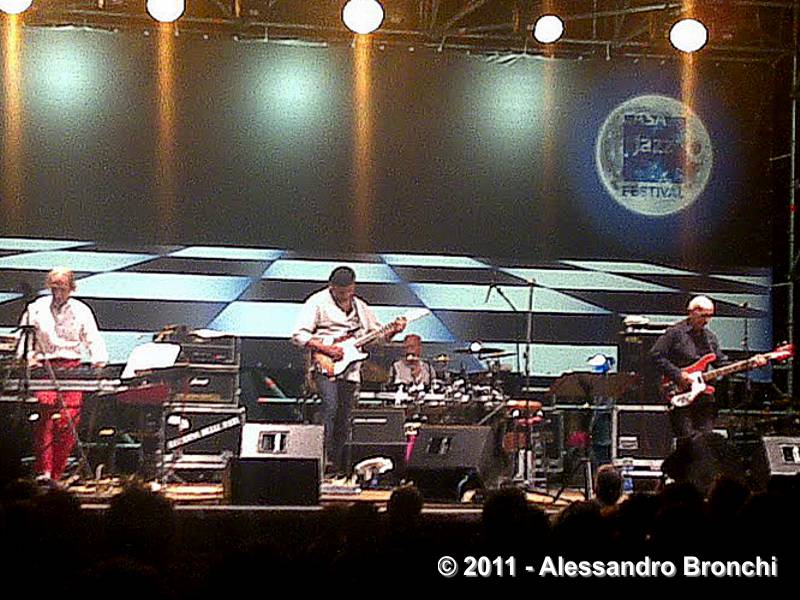 Progressivamente 2011
Roma, Casa del Jazz, 7-sep-2011
Photos by Alessandro Bronchi

Thanks to Jari Haavisto, Giuliano Semprucci, Alessandro Cefis, Salvatore Di Ronza, for some pictures and information. Also thanks to Eugenio Crippa and Alessandro Bronchi for the use of their live pictures.