Artist

ORCHESTRA NJERVUDAROV

Bruno Mariani (guitar, synth, percussion)
Piero Baldassarri (keyboards)
Piergiorgio Bonafè (sax, clarinet, recorder)
Roberto Costa (bass, synth, trombone)
Adriano Pedini (drums, vibes, percussion, recorder)

This group from Bologna was known as Frogs, active from the mid 70's and the name Orchestra Njervudarov was only used for their only LP, issued in 1979 but recorded some years earlier.
Frogs, with a jazz-rock style inspired by Soft Machine and Weather Report also had a small live activity; some of the musicians had a long collaboration with singer-songwriter Claudio Lolli thought the whole band only appears on his 1980 Extranei LP.
Con le orecchie di Eros, the only record release by Orchestra Njervudarov, has an odd story: a rare album, sold in few copies, became well known among the Italian prog fans throughout the world, achieving the cult status. Issued in 1979 by EMI, probably in limited quantities and wih no promotion, the album is an unusual mix of Canterbury-inspired instrumental jazz prog (not unlike Picchio Dal Pozzo's albums), Zappa-esque sounds and atmospheres and even a touch of ironical new wave like in the long-titled Rapporto Njervudarov sulla teoria degli opposti estremismi (to be honest, this is the only track to sound totally out of place in the entire album, with crazy lyrics in the same vein as some "demential" Italian punk bands of the late 70's).
The LP has some very good and intense moments, though it's not particularly representative of the typical Italian prog sound.
Along with the collaboration with Claudio Lolli, on whose records they played, some of the band members followed their musical career. After the break of Frogs three of the musicians (Mariani, Costa e Pedini) along with Renato Gasparini recorded in 1982 a commercial-styled LP under the name Deluxe.
Bass player Roberto Costa has long collaborated with Lucio Dalla and other Italian pop artists like Luca Carboni and Luca Barbarossa.
Even guitarist Bruno Mariani has briefly played with Lucio Dalla, as well as with Ron, Samuele Bersani, Ornella Vanoni and others.
Drummer Adriano Pedini (from Fano, Marche), who had been in the 60's in Tubi Lungimiranti and other beat groups, still plays in the jazz field after having a long career as sessionman.
The keyboardist (from Friuli) Piero Baldassarri passed away in 1986.

LP
Con le orecchie di Eros
EMI (3C064-18139)
1979
single cover

A rare album, Con le orecchie di Eros has never been reissued on vinyl nor CD.
It has an odd number in the EMI catalogue, as the 3C064-18139 used for this record seems to be dated 1976 like Baricentro's Sconcerto from that year (no.3C064-18152). Probably it was recorded and scheduled for release in that year, or simply the LP was given an unused old catalogue number.
No counterfeits exist nor foreign vinyl issues.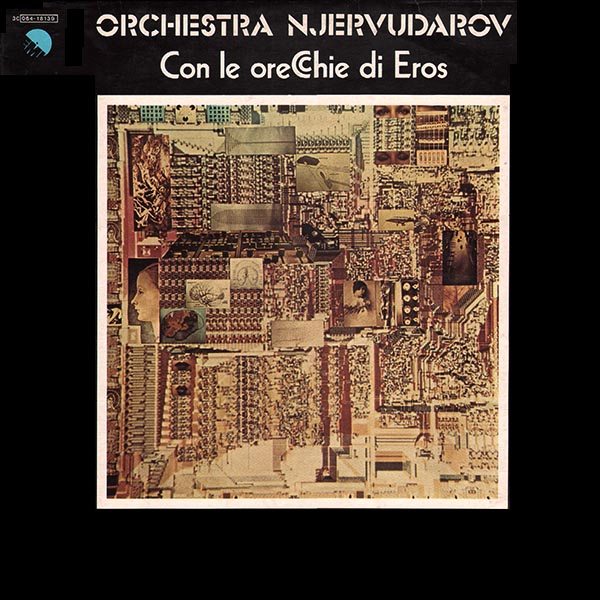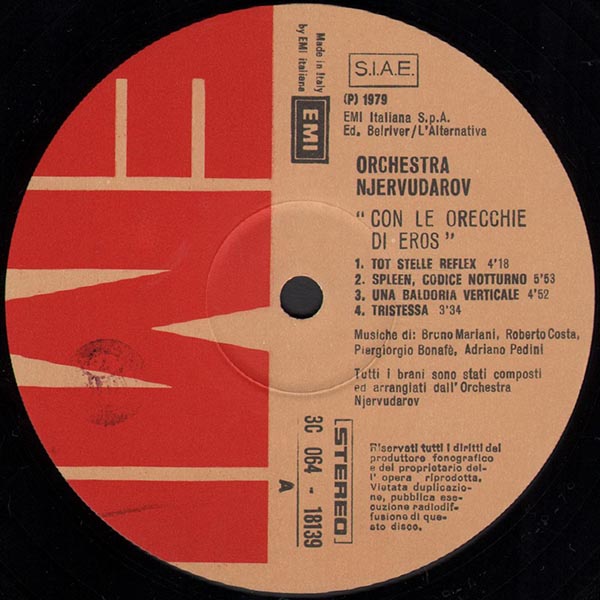 Con le orecchie di Eros - LP, cover and label

Thanks to Giacomo Beatrici for the pictures of the LP.