Artist

PICCHIO DAL POZZO

1976
Aldo De Scalzi (keyboards, percussion, vocals)
Paolo Griguolo (guitar, vocals)
Giorgio Karaghiosoff (sax, flute, percussion, vocals)
Andrea Beccari (bass, vocals)
1977-79
Karaghiosoff quits,
enter:
Claudio Lugo (sax, flute)
Roberto Romani (sax, flute)
Aldo Di Marco (drums, percussion)
1980
Lugo quit

A sort of open group, based around the nucleus of Aldo De Scalzi (younger brother of New Trolls' Vittorio), Griguolo and Beccari and with large use of external collaborators.
Their first album was released by De Scalzi's label Grog, one of just five releases on this collectible label, with help from various artists from Genova such as Vittorio De Scalzi, Ciro Perrino and Leonardo Lagorio from Celeste, Renzo "Pucci" Cochis from Jet.
Often described like a sort of Italian Canterbury sound, their first album includes an original blend of different sounding, based on keyboards and horns, with surrealistic lyrics and vocal effects. Interesting and intriguing, the album is worth a listen, and is very far from everything else in the Italian prog field.
Their four years break was documented by the CD Camere Zimmer Rooms, with very good quality recordings from the 1977-80 era, an interesting release with a very nice introducing track as Il Presidente with irreverent lyrics on the then President of Italy.
Their second official album was made in 1980, this time on L'Orchestra label after their collaboration with Stormy Six and the Rock in Opposition movement. Another interesting album, still with complex rhythm changes and various influences, this also had a flexi single included.
Many of the musicians involved in Picchio dal Pozzo have followed their career in the later years, and a new four-piece line-up, featuring De Scalzi, Griguolo, Lugo and Di Marco, has released a new album in 2004. Called Pic_nic @ Valdapozzo this contains some recordings from late 2002 based on some sampled unreleased vocal experiments by Demetrio Stratos, who briefly assisted the band around 1979. An instrumental album for the most part (except for the Stratos experiments and a single vocal track), this is far from their older albums though it keeps a good quality. Some of the typical sound the group had created in the 80's is still there, though the album is closer to jazz and relies much more than in the past on improvisation, the surreal lyrics of the earlier albums are sadly missing.
The nice A_live CD, issued in 2010, contains a live recording from the 2008 AltRock Festival in Sesto S.Giovanni (near Milan), where Picchio dal Pozzo were aided by the musicians of Yügen.
A DVD issued in 2014 contains the recording of a concert held at La Claque in Genova in January 2011.
Along with his activity with Picchio Dal Pozzo, Aldo De Scalzi also had a long career as composer and producer. With his long time collaborator Pivio they composed many film soundtracks, gaining quite a few important awards.

LP
Picchio dal Pozzo
Grog (GRL 03)
1976
gatefold cover
Goodfellas (GF PDP1LP)
2011
reissue with single cover and inner
Grog/De Agostini (GRL 03)
2020
single cover with inner and 8-page insert - no.76 in the De Agostini "Prog Rock Italiano" series
Abbiamo tutti i suoi problemi
L'Orchestra (OLPS 55013)
1980
single cover with lyric insert + bonus 7" flexi single


CD
Picchio dal Pozzo
Vinyl Magic (VM 067)
2001
reissue of 1976 album
Goodfellas (GF PDP1CD)
2011
new reissue with digipack cover and a bonus track
Camere Zimmer Rooms
Cuneiform (RUNE 153) - USA
2001
1977-80 unreleased recordings
Pic_nic @ Valdapozzo
Auditorium (AUD 01704)
2004
new recordings
A_live
Altrock (ALT011)
2010
live at AltRock Festival in 2008 with help from Yügen musicians


VARIOUS ARTISTS COMPILATIONS LP'S
Raccomandato di vinile
(with Uccellin dal bosco)
L'Orchestra (OLPS 55555)
1981
Promotional label sampler, also includes Art Bears, Mamma Non Piangere, Stormy Six, Alessandro Carrera, Strumento Concerto, Ensemble Havadia
Recommended records sampler
(with Uccellin dal bosco)
Recommended (RR 8/9) - UK
1982
UK-only 2LP release - Recommended records sampler - plastic bag with inserts
also includes Stormy Six


PROMO-ONLY AND JUKEBOX SINGLES (with blank cover)
Uccellin dal bosco
L'Orchestra (no cat.no.)
1980
flexi 7" bonus with Abbiamo tutti i suoi problemi

The Picchio dal Pozzo albums are both hard to find. First one comes with a gatefold cover, second one in a single sleeve with a lyric 12"x12" insert.
Originally Abbiamo tutti i suoi problemi included a one-sided 7" flexi disc with the unreleased Uccellin dal bosco housed in a plain white diecut cover. The LP contained, in the original shrink, a small card advertising the single, with the text "contiene 45 giri in regalo" [includes free 45rpm single]. This is by far their rarest item as most copies around seem to have lost it.
The same track was also included in two compilations, Raccomandato di vinile by L'Orchestra and on the English Recommended label sampler, a 2-LP set with many contemporary avantgarde artists from all over the world housed in a nice clear plastic cover with inserts.

Some tracks from the first Picchio dal Pozzo album also appear in instrumental form on records issued by Magma in the promotional SMAG series and credited to Gianni e i Suoi Solisti:
- the solo flute part that opens Napier is included in integral version with the title Flauti atonali on the Background - Musiche di atmosfera (Magma SMAG 01) LP, which also contains the instrumental base of Seppia renamed Aggeggi savana.
- the instrumental base of Cocomelastico appears with the name Multistrati on the LP Musiche di sensazioni (Magma SMAG 02).

The reissue of the debut album released in 2011 by Goodfellas contains, in the CD version only, an unreleased bonus track, Seulement, recorded live in La Spezia in 1979.

Both album have been reissued in Japan (King K22P183 and K22P243) and the first one in Korea as well (SiWan SRML 2005). No counterfeits exist.

Picchio dal Pozzo has had a 2003 CD reissue by the Japanese label Arcangelo (ARC-7027) with a mini-LP cover. This is also part of an 8-CD box set dedicated to Grog (that includes in fact only three Grog releases along with five albums originally on Magma).
Second LP Abbiamo tutti i suoi problemi was reissued in 2006 by the UK-based ReR Megacorp on vinyl (cat.no. ReRPdPV) and CD in 2006 (cat.no. ReRPdP). The LP was reissued again in 2016 with Goodfellas distribution.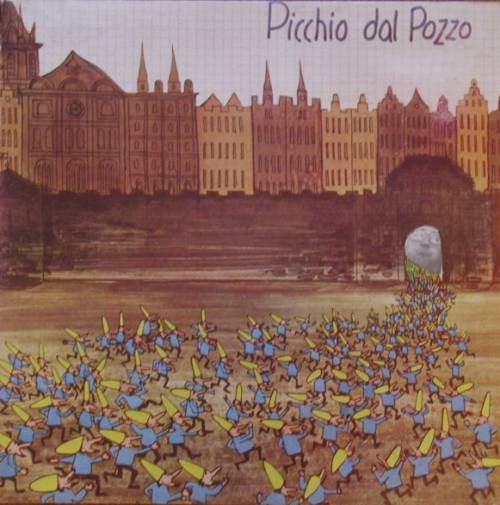 Picchio dal Pozzo - LP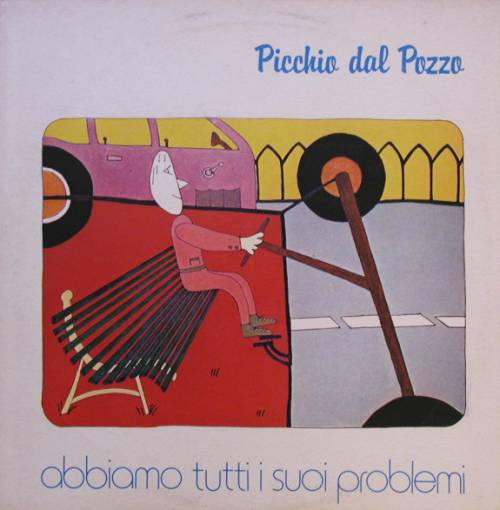 Abbiamo tutti i suoi problemi - LP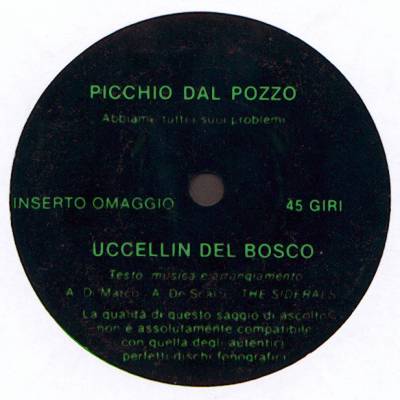 Uccellin del bosco - bonus 7" flexi label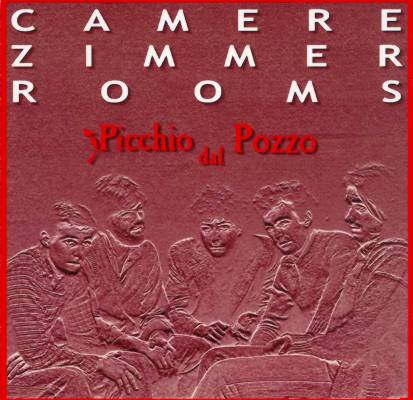 Camere Zimmer Rooms - CD cover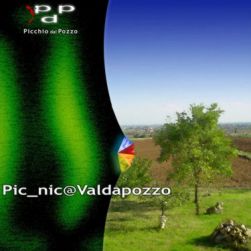 Pic_nic @ Valdapozzo - CD cover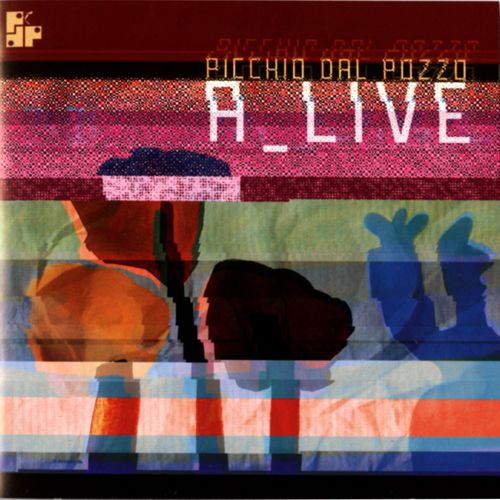 A_live - CD cover

An interview to Aldo De Scalzi, by Valerio D'Angelo, November 2018
1- Tell us about Picchio dal Pozzo, how did you find the name and the cover?
The name...there's a poem in the album cover, a nonsense poem by Giorgio Karaghiosoff, who was one of us and completely mad, he wrote that kind of verses. In this poem, that he brought to us, there was the verse "picchio dal pozzo boh boh boh" and it remained! When we asked "Why picchio dal pozzo?" he said "what the hell do I know!".
But it worked and gave the idea of a medieval character, while it was in fact the name of a group that had nothing to do with the Middle Ages. Even the cover was in line with that. We had a lot of fun at our concerts, they were expecting something like Branduardi, but they had us instead! We played at parties where people threw us things.
Regarding the first album's cover, we found out about the "Die Heinzelmännchen" book later and mentioned the publisher in the notes, but some of us, Griguolo or Karaghiosoff, had a German calendar and took it to the studio and there was this drawing that we discovered later that was taken from that book.
2- The collaboration with Demetrio Stratos?
The collaboration with Demetrio is a "carbonara" thing, just like spaghetti!
We organized a concert with Demetrio in Genua, we worked with two or three civic centres making a 360 degrees music, also for kids. Once a year the gave us the chance to make an event and we called him a couple of times. The first time -in that period he was really different, one of the most helpful people in the planet that I have ever met- he came and with a plate of spaghetti in front of him (for this reason I said "carbonara" [a pasta recipe] and not "carbonari" [a secret society of the 800]), we began to chat..."you're Vittorio's brother, let me hear your material".
He was enthusiastic and took us to Ascolto, with the album that we later issued with L'Orchestra, but they strongly disapproved it, Ascolto thought it was too radical. The Ascolto label was growing back then, but not with Area, that is to say they weren't Cramps! They tired but Sassi's Cramps was something different. The misfortune was that he died in the same period when we were going to offer our work to other companies, always with his reference, and this made our world collapse.
3- Talk us about L'Orchestra and the end of Picchio dal Pozzo?
We were lucky to meet Fabbri and Stormy Six. We made two concerts in Milan with them, one of them was Rock in Opposition, and there is a recording of that concert that we found through Internet. L'Orchestra made self-productions and just acted as a publisher.
The flexi...some of us found on a magazine, could be his mother's Gioia [a woman magazine of the 70's], one of these flexis...like Topo Gigio "we can't do something like this, it plays terribly!" and it was really lo-fi, meant to be a disposable object, that was it.
THe incredible thing that we discovered when we went to play in Japan, is that our first record is idolized. We went to play in a 500-seat theatre and as soon as we started the first arpeggio of Merta an applause thundered...we looked at each other "where have we been all these years", they could even sing it while shaving! In 1976, instead, we couldn't have any TV appearances and we just played around ten concerts in all...in schools, social centres and so on. I remember the RIO Festival in Milan.
PDP broke up because we played in the last ten years much more than we did back then. We even made some concerts in Japan, but in the 70's we were a step ahead of the others, or maybe we were late, being in the exact time when progressive music was dying and we were considered progressive. In fact we have never been progressive, that's how I see it. We played an experimental music, difficult to categorize in a single genre.
_____________________________________
4- Lo studio "G" gestiva tre etichette differenti...
La Grog e la Magma erano le due etichette dello studio e c'era anche la Area per il dialettale genovese. Piero Montanaro era un piemontese, che comparve su tutte e tre le etichette, credo che lavori ancora oggi...l'ho un po' perso di vista, e faceva le versioni dei Trilli in piemontese.
I Trilli si sono separati e hanno continuato per un periodo...il fatto è che la musica dialettale ha assunto tutt'altro spessore. Ora il nome viene portato avanti dal figlio di uno dei due, lavora tanto...ma per feste di paese!
Magma era dedicata maggiormente alle produzioni sperimentali/d'avanguardia
Area era certamente musica folk poi tutto è un po' sconfinato. Pucci Cochis, dopo aver lasciato i JET, era il fonico dello studio a quei tempi. La tendenza era collaborare il più possibile. Infatti tanti dei Celeste sono nel nostro disco, io ho fatto il disco dei Mandillo, che era un altro gruppo. Quindi c'era questa sorta di collaborazione vera nel senso che noi avevamo lo studio e quindi soprattuto a Genova a quei tempi era un investimento di mio padre e di mio fratello ma puoi capire l'importanza di uno studio a Genova a quei tempi.
5- Su un catalogo compare un disco de "La piccola famiglia" ma nessuno ne ha recuperata una copia. Ce ne parli?
La Piccola Famiglia era un gruppo con fiati un po' alla "Mad dogs & Englishmen" molto rhythm & blues.
Avevamo fatto con loro Shaft, tutto l'album, rifatto con i fiati, i nastri saranno andati persi. L'album però era materiale originale loro, infatti era molto interessante, coi fiati. Loro erano in tanti e hanno litigato quasi subito fra loro! Il disco alla fine non è più uscito e chissà che fine hanno fatto quelle registrazioni.
6- Su alcuni lp Magma le copertine vennero realizzate da Cesare Monti...
Mio fratello aveva messo in piedi gli Atomic System con De Piscopo e Baiocco, ed erano un po' il gruppo di punta. Con Monti erano molto amici e quindi gli fecero delle proposte, lui sentì vari album e decise di collaborare in alcuni di questi, quello dell'uovo [New Trolls Atomic System] e Pholas Dactylus.
7- Parliamo dei dischi della Magma accreditati a "Gianni e i suoi solisti"
Quei dischi nacquero per un accordo con la RAI che li usava per documentari e servizi. Loro ti davano la possibilità di fare una co-edizione, tu producevi queste cose e loro saltuariamente le trasmettevano e così recuperavamo la Siae.
Gianni Mazza era venuto a Genova con un po' di materiale, noi gli avevamo messo a disposizione lo studio e i musicisti ma altre cose erano state prese da roba già pronta, magari "scarti" che non erano entrati nei 40 minuti del vinile, visto che noi eravamo proficui. Se ci avessero detto di registrare dieci album in un anno non sarebbe stato un problema. Quando hai quello spirito... Recuperammo scarti nostri e versioni differenti, anche dei Latte e Miele. Leo Lagorio dei Celeste aveva scritto parecchia roba, più che Perrino, più in stile "jazzy". Erano temi soprattuto di Lagorio quelli che abbiamo messo in quei dischi.

A website dedicated to Picchio dal Pozzo will soon be found at http://www.picchiodalpozzo.com

Thanks to Giancarlo Del Papa and Valerio D'Angelo for some information