Artist

PLANETARIUM

Alfredo Ferrari (keyboards)
Franco Sorrenti (guitar)
Mirko Mazza (guitar)
Piero Repetto (bass)
Giampaolo Pesce (drums)

It was apparently common practice in Italy around late 60's and early 70's for record companies trying to launch new groups as foreign bands, giving the members fantasy names (as was the case with Flea on the Honey) or keeping the musicians' identities hidden, as for Circus 2000. This was also the case with Planetarium, a group that released no less than an album and two singles (both from the LP) at the same time, in 1971. Only the composer's name, A.Ferrari, is present on the label.
The mysterious group included in fact musicians coming from two groups from the Alessandria (Piedmont) area, the Scooters and Miguel, but the line-up has only been discovered in 2010!
An all instrumental album (with just some wordless vocal parts), this has some orchestrated arrangements and is generally in a soft prog soundtrack-like vein that's not much representative of the Italian prog sound. The best cuts are on side two, the hypnotic War and the 11-minute long elaborate title-track Infinity with prominent organ. The medium length album (around 36 minutes) included eight tracks, four of which appeared on single.
LP
Infinity
Victory (VY 10051)
1971
textured single cover


CD
Infinity
Vinyl Magic (VM 019)
1990
reissue of 1971 album

SINGLES (all with picture covers)

Love
Life
Victory (VY 052)
1971
both tracks from Infinity
Man (part II)
The moon
Victory (VY 053)
1971
both tracks from Infinity

PROMOTIONAL AND JUKEBOX SINGLES

Quazar
Ariston (45 ISR.0025)
1973
promotional single with picture cover - backed with Ornella Vanoni//La canzone di Leonardo

An incredibly rare album, Infinity had never received a vinyl reissue. It was released on the Ariston distributed Victory label and had a textured single cover.
The only foreign issue known comes from Colombia, on the Real label (no.LRS 93-120), with minimal cover variations.
No counterfeits exist.
Oddly enough the name Planetarium appeared again in 1973 with the unreleased Quazar on the B-side of a rare single with picture cover, probably only issued as a promo, coupled with La canzone di Leonardo by Ornella Vanoni.. Vanoni's song was the main theme for the TV movie Vita di Leonardo da Vinci from 1971, the same year as the Planetarium LP, but this single came out in 1973. The odd catalogue number with the ISR prefix and the appearance of many copies in that country may probably refer to an export issue distributed in Israel.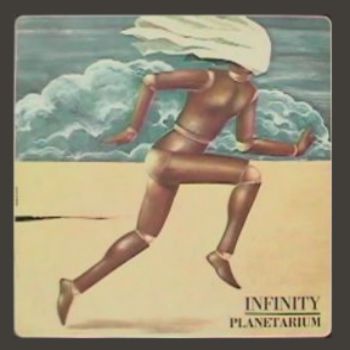 Infinity - LP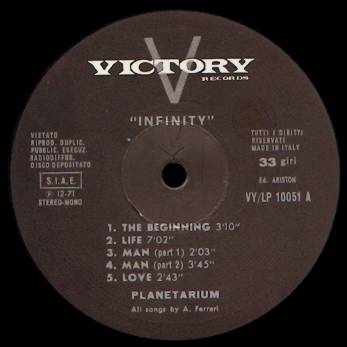 LP label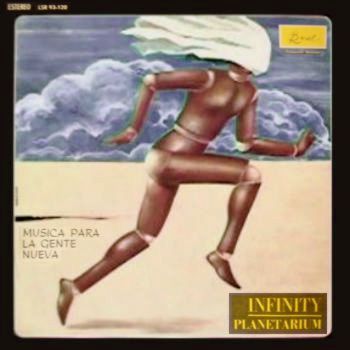 Infinity - LP (Colombia)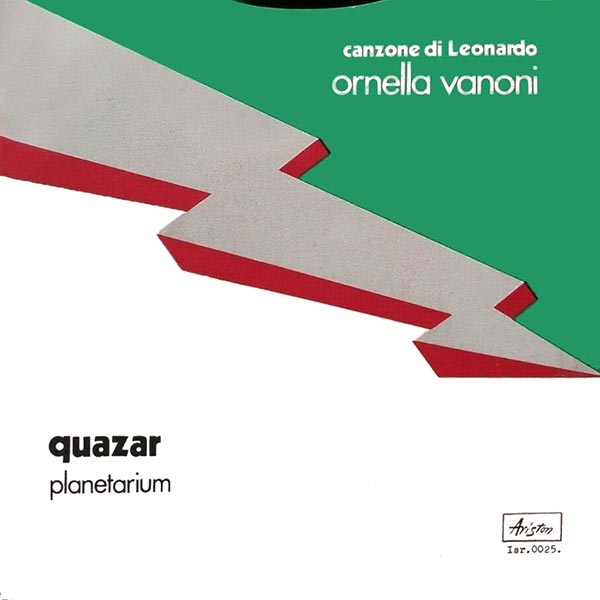 Quazar - promotional single

Thanks to Alessio Marino for finally discovering the identity of the musicians playing on the Planetarium LP and to Valerio D'Angelo for info and picture of the rare promo single