Artist

DIAPASON
PREGHIERA DI SASSO

DIAPASON
Emilio Di Pasquale (guitar)
Leonardo Epifani (electric piano)
Ubaldo Di Gregorio (sax, clarinet)
Salvino Epifani (bass)
Paolo Previtali (drums, percussion)
PREGHIERA DI SASSO
Riccardo Tosi (guitar)
Leonardo Epifani (electric piano)
Luigi Gialluca (sax)
Paolo Previtali (bass)
Tommaso Perlino (drums, percussion)

These bands from Pescara (Abruzzo, central Italy) are always mentioned together because they were featured on the same album and had in common some of the musicians involved, both were very active in their local area.
Diapason played together since the late 60's, initially basing their music on foreign artists' covers (among these Zappa and Emerson Lake & Palmer), then gradually expanding towards a more creative style that gave space to improvised parts. They were the first group in Abruzzo to play single band concerts (rather than in festivals as it was common practice at the time), and also began using theatrical contents in their live acts around 1974.
The band played at 1976 Pescara Jazz Festival and split in 1977.
Two of Diapason members, pianist Leonardo Epifani and drummer Paolo Previtali (here on bass guitar) also collaborated with Preghiera di Sasso, that despite being less known, had the chance of playing some important open-air festivals (Nettuno and Villa Pamphili).
Both bands played a Nucleus/Soft Machine/Perigeo styled instrumental jazz-rock not particularly original, with the album including eight tracks, four a side for each group.
Some Diapason concerts were recorded for a proposed live album, but this was never released.

LP
Preghiera di Sasso/Diapason
Delta (LP 2121)
1975
single cover


CD
Preghiera di Sasso
Mellow (MMP 267)
1996
4 tracks from 1976 album + 6 bonus tracks

One of the rarest albums of the whole Italian prog scene, this is rarely seen for sale and reaches incredibly high prices.
It was locally released in around 1000 copies (some of which withdrawn having the same label on both sides) and never reissued on vinyl.
The label was not the same RCA-distributed Delta that has released the Flea on the Honey album, but a private label aimed at promoting young groups from Pescara, that only released this LP.
Of course no foreign issues exist nor counterfeits.
It's strange to notice that the Mellow CD taken from this album only includes the four Preghiera di Sasso tracks. Along with them there are six bonus cuts by the same band, five of which recorded in 1972.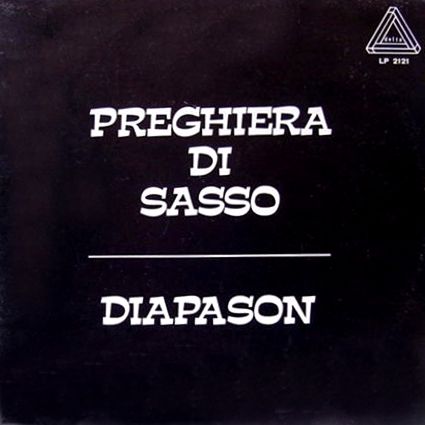 Preghiera di Sasso/Diapason - LP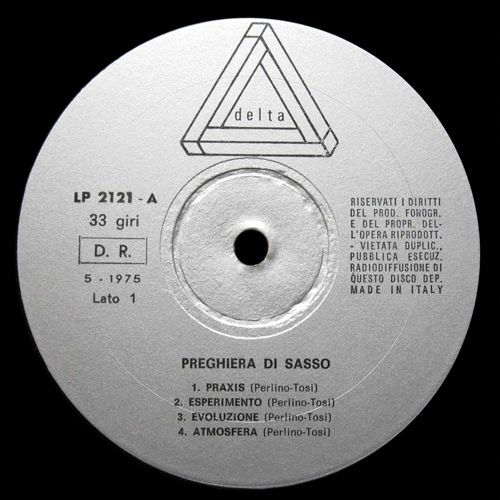 Preghiera di Sasso/Diapason - LP label

Thanks to Dudo and Federico Bordo for pictures and information.
Also many thanks to Ubaldo Di Gregorio, original saxophonist with Diapason and now a professional ancient music player, for the help and information.