Artist

SANGIULIANO

Antonio Sangiuliano, a composer from Tuscany, released his only album in 1978 on RCA.
Take off is a mainly instrumental album where Sangiuliano plays every kind of keyboards, being only helped by drums (Derek Wilson and Enzo Restuccia) and a soprano singer (Elisabetta Delicato) in some short parts.
The atmospheres remind of some Tangerine Dream's works and the album is rather unusual for the Italian progressive style. First side is taken by the 16 minutes long Time control, while the second side only has two tracks.
The album was produced by Adriano Monteduro, who had released his first solo album with Reale Accademia di Musica.
Sangiuliano also recorded a second album, Out of breath, but this was never released at the time in Italy and its rights were sold to a Japanese record company.
The artist also composed the music for the film The line (1980-81) and probably some more soundtracks.
He currently has a radio show on the Italian RAI network.

LP
Take off
RCA (PL 31361)
1978
single cover with inner


CD
Take off
BMG (74321-10524-2)
1997
reissue of 1978 album - now deleted
BMG (74321-98209-2)
2003
as above with mini LP cover and inner - now deleted
Sony/BMG (88697-92268-2)
2011
as above


PROMOTIONAL AND JUKEBOX SINGLES (with blank cover)
Take off
Time control
RCA (PB 6164)
1978
promo-only single taken from Take off - blue label and RCA company sleeve

Not too rare in its original form, Take off was also issued in Japan (RCA/Ariola 28012, also on CD) and Korea (Si-Wan SRML 1006), this time with a gatefold cover that reproduced in the internal side the large picture that was originally printed on the inner bag.
After a first CD issue released in 1997, the album was reissued in March 2003 by BMG with mini-LP cover and obi, as part of their "Dei di un perduto rock" series, and later repressed in October of the same year when a second batch of those CD's came out.
At the same time the CD was announced by BMG as being also available with standard jewel case (cat.no. 74321-98208-2) but was probably never issued in this form.
No counterfeit exists.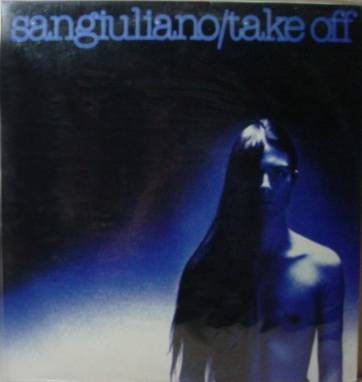 Take off - LP

Thanks to Luigi Papi and Guilherme Tofani for some of the information in this page