Artist

LA STATALE 17 - EMPHASIS

LA STATALE 17
Paolo Beltrami (keyboards)
Carlo Girardello (guitar)
Paolo Depaoli (bass)
Mario Vitale (drums)

+ Marco Signorini (bass)
EMPHASIS
Mauro Bazzanella (vocals, flute)
Peter Bozzetta (guitar)
Leo Tutzer (keyboards)
Georg Pedrotti (bass)
Hans Tutzer (drums)

Like in Preghiera di Sasso and Diapason's case, these bands from near Bozen are always mentioned together due to their only release, a very rare split album released by a small local label in Alto Adige in 1978.
Both played a mainly instrumental keyboard-led progressive, though Emphasis had some English-sung vocal parts, and the album has four tracks on each side.
La Statale 17 had some interesting jazz-inspired guitar parts in their tracks on side 1, Emphasis have some Genesis influences in their tracks, though the keyboards sound is rather thin and the overall recording quality is far from perfect.
For completists only, this album is certainly not worth the high prices it reaches, but the CD reissue is worth a listen.

LP
Rock scene
Contrapunkt (78091)
1978
single cover


CD
Rock scene
Mellow (MMP 187)
1994
reissue of 1978 album

An incredibly rare album, Rock scene is rarely seen for sale and reaches very high prices.
It was locally sold in a very limited number of copies and never reissued on vinyl.
No foreign issues exist nor counterfeits.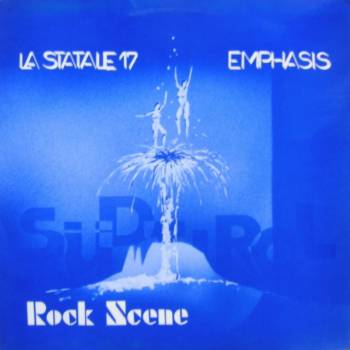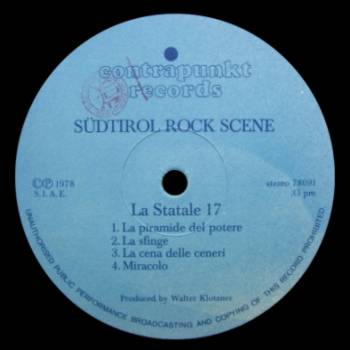 Rock scene - LP, cover and label
Thanks to Federico Bordo for the pictures of the original LP.