Label

EMI GROUP
(EMI - HARVEST - COLUMBIA - ODEON)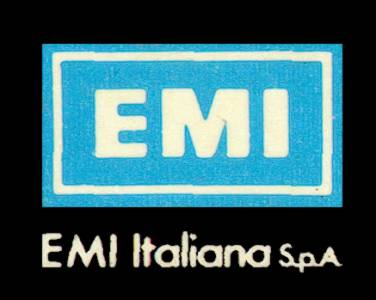 Unlike Phonogram, that apparently used all of his labels at the same time, EMI Italiana had most of his (scarce) rock releases on the Harvest label, only occasionally using EMI, Columbia and Odeon.
Like in other european countries (like France and Belgium) the EMI group releases carried a very long and obscure catalogue number starting with 3C064-xxxxx.
All the releases had a unique numbering system, so it's impossible to identify which label these appeared on from the catalogue number (in many books these records are simply credited as EMI, with no distinction between EMI, Harvest, Columbia and Odeon labels).
Many of these releases were limited to the Italian market and were never issued in other countries.

EMI

LP

number




Band/Artist(s)




Title




year




notes
3C064-17797
I Nomadi
Mille e una sera
1971
single cover
3C064-17818
Ciro D'Ammicco
Ciro D'Ammicco
1973
large envelope-shaped cover
3C064-17880
I Nomadi
Un giorno insieme
1973
gatefold cover with right-side flap - poster
3C064-17907
Opera Puff
Invito
1973
single cover
3C064-18139
Orchestra Njervudarov
Con le orecchie di Eros
1979
single cover
3C064-18152
Baricentro
Sconcerto
1976
single cover
3C064-18208
Grosso Autunno
Grosso Autunno
1976
single cover
3C064-18235
Enrico Casagni
Qualcuno stanotte
1977
single cover - EMI Parlophone label
3C064-18253
Luciano Cilio
Dialoghi del presente
1977
single cover with inner
3C064-18306
Fantasy
Uno
1978
gatefold cover
with former Formula Tre drummer
3C064-18313
Grosso Autunno
Almanacco
1977
single cover with lyric inner
3C064-18322
Baricentro
Trusciant
1978
single cover
3C064-18323
Automat
Automat
1978
single cover
3C064-18424
Assemblea Musicale Teatrale
Il sogno di Alice
1979
single cover with lyric inner
HARVEST

LP

number




Band/Artist(s)




Title




year




notes
3C064-17836
Alan Sorrenti
Aria
1972
gatefold textured cover with inner
3C064-17837
Gruppo d'Alternativa
Ipotesi
1972
gatefold laminated cover
3C064-17870
Saint Just
Saint Just
1973
gatefold textured cover
3C064-17878
Alan Sorrenti
Come un vecchio incensiere...
1973
gatefold cover with booklet
3C064-17888
Vince Tempera
Art
1973
single cover
3C064-18033
Saint Just
La casa del lago
1974
single cover with inner
3C064-18059
Alan Sorrenti
Alan Sorrenti
1974
single cover with inner
3C064-18174
Jenny Sorrenti
Suspiro
1976
single cover with inner
3C064-18239
Tony Verde
Calypso
1977
3C064-18272
Leo Nero
Vero
1977
single cover with inner
COLUMBIA

LP

number




Band/Artist(s)




Title




year




notes
3C064-17889
L'Uovo di Colombo
L'Uovo di Colombo
1973
gatefold laminated cover - it also came with Odeon label and identical number
3C064-17965
Teatro Temporaneamente Traballante
Capannone B
1974
single cover with inner
ODEON

LP

number




Band/Artist(s)




Title




year




notes
3C064-17865
Tony Cucchiara
Caino e Abele
1973
2 LP gatefold cover - theatre piece scoreplay
3C064-17889
L'Uovo di Colombo
L'Uovo di Colombo
1973
gatefold laminated cover - it also came out on Columbia label (see above)
3C054-17913
Tony Cucchiara
Selezione da Caino e Abele
1973
single laminated cover - excerpts from the above double album

LP and singles designs are identical for the three EMI labels.
The standard EMI label for the 70's had a tan background with a big red logo on the left side.
Columbia had a light blue label with circular white writing on the top (similar to the German Columbia label of the same period), and was replaced by a new one, always with light blue background with sort of white bubbles. This had black writings and an EMI logo on the bottom.
The Odeon label was rarely used by EMI Italiana, and in most cases it probably identified some export copies of records already released in the Columbia catalogue; in just a few cases it was used for new releases.
Some examples of records issued with both the Columbia and Odeon logo are the first LP by Nomadi (where the original label has the Columbia logo covered with an Odeon sticker) and the one and only album by L'Uovo di Colombo, which exists with a printed Odeon label or with the Columbia label hidden with a sticker.
Harvest label was identical to its English counterpart, with light green background and dark green logo with black writings.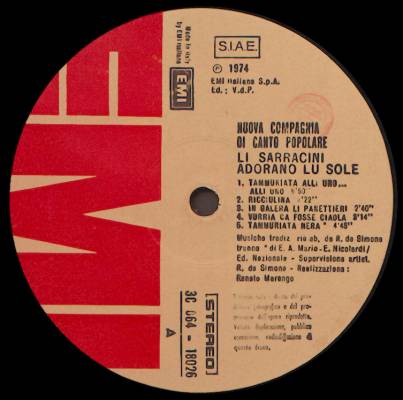 EMI LP label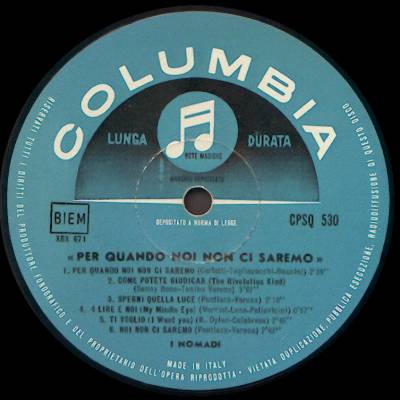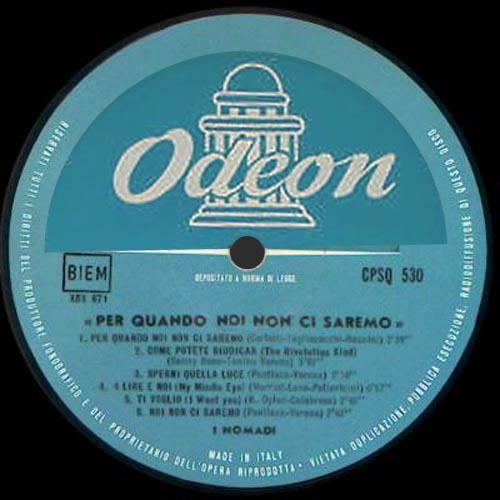 Columbia 60's LP label; on the right the same record with an Odeon sticker on the label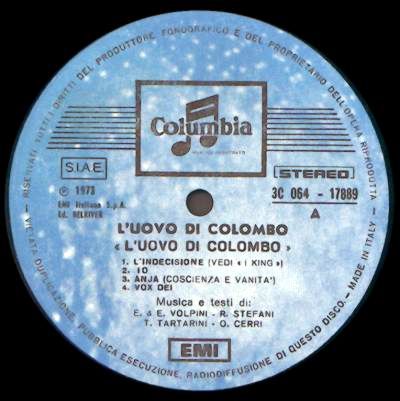 Columbia 70's LP label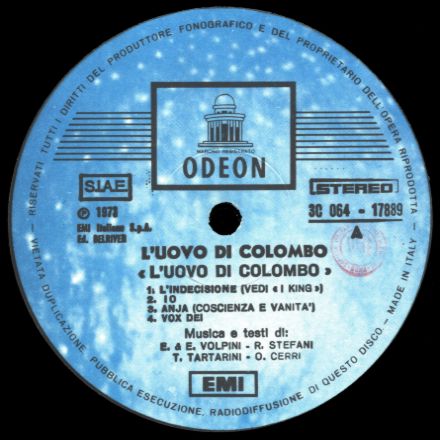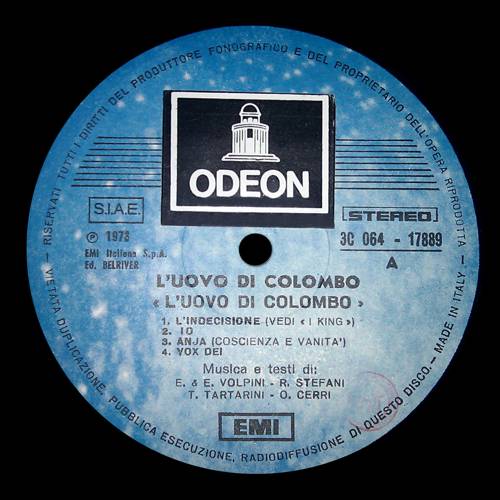 Odeon LP printed label and sticker logo variant
Harvest LP label