Label

GROG RECORDS

Grog label was formed by brothers Aldo and Vittorio De Scalzi (from New Trolls) and supported their recording Studio G's activity.
It only released a handful prog-oriented albums, mainly by group from Genova and Liguria. The singles production was more varied, and included many low-level commercial artists.
This label and its groups were strictly connected with the other one from Genova, Magma records. Latte e Miele and Piero Montanaro released records on both labels.
All the albums were released in 1976 except for Sigillo di Horus made in 1977

LP

Number


Band/Artist(s)


Title


Year


Notes
GRL 01
Mandillo
Mandillo
1976
gatefold cover
GRL 02
Celeste
Celeste (Principe di un giorno)
1976
gatefold cover
GRL 03
Picchio dal Pozzo
Picchio dal Pozzo
1976
gatefold cover
GRL 04
Corte dei Miracoli
Corte dei Miracoli
1976
gatefold cover
GRL 05
Sigillo di Horus
Rendez vous
1977
single cover
SINGLES

Number


Band/Artist(s)


Title


Year
GR 01
Nicky Bulldog
Dog power
Chewingum rock
1976
GR 02
Latte e Miele
Un mattino
Pavana
1976
GR 03
LM Special
Funky prugna
Avventura
1976
GR 04
I Trilli
Vola colomba
Il soldino
1976
GR 05
Mandillo
Nel parco
Dora dollar
1976
GR 07
Sigillo di Horus
Antares
Samba di Horus
1977
GR 08
I Trilli
Ragazze d'oggi
Per andare via
1977
GR 09
Giuliano De Pré
Pensieri
N.N.1143
1977
GR 010
Sigillo di Horus
Colorado
Carillon
1977
GR 011
Piero Montanaro
La langa
Divina
1977
GR 012
Sigillo di Horus
Ranch
Ritratto di un viso
1977

The label is identical on both sides, with a distinctive red background, white logo and black writing.
All the Grog production was distributed by Fonit-Cetra.
Piero Montanaro's single La langa was issued both on Grog and Magma label, though the vinyl has the Grog catalogue number machine.stamped in the run-off groove.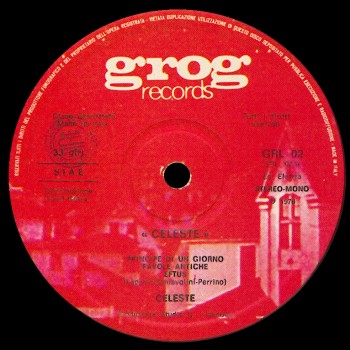 LP label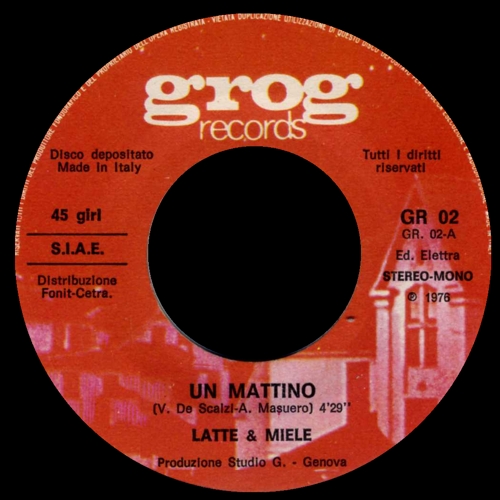 7" single label