Artist

BLOCCO MENTALE

Bernardo "Dino" Finocchi (vocals, sax, flute)
Aldo Angeletti (vocals, bass)
Gigi Bianchi (guitar, vocals)
Filippo Lazzari (keyboards, vocals, mouth harp)
Michele Arena (drums, vocals)

Blocco Mentale were formed in the Viterbo area around the end of 1972, when the members of Oleum teamed up with singer/bassist Aldo Angeletti, active since the 60's with his band Aldo e i Falisci. The new group immediately released a melodic-oriented single, L'amore muore a vent'anni, the their only album, called Poa (a greek word written on the cover in greek letters, it means "grass"), both in 1973.
As evident from its title, the seven-track album dealt with ecology, lyrics were about pollution, nature, flowers and green grass, sometime with a very naive language typical of the time. Musically the album had some very interesting moments, but veered toward pop at times. The group had some multivocal parts similar to New Trolls, as all the members are credited with vocals.
A good album but not at the same level of many others in that great 1973.
The band broke up at the beginning of 1975, for military duties of the musicians, but reformed later with the same line-up, a new name Limousine, a more commercial style, winning some important music contests in 1978 and 1979 and producing a couple of singles.
Singer/sax player Bernardo Finocchi issued in 1980 under the name Bernardo Lafonte the 4-track mini-LP Sei proprio tu (Lettera A AQ122, with help from Michele Arena, Aldo Angeletti and Filippo Lazzari), and with the same name, along with his wife Francesca LotÓ, some religious-inspired records.
Keyboardist Filippo Lazzari died in a road accident in 1991.

LP
Poa
Titania (BM 2301)
1973
gatefold laminated cover with cutout
BTF/Vinyl Magic (VM 032LP)
2011
reissue of 1973 album with the same cover as the original - available on red, yellow, white, blue and green vinyl - later reissued in 2016 on gold vinyl and again in 2021 on yellow vinyl

CD

Poa
Vinyl Magic (VM 032)
1993
reissue of 1973 album - reissued in 2000 with same catalogue number and new label name VM2000
Mellow (MMP 143)
1993
as above with two bonus tracks from single
BTF/Vinyl Magic (VM 032)
2011
new reissue with gatefold mini-LP cover with cutout

SINGLES (with picture sleeves)

L'amore muore a vent'anni
Lei Ŕ musica
Titania (TIT 0024)
Titania (TA 101)
1973
both tracks were not on the album

PROMOTIONAL AND JUKEBOX SINGLES (with blank covers)

L'amore muore a vent'anni
Titania/Durium (LdA 7801)
1973
jukebox single - backed with Wess/Io sto bene senza te

With a very limited pressing (only 2000 copies) on a small label, despite it being distributed by a major company like Durium, Poa is terribly rare and expensive in its original issue.
It came in a deluxe laminated gatefold cover with a small square window on the front, through which a daisy (on the inner gatefold picture) can be seen.
The album was reissued by BTF in 2011 on LP, with a reproduction of the original cover and vinyl in 5 different colours, and on CD. The same label produced in 2016 a new reissue on gold vinyl and a limited pressing of 21 numbered copies on brown/black splattered vinyl.
In the 90's two different CD reissues came out almost at the same time on the most important Italian labels of the genre, Vinyl Magic and Mellow. The Mellow reissue had the gimmix cover faithfully reproduced and also included two bonus tracks taken from the band's only single. The Vinyl Magic CD had a better quality but didn't include any extra tracks and had a simple foldout (with no cutout) booklet with enlarged lyrics.
For the single L'amore muore a vent'anni two different catalogue numbers are reported on Titania label, TIT 0024 and TA 101. In the latter case the cover also has a deleted number, MM 2301. Both issues are to be considered original and were released with an art cover.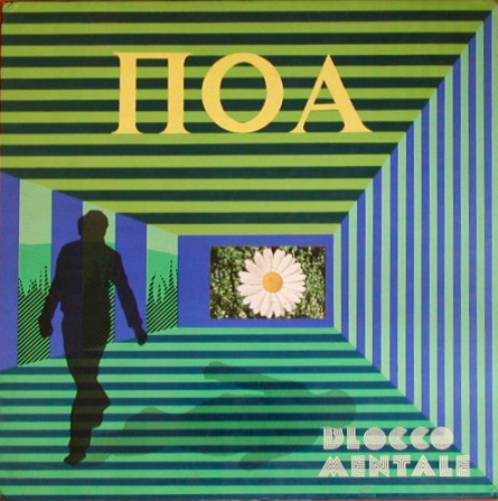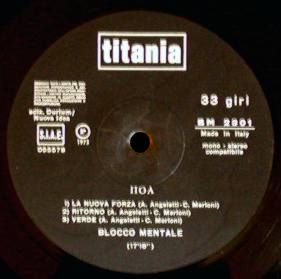 Poa - LP front cover and label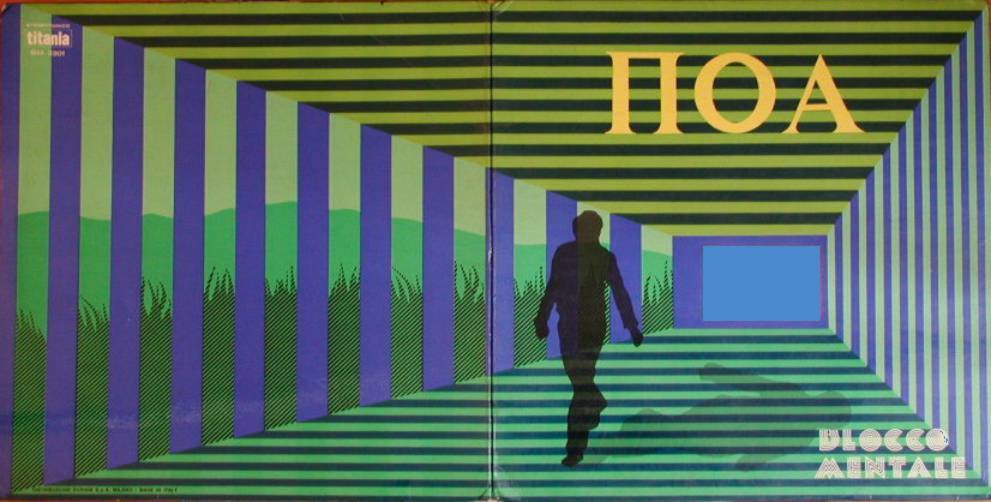 Poa - gatefold cover - note the cutout on the right where the daisy appears when closed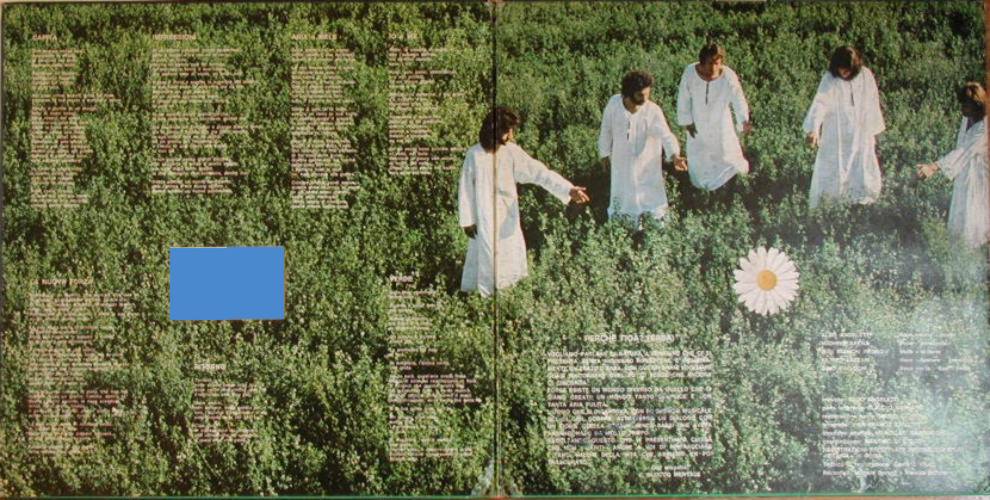 Poa - inner gatefold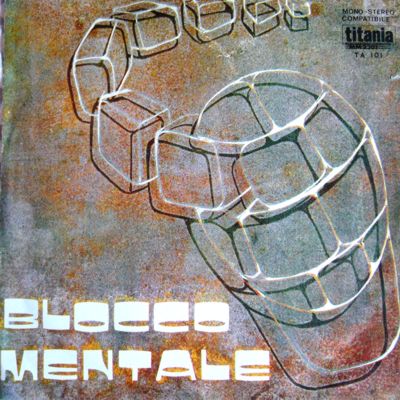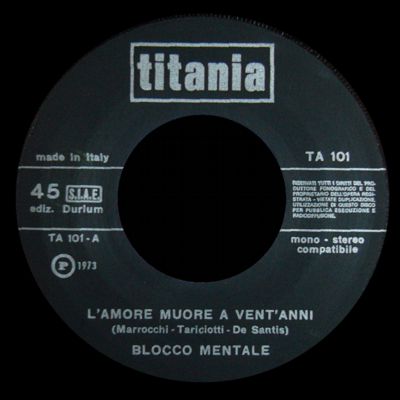 L'amore muore a vent'anni - 7" single, cover and label

Some questions to Michele Arena, by Augusto Croce, April 2006
1-When was the group formed and where are you from?
The group was formed in 1972, we were all from the same area, me and Filippo Lazzari from Viterbo, Aldo Angeletti from Civita Castellana, Bernardino Finocchi from Ronciglione and Luigi Bianchi from Tuscania.
2-Did you play with other groups before?
We had all played in other bands, but with no results, except for Aldo Angeletti, who released a single with his group I Falisci, entitled Rondini bianche.
3-Did you also play live? Did you play in some festival?
We did make many concerts, but we never had the chance to play in any festival.
4-How did you get in touch with Titania? Did the record company promote you?
We got in touch with Titania through some acquaintances, we had an audition and were signed, but the record company didn't support us and they made no promotion at all.
5-Is it true that the record was pressed in limited quantity?
Right, only 2000 copies were pressed.
6-I have seen a TV clip of yours, were there other participations in radio or TV programs?
Our songs were played on radio many times, but we went on TV only once in Adesso Musica [a popular TV show].
7-Who were the group's composers? On the label only Aldo Angeletti is credited
Music was composed by all of us, only the name of Angeletti appeared because he was the only one of us registered with SIAE.
8-Whose was the idea of the ecologist lyrics?
The idea of an ecologist album came to Claudio Merloni, who wrote our lyrics.
9-When did the group break up?
We decided to split due to the military service, but when we came back, the owners of a discotheque, the Pao Pao in Civita Castellana, invited us to make a concert. It was so successful that we decided to reform the group and play together for a while.
10-And then?
We decided to keep playing, trying to make a more commercial music. So we stayed for around six months in Gianni Boncompagni's studio, he promised he'd produced us as soon as we'd made something interesting.
At that point we had a song that we felt was very strong, entitled Camminer˛ solo, so we went back to Titania, and with the owner Massimo De Cicco we contacted Vincenzo Micocci at It, and here we became Limousine.
11-What did you do as Limousine?
We did big things with Limousine, the first single was Camminer˛ solo, the second Malgrado te malgrado noi; with these two songs we won Cantagiro in 1978, played at Venice Festival "La Gondola d'Argento", then Castrocaro in 1979 and so on, with many TV appearances.
Then Filippo, our keyboardist, was absent for a long time due to a heavy depression, and the life of Limousine hence stopped.
12-And the others, did you go on?
Me, Aldo and Bernardo decided to carry on, issuing a Q-Disc [a 4-track 12" album] under the name Bernardo Lafonte, but it was unsuccessful, then as authors we composed a track entitled Ci siamo anche noi, that was used as main theme in 1982 Sanremo festival, sung by Astrella D. (the daughter of Donovan).
Filippo, finally out of his crisis, began playing piano-bar, he played in the TV show "Il tappeto volante" on Tele Montecarlo and collaborated with many artists, but one evening of 15 years ago, while going to play at Open G in Roma, he died in a road accident.

Thanks to Michele Arena for the collaboration and the interview. Also thanks to Gianni Corbari and Alos for pictures and information.