Artist

CONSORZIO ACQUA POTABILE (CAP)

1977
Romolo Bollea (vocals, keyboards)
Maurizio Venegoni (keyboards)
Massimo Gorlezza (guitar)
Giancarlo Morani (bass)
Pippo Avondo (drums)
1993
Paul Rosette (vocals)
Romolo Bollea (keyboards)
Maurizio Venegoni (keyboards)
Massimo Gorlezza (guitar)
Riccardo Roattino (guitar)
Pippo Avondo (drums)
1998
Maurizio Mercandino (vocals)
Romolo Bollea (keyboards)
Maurizio Venegoni (keyboards)
Fabrizio Sellone (keyboards)
Massimo Gorlezza (guitar)
Chicco Mercandino (guitar)
Luigi Secco (bass)
Luca Bonardi (drums)

A strange story for this band from near Novara that never released anything during the 70's and was discovered in the 90's by the small Kaliphonia label. A 1977 recorded live CD was released and the band reunited with four of the five original members for a nice brand new album. After this, other CD's have followed in 1998 and 2003.
The group was formed in Boffalora Ticino in 1971, and after some early concerts released a "prog-opera" called Gerbrand, that was represented in local theatres but never recorded. The musical direction was similar to Banco del Mutuo Soccorso or Premiata Forneria Marconi, in typical Italian prog style with twin keyboards and long compositions.
The original band split in late 70's and some of the members were contacted for a CD release of an old live tape. Hence the reunion of the band around keyboardist Bollea and new recordings in the 90's until now.
Along with their own CD's, the group took part in various international prog artists compilations, the tributes to Camel and Van Der Graaf Generator issued by Mellow and three projects promoted by the Finnish magazine Colossus and issued in France by Musea, dedicated to Odyssey, Dante's Inferno and to the classic I 7 Samurai movie.
In 2014 the long career of Consorzio Acqua Potabile was celebrated with a rich box set containing a summary of their vast production, while in 2016 Black Widow issued their new studio album, Coraggio e mistero, released with help from Jumbo's leader, Alvaro Fella.

LP

Il Teatro delle Ombre
A.C.'70 "Do Not Forget Them" (DNFT 05)
2015
gatefold cover with insert - orange vinyl
Coraggio e mistero
Black Widow (BWR 196 LP)
2016
credited to "Consorzio Acqua Potabile + Alvaro 'Jumbo' Fella"- gatefold cover, 2 inserts and postcard, 1 bonus track not on the CD



CD

Sala Borsa live '77
Kaliphonia (KRC 002)
1993
1977 live recording by original line-up
Nei gorghi del tempo
Kaliphonia (KRC 003)
1993
Robin delle stelle
Kaliphonia (KRC 012)
1998
initially in outer slipcase with booklet
Il bianco regno di Dooah
Robin & T. Records (RBN 001)
2003
also issued in 499 copies limited edition with wooden box, poster and with an extra track (cat.RBN 002)
Da Odisseo A Katayama Gorobei (Per Asilah-El Hedei)
Robin & T. Records (RBN 003)
2008
limited 200 copies issue - digipack cover and obi
Il Teatro delle Ombre (quarant'anni controluce)
A.C.'70 "Do Not Forget Them" (DNFT 01)
2014
4 CD box with a 200 page book - incldues a remastered version of Nei gorghi del tempo, 2 CD's of unreleased and newly recorded tracks, 1 CD of live recordings
Coraggio e mistero
Black Widow (BWR 196)
2016
credited to "Consorzio Acqua Potabile + Alvaro 'Jumbo' Fella"




VARIOUS ARTISTS COMPILATION ALBUMS

Fafnir
(with an excerpt from Gerbrand)
Kaliphonia (KRC 004)
1993
various neo-prog artists compilation
Harbour of joy - A tribute to Camel
(with Harbour of tears)
Mellow (MMP 299 A/B)
1994
2CD - also includes tracks by Evolution, Glass Hammer, Aton's, New Credo, Galahad, Zauber, Finisterre, Notturno Concertante and others
Eyewitness - A tribute to VDGG
(with Faint-heart and the sermon)
Mellow (MMP 279)
1995
2CD - also includes tracks by Landberk, Gizmo, Deus ex Machina, Finisterre, French TV, Zauber, Notturno Concertante, Men Of Lake and others
Odyssey - The greatest tale
(with Chapter VI: Sulle Ali Del Sogno – Odissea: Libri XIV, XV, XVI)
Musea (FGBG 4534.AR) - France
2005
3CD - also includes tracks by Nathan Mahl, Nexus, Glass Hammer, XII Alfonso, Simon Says, Tempano, Minimum Vital, Aether
The 7 Samurai - The ultimate epic
(with Alla corte degli eroi - 1550)
Musea (FGBG 4604.AR) - France
2006
also includes tracks by The Farmers and The Bandits
Inferno - The Divine Comedy part I
(with La danza dei contrari)
Musea (FGBG 4753.AR) - France
2008
4CD - also includes tracks by Nuova Era, Lady Lake, Greenwall, Colossus Project, Court, Wicked Minds, Il Castello di Atlante, Sinkadus, Notabene, Corte Aulica and others

First two CD's were initially sold together by Kaliphonia in a box set.
Robin delle stelle had a limited early pressing in a slipcase with a booklet included.
Even Il bianco regno di Dooah has been released in a limited early pressing with a wooden box that also contains a poster, while the CD has a bonus track not included in the standard version. This version has catalogue number RBN 002.
The 2008 CD Da Odisseo A Katayama Gorobei (Per Asilah-El Hedei) was only issued in 200 numbered copies for the Japanese market.
The 2014 box set Il teatro delle ombre contains a 200-page photographic book. The LP with the same title was issued at the beginning of 2015 in limited edition with orange vinyl and contains four live tracks recorded in 2012 and an unreleased one.
Coraggio e mistero, released in 2016 by Consorzio Acqua Potabile and Alvaro 'Jumbo' Fella was issued on CD and LP; the latter has a gatefold cover, two inserts and a postcard and contains an extra track, Le sette stanze di Dimitrji, which is not on the CD.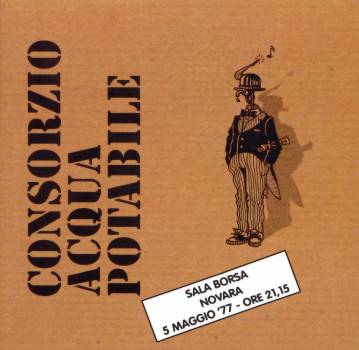 Sala borsa live '77 - CD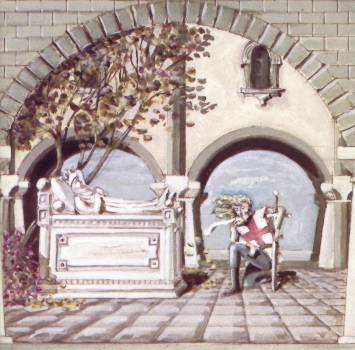 Nei gorghi del tempo - CD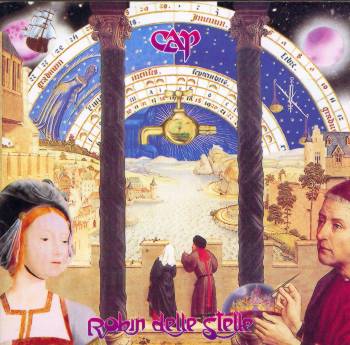 Robin delle stelle - CD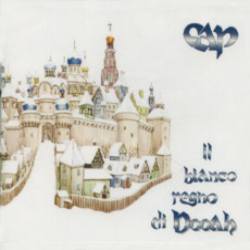 Il bianco regno di Dooah - CD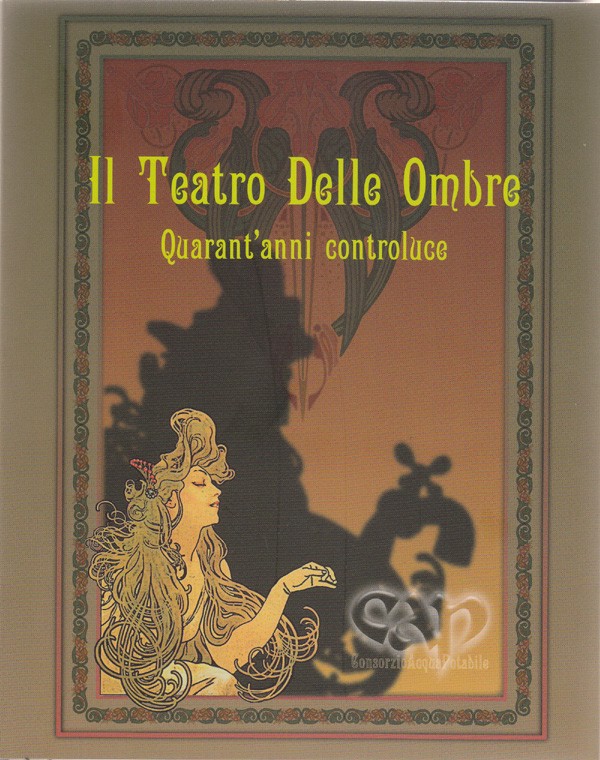 Il teatro delle ombre - Box set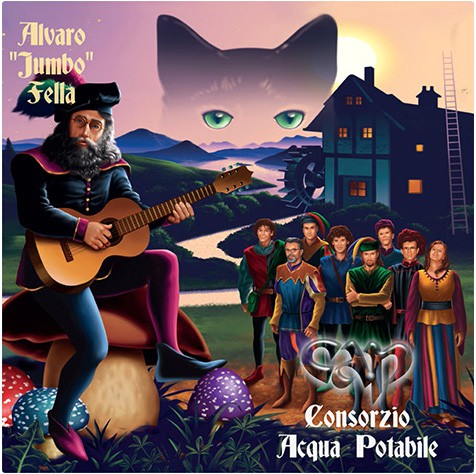 Coraggio e mistero - LP

Excerpts from an interview with keyboardist Maurizio Venegoni, by Juan Mellado from Barcelona, June 2003
1-Hi Maurizio, can you tell us how you got interested in progressive rock?
I'm 45 and I started playing this kind of music in 1971, those were the good times when the music was just the progressive rock... there was nothing else.
Music to dance, to dream, to look for a girl, the only soundtrack to those years was that kind of music that was lately called "prog music".
There was this small group of friends, that were willing to grow up musically, imitating the big names of the time, the italians Banco, PFM, Le Orme, and the international ones like Genesis, Jethro Tull, Gentle Giant.
We were young and unexperienced, and we could live in that great musical period much more like fans ever present at every concert than like main characters on the stage of a historic age.
Anyway, in our small local dimension, we had the satisfaction of performing our own compositions in many theatres, with the help of dancers, slides and sceneries as in the case of the rock opera Gerbrand, from our 1974 tour.
The first phase of our big dream ended in 1977-78, when punk and disco music took away every interest in any form of music that could be described as intellectual or commited. Our Sala Borsa live 1977 (released only in 1993) is a proof of that time.

We began again in 1992 with the help of Raoul Caprio from Kaliphonia and the hard work of Romolo Bollea and Massimo Gorlezza, both from the 70's C.A.P. During the years we found new young players coming from different musical styles and experiences, and, other than being good friends, they've been the first fans and supporters of our musical evolution.
I want to say hello to all of them, with the love that fellow travellers of risky ventures deserve.
2-What kind of progressive rock do you like at most? Can you give us some examples of your favourites?
The Italian prog of the 70's still makes me shudder: Banco, PFM, Orme, but even the lesser known groups like Locanda delle Fate, Maxophone, Reale Accademia di Musica, early Alan Sorrenti, early New Trolls, lots of names...
Even Genesis, Jethro Tull, Gentle Giant and minor groups like Gryphon, Fantasy, Druid, Fruupp or the American Yezda Urfa.
In the eighties I had a deep emotion with Anyone's Daughter.
3-Is there anything you don't like at all?
Maybe some recent new-prog productions, but I can say that my CD player accepts everything, even some things that are much worse than I expected or than they were intended to be.
4-Your latest album is "Il bianco regno dei Dooah", are you satisfied with it?
It was a long hard work, this time with much help from all the members of the group. In the end I feel very satisfied with this original composition.
5-What do you expect from "Il bianco regno dei Dooah", how do you think it will be judged?
I can simply say, we expect many more questions like yours: this confirms that someone, close or far, is interested in what we're doing, in the stories we're writing and our music.
We just want to share with other people our hard work and submit to everyone its result, as it was with Robin delle stelle.
The main difference with Robin is that it took the inspiration from a 70's cartoon, while Il bianco regno is an entirely original subject, both in the story concept and in the music.
6-When did you begin working to the idea of "Il bianco regno dei Dooah"?
In 1977, when I was going by bus to the Milan university and all the city and its surroundings were hit by a terrible snow storm. Well, during an hour long journey I wrote the whole subject and most part of the lyrics of Il bianco regno.
The name Dooah comes from a small village of fishermen (the real name is Dooagh) in Ireland, Achill Island - County Mayo, a place with small white houses with white turfy clouds coming out of their small white chimneys. Dooah sounded like a perfect name for this fair and just king, that held the power in this reign of dream and fantasy.
7-I think it's rather similar to the previous album, don't you think so?
There surely is a continuity in our musical style, but I think Il bianco regno definitely has a better playing and recording quality and is a much more mature work. During its composition the whole group contributed, and that's been very important.
8-I think CAP have been influenced by Banco and sometimes by PFM. Are there any other bands that have left their mark on your style?
Surely Banco, as you said, and something by PFM and Le Orme, but there was a lot of inspiration by the fantastic Italian seventies that created a musical and human movement that's still fresh and alive after more than 25 years. I've just bought the CD Musica e parole by Libra, it was from around 1975, and it's still magic, try to listen to it, it's so rich of good emotions....
9-What's the reason of a return to the classic 70's sound?
I can't say, maybe we're not satisfied with the music that the majors and the media are supporting, or maybe it's the search for a different style in a music world that now includes thousands of styles. Maybe the nostalgia for the old days, for anyone over 40 like me that influenced with his musical taste his sons, nephews or just his neighbours' sons.
10-Don't you think that singing in Italian you'll find problems with foreign audiences? I prefer you singing in Italian than in English.
I don't think the Italian singing can avoid any chance of success. I'm sure that every artist should sing in his own language in order to communicate the lyrics' sense in a better way. I think the best records are the ones that are sung in an original language, from Japan to the Czechoslovakia of Modry Efekt.
Even in the cinema, we're trying to find the sense of the dialogues in the original versions of the films; so why should we try to translate in our music the sense of our original lyrics? A single phrase, this can be made and we'll probably do it, but never a whole song.
11-What do you think about the current new-prog scene in Italy? Do you know other new Italian bands? What about Finisterre, Deux Ex Machina, Hostsonaten, La Maschera di cera, Garden Wall?
Sure I know them very well, I have all of their records. Let me say hello to Fabio Zuffanti from Finisterre/La Maschera di Cera that helped us in our journey to the Tiana Prog festival. I think that Fabio, with his ideas, is one of the most interesting new artists in the new-prog Italian scene.
12-How do you judge these bands, compared with the classics from the 70's?
I'm very interested in anything in the new-prog field, but I confess that, with just some notable exceptions, the classics and even the minor bands from the 70's sound closer to my taste.
13-And what about the return of classic groups like Banco, PFM, Le Orme?
Very nice groups, but their presence only improves my sense of nostalgia for the old days.
14-Do you know new or old progressive bands from Spain?
I know Atila very well, and I'm very honoured to share the bill with them, as I considered them as the Spanish PFM. I loved Harnakis and the fabulous Galadriel, with that Genesis-inspired sound. I like the use of your language in the music, but I've never studied it.
I also own lots of prog records from South America, like Banana, Crucis, Bubu, and I also like the folk music from Galicia and Asturia, like Luarna Lubre, Berroguetto, Susanna Seivane. A small excerpt of a traditional galician chant arranged by Luarna Lubre has been inserted in the most epic and emotional part of our suite Il regno, and I'm very proud of it.
15-Almost everybody nowadays has a different definition of progressive rock. What does "progressive" mean to you?
Maybe you'll consider me out-of-date, but I think that the music of my twenties was "progressive", hence everything that now in the future is inspired to the 70's, going through Genesis or Yes, Gentle Giant or Jethro Tull, up to Banco, PFM or Orme. For the same reason if I buy something new that's described as "west coast", I know I will like it, because I'm sure to find something nice in it.
16-What do you think about the Progressive Rock and Metal fusion?
I'm not a big fan of that kind of music, our drummer and bass player go crazy for it. I only like the more gothic and melodic parts, I find them much introspective and disturbing, though in a positive sense.
17-Do you think that Progressive Rock is dead?
Definitely not, as far as someone like you will be interested in the music of groups like CAP, prog will never die.
Progressive rock is not just music, is an interior world, a fascinating feeling, that links together people from different parts of the world.
Internet has an important role in supporting the relations between all these people, as demonstrated by the contact between me and you.
If you think that, at 45 and with a musical career very far from the main showbiz scenes, I've been invited along with my seven fellows to present our new record in Barcelona, this is another confirmation that prog is alive and well.
18-Any plans for the future?
We hope to keep playing around the world, find more friends like you and share with them the results of the last 3 years of hard work. Maybe a live CD and surely a new studio album to compose, rehearse, record, promote..... not bad plans!

Many thanks to Juan Mellado from La Caja de Musica (and incidentally Maurizio Venegoni) for the interview