Artist

GRUPPO D'ALTERNATIVA

Tino Guasconi (vocals)
Gianfranco Fumagalli (flute)
Leonardo Dosso (bassoon, acoustic guitar)
Rodolfo Pace (guitar)
Roberto Romano (keyboards)
Paolo Rizzi (bass)
Nino Flenda (drums, percussion)

This band with a strange name and an unusual line-up is still less-known to many Italian prog experts, yet their only album is surprisingly good and has very interesting moments.
The weakest point is the singer's voice, squeaky and monotonous and with some spoken parts to connect the musical themes, but musically the band is competent and the album reveals some jazz-rock influences in the Canterbury vein (listen to some jazzy guitar parts or the use of bassoon).
Acoustic parts are prevalent but there are sudden rhythm changes and complex arrangements and the album can be a nice surprise. The nine tracks are connected to form two long suites.
Gruppo d'Alternativa was based in Milan, and Ipotesi was conceived as a rock opera, and even represented at Teatro Uomo with good success. It was based on the death of a friend of the group's singer, in a road accident.
The LP, released on Harvest, contained only a small part of the opera, that originally relied much more on improvisation, most of the band members being influenced by such jazz artists as Miles Davis. But it was not successful, and the record company asked the group to release a more commercial second album, causing their decision to take separate ways.
Little is known of the former group members after the end of GdA.
Leonardo Dosso played for some time with Stormy Six, on their Cliché and L'apprendista albums, and after the end of his musical studies he dedicated to chamber music and formed the Arnold woodwind quintet, playing with them for over 20 years. He is also a bassoon teacher and collaborates with baroque music ensembles.

LP
Ipotesi
Harvest (3C064-17837)
1972
gatefold cover, initially laminated then smooth - some copies include an inner
AMS/BTF (AMSLP 58)
2016
reissue of the 1972 album with gatefold cover
Harvest/Universal (3826438)
2021
volume 12 in the Universal "Prog Rock Italia" series - gatefold cover with insert - issued with light blue, purple (99 copies each) or black vinyl (899 copies)


CD
Ipotesi
AMS/BTF (AMS 114)
2007
reissue of the 1972 album with mini-gatefold cover

An album that's been ignored by many collectors for years, Ipotesi is rare but not impossible to find.
The nice gatefold cover is laminated, but non-laminated copies also exist, these being presumably, as in many other EMI issues, later pressings. Some of these copies include a one-sided inner with a black & white picture and some text.
No counterfeits exist nor foreign issues.
The only CD reissue ever made for this album is the one by AMS, released in 2007 with mini-LP gatefold cover. The same label produced the first vinyl reissue of the album in 2016.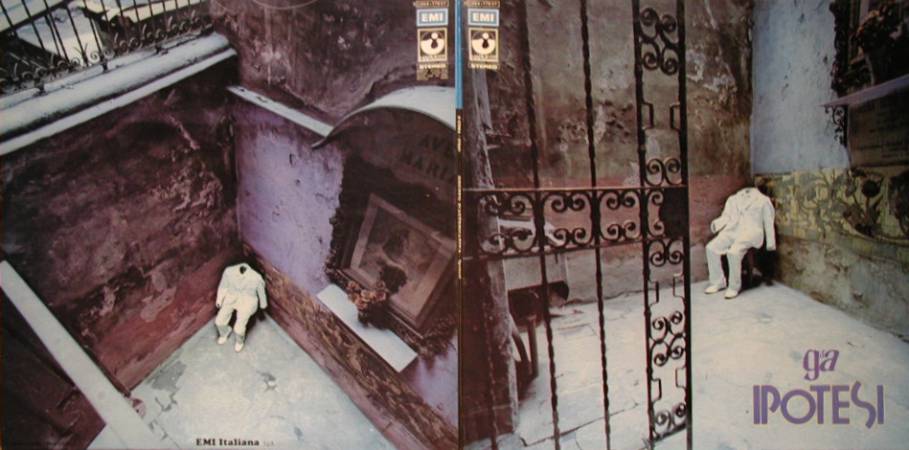 Ipotesi - gatefold cover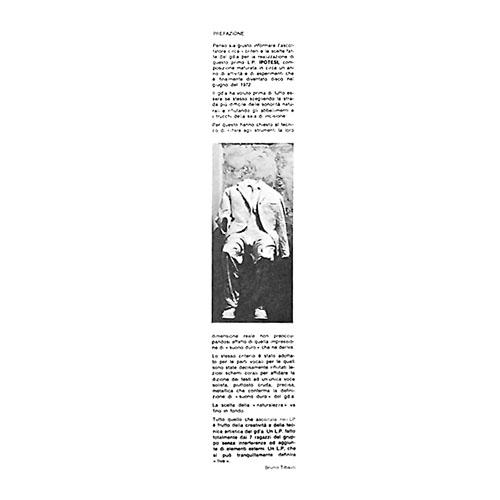 Ipotesi - inner
Discount voucher for the show at Milan's Teatro Uomo, Jan.1972

Many thanks to Daniela and Leonardo Dosso for information and nice words and to Massimo Viviani for information.