Artist

JANUS

Mario Ladich (drums)
and others

Created by Mario Ladich, Janus were formed in Rome in 1975 in the right wing political movements circuit and never had an easy life as the Italian musical scene and rock concert organization during the 70's were led by left wing movements. The first name of the band was Janum, that was later corrected in the right form of Janus (the roman god of the beginnings).
The group always had frequent changes in its line-up (never mentioned on covers and in various interviews). After a debut single, in late 1976, with the original name Janum, a new line-up released an EP in 1977. Even if he didn't take part in the recording of the EP, guitarist Stefano Recchioni (killed during a political riot in 1978) was briefly in the band in this early period, that saw many different singers in the band.
Their only album, the privately released Al maestrale came in late 1978, mixing together the early hard rock influences of the band with a slight folky touch (with good use of flute) and even some punk inspired sounds (like in Manifestazione non autorizzata).
Vocal parts are rather weak and the short album (under 30 minutes) generally suffers from lack of professional musicianship and production, but it contains some good moments.
In 1979, after the LP release, the former singer and guitarist of Nuovo Canto Popolare, Fabio Torriero, joined the group.

A second album, recorded in 1981 by a guitar-less four piece line-up always led by Ladich, was never released and only two instrumental tracks from the recording sessions were issued on the band's last single. The group split in late 1981.
Group leader drummer Mario Ladich also took part in the recording of the rare album Science and violence by Carrč Ladich Marchal in 1979.

LP
Al maestrale
Janus (J 002)
1978
single cover
Bondage (001)
1998
as above - limited 500 copies


CD
Janus
Private pressing (NTA 001)
1995
Al maestrale
Cosmorecord (CR 0012)
1997
reissue of 1978 album


VARIOUS ARTISTS COMPILATIONS
Incise nella pietra
(with Viva l'Europa delle aquile)
Rupe Tarpea Produzioni (RTP 002)
1994
EP issued in 1000 copies, 200 of which on red vinyl, also features Intolleranza, Hyperborea, Sopra le rovine.
Tributo a Janus
(con Neapolis II and Danza macabra)
Rupe Tarpea Produzioni (RTP 010)
1997
compilation on CD and cassette, includes Janus songs played by Intolleranza, Hyperborea, Sopra le rovine, Antica Tradizione and others


SINGLES (with picture sleeve)
Tempo di vittoria
Rivoluzione
Janus (CT 76)
1976
recorded live - released as "Janum"
Janus
Janus (J-77-01)
1977
33 rpm EP with 5 tracks - also known as European Rock Ensemble
Pescatore di sogni
part I & II
J (J 003)
1980
original issue - light blue label
Laltrosuono (J 003)
1981
reissue of the above single - yellow label
Note per un amico (A Stefano)
Danza dei lupi
Janus (GEI 004)
1981
Lo nero metallo nostro
Rupe Tarpea Produzioni Numenoriana (RTPN 005)
2017
33 rpm EP with 3 tracks recorded live in 1977 - limited 300 copies pressing on black vinyl and 100 on blue vinyl - contains an insert

Everything by Janus seems to be rare and very hard to find, especially the much sought-after Al maestrale album.
Most of the original 1000 copies were destroyed by a fire in a bookshop where they were stocked around a year after the LP release. The album was soon repressed on a private tape, in 500 copies.
It has been reissued in 1997 on CD and in 1998 in a limited batch of 500 vinyl copies that are easily recognised as they carry the "Ristampa 500 copie" writing on back cover.
In 2012 a new reissue was released in 500 numbered copies by Portuguese label Extremocidente (cat. DEO 12092712) along with the Italian label Rupe Tarpea. This release includes an insert and a postcard with a black and white group picture.
The 1977 Janus 5-track EP is also known as European Rock Ensemble, by the writing in the group logo on the back cover.
Both the Pescatore di sogni and Note per un amico singles contain errors in their titles, the first one is called Pescatori di sogno on the labels, the other has the B-side title misprinted as Danza per lupi instead of Danza dei lupi on the cover.
A reissue of Pescatore di sogni was released a year later, after the first issue had sold out. It has the same cover and a different label colour, the misprinted title is correct here.
The Tributo a Janus CD, issued in 1997, contains Janus tracks played by others, along with two unreleased songs by the group itself.
The 2017 EP Lo nero metallo nostro, with a single cover and an insert, contains three tracks recorded live at the 1° Campo Hobbit in June 1977. It was issued in a numbered pressing of 300 copies on black vinyl and 100 on blue vinyl, but there's also a 50 copies edition for the German market with different cover and 21 test pressing copies, also with different artwork.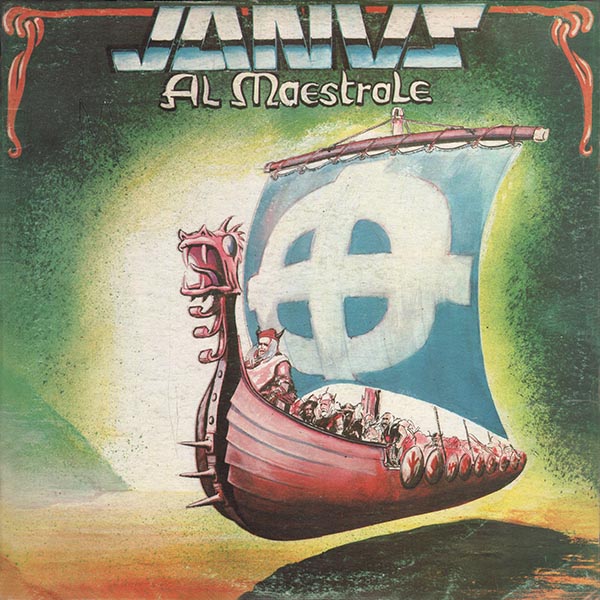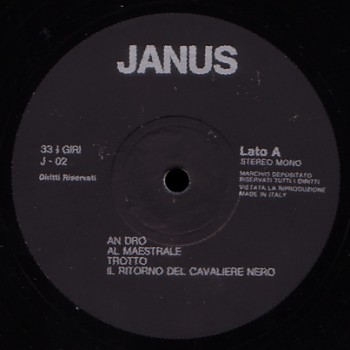 Al maestrale - LP, cover and label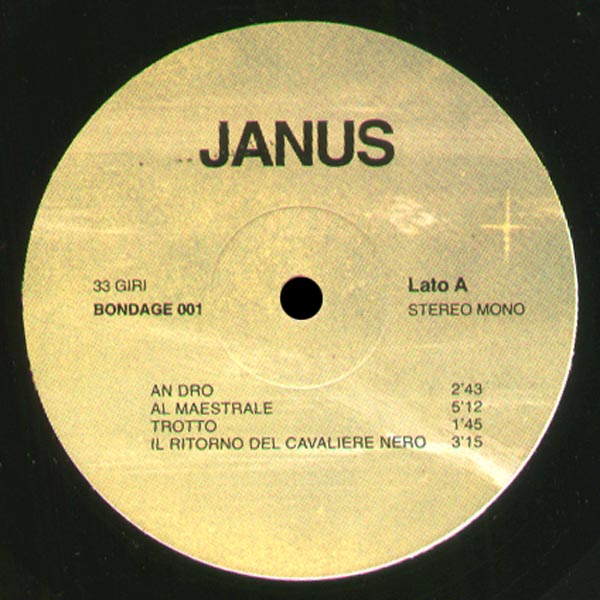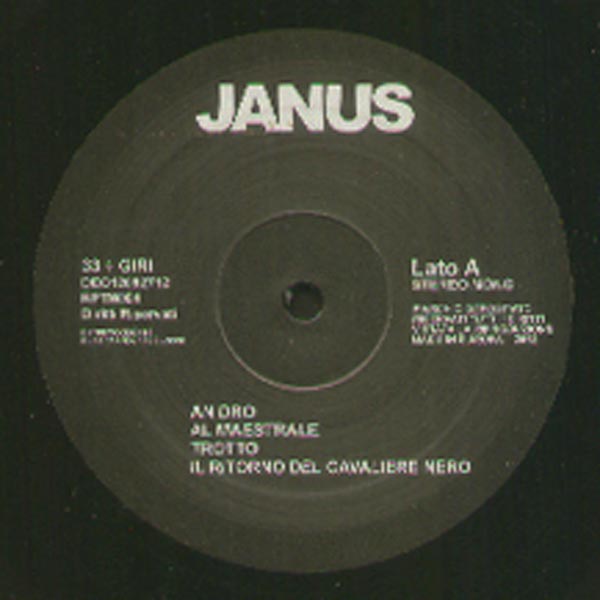 Al maestrale - LP reissue labels: Bondage (left) and Extremocidente (right)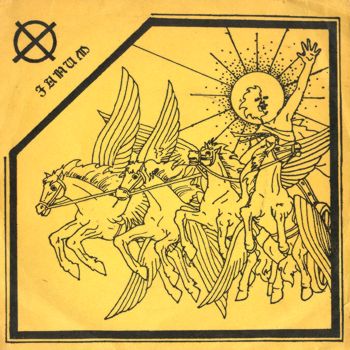 Janum / Tempo di vittoria - 7" single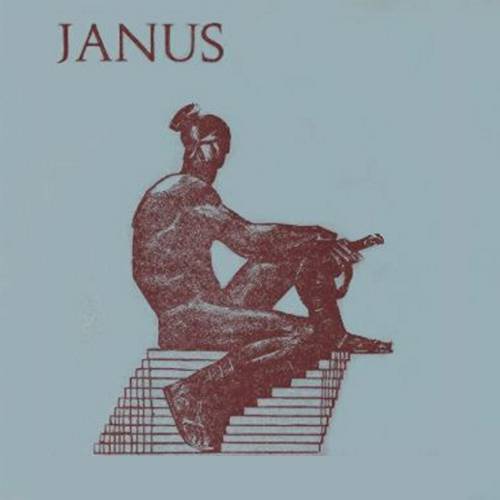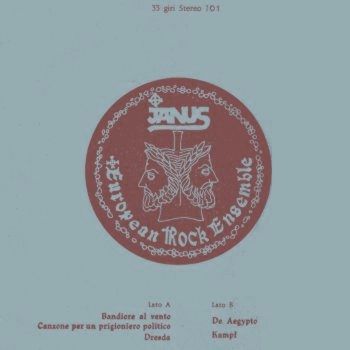 Janus (European Rock Ensemble) - 7" EP, front and back cover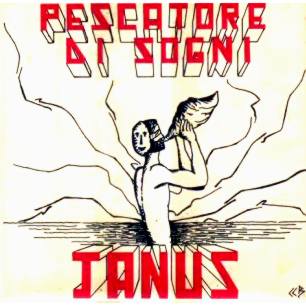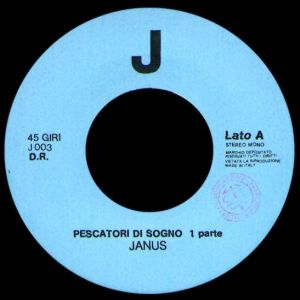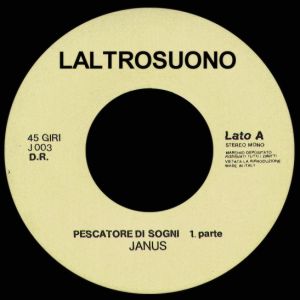 Pescatore di sogni - 7" single and labels (2 diferent issues)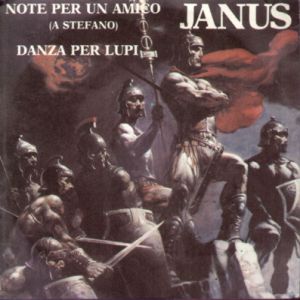 Note per un amico - 7" single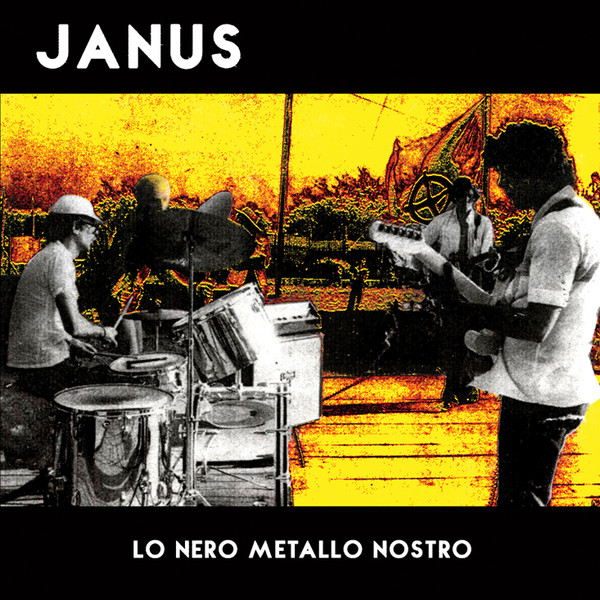 Lo nero metallo nostro - EP

Thanks to Luigi Papi, Alessandro Pomponi of Rockground, Stefano Agnini, Mauro Costa, Fabio Marchignoli, Alos, Marco Bonazzi, Giacomo Beatrici for information and pictures on this page