The full list
N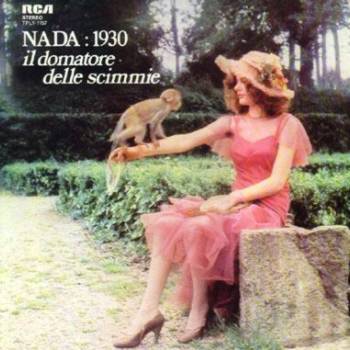 Discography:
LP - 1930: Il domatore delle scimmie (RCA TPL1 1157 - 1975)
LP - Nada (Polydor 2448 089 - 1979)
+ many other singles and LP's
This singer from Tuscany recorded in 1975 an LP with the help of some members of Reale Accademia di Musica, and most tracks on it are composed by the group's singer Henryk Topel Cabanes, but the style is song-oriented. In her wide production deserves a mention the eponymous 1979 album, which features many important musicians from the Roman scene, among which Federico Troiani of Reale Accademia di Musica, Fernando Fera (Alberomotore), Sandro Centofanti, Carlo Pennisi, Dino Cappa and Walter Martino from Libra.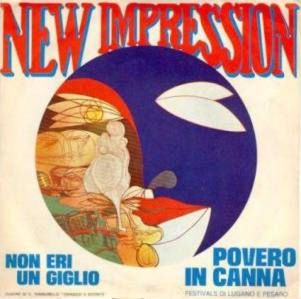 Line-up:
Pino Scarpettini (keyboards, vocals)
Ricky Merola (guitar, vocals)
Gianfranco Bordin (bass, vocals)
Billy Calati (drums)
Discography:
45 - Ride my see-saw/Son fatto cosė (Jet JT 4029 - 1970 - as "New Impression")
45 - Non eri un giglio/Povero in canna (Las Vegas LVS 1058 - 1972 - as "New Impression")
45 - Donna e bambina/Impression (Nuova Impressione NI 3001 - 1973 - as "Nuova Impressione")
Formed by ex-Trolls founder member, Pino Scarpettini from Livorno, this group only released three very different singles, the first one with a side B in New Trolls-style. The second, in 1972, was more commercial, while a third one was the most progressive of their production. The line-up changed throughout the three singles, with the original members Merola and Bordin replaced by Gigi Rizzi and Marino Regina on the second, and guitarist Benny Gaibotti and drummer Roberto Vannini in the last one.
Scarpettini later formed the Clou management agency and played with I Fiori di Parsifal and Omelet.
NON CALPESTATE LE AIUOLE
Line-up:
Cristiano Cianfoni (vocals)
Aurelio Scarabotti (guitar)
Paolo D'Orazi (bass)
Joe Bioni (drums)
This group from Rome with an odd name ["Don't step on the grass"] is remembered for playing in two important open-air festivals in 1972, Rome Villa Pamphili in May and Palermo Pop in September. The group had been formed in 1970, with a sound inspired by the likes of Led Zeppelin and Deep Purple and a repertoire including Italian-sung original songs and some covers (of New Trolls songs, among others).
Around mid-1972 the original drummer Bioni was replaced by Pino Passarenti, who played with them at Palermo Pop Festival. This line-up then recorded some demos for Fonit, for a proposed LP to be entitled Ambiente e vita, but contrasts with the record company led the project to a failure and the group broke up.
LE NUOVE LUCI
Discography:
45 - Canto di maggio/Juanita (City 6256 - 1971)
A group from Versilia, Toscana, that included a young Adelmo "Zucchero" Fornaciari on guitar and sax, before his successful solo career. Their 1971 single has a very nice prog-oriented side A, while the other song, Juanita, was much more commercial. It was later rearranged by Zucchero himself in 1985.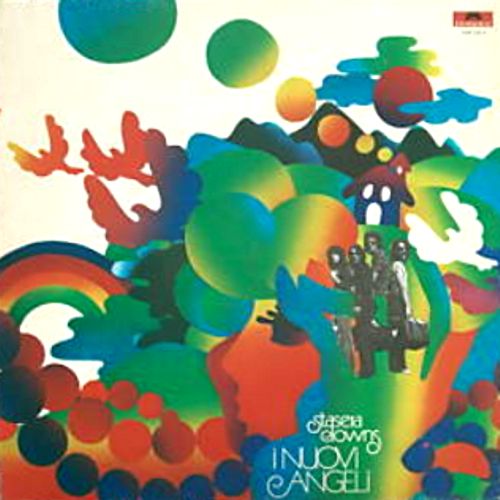 Discography:
LP - Stasera clowns (Polydor 2448 033 - 1974)
+ many other LP's and singles
Just an LP to be mentioned for this popular commercial pop group, active from 1966 to the end of the 70's.
Stasera clowns, issued in 1974 and badly distributed by Polydor, hence rather hard to find, is often described as a progressive album. It's a concept album made by eight tracks among which a long 11-minute suite, Stanza di tutti i giorni, but their style is still melodic with orchestral arrangements. The songs were written by Renato Pareti and the lyrics by Roberto Vecchioni, both well known in Italy.
The drummer on this album was Mauro Paoluzzi, who later released a rare LP in 1978 with the name Pangea.
The album has been reissued on CD in 2010 by Universal as part of the Progressive Italia - Gli anni '70 vol.8 box set.
I NUOVI CORVI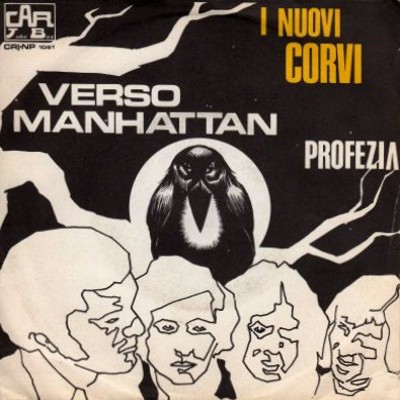 Formazione:
Pino Corvino (guitar)
Ernesto Paglioli (guitar)
Giancarlo Lazzini (keyboards)
Ennio Tricomi (bass)
Franco Pulvirenti (drums)
Discography:
45 - Verso Manhattan/Profezia (Car Juke Box CRJNP 1061 - 1970)
A group from Parma initially featuring the former drummer of I Corvi, Claudio Benassi (replaced on the single by Franco Pulvirenti) and the two guitarists from Greff 86, I Nuovi Corvi released a good single in 1970, still with 60's sounds influences, only playing live in their area.
With Paglioli leaving, and new singer Marcella Bella, the group changed name to Marcella Bella & i Nuovi Corvi, breaking up soon after the successful appearance of the singer at Sanremo Festival and her following career as solo artist.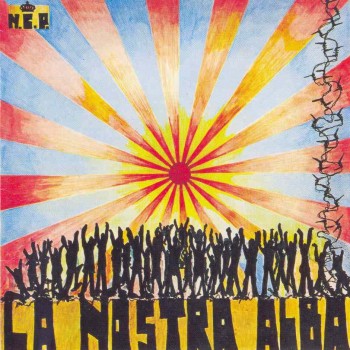 Line-up:
Fabio Torriero (vocals, guitar)
Francesco Tallarico (vocals, guitar, bass)
Giuseppe D'Amico (guitar)

Discography:
LP - La nostra alba (F.M.G. 03 - 1976)
CD - La nostra alba (Cosmorecord CR004 - 1995 - reissue of the above)
EP - Cantare e lottare (F.M.G. 01 - 1976)
EP - Aquila 2 (F.M.G. 02 - 1976)
A group from Rome, formed around 1975 and active until 1978, Nuovo Canto Popolare was a right-wing group that released an album and two singles mostly comprising ballad with political inspired lyrics. The thre emembers of the band were helped on record by keyboardist Andrea Torrinoni and drummer Mario Ladich.
Torriero and Ladich later played together in Janus.

Thanks to Giuliano Semprucci, Claudio Pescetelli, Franco Pulvirenti, Pino Scarpettini, Luigi Papi, Valerio D'Angelo, for some pictures and information in this page
Other alphabetical index pages
A B C D E F G HIJK L M N O P QR S T UV WXYZ