Artist

MURPLE

Pino Santamaria (guitar, vocals)
Piercarlo Zanco (keyboards, vocals)
Mario Garbarino (bass, percussion)
Duilio Sorrenti (drums, percussion)

Another band that deserved much more consideration than they got, Murple released a lonely beautiful album in 1974 on the German Basf label, one of very few Italian releases on this label, that didn't cared to promote the group at all and issued the record long after its recording. It's a shame, because Io sono Murple is a very regarding album, well presented in a fantasy cover and with lyric insert, and very well played by this experienced four-piece from Rome.
The album contains a long suite divided on the two sides, based on the story of a penguin ,and even if the lyrics are somehow naive, the music is very good, with classical inspirations especially in the keyboard playing and nice guitar parts.
The LP was not successful, obviously, even due to the unfavourable press reviews, and the band collaborated with some other artists, like singer Gianfranca Montedoro (previously in Living Music) on her Donna circo 1975 album, but though they were ready to record a second album, decided to split. Bass player Mario Garbarino had been replaced by Roberto Puleo after the album release.
In 2007 three of the original members, Zanco, Garbarino and Sorrenti, reunited to record a new album, Quadri di un'esposizione, to be released in 2008. The basic line-up, with Mauro Arnò on guitar and singer Claudia D'Ottavi issued 2014 Il viaggio on CD and LP, an album strongly inspired by the 70's sounds despite showing pop influences in the vocal parts.

LP
Io sono Murple
Basf Fare (21 23137 F)
1974
gatefold laminated cover - foldout insert
Akarma (AK 1035)
2002
as above, with non-laminated cover
AMS/BTF (AMS LP 44)
2011
new reissue with gatefold cover and insert - first 300 copies on green vinyl
Il viaggio
AMS/BTF (AMS LP 80)
2014
gatefold cover with insert - 500 copies


CD
Io sono Murple
Mellow (MMP 121)
1992
reissue of 1974 album
Akarma (AK 1035)
2002
as above - early copies had mini-LP gatefold cover, later replaced by a standard jewel case
AMS/BTF (AMS 201CD)
2011
new reissue with mini-LP gatefold cover, 4 bonus tracks and a live DVD recorded in 2010
Quadri di un'esposizione
AMS/BTF (AMS 145CD)
2008
mini-LP gatefold cover
Il viaggio
AMS/BTF (AMS 239CD)
2014
mini-LP gatefold cover


SINGLES (with picture sleeve)
Tra i fili
Murple rock
Basf Fare (06 13322 F)
1974
both tracks from Io sono Murple

Another very rare and highly regarded item, Io sono Murple suffered from bad distribution by a foreign label, Basf, not particularly active in Italy. Gatefold cover is fully laminated and a foldout insert is included, printed on thin brown paper. The album has been reissued on vinyl with the same gatefold cover and insert as the original first by Akarma and then by AMS.
There are copies around with a smaller insert, and with a colour much closer to yellow, than the original (approx. 215x240 mm instead of 300x300), and folded in three parts like the other. Even though the Murple musicians are not aware of its existence, it's likely that this insert was a later pressing that came soon after the bigger one.
No counterfeits nor foreign issues exist.
The third album, Il viaggio was released in 2014 on CD and LP; the latter, in 500 copies only, includes as insert a handmade graphic work signed by the author Cesare Pietrosanti.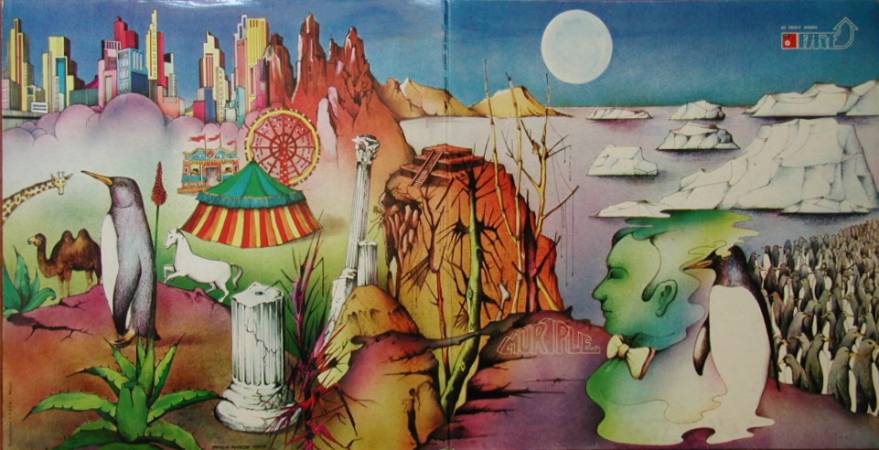 Io sono Murple - gatefold cover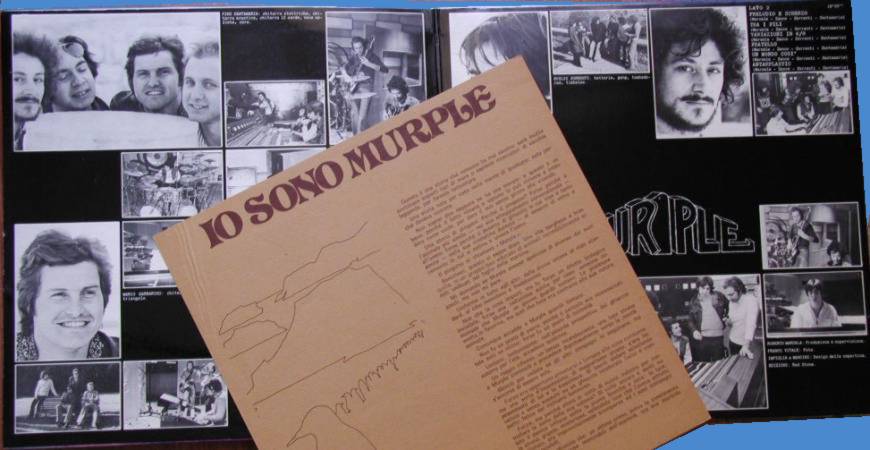 Io sono Murple - inner gatefold and insert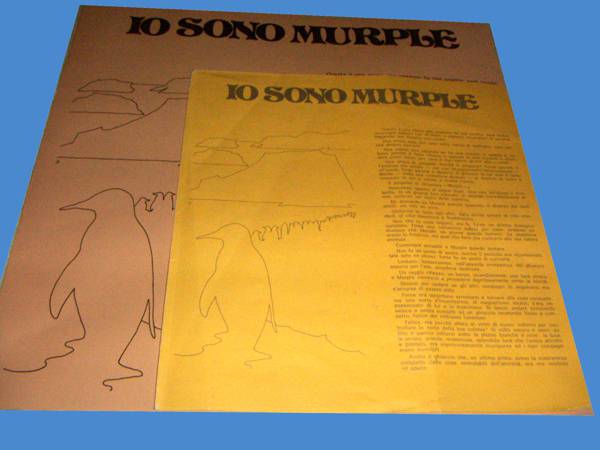 Io sono Murple - LP, standard and small sized inserts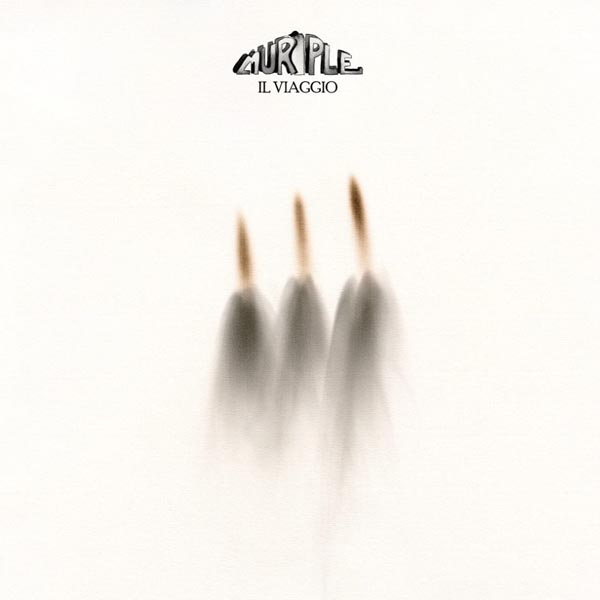 Murple - Il viaggio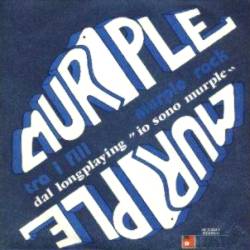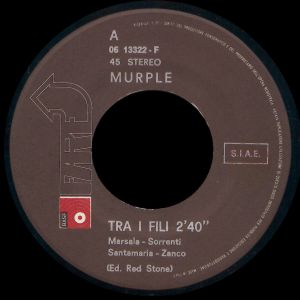 Tra i fili - 7" single, cover and label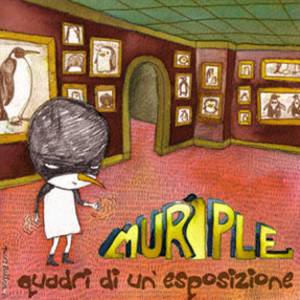 Murple - Quadri du un'esposizione CD

Interview with Mario Garbarino, by Augusto Croce, June 2011
1 - How was the group formed? Had you had previous musical experiences?
At the beginning of the 70's there was a strong musical turbulence, which involved many young musicians who could express their creativity. The musical scene saw new groups coming out every day, many of which later became famous, who presented new styles and gave birth to genial works now considered as milestones in the evolution of modern music. We were at the start of the devastating entrance of rock music in our lives and in the world culture!
It was in this scenario that Murple were born. Me and Duilio Sorrenti had started our musical experience since the school days and met a young Pier Carlo Zanco, then student at S.Cecilia Academy of Music, who was a restless character and a fan of the progressive rock. It was in this kind of music that we found an inspirational affinity and our own original style. In fact progressive music allows experimentation and freedom from conventional constraints. We decided to compose our music and had a good feeling together; in those days it was common to want to say one's piece! We were not alone on that way! As we had started this project we felt we had to have a guitarist as well, and we found Giuseppe Santamaria, which we first borrowed from a group of friends who used to play in all the dancehalls and small clubs of Rome, and then he permanently stayed with Murple.
2 - How come you chose a penguin for the story of "Io sono Murple"?
The name of the band was chosen to pay homage to a big American friend of us, a great musician with which Duilio and sometimes I had played. It was he who had the idea of Murple as the name of an invisible "naked penguin"! When we had enough nmaterial for an LP we found out that the music was well suited to a concept story about a special penguin, leaving his world to meet the mankind. Hence the idea of giving the album the name of the group, which was the same name of this penguin, introducing himself to the world. . . . . hey . . . we're here as well!
3 - Your LP came out on an unusual label for the Italian market, BASF? How did this relation come out and what kind of support did they give you?
We had a producer who found some contacts with record companies, starting with RCA, but in the end we were signed to the German BASF, that was showing new interest in pop music (they were very important in the classical msuic field). We were the first in Italy along with Gianfranca Montedoro, on whose record we played, and it was a nice experience. It seemed a good idea to have an important record company all for us!
We recorded at Bobby Solo's Chantalain, then considered a state-of-the-art studio, and had a wonderful cover which also won a prize as the best of the year. We felt to be on safe ground!... Too bad that after not so long the company decided not to pursue their rock music project, breaking off the promotion of their artists. We were very lucky! It was for this reason that many people never heard about Io sono Murple, in a time when the prog music had a great following and it was easy to have a good audience. This is how things went, never mind!
4 - How did you promote the album (with concerts, radio, TV, press)?
We made a couple of concerts in Rome to promote the LP, among them the 1974 Villa Pamphili festival, we had some reviews on music magazines and we were featured in a TV show dedicated to the new groups, presented by Gianni Morandi and Anna Maria Rizzoli. Oh, now I remember, we were also featured in some radio shows on RAI (there was only Rai on radio at the time!) Then all was suddenly stopped by the lack of support from the record company, as I said.
5 - Soon after "Io sono Murple" you broke up. Some say there was a second album ready, what's the real story?
The contract with BASF was for an album every year, we had to record a new album a year and they would have released and promoted it. We were soon at work to compose Murple's second album and for what we can remember it was going on very well, but it suddenly stopped when we knew the record company's decision. This had strong consequences on our enthusiasm and caused such instability in the band that the musicians started collaborating with other artists, leving all that had been composed up to that point sinking in oblivion.
6 - What did you do after the band's demise? Did you keep playing?
Yes, first we became Mal's backing band for two years. In the meantime Pino left for its military duties, later he became an excellent bass player with many groups. Then Pier Carlo was busy with his Academy of Music studies and later he had to follow many commitments, including the career as teacher in the Academy of Music of Trieste, the concert activity and a long and fruitful collaboration with Branduardi. For what I'm concerned, I left the music to follow my medicine studies, but keeping my bass always ready for some collaboration especially in the studio. I had an interesting collaboration with Jimmy Spitaleri from Metamorfosi. And for Duilio, he went directly from Mal to Branduardi, then he dedicated to his recording studio in Rome, but he always kept playing with the likes of Claudio Simonetti, Max Gazzè, Gianni Leone, collaborating with Venditti, Mal, orchestras, etc... the list is very long!
7 - What do you think about the fact that the original LP is so rare and expensive? And how do you consider the high respect for the Italian music of the 70's?
Probably Io sono Murple is so expensive because only a limited number of copies was put on sale, for this reason it's hard to find it on the collectiors' market, especially in mint condition. It's the same old story of supply and demand, though we always had positive (sometimes enthusiastic) reviews on our music's quality. So we think the record has been bought even for its musical contents, not only for the nice cover and its rarity...I hope! Moreover, it's a classic example of the freshness and originality of the Italian progressive which is considered a peculiar style in the international rock scene.
Having lived those years from the inside I can honestly say that the Italian musicians experimenting with prog created, worked, suffered and rejoiced in a spontaneous way, with no intermission and always ready to risk everything, such was the enthusiasm of being able to freely express themselves. From these elemnts came the strength which, mixed with our cultural history, produces the unmistakeable "Italian Progressive" much loved throughout the world.
8 - How came the idea of reuniting? And how come only in 2007, were there any other attempts before?
In the 90's we were requested to reissue Io sono Murple on vinyl. This was rather surprising, but after a short time we all went back to our everyday lives. The same request cam back in the 2000's, for a reissue on vinyl and CD with an interview on a music magazine! So we said, we haven't been forgotten?
We started looking around, discovering a new interest in prog, especially from young people. Many Internet sites were talking about this mysterious group, Murple, and their only album which apparently left his mark in the Italian prog. The time was good for a reunion of the three founder members of the group and finally, after 36 years, we were able to make a second album, Quadri da un'esposizione. What surprised us all was the easiness with which we found the old feeling, both musical and personal. It was like turning on a light switch again....Fantastic!
9 - How were the reviews to "Quadri da un'esposizione"? And to the concerts you made?
Quadri da un'esposizione is just another proof of how crazy we prog musicians are! We never miss a chance to experiment.
We decided to make a record as a trio, with no guitar in a time when guitars rule! Despite this the reviews were positive and the CD will be reissued to satisfy the demand. We worked hard to prepare a live show, but we were awarded by the enthusiasm of the audiences and this is the main reason why we took up this new challenge.
10 - Which are your plans for the future? A new record and other concerts?
In Autumn we'll have the new vinyl reissue of Io sono Murple remastered – a CD from the same master will also include some bonus tracks: an old live recording from the 1973 Naples Be In festival that we found thanks to our friend Livi and three tracks, live in studio, from Quadri da un'esposizione with newcomer Maurizio Campagnano's electric guitar, and the voice of Claudia d'Ottavi to complete our new line-up. The CD will also contain as bonus a live DVD from our March 2010 concert (the official return of Murple). We'll play in a prog festival in Rome in September, a record collectors convention in Naples in October, a prog festival in Milan in November. In Autumn weìll be featured on a prog compilation with an unreleased track. And we're already working on a new record...so, we have several irons in the fire! But we had to make up for lost time!

The website dedicated to Murple is www.murple.it

Thanks to Daniele Nuti and to Mario Garbarino for the interview and to Giancarlo Del Papa for information.