Artist

ODISSEA

Roberto Zola (vocals, guitar)
Luigi Ferrari (guitar)
Ennio Cinguino (keyboards)
Alfredo Garone (bass)
Paolo Cerlati (drums)

Born as Pow-Pow in the Biella area at the beginning of the seventies, the group changed its name to Odissea in 1972 after the entrance of guitarist Ferrari, only issuing in the following year an album and a single with this five-piece line-up.
The album is in a rather melodic-inspired progressive style, with eight tracks and the first side better than the second, good but not essential. The music is dominated by vocal parts, with very few instrumental breaks, and the overall feeling is similar to Jumbo's first album (even in the singer's voice).
Two tracks from the album were released as a single, Unione being one of the best cuts along with the instrumental Crisalide, while Cuor di rubino, also on single, was based on a Jacques Prevert lyric.
The group had a good live activity, supporting Genesis in their April 1972 Italian dates and playing at Festival d'Avanguardia in Mestre, at IX Mostra di Musica Leggera in Venezia, along with an Italian tour with Banco del Mutuo Soccorso and Rocky's Filj.
In 1974 singer Roberto Zola left Odissea for a career as soloist that never started, the others went back to play as backing band for singer Michele (which they had already played with in 1971) and with La Famiglia degli Ortega for some concerts in the USA.
In 1976 Elio Vergnaghi (vocals) and Aldo Ambrosi (guitar) joined the group and Odissea played some concerts in Switzerland, but, when drummer Cerlati quit in 1977 they went back once again with Michele for many years.
Ennio Cinguino (who had played in the 60's with I New Blues) and Alfredo Garone kept playing in the piano-bar circuit.

LP
Odissea
RiFi (RDZ ST 14228)
1973
gatefold laminated cover with inner
Vinyl Magic (VMLP016)
2013
as above


CD
Odissea
Vinyl Magic (VM016)
1989
reissue of 1973 album


SINGLES (with picture sleeve)
Unione
Cuor di rubino
RiFi (RFN NP 16543)
1973
both tracks from Odissea


PROMOTIONAL AND JUKEBOX SINGLES (with blank cover)
Cuor di rubino
RiFi (RJB NP 98080)
1973
jukebox single - backed with Rare Earth/Ma

Odissea is not a difficult album to find, and it came on RiFi with a beautiful gatefold laminated cover designed by Mario Convertino and a lyric inner.
It was also issued in Venezuela on the Orbe label (no. ORLP-4395) with a single cover. No counterfeits exist.
The album was first reissued on vinyl in Italy in 2013 with the same gatefold cover and lyric inner as the original.
Two CD issues came out in Japan, the first by Crime (KICP 2101) in 1991 and the second on Belle Antique (BELLE 111810) in 2010, the latter with mini-LP gatefold cover.
Four tracks from the album, Cuor di rubino, Conti e numeri, Unione, Giochi nuovi carte nuove, were included on a promo-only untitled compilation released on RiFi (RJB-LP 98701) in 1973, along with tracks by singers Corrado Castellari and Franco Simone.
The Unione 7" single exists housed in a white plastic cover with the name Odissea silkscreened. This can be a promotional issue.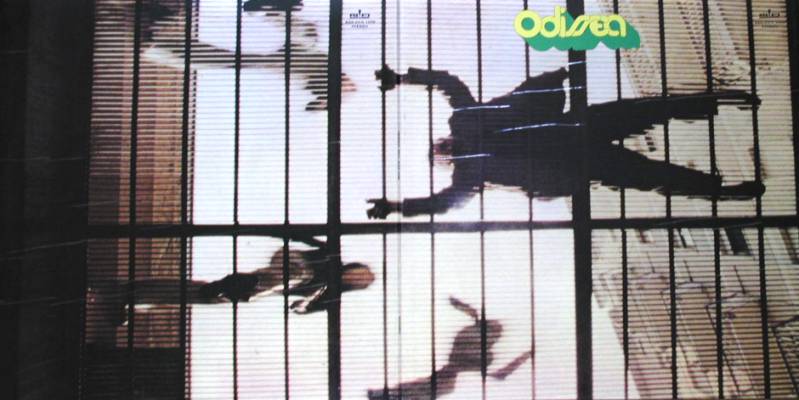 Odissea - gatefold cover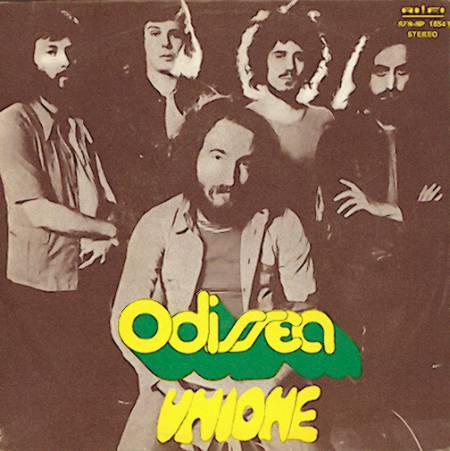 Unione - 7" single cover