Artist

MUSEO ROSENBACH

Stefano "Lupo" Galifi (vocals)
Enzo Merogno (guitar, vocals)
Pit Corradi (keyboards)
Alberto Moreno (bass, piano)
Giancarlo Golzi (drums, percussion, vocals)

Name Museo Rosenbach and you'll see a sparkle in the eyes of every European prog fan, their Zarathustra being usually considered as one of the best examples of the genre to come from outside England. Yet the band was not successful at the time, being accused of right-wing inclinations for the Mussolini image in the front cover collage on an all-black background and the Nietzsche-inspired lyrics, which all contributed to limit the diffusion of their name and their album.
The group, initially named Inaugurazione Museo Rosenbach, was created around 1971 from the fusion of two late 60's bands from Sanremo, La Quinta Strada and Il Sistema, and their first line-up included future Celeste member Leonardo Lagorio on sax and flute, and singer Walter Franco. The only recordings Il Sistema ever made were released on LP and CD by Mellow in 1991-92, while La Quinta Strada was just a cover band.
The tracks for Zarathustra were ready at the end of 1972, when the band were suddenly contacted for a recording deal by Ricordi, who were interested in promoting new progressive groups such as Banco del Mutuo Soccorso and Reale Accademia di Musica and the album was released in April 1973.
The long Zarathustra suite on side one is probably their best effort, with slight classical influences and keyboards in evidence as in the best Italian prog tradition, but side two with three shorter tracks has some great moments. Vocalist "Lupo" Galifi has a very distinctive voice and keyboard player Pit Corradi adds a touch of originality to the band sound.
Museo Rosenbach had a short life, splitting soon after the album and some good concerts in the summer of 1973, and the two posthumous CD's released by Mellow let us understand what a great band they were.
A new 10-track album, Exit, has been released in 2000 by original bassist Alberto Moreno and drummer Giancarlo Golzi along with new members, in a more commercial direction than their brilliant debut album.
The most recent product by the new line-up is an appearance on the Kalevala 3-CD box set by the French label Musea, dedicated to the finnish traditional epic, with a song called Fiore di vendetta.
In 2012 a new line-up of Museo Rosenbach featuring original members Galifi, Golzi and Moreno with guitarists Sandro Libra and Max Borelli, keyboardist Fabio Meggetto and bassist Andy Senis issued a CD containing a remake of their 1973 classic, entitled Zarathustra - Live in studio. In 2013 this line-up has issued a new studio album entitled Barbarica and played in Japan, for a concert released as a double CD, Live in Tokyo.
Singer "Lupo" Galifi formed new group Il Tempio delle Clessidre, even playing excerpts from Zarathustra in concert. Their eponymous album was issued in 2010 by Black Widow (BWR 123), but Galifi left the band for the following releases. He released his solo album Dei ricordi, un museo in 2021 for AMS (AMS 329CD) helped by musicians of contemporary prog bands such as La Coscienza di Zeno and Ubi Maior.
Drummer Giancarlo Golzi, very popular in the Italian music scene thanks to his successful career with Matia Bazar and particularly active in the reunion projects of this seminal group, sadly died in the summer of 2015.

LP
Zarathustra
Ricordi (SMRL 6113)
1973
gatefold textured cover - some copies have the record opening on the bottom seam
Contempo (CONTE 004)
1990
gatefold glossy cover - exists with both orange/black and all black labels
RCA/Sony (88697 42819 1)
2009
numbered reissue with gatefold cover
Ricordi/De Agostini (SMRL 6113)
2018
gatefold cover and 8-page insert - no.20 in the De Agostini "Prog Rock Italiano" series
RCA (19439 78582 1)
2020
gatefold cover - orange vinyl
Sony Music (19439 98857 1)
2022
numbered reissue with gatefold cover and yellow vinyl
Rarities
Mellow (MMLP 102)
1992
single cover - demos and unreleased tracks


CD
Zarathustra
Contempo (CONTECD 004)
1990
reissue of 1973 album - now deleted
BMG/Ricordi (74321-53184-2)
1997
as above - now deleted
BMG (74321-98452-2)
2003
as above with mini-LP gatefold cover - now deleted
BMG (88697-85363-2)
2011
as above with mini-LP gatefold cover
Gruppo Ed.L'Espresso (15)
2015
mini-LP gatefold cover – no.15 in the "Progressive Rock Italiano" series
Ricordi/Mondadori (20)
2019
mini-LP gatefold cover with booklet - no.20 in the Mondadori "Prog Italia" series
Live '72
Mellow (MMP 102)
1992
live recording from 1972
Rare and unreleased
Mellow (MMP 103)
1992
1972 demos with expanded line-up and unreleased tracks
Exit
Carisch (CL77)
2000
new album by revised line-up
Zarathustra - Live in studio
Immaginifica (ARS IMM 1011)
2012
new album with original members
Barbarica
Immaginifica (ARS IMM 1017)
2013
new studio album
Live in Tokyo
Immaginifica (ARS IMM 1025)
2014
2CD - recorded live in Japan

VARIOUS ARTISTS COMPILATIONS

Kalevala
(with Fiore di vendetta)
Musea (FGBG 4463.AR) - France
2003
3-CD box based on Finnish national epic of the same name

One of the masterpieces of the Italian prog, Zarathustra is obviously rare and expensive. The album has been reissued on vinyl by Contempo, and both the issues have a gatefold cover, that's textured in the original.
Two different versions exist of the original cover, with the same artwork but one has the record inserted from the right side, the other from the bottom side. Even if the latter looks like an error soon corrected with a new pressing, it's impossible to determine which came out first.
The Contempo reissue exists with both an orange/black label identical to the original one and an all-black label with white rim.
A new vinyl reissue came out in 2009 on Sony, in a limited numbered series. The album was reissued again in 2018, in a 60-LP series called Prog Rock Italiano published by De Agostini, and in 2020 on orange vinyl
It was reissued on CD in March 2003 by BMG with mini-LP gatefold cover and obi, as part of their "Dei di un perduto rock" series, and later repressed in October of the same year when a second batch of those CD's came out. The CD was announced by BMG as being also available with standard jewel case (cat.no. 74321-98450-2) but was probably never issued in this form.
As most of the albums issued by the Italian biggest record companies, Zarathustra was also released on cassette (Ricordi RI-K 740242) and 8-track cartridge and these are among the rarest and most expensive tapes in the Italian prog field.
A Japanese vinyl issue exists (King K22P280), and this was released with both single and gatefold cover. A CD reissue was made by BMG Japan (BVCM-37425) in 2004 with a textured gatefold mini-LP cover identical to the original.
An old Korean bootleg LP reissue also exists, with single cover and cat.no 86 (unknown label reproduced Ricordi design).
A counterfeit of unknown origin of the Ricordi LP was put on sale in 2015, which faithfully reproduces the original but is easily recognisable from the cover (not textured) and label (orange/black but smooth where the original is rather rough). This version also shows the name of the group and the record title along the seam, while the original only had the catalogue number in that position.
Another unofficial reissue came out in 2017 on the Music For Special Experiences (MFSE) label, no.LP I-0021; it has a gatefold cover and the same orange/black label as the original, but without the Ricordi logo.
No other foreign issues exist.
The Rarities LP and Rare and unreleased CD contain different tracks, all from their 1972 demos with some live recordings made before Zarathustra.

Zarathustra - LP

Zarathustra - inner gatefold

Zarathustra - cassette version

Rarities - LP

Live '72 CD

Rare and unreleased CD

Exit - CD

Zarathustra-Live in studio - CD

Barbarica - CD
Live in Tokyo - CD



Click on pictures to enlarge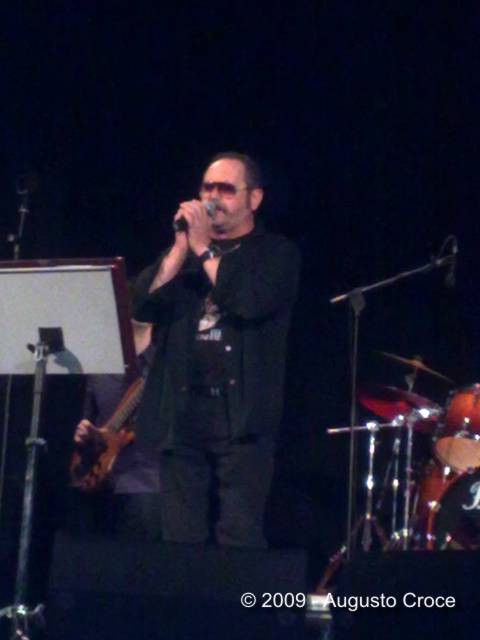 "Lupo" Galifi with Il Tempio delle Clessidre
Genova, 23-jan-2009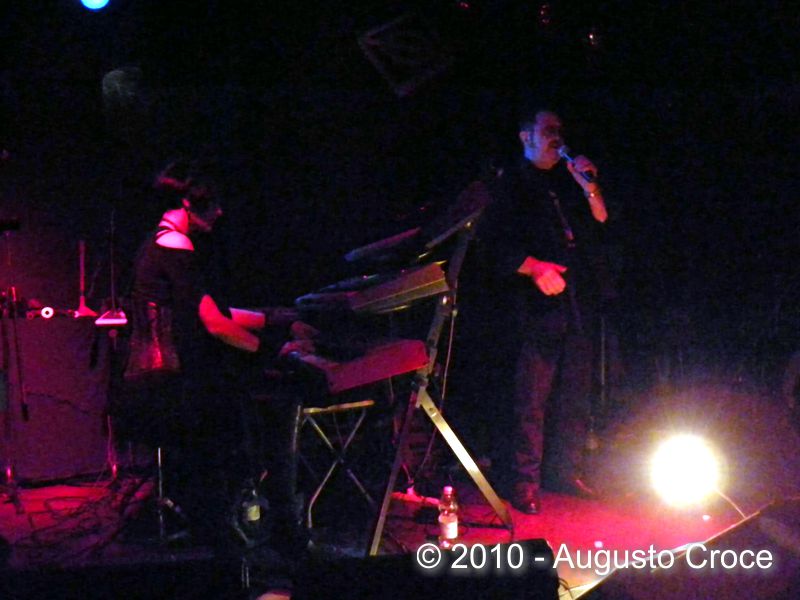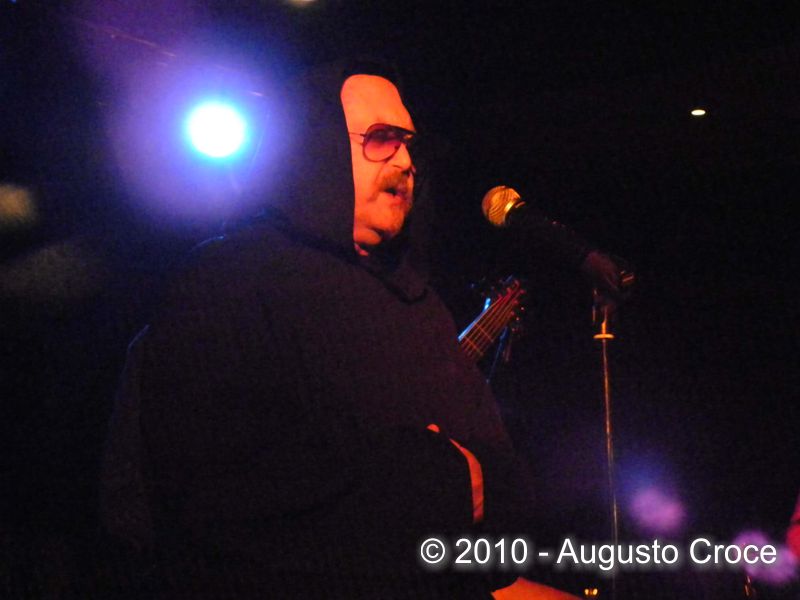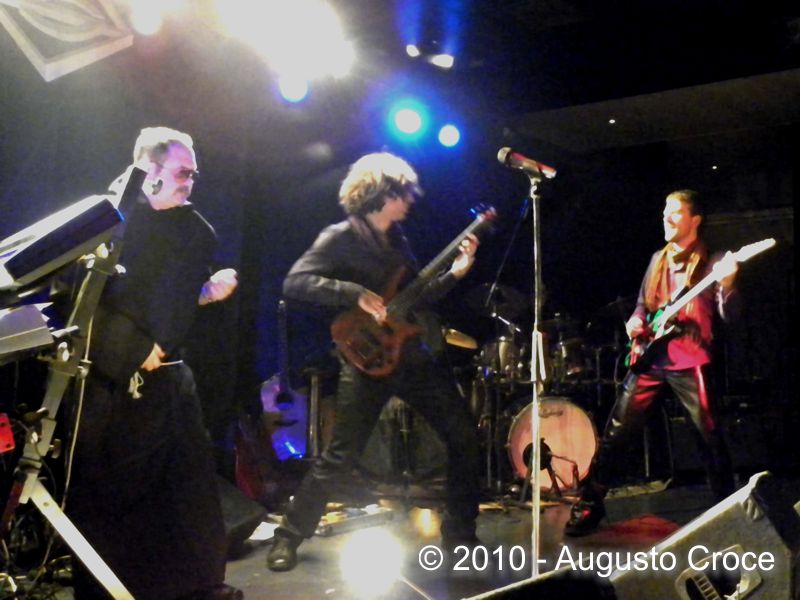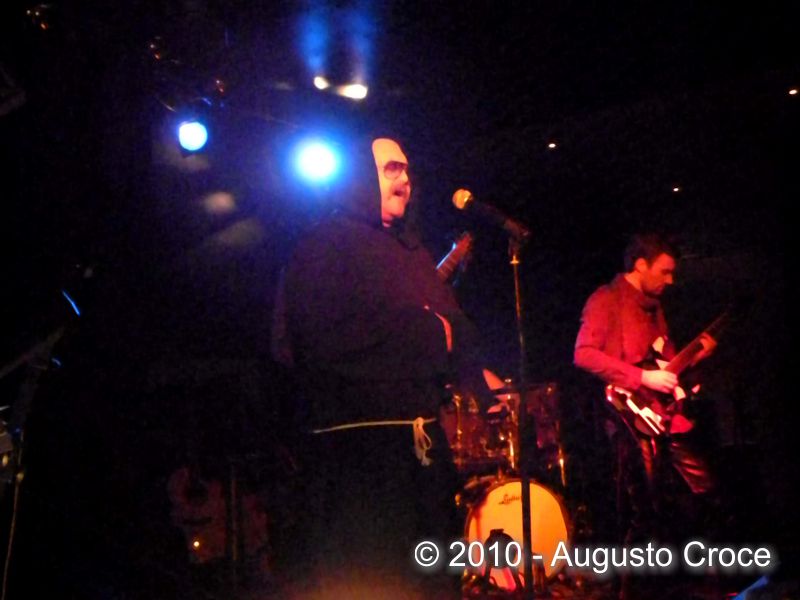 Il Tempio delle Clessidre
Prato, Siddharta, 11-dec-2010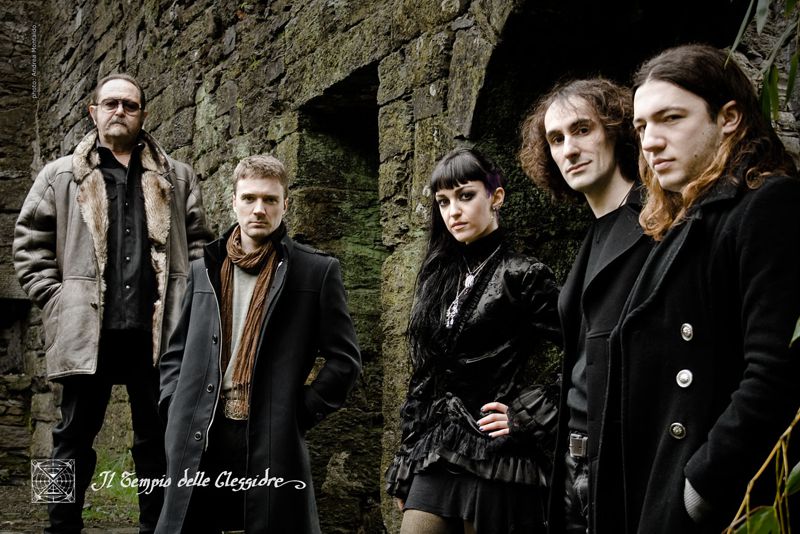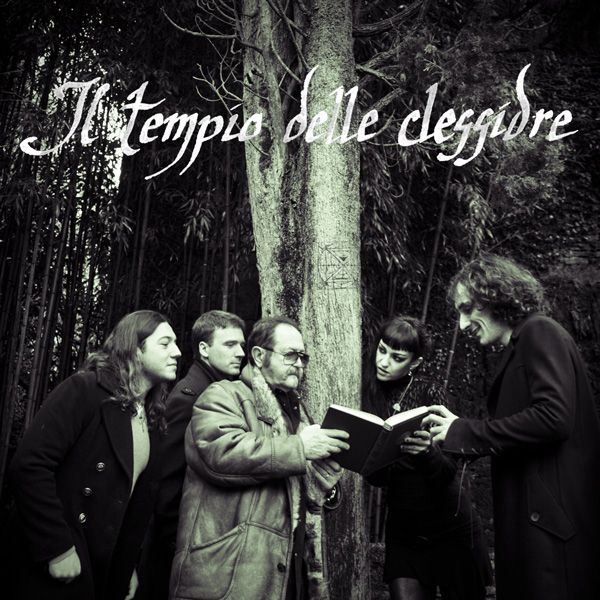 Il Tempio delle Clessidre
Foto promozionali 2011

Thanks to Vincenzo Gatti, Fabio Gremo and Alessandro Cristini for information and pictures