Artist

I DIK DIK

Erminio "Pepe" Salvaderi (guitar, vocals)
Pietruccio Montalbetti (guitar, bass, vocals)
Giancarlo "Lallo" Sbriziolo (guitar, vocals)
Mario Totaro (keyboards)
Sergio Panno (drums)

Many pop bands from the sixties had to face the new musical tastes at the turn of the seventies, and I Dik Dik were one of these, and like I Giganti and Equipe 84, they kept the same line-up, simply evolving into a more progressive inspired sound.
The group had been playing together since around 1965, their distinctive name deriving from an african gazelle, with their first single and album coming out respectively in 1966 and 1967, and had a successful career as many others in the pop/beat field, especially with some foreign tracks' covers (like Sognando la California from Mamas and Papas' California dreaming and L'isola di Wight from Michel Delpech's Wight is Wight).
Their only progressive effort came in 1972, the long-named Suite per una donna assolutamente relativa, an album with eleven tracks connected to form two long suites, with the keyboards of Mario Totaro (who composed it) to the fore and with interesting lyrics by Herbert Pagani. The record was produced by Maurizio Vandelli (Equipe 84) and Giorgio Piazza and Franz Di Cioccio from Premiata Forneria Marconi played on it.
As in other similar cases (Terra in bocca by I Giganti or Id by Equipe 84), it didn't have the attention the band expected. Young audiences considered them to be an old group, while the old fans didn't appreciate the change in musical style.
In 1975, with Totaro and Panno leaving the group and the addition of former Osage Tribe drummer Nunzio Cucciolo Favia and keyboardist Roberto Carlotto a.k.a. Hunka Munka (later replaced by Trip keyboardist Joe Vescovi), Dik Dik returned to a more commercial style with their later works.

LP (1972 only)
Suite per una donna assolutamente relativa
Ricordi (SRML 6096)
1972
foldout cover with centre opening


CD (1972 only)
Suite per una donna assolutamente relativa
BMG (74321-98853-2)
2003
reissue of 1972 album with centre foldout mini LP cover - now deleted
Sony/BMG (88297-92406-2)
2011
as above

A rare album that sold very little at the time, Suite per una donna assolutamente relativa came in an odd centre opening foldout cover, designed by Caesar Monti (brother of the group's bass player Pietruccio Montalbetti).
It has been reissued on CD in March 2003 by BMG with mini-LP cover (reproducing the original) and obi, as part of their "Dei di un perduto rock" series, and later repressed in October of the same year when a second batch of those CD's came out.
The CD was announced by BMG as being also available with standard jewel case (cat.no. 74321-98852-2) but was probably never issued in this form.
The album was reissued on vinyl in Korea (Si-Wan SMRL 2013) with the same design.
Also Japanese CD's exist on King (KICP 2218), and a new one, released in 2005 on Fun House (BVCM 37584) with mini LP centre-foldout cover.
The Korean reissue has an insert with a 60's black and white picture (reverse printed, so the guitarist seems to be left-handed), but it mentions the last line-up with new members Vescovi and Favia (misspelt Fava as usual) that were still part of their original bands in 1972 and joined I Dik Dik later.
No counterfeits exist.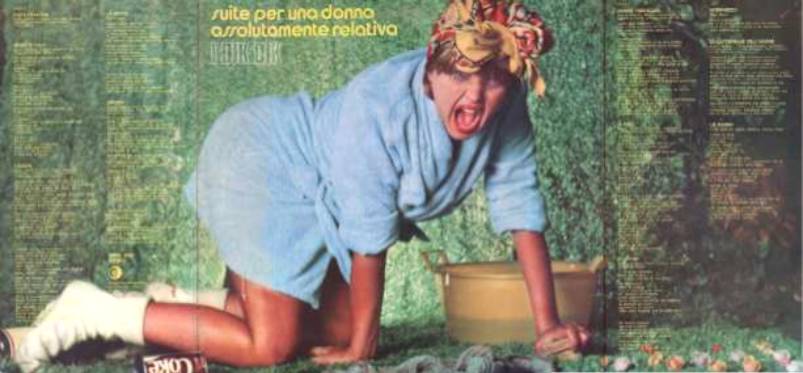 Suite per una donna assolutamente relativa - foldout cover

Dik Dik have an official website at www.dikdik.it
The band's last drummer Cucciolo has his own website at www.cucciologiadikdik.com

The full story behind Suite per una donna assolutamente relativa is told by Giorgio Fieschi on his site, that contains an interview with Mario Totaro.