Artist

OSAGE TRIBE

1971-72:
Marco Zoccheddu (guitar, keyboards, vocals)
Bob Callero (bass, vocals)
Nunzio "Cucciolo" Favia (drums)
1973:
Red Canzian (guitar, vocals)
Giampiero Marchiani (bass)
Nunzio "Cucciolo" Favia (drums)

Osage Tribe were formed in 1971 by Franco Battiato, still a little-known pop singer, with his loyal drummer Cucciolo, guitarist Marco Zoccheddu who had just left Nuova Idea and bass guitarist Bob Callero. Battiato found a recording deal with the newly born Bla Bla label, but soon left the band, just singing on their first single Un falco nel cielo, before starting his solo career; the single is rather commercial and was also used for a popular TV quiz show at the time.
The remaining trio, based in Genova, a prolific city for many great bands, veered towards a more aggressive sound and released their masterpiece, Arrow head, in 1972, a five tracks album that's still regarded as one of the finest in its genre. Mainly hard rock based, but with strong progressive influences rather than dull solo parts, the album has in the long Soffici bianchi veli and the softer Cerchio di luce with some jazzy influences are the best cuts.
The band had a good live activity but a short life, and Zoccheddu and Callero formed Duello Madre at the end of 1972, leaving Cucciolo with the name Osage Tribe and a new line-up with ex-Capsicum Red singer/guitarist Red Canzian and bassist Giampiero Marchiani coming from Forlė. This line-up lasted for a short time, Cucciolo was called up in the army, replaced by Enzo Vallicelli (from Hellza Poppin and later with Uno), then Canzian was recruited by Pooh, causing the definitive split of Osage Tribe.
The drummer Cucciolo later played with The Trip after their fourth album (but this line up never recorded) and then Dik Dik.
Bob Callero has had a very active career, with Il Volo and many collaborations as sessionman.
In 2013 the Osage Tribe name was used for a new album entitled Hypnosis. The group included the old members Cucciolo and Bob Callero assisted by the young guitarist Mattia Tedesco and many guest musicians and the album, not particularly memorable, contained reworking of old songs along with brand new compositions in the same style.

LP
Arrow head
Bla Bla (BBL 10052)
1972
gatefold laminated cover with inner
BTF/Vinyl Magic (VMLP 37)
2012
reissue with laminated gatefold cover and inner, black vinyl – also issued with yellow splatter, green and red vinyls
Hypnosis
AMS/BTF (AMS LP 68)
2013
gatefold cover - released on black vinyl and in limited edition on orange vinyl


CD
Arrow head
Vinyl Magic (VM 037)
1994
reissue of 1972 album with 2 bonus tracks from 1971 single - reissued in 2000 with same catalogue number and new label name VM2000
BTF/Vinyl Magic (VM 037)
2014
new issue of the above with gatefold mini-LP cover
Hypnosis
AMS/BTF (AMS 223CD)
2013
gatefold mini-LP cover - contains 3 bonus tracks not on the vinyl version


VARIOUS ARTISTS COMPILATION ALBUMS
Tarzan
(with Crazy horse, Prehistoric sound and Hajenhanhowa)
Bla Bla (BOP 90001)
1972
single cover Bla Bla label sampler - also includes Well's Fargo, Capsicum Red, Black Sunday Flowers
Artis (ARCD 043)
1992
CD reissue of the above
BTF/Vinyl Magic (VMCD120)
2007
new CD reissue of the above with mini-gatefold cover and 6 bonus tracks
La convenzione
(with Crazy horse)
D'Autore/Azzurra Music (DA 1008)
2002
CD compilation dedicated to Bla Bla, also includes tracks by Franco Battiato and Juri Camisasca


SINGLES (with picture sleeve)
Un falco nel cielo
Prehistoric sound
Bla Bla (BBR 1323)
1971
gatefold cover

Arrow head is a particularly rare album, much requested by foreign collectors of the genre. The original album came with a gatefold laminated cover and the usual Bla Bla-styled lyric cutout inner.
The first vinyl reissue came out in 2004 on the German label Amber Soundroom (no.AS LP 029) with gatefold cover and heavy vinyl.
The album was later reissued in Italy by BTF in 2012 on black vinyl and later on yellow splattered vinyl. The last one also had a limited 19 numbered copies pressing on clear yellow vinyl.
BTF later made new reissues with clear red and again clear green vinyl.
The CD edition of the album, originally issued in 1994 by Vinyl Magic and again in 2000 when the label switched name to VM2000, was reissued in 2014 with a gatefold mini-LP cover. All these releases included as bonus tracks both sides of the Un falco nel cielo single.
The second album, Hypnosis, issued 41 years after their first one, has on the CD version three tracks not on the LP, the covers of We're an American band, Fireball and Can't Find My Way Home, that are not present on the LP version.
The band's only single has the usual Bla Bla gatefold cover and many copies have on the front cover the yellow sticker with the Billboard magazine logo which is also on other records of the same label. The B side, Prehistoric sound was included in Bla Bla compilation Tarzan, along with two extracts from the Arrow head album, Hajenhanhowa and Crazy horse (the instrumental intro to Soffici bianchi veli on the LP).
The single Prehistoric sound was also issued in Spain (Ekipo 2818), backed with Crazy horse, and also included in a lightweight summer compilation called Especial verano (Unic 5504). Promotional copies of this single included an information sheet.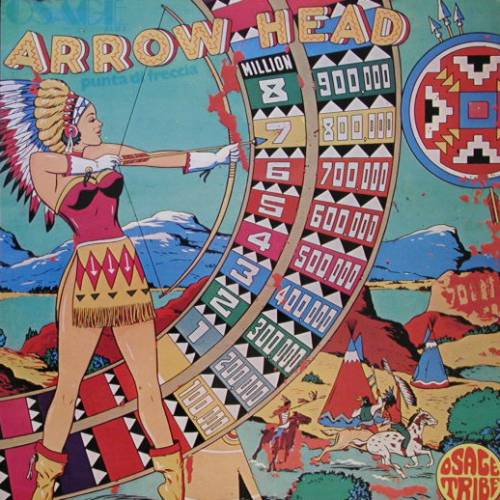 Arrow head - LP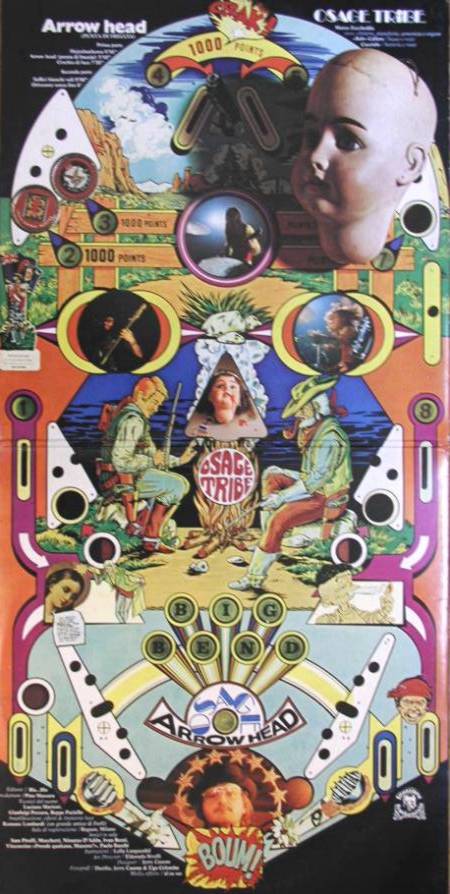 Arrow head - inner gatefold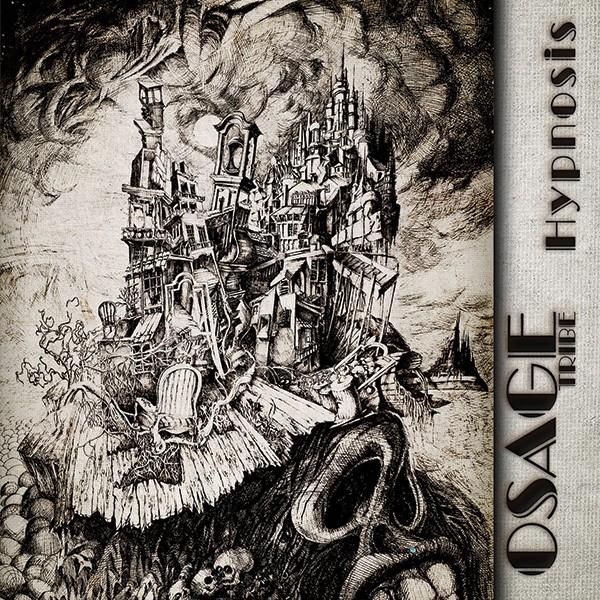 Hypnosis - CD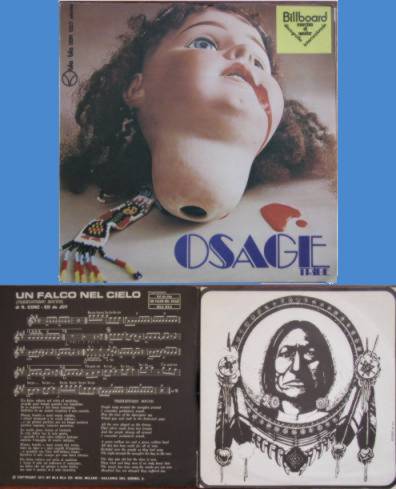 Un falco del cielo - 7" single front and inner gatefold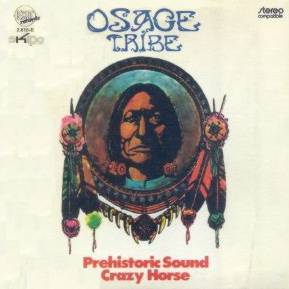 Prehistoric sound - Spanish 7" single

Drummer Cucciolo has his own website at www.cucciologiadikdik.com which contains details on his past and current activity.

Thanks to Antonio Rosetti for some information included in this page