Artist

EQUIPE 84

1964-69
Maurizio Vandelli (vocals, guitar)
Franco Ceccarelli (guitar, vocals)
Victor Sogliani (bass, vocals)
Alfio Cantarella (drums, vocals)
1970
Ceccarelli and Cantarella replaced by:
Mario Totaro (keyboards)
Franz Di Cioccio (drums)
1971
Totaro replaced by:
Dario Baldan Bembo (keyboards)
1973-74
Maurizio Vandelli (vocals, guitar)
Thomas Gagliardone (keyboards)
Victor Sogliani (bass)
Alfio Cantarella (drums)

Probably the most famous Italian beat group from the 60's, and with a long career starting with a debut single in 1964, Equipe 84 lasted until mid 70's and also had a (slightly) prog influenced period.
This four piece from Modena was for the Italian teenagers the local answer to the Beatles, and they had a long series of hit singles between 1966 and 1969 with such classics as Io ho in mente te, Auschwitz, Bang bang, 29 settembre (that also had an English sung release in USA and UK), Un angelo blu, Tutta mia la città.
The band had its first crisis in 1970 with original member Franco Ceccarelli leaving the group and drummer Alfio Cantarella arrested for drug possession, being replaced for a short time and a single by ex-Rokes drummer Mike Shepstone; later, with the help of another guest drummer, Franz Di Cioccio (from I Quelli, then Premiata Forneria Marconi), they released what is usually considered their most progressive album, Id.
This, their fourth album, was less song-based than their previous works, and contained ten tracks with dynamic arrangements and some orchestral passages. Not a real prog album, this has some good tracks like Il re dei re and the long Un brutto sogno, but for many Italian listeners the characteristic voice of Maurizio Vandelli is too tied to their beat period for this to be convincently considered a prog album.
With Casa mia, in 1971, Equipe 84 returned to a typical song album, but their most creative time had clearly passed. Dr.Jekyll & Mr.Hyde, from 1973 marks their passage to Ariston, and is another pop album, with the single exception of the jazzy instrumental Dr.Jekyll.
Last album, Sacrificio in 1974 has again some good instrumental passages, even if the basic influence is still melodic pop. They were helped here by drummer Paolo Siani from Nuova Idea.
The group kept playing and recording until 1977, a late concert is included in the live CD released in mid 90's.
After the end of Equipe 84 singer and leader Maurizio Vandelli has tried to reform them many times until the sad death in the 90's of bassist Sogliani; he's also released a couple of solo albums in 1970 and 1974 and also worked as producer for the likes of Reale Accademia di Musica and Gianni D'Errico.

LP
Equipe 84
Vedette (VPA 8051)
1965
gatefold laminated cover with glued mini poster
Vedette (VPA 8051)
1966
single laminated cover
Suoni Rari (SR 4)
1995
picture disc with cutout cover
1000 copies
Contempo (C03001LP)
2014
reissue with the same gatefold cover and poster as the original
Io ho in mente te
Ricordi (MRL 6053)
1966
single cover
Contempo (C03002LP)
2014
reissue with the same cover as the original
Stereoequipe
Ricordi (SMRL 6060)
1968
gatefold cover
BMG (88697 34881 1)
2008
reissue with gatefold cover in numbered edition
Id
Ricordi (SMRL 6072)
1970
gatefold cover
BMG (88985 30576 1)
2016
reissue with gatefold cover
Casa mia
Ricordi (SMRL 6086)
1971
gatefold textured cover - as "Nuova Equipe 84"
Dr.Jekyll & Mr.Hyde
Ariston (AR/LP 12107)
1973
single cover - lyric insert has a pull-out finger-shaped tab -two versions of the cover exist, with black or red writings
Ariston/Oxford (OX 3183)
1980
single cover
Sacrificio
Ariston (AR/LP 12134)
1974
gatefold cover - insert
Sony Music (88691 98903 1)
2012
reissue with gatefold cover
Ariston/De Agostini (AR/LP 12134)
2019
gatefold cover with 8-page insert - no.43 in the De Agostini "Prog Rock Italiano" series
All the albums have been reissued on CD


VARIOUS ARTISTS COMPILATION ALBUMS
Beat pop
(with Vai amore vai, Signor playboy, Anguilla rock)
Vinyl Magic (VM 058)
1993
CD compilation - also includes Stormy Six, Ragazzi del Sole, Corvi

SINGLES (1970-77 only)

Il sapone, la pistola, la chitarra ed altre meraviglie
Devo andare
Ricordi (SRL 10586)
1970
Casa mia
Buffa
Ricordi (SRL 10620)
1971
as "Nuova Equipe 84"
4/3/1943
Padre e figlio
Ricordi (SRL 10635)
1971
as "Nuova Equipe 84"
Una giornata al mare
Quel giorno
Ricordi (SRL 10655)
1971
as "Nuova Equipe 84"
Pullman
Non si può
Ricordi (SRL 10667)
1972
as "Nuova Equipe 84"
Senza senso
Diario
Ariston (AR-0591)
1973
Clinica Fior di loto S.p.A
Meglio
Ariston (AR-0616)
1974
Mercante senza fiori
Sigaretta e via
Ariston (AR-0628)
1975
Risvegliarsi al mattino
Se c'è
Ariston (AR-0643)
1975
Sogni senza fine
Meditazione
Ariston (AR-0682)
1975
Vai amore vai
Signor playboy
Ariston (AR-0719)
1976
Opera d'amore
Anguilla rock
Ariston (AR-0785)
1977

PROMO-ONLY AND JUKEBOX SINGLES

Casa mia
Ricordi (45 J.B. 13)
1971
jukebox single - as "Nuova Equipe 84" - backed with I Fholks/Mi scorri nelle vene
15 giugno '75

PSI (SSP 6)
1975
picture cover promo single for PSI (Italian Socialist Party) - backed by Enrico Montesano: Felice Allegria, io la penso così
Vai amore vai
Ariston (JB 038)
1975
jukebox single - backed with Mario Barbaja/Super supermarket

CD's (relevant issues)

Equipe 84 in concerto
DVMore (CDDV 5873)
1995
1977 live recording in Modena

A very popular band in Italy, Equipe 84 have many rarities in their production.
Their first album was initially released with a heavy gatefold laminated cover that had a foldout poster glued in the inside; it was shortly re-released by Vedette in a standard single cover.
The first two albums have been reissued in 2014 by the revamped Contempo label.
Stereoequipe, Id and Sacrificio are also rare items, the last one having a 12"x12" drawing as insert. Stereoequipe has been reissued in 2008 by BMG in a numbered edition with the same gatefold cover as the original, Sacrificio has been reissued for the first time in 2012 while an LP reissue of Id was first released in 2016.
Dr.Jekyll & Mr.Hyde came with a single cover containing a photographic insert. This had a finger shaped tab on a side that sticks out of the cover and therefore is usually torn or missing. Some copies had red writings on LPs, while most copies had them in black, but it's difficult to know which are the original ones.
Among the CD issues is to be mentioned Sacrificio, first released in 2015 by On Sale (no. 64 OSM 102) with 9 bonus tracks, including mostly singles' tracks along with two English-sung unreleased songs.
The 60's albums and many of their singles have been issued in many european and south American countries.
Among the foreign issues on CD are worth mentioning the Japanese editions of Id (in 1992, King KICP2391, and 2007, BMG BVCM 37957) and Dr.Jekyll & Mr.Hyde (2007 - BMG BVCM 37958) and the Korean issue of Sacrificio (Media Arte MI 0006, with mini-LP gatefold cover).
The albums have never been counterfeited.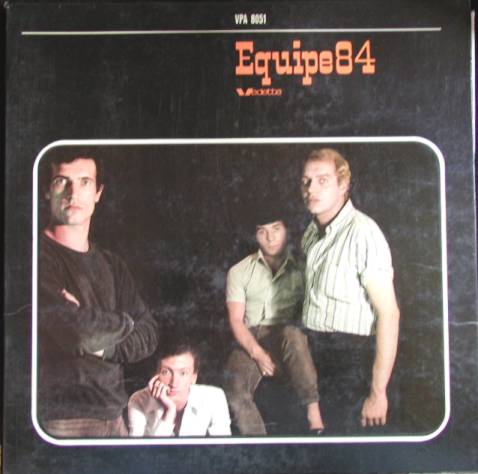 Equipe 84 - LP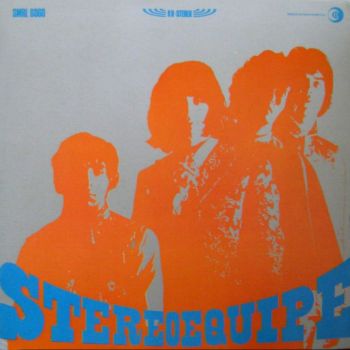 Stereoequipe - LP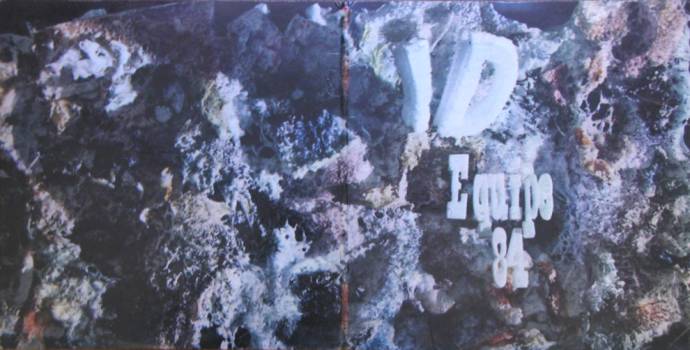 Id - gatefold cover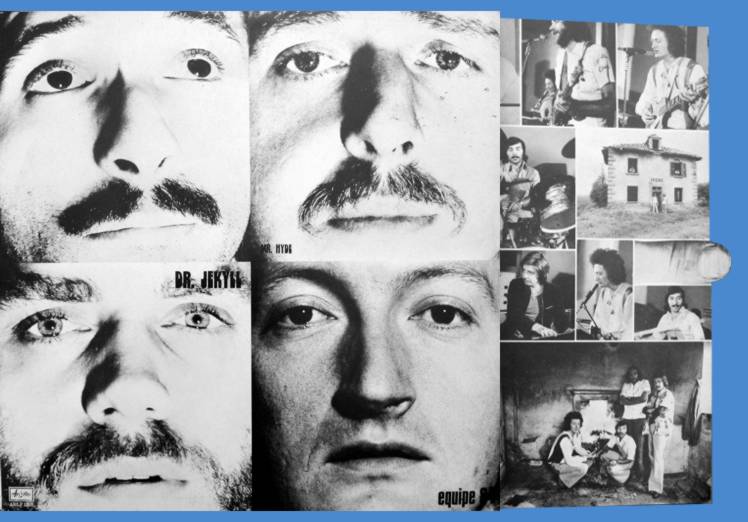 Dr.Jekyll & Mr.Hyde - LP and "pointed finger" insert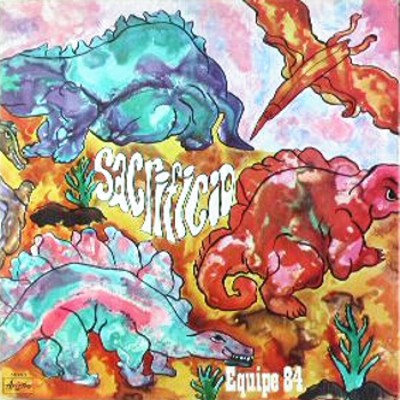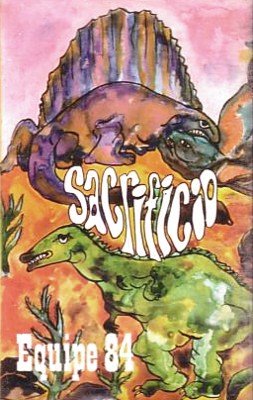 Sacrificio - LP and cassette covers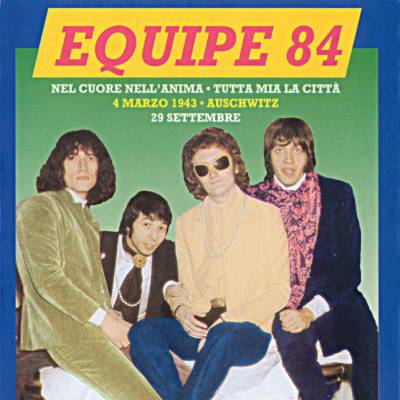 Equipe 84 in concerto - CD cover

Maurizio Vandelli has his own website with information on both his solo activity and Equipe 84, at http://www.vandelli.com
Thanks to Alessio, Fabio Locatelli and Domenico Vinci for pictures and information.