Artist

FESTA MOBILE
Renato Baldassarri (vocals)
Giovanni Boccuzzi (keyboards)
Alessio Alba (guitar)
Francesco Boccuzzi (bass, keyboards)
Maurizio Cobianchi (drums)

Festa Mobile were formed by the Boccuzzi brothers, coming from Monopoli (near Bari, Apulia) who had previously played with a band called Della Venis releasing a lonely single Vanni/Sogno (issued by a small label from Modena, RCM) between the end of the 60's and the early 70's with an organ-led sound, halfway between Brian Auger and Procol Harum. Searching for a new musical inspiration they moved to Rome and assembled there the new band, with guitarist Alessio Alba, also from Apulia, singer Renato Baldassarri and drummer Maurizio Cobianchi.
Working for RCA, they had the chance of playing with many important artist of the italian pop music. Among the various experiences it's worth mentioning the Jacopone musical, with Gianni Morandi and Paola Pitagora, whose "rhythm background" was played by Festa Mobile.
RCA also released their only album, Diario di viaggio della Festa Mobile, a fantasy concept album, with large space given to keyboards and vocals a bit too low compared to the musical background. The album had its good moments despite not being one of the best in the symphonic prog style. Some jazz influences were evident.
Brothers Boccuzzi formed Il Baricentro with two albums in 1976 and 1978 on EMI; Francesco then relocated to the USA, while Giovanni has had an intense activity as music composer, teacher and writer until now.
Alessio Alba specialized in indian music and still is one of the major experts in the use of ethnic instruments such as the sarod. He privately released in 1976 a rare solo album featuring ethnic-inspired compositions, entitled Città satellite (Hit label, cat.no.AAB 137).

LP
Diario di viaggio della Festa Mobile
RCA (DPSL 10605)
1973
gatefold cover
BMG (88697 36956 1)
2008
gatefold cover reissue in limited numbered edition
Sony Music/De Agostini (55)
2019
gatefold cover with 8-page insert - no.55 in the De Agostini "Prog Rock Italiano" series


CD
Diario di viaggio della Festa Mobile
RCA (ND 74120)
1989
reissue of 1973 album - now deleted
CD also issued as part of the 5-CD box set Rock progressivo italiano (RCA ND 74116-5)
BMG (74321-98446-2)
2003
as above with mini-LP gatefold cover - now deleted
Sony/BMG (88697-34370-2)
2008
new reissue with standard jewel case
Sony/BMG (88697-92269-2)
2011
new reissue with mini-LP gatefold cover

Diario di viaggio della Festa Mobile is a rare album, probably released in small quantities by RCA. It was housed in a gatefold cover (with no information on the band members).
Some copies contained a small card (approx.14.5x9.8cm) with a quotation on popular music by Marcel Proust, which was also included in other contemporary RCA albums (among these Rovescio della Medaglia/Contaminazione, Rustichelli e Bordini/Opera prima, Perigeo/Abbiamo tutti un blues da piangere and Maurizio Monti/L'amore).
The first Italian vinyl reissue was released in 2008 by BMG, in a limited numbered series.
The album has been reissued on CD in March 2003 by BMG with mini-LP gatefold cover and obi, as part of their "Dei di un perduto rock" series, and later repressed in October of the same year when a second batch of those CD's came out.
The CD was announced by BMG as being also available with standard jewel case (cat.no. 74321-98445-2) but was probably never issued in this form.
The LP has been reissued in Japan (Edison European Rock Series ERS28016) and never counterfeited.
The musicians from Festa Mobile played in 1973 on the album Jacopone (RCA DPSL 10608), taken from a musical with Gianni Morandi and Paola Pitagora. Once again there is no mention of their names on the LP cover, with Festa Mobile just being credited for "rhythm background".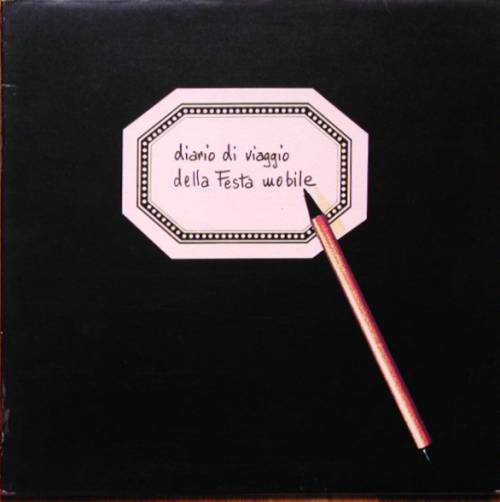 Diario di viaggio della Festa Mobile - LP

Many thanks to Manuel Da Achada and Gianluca Piccirilli for various information and to Franco Sciscio for the information published on the Musikbox magazine.