Artist

IL ROVESCIO DELLA MEDAGLIA

1970-73
Pino Ballarini (vocals, flute)
Enzo Vita (guitar)
Stefano Urso (bass)
Gino Campoli (drums)
1973
new member added:
Franco Di Sabbatino (keyboards)
1974-75
as above without Pino Ballarini

Il Rovescio della Medaglia were formed in Rome around the end of 1970 from the ashes of the beat band I Lombrichi. Enzo Vita, Stefano Urso e Gino Campoli founded the group, that had as lead singer first Gianni Mereu (not the guitarist of Logan Dwight), then Sandro Falbo (from Le Rivelazioni) and soon later Pino Ballarini, who had moved to Rome from Pescara where he played with the groups Nassa and Poema.
Their first great success was at Viareggio Pop festival and they soon became one of the most popular live bands in Italy during the early 70's.
First LP La Bibbia, released in 1971, was basically a very good hard-rock album with slight prog influences, recorded live in studio and accompanied by a distinctive round medallion-shaped booklet
The second one, Io come io a year later, was in the same style, with ambitious philosophical lyrics inspired from Hegel works. A short album (less than 30 minutes) but again a really good one!
In 1973 a fifth member was added, keyboard player Franco Di Sabbatino, also from Pescara, like Pino Ballarini, and briefly with Il Paese dei Balocchi.
With their sound enriched by the keyboards, Il Rovescio released the third album, Contaminazione, with the help of argentine composer Luis Enriquez Bacalov, who had already worked with New Trolls for their Concerto Grosso and Osanna.
The album was obviously more in a symphonic direction, and was also released in an English-sung version and issued in many foreign countries, to try to launch the group abroad. The English language album appeared in Italy in 1975 only, when the band had already split up.
By this time the band was being renowned for their powerful performances, always played at the loudest possible volume and helped by a unique sound system. This is what the Contamination LP liner notes said about it (originally written in English, mistakes and all...): "Their instrumentation is among the moste interesting in Europe. The 6000 watt Mack vocal equipment is quadrophonic and is equivalent to 36 track amplifiers. The console table is really a portable recording studio with filters, compressors, etc. The guitar, the battery and the keyboards have 900 watt amplifiers. The keyboards consist of a vertical B Hammond organ, a harmonium, an eminent for the reproduction of strings, two VCS synthesizers, a 200 Harp [it was probably an ARP], and two mini moog synthesizers. The lighting equipment is also important. There are 50 spotlights which produce colors and special effects. On a special screen behind the group, slides and films are projected to produce abstract musical effects.".
Not bad for an Italian band, and no one else in Italy had such a powerful live act!
But... in December 1973 the stealing of their big and expensive PA brought the band close to the end, with Pino Ballarini leaving for Switzerland (briefly replaced by Michele Zarrillo from Semiramis) and the others continuing as an instrumental-only band. The live album Giudizio avrai, privately released by the band in the late 80's, contains a recording from this period, with the band's sound dominated by the keyboards.
Last release is a single from 1975 (there's a mention on its cover of a new album, but this was never released), then the band had various line-up changes up to 1977.
Bassist Stefano Urso founded Europe, authors in the early 80's of an album (Bubble BLU-19609) and some singles in pop/rock style.
In early 90's guitarist Enzo Vita reformed the band with a new line-up and released a new CD called Il ritorno, different from their past production and more AOR-inspired, as its followers Vitae (recorded earlier) and Microstorie, issued in 2011. A new line-up, also led by Enzo Vita and featuring the musicians of the group RanestRane (Massimo Pomo - guitar, Riccardo Romano - keyboards, Maurizio Meo - bass and Daniele Pomo - drums) played in Japan in 2013 at the Italian Progressive Rock Festival and the concert recording, featuring the whole Contaminazione with an orchestra, was issued on CD in 2014 as Live in Tokyo.
A new album by the line-up led by Enzo Vita, Tribal domestic issued in 2016, saw a return to the 70's sound, with original singer Pino Ballarini guesting on the track L'apocalisse. This group released a live album, Contaminazione 2.0, in 2020 and a remake of the classic La Bibbia in 2021.

LP
La Bibbia
RCA (PSL 10521)
1971
includes 8-page 11" round booklet
RCA/Contempo (NL 74112)
1989
reissue with same cover design and insert
Sony Music/BMG (88985 36555 1)
2017
new remastered reissue
RCA/De Agostini (PSL 10521)
2020
single cover with booklet and 8-page insert - no.66 in the De Agostini "Prog Rock Italiano" series
RCA/Sony Music (19439 85482 1)
2021
numbered issue with yellow vinyl and booklet - issued for Record Store Day 2021
Io come io
RCA (PSL 10545)
1972
gatefold cutout cover with single lyric sheet glued in - very first copies came with a metal medallion in the hole on the cover - three different issues exist (see below)
BMG (88697 36948 1)
2008
reissue with the same cover as original and metal medallion
Sony Music/De Agostini (58)
2019
gatefold cover with 8-page insert - no.58 in the De Agostini "Prog Rock Italiano" series
RCA/Sony Music (19439 78581 1)
2020
white vinyl - issued for Record Store Day 2020
Contaminazione
RCA (DPSL 10593)
1973
gatefold laminated cover
RCA/Contempo (NL 74511)
1990
reissue with same gatefold cover
RCA/De Agostini (DPSL 10593)
2017
gatefold cover with 8-page insert - no.8 in the De Agostini "Prog Rock Italiano" series
RCA/Sony Music (19439 88709 1)
2021
gatefold cover, red vinyl - 500 numbered copies - no.4 in the "Italian Progressive Archive" series
Contamination
RCA (TPL1-1049)
1975
English version of Contaminazione with single cover
RCA/Sony Music (88875 12130 1)
2015
single cover
RCA/Sony Music (19658 70478 1)
2022
single cover - purple vinyl
Giudizio avrai
Rovescio della Medaglia (RDML 75)
1988
gatefold cover, early copies had an embossed logo, later ones came with no logo on front cover
Microstorie
Sony (88697-98072-1)
2011
new studio album - single cover with inner
Tribal domestic
Sony/BMG (88985 36754 1)
2016
new studio album
Contaminazione 2.0
Jolly Roger (JRR 111)
2020
recorded live in 2018 - standard black and limited 100 copies orange vinyl issue
La Bibbia 50th anniversary
Jolly Roger (JRR 119)
2021
standard black and limited 100 copies silver vinyl issue

CD

La Bibbia
RCA (ND 74112)
1989
reissue of 1971 album - now deleted
also available as part of the limited 5-CD box set Rock progressivo italiano (RCA ND 74116-5)
BMG (74321-98162-2)
2003
as above with mini LP cover - now deleted
Sony/BMG (88697-34362-2)
2008
new reissue with standard jewel case
Contaminazione
RCA (ND 74511)
1990
reissue of 1973 album - now deleted
Sony/BMG (88697-34365-2)
2008
new reissue with standard jewel case
Gruppo Ed.L'Espresso (11)
2014
as above with mini-LP gatefold cover – no.11 in the "Progressive Rock Italiano" series
Il ritorno
DB (1771 20013-2)
1995
new album by revamped RDM
Io come io
RCA/Pick Up (74321-22082-2)
1994
reissue of 1972 album - 2000 copies - now deleted
RCA (74321-22082-2)
1999
as above - 500 copies - now deleted
BMG (74321-98166-2)
2004
as above with mini LP gatefold cutout cover - now deleted
Sony/BMG (88697-34364-2)
2008
new reissue with standard jewel case
RCA/Mondadori (12)
2019
mini-LP gatefold cover with booklet - no.12 in the Mondadori "Prog Italia" series
Vitae
Vinyl Magic/VM2000 (VM 069)
1999
1993 album
Contamination
BMG (82876-54410-2)
2003
reissue of 1975 album with mini LP cover - now deleted
BMG (88697-85369-2)
2011
as above with mini LP cover
Microstorie
Sony (88697-97698-2)
2011
new studio album
Live in Tokyo
Immaginifica (ARS IMM/1024)
2014
live recording from 2013 with orchestra
Tribal domestic
Sony/BMG (88985 36754 2)
2016
new studio album
Contaminazione 2.0
Jolly Roger (JRR 111)
2020
recorded live in 2018 - contains 3 bonus tracks not on the vinyl version

SINGLES (with picture sleeve except where noted)

Let's all go back
Anglosaxon woman
Frog (FRS 3001)
1975

PROMO-ONLY AND JUKEBOX SINGLES (with blank cover)

La mia musica
La grande fuga
RCA (PM 3730)
1973
promo-only with no cover
La mia musica
RCA (JBPM 3736)
1973
juke-box single - backed with Renato Zero/No mamma no


VARIOUS ARTISTS COMPILATION ALBUMS
Progressivamente 1974-2019
(with Il suono del silenzio)
Progressivamente/Mondadori (GMP 004)
2019
CD compilation of unreleased recordings, also includes Gianni Leone/Leo Nero, Saint Just, Metamorfosi, Opus Avantra and others - no.26 in the Mondadori "Prog Italia" series

Both the original and the 1989 reissue of La Bibbia contain a round booklet representing a golden medallion, with live pictures of the band.
While the cover reissue is easy to distinguish because of the barcode, Contempo logo and smooth cardboard, the booklet is almost identical to the original, and only a side-to-side comparison can help tell one from the other. As original booklets are often missing, many collectors replaced them with the reissue booklet.
Io come io has never been reissued on vinyl, original has a thin cardboard gatefold cover with a large hole in the middle where a medallion, made of bronze or brass, was housed in very few early copies, a real rarity among collectors, and a very expensive one indeed!. Apparently, according to the press advertisements issued at the time of its release, 7000 copies of the album came with the medallion, created by the florentine artist Brandimarte (whose signature is visible on the back of the originals).
Two different kinds of medallion exist, one has a golden bronze colour, the other is much darker. Both are original and have the artist's signature on the back.
The gatefold cover contains a single sheet glued in the centre, which has the lyrics printed on the back. Three different versions exist of the front side of this sheet, see the pictures below:
-the first one is almost completely black on the front side and the sheet can be folded in four parts; this was the one used to contain the bronze medallion;
-a second one has a large picture of the band on front, and this can be viewed through the centre hole on the cover;
-a third one, the rarest of them all, has a picture reproducing the medallion that can be seen through the hole.
This LP was reissued for the first time on vinyl by BMG in 2008, in a limited pressing having the same cover as the original and a reproduction of the medallion, this time in silver/grey metal. Later reissues only had the medallion printed on the cover.
Contaminazione and Contamination have different covers, the second one being an English-sung version released for foreign markets.
Some copies of Contaminazione contained a small insert (approx.14.5x9.8cm) with a quotation on popular music by Marcel Proust, which was also included on other contemporary RCA albums (among these Festa Mobile/Diario di viaggio della Festa Mobile, Rustichelli e Bordini/Opera prima, Perigeo/Abbiamo tutti un blues da piangere and Maurizio Monti/L'amore).
Giudizio avrai was a privately released, self-produced live album recorded in 1975 and including an instrumental-only performance. It came in a dark-looking brown gatefold cover with an embossed band logo in the centre, but later copies had a standard gatefold cover with no logo on the front side.
The 1975 single, Let's all go back (incidentally this was the only single the band ever made), mentioned on its cover an album on the Frog label with catalogue number FRL 0101, but this was never released.
No counterfeits exist of the group's albums.
An unofficial CD entitled RDM Live 74 was issued in Italy in 50 numbered copies in 2013 (Only Fifty label, no.OF001) with the recording of a concert in Messina from 1974.
La Bibbia and Contaminazione (Italian version) were issued in Venezuela by RCA, the first of them (LPVS 1540 - year 1975) had the band's name translated in El Reverso de la Medalla and the title La Biblia (but the record is sung in Italian), the latter containing a translation of the liner notes.
Contaminazione has been reissued on vinyl in Japan in 1987 (Edison CR-10008) and in Korea in 1992 (Si-Wan SRML-1002), while its English-sung equivalent Contamination was issued in US (on Peters label) and German and Canadian RCA issues (with same number as the corresponding English sung issue released in Italy) at the time and has also been reissued in 2017 by the Irish label Rabbit Hall (RHRLP002).
An old Korean bootleg reissue of Contaminazione also exists, with single cover and cat.no 15 (unknown label reproduced RCA design).
All the Rovescio albums except Giudizio avrai have been issued on CD; two different issues came out on RCA for Io come io, the first one in 1994 was co-produced by the Pick Up record shop (credited on back cover), a second one came out in 1999, both were very limited pressings and carry the same catalogue number and year.
La Bibbia has been reissued on CD in March 2003 by BMG with mini-LP cover and obi, as part of their "Dei di un perduto rock" series, and later repressed in October of the same year when a second batch of those CD's came out (including, among others, Contamination). This CD was announced by BMG as being also available with standard jewel case (cat.no. 74321-98161-2) but was probably never issued in this form.
In Japan La Bibbia, Io come io (the latter with a reproduction of the original bronze medallion on the cover) and Contaminazione have been reissued by BMG in 2004/2005, with mini-LP covers. Catalogue numbers are BVCM-37582, BVCM-37583 and BVCM-37503 respectively. Contaminazione had already been reissued on CD by the japanese label Edison (ERC-32010) in 1989 and by the korean label Si-Wan in 1992 (no.SRMC-1002).

La Bibbia - LP + booklet

Io come io - an original complete copy with bronze medallion
Io come io - bronze medallion closeup, front and rear side (dark metal variation)
Io come io - original medallion, rear side signature detail
Io come io - original medallion (gold variation)
Io come io - the medallion, 2008 reissue
Io come io - LP cover (all black and with inner picture)
Io come io - inner sheet without colour picture and folds
Io come io - inner sheet with central colour picture

Io come io - 8-track cartridge
Contaminazione - LP
Contamination (English language - Italian issue) - LP
Contamination (English language - US issue) - LP
Giudizio avrai - LP with embossed logo
Let's all go back - 7" single cover
Live in Tokyo - CD



Click on the pictures to enlarge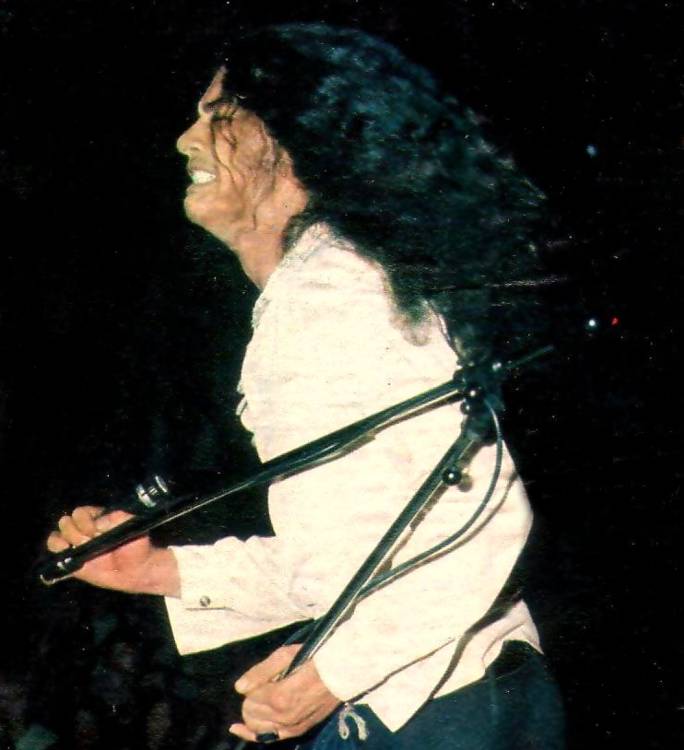 Rovescio della Medaglia - Sandro Falbo at Kilt, Rome 1971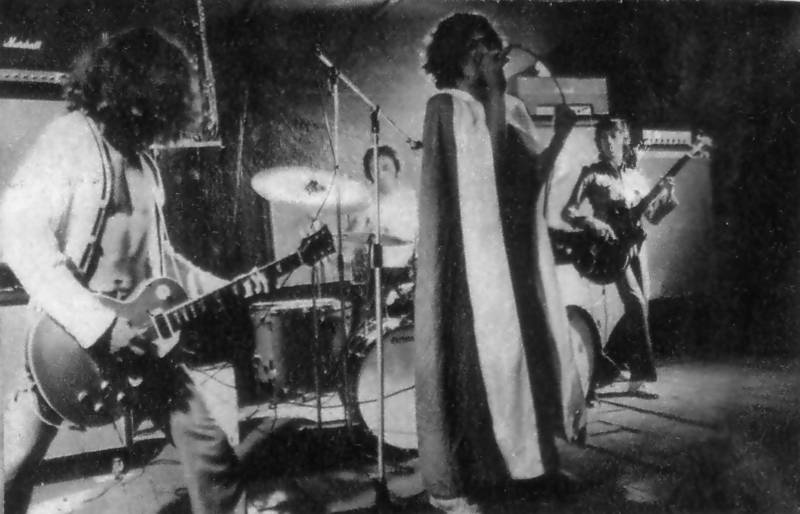 Rovescio della Medaglia - Viareggio Pop Festival (with Gianni Mereu), May/June 1971

Thanks to Luigi Papi, Corrado Donati of Mondocafe, Nicola Di Staso, Fabio Paolotti, Antonio Calcagno and Giancarlo Del Papa for information and pictures