Artist

GRAMIGNA

Umberto Calice (vocals, percussion)
Françoise Godard (vocals, guitar)
Maurizio Martelli (guitars)
Alberto Mompellio (keyboards, violin, vocals)
Dino Mariani (bassoon)
Mario Arcari (oboe)
Raoul Scacchi (bass, guitar)
Mario Ultre (drums)

A group formed in Milan by Martelli and Mompellio, coming from previous experiences (both had played in the beat era with I Messaggeri), that only released an album on the Ultima Spiaggia label in 1977. This can be a nice surprise to anyone into the Canterbury/Rock In Opposition sound, that only had good releases in Italy by Stormy Six and Picchio Dal Pozzo.
Their ten-track concept album Gran disordine sotto il cielo has strong similarities with the English group Henry Cow in the use of the female voice of Françoise Godard and such instruments as bassoon, oboe and violin, but even contains some lighter moments that make it a bit disjointed like the Ultima Spiaggia LP on the same label. An interesting album indeed, this deserves to be heard.
A ninth member joined the group soon after the album recordings, vibraphonist Valentino Marrè. Among the musicians involved, many have remained in the music biz, Martelli and Mompellio as composers, Mariani and Arcari as well known session musicians, the latter especially in the jazz field.

LP
Gran disordine sotto il cielo
Ultima Spiaggia (ZPLS 34011)
1977
single cover

A scarce album, but not particularly expensive, this has never been reissued in any form.
No counterfeits exist nor foreign issues.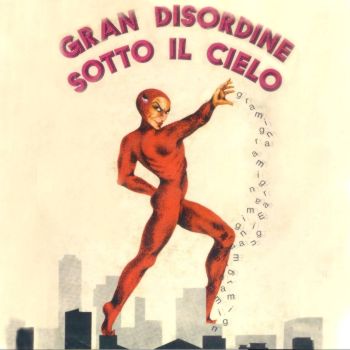 Gran disordine sotto il cielo - LP