Artist

ALFREDO TISOCCO / GRUPPO ITALIANO DI DANZA LIBERA

Alfredo Tisocco (keyboards)
Vincenzo Caroli (flute)
Daniela Colonna (harp)
Riccardo Perraro (cello)
Pieregidio Spiller (violin)
Enrico Professione (violin)
Luciano Tavella (flute, sax)
Renato Zanella (guitar)
Giorgio Piazza (bass)
Paolo Siani (drums, percussion)
Gina Bianco (vocals)
Susan Worsham (vocals)
Gruppo Barry-Cat Sound (choirs)
Roberto Ronda (narrating voice)

Often called with their only album's name, Katharsis, this odd band was another creation of composer Alfredo Tisocco after his first album with Opus Avantra, and like that group, their production mixed together many different musical styles in an original and ambitious blend of classical inspired progressive, jazz and avantgarde.
The 10-piece band playing on the album, with Tisocco's keyboards in great evidence and also featuring a string section, was mainly based on the same group of musicians that were later involved in Opus Avantra's second album Lord Cromwell (a track from Katharsis was even re-recorded for that album) along with the good rhythm section with bassist Giorgio Piazza from Premiata Forneria Marconi and drummer Paolo Siani (from Nuova Idea and Equipe 84), and a group of singers.

LP
Katharsis
Suono (SRLP 1001)
1975
gatefold cover


CD
Katharsis
Artis (ARCD 005)
1991
reissue of 1975 album - now deleted
Opus magnum (credited to Opus Avantra)
Akarma (AK 1033/4)
2002
4 CD box set containing Opus Avantra's three LP's and Alftredo Tisocco's solo album Katharsis
Omega (credited to Opus Avantra)
Akarma (AK 1039/4)
2003
4 CD box set containing Opus Avantra's Lyrics and the unreleased Live concerts excerpts along with Alftredo Tisocco's solo albums Ritagli d'anima and Ballet collection


SINGLES (with picture covers)
Sogno inglese
Ah ben sė
Suono (SRNP 5011)
1975
B-side from Katharsis - released as "Barry-Cat Sound"

Like the Opus Avantra albums, Katharsis is very rare in its original form but has been reissued at the end of the 70's, the repressing being almost identical to the original.
The second issue can be easily identified by these elements:
- the label is glossy silver, while the original was printed on rough paper
- it has a SIAE stamp of the 3rd variation, while the original issue has a stamp of the second type (see the SIAE stamps page for further explanations)
- the back cover does NOT contain the "distribuzione Ariston Milano" text that was on the original.
No foreign issues exist on vinyl, but the album was issued in Japan on CD in 2008 by Strange Days.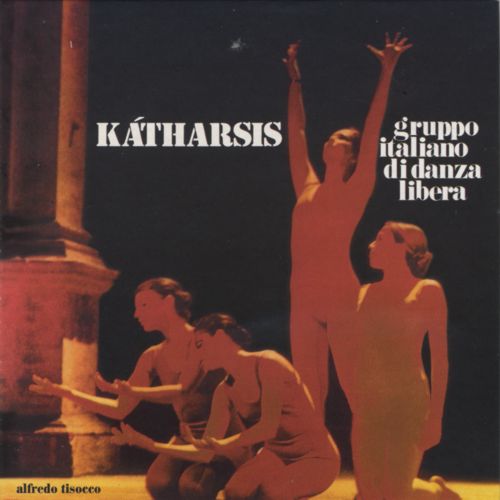 Katharsis - LP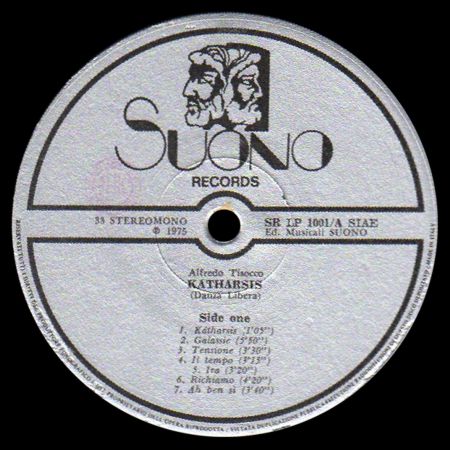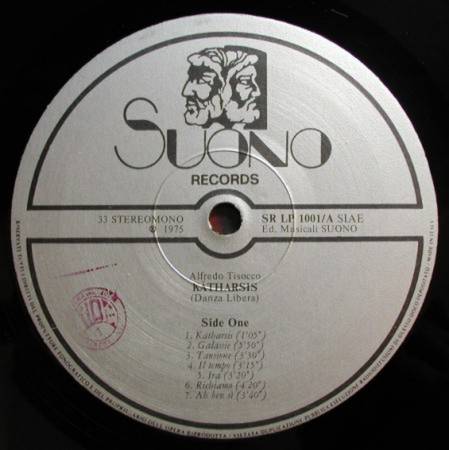 LP labels - original and reissue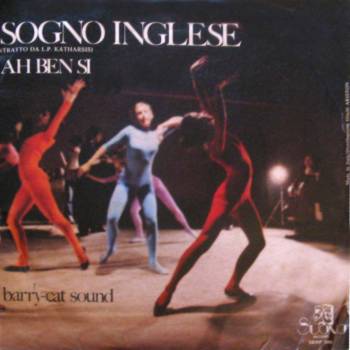 Barry-Cat Sound / Sogno inglese - 7" single

Thanks to John Elvis Gualtieri, Alessandro Pomponi of Rockground and Davide Ariaudo for pictures and information included in this page