Artist

BELLA BAND

1977-1978
Riccardo Cioni (keyboards)
Luigi Fiorentini (guitar)
Roberto Buoni (sax, flute, clarinet)
Tonino Camiscioni (bass)
Mauro Sarti (drums)
1979
Camiscioni and Sarti replaced by
Fabrizio Federighi (bass)
Daniele Trambusti (drums)

A five-piece band from Florence that only released an album. Their drummer Mauro Sarti had previously played with Campo di Marte.
The LP, released by Cramps in 1978, included four long instrumental tracks in a typical jazz-rock style, with nice horn arrangements and good guitar, keyboards and sax solo parts.
After a line-up change, and despite a good live activity, the band disappeared in the fertile florentine new wave scene of the late seventies.
After leaving Bella Band in 1978, Mauro Sarti entered the rock'n'roll group Dennis & the Jets, later joined by sax player Roberto Buoni.
Riccardo Cioni and Luigi Fiorentini formed Panama, with ex-Sensations' Fix Richard Ursillo and Stephen Head, and singer Sarah Jane Morris. Cioni also has an acting role in Alessandro Benvenuti's film Ad ovest di Paperino (whose soundtrack is played by the group The Colla featuring Tony Sidney from Perigeo).
Bass player Fabrizio Federighi has been for many years a popular session player.
Last drummer Daniele Trambusti had a recording studio in Florence and played for a while with Litfiba, very popular in Italy since the 80's.

LP
Bella Band
Cramps (5205 601)
1978
single cover with inner

CD

Bella Band
Mercury/Cramps (522 565)
1994
reissue of 1978 album - now deleted
Edel (ERE 0169252)
2006
as above - digipack cover


VARIOUS ARTISTS COMPILATION ALBUMS
La musica dissennata degli anni '70
(with Paratopostrippa sul pero)
Cramps (5208 004)
1980
released in the "Successo" series by Polygram - also includes tracks by Arti & Mestieri, Canzoniere del Lazio, Venegoni & Co.
Firenze sogna
(with Mattutina)
Materiali Sonori (MASOCD 90055)
1993
CD with book - compilation of Florence 70's-80's bands, also including Sensations' Fix

Not particularly rare or sought after, the album was released in the typical Cramps style, with single sleeve and inner.
The first CD reissue on Mercury, long deleted, has been replaced in 2006 by a new one on Edel.
No counterfeits exist nor foreign vinyl issues, but a CD reissue came out in Japan.
Mattutina, featured in the compilation Firenze sogna is an unreleased track.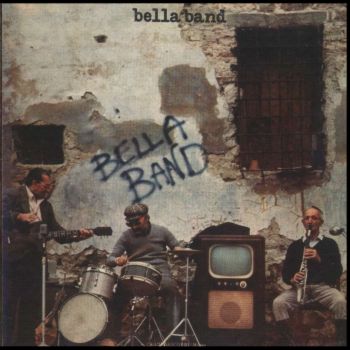 Bella Band - front cover

Thanks to Gianmaria Rizzardi and Franco (Ubaldo) Cibei for some information on the group members