Artist

CANZONIERE DEL LAZIO

1972-73
Piero Brega (vocals)
Sara Modigliani (vocals, flute)
Carlo Siliotto (violin, guitar, mandolin)
Francesco Giannattasio (accordion, percussion)
1974
Modigliani quits, enter:
Luigi Cinque (sax)
Gianni Nebbiosi (sax)
Pasquale Minieri (bass, guitar, mandolin)
Giorgio Vivaldi (percussion)
1975
Nebbiosi quits, enter:
Piero Avallone (drums, percussion, vocals)
1977-78
Clara Murtas (vocals, percussion)
Carlo Siliotto (violin, piano, percussion, vocals)
Pasquale Minieri (bass, guitar)
Maurizio Giammarco (sax, flute, piano, percussion)
Marcello Vento (drums, percussion, vocals)
Giorgio Vivaldi (percussion)

Formed near Rome in 1972, this group has been one of the most important examples of progressive folk in Italy during the seventies.
Though their beginnings were strongly inspired by literal reworkings of central Italy traditional tunes, they soon added original elements that, never in a rock style, can let them considered as a "progressive" group in the wide sense of the word.
Initially a quartet, and only using acoustic instruments, Canzoniere del Lazio released their first album in 1973 for the Dischi del Sole label, (a small independent record company specialized in folk albums).
The album contained all traditional songs, and showed the good vocal interplay between singers Brega and Modigliani, but it didn't have a particular success.
Singer Sara Modigliani left after the album, still interested in discovering old folk tunes; she is still active as a solo artist and with her group La Piazza.
The other added new musicians, two of which, Pasquale Minieri and Giorgio Vivaldi have been stable members since then, and released a new album in 1974 for the newly born Intingo label, Lassa sta' la me' creatura.
Still strongly influenced by traditional music, this represents a transition album with the introduction of electric instruments and the use of some rock and jazz elements.
The best period in CdL career came with the following two albums, Spirito bono and Miradas.
The first of these, again on Intingo contained just four tracks (all of which also appeared in shortened form on singles), with long instrumental parts and traditional lyrics. It was produced by the American Peter Kaukonen (brother of Jefferson Airplane's guitarist Jorma) that probably gave a distinctive touch to the recordings even adding some electric guitar parts.
The group played at the VI Festa del Proletariato Giovanile in Milan (and were also included in the Parco Lambro live compilation LP) and were ready to embark on an african tour when three of their members, Piero Brega, Luigi Cinque and Francesco Giannattasio left.
The others reformed the group with new members, and successfully played at the VII Political Music International Festival in East Berlin in February 1977. A beautiful album, recorded in studio during that tour, was only released in East Germany.
Their fourth album Miradas was released in 1977, this time on Cramps and with the production of former Area guitarist Paolo Tofani (also known as Electric Frankenstein). Considered by many as their more mature work, the LP includes five songs, some of which show african music influences. The new members Clara Murtas on voice, Maurizio Giammarco on sax and Marcello Vento on drums (from Alberomotore) fit perfectly into the band's music.
The same line-up appears in the fifth and last album, Morra 1978, again on Intingo, with three long tracks, again a good album though maybe on a lower level than the previous two.
The LP, that was to be entitled A risciacquà li piatti e la paura, was released one year after the previous one and contains tracks recorded in the same session as the ones on Miradas, but not included on that album, and was presumably issued to fulfill the contract with the old label.
After the band split Minieri and Vivaldi formed Carnascialia, whose only excellent album in 1979 was an early example of world music.
Carlo Siliotto has kept working as film music composer. He made a nice solo album in 1979, Ondina, and at least another on CAM (Grooves, no. CML211, in the early 80's).
Pasquale Minieri has long worked as producer and sound engineer for many important Italian artists.
Two of the founder members, Brega and Giannattasio, have played in Malvasia, a group which released an eponymous album on Cetra in 1979 (LPX 74) halfway between Italian and celtic folk.
After leaving Canzoniere del Lazio, Luigi Cinque took on his solo artistic career still lasting today, releasing a first album for Cramps in 1978 (Note di atemporalità) and many other records, books, videos.

LP
Quando nascesti tune
Dischi del Sole (DS 1030/32)
1973
single cover - lyric booklet
Lassa sta' la me creatura
Intingo (ITGL 14003)
1974
single cover with lyric inner
Ricordi/Orizzonte (ORL 8213)
1978
reissue with single cover
Fonè (121/1 LP)
2018
single cover - 496 copies limited edition
Spirito bono
Intingo (ITGL 14006)
1976
gatefold cover
Ricordi/Orizzonte (ORL 8272)
1978
reissue with single cover
Intingo/De Agostini (ITGL 14006)
2021
gatefold cover with 8-page insert - no.87 in the De Agostini "Prog Rock Italiano" series
Miradas
Cramps (CRSLP 5351)
1977
gatefold cover with lyric inner
Canzoniere del Lazio - Italien
Amiga (8-45142) - East Germany
1977
only issued in the German Democratic Republic - recorded in studio in Berlin
Morra 1978
Intingo (ITLM 14503)
1978
single cover
Intingo/De Agostini (ITLM 14503)
2020
single cover with 8-page insert - no.77 in the De Agostini "Prog Rock Italiano" series


CD
Miradas
Mercury/Cramps (522 568-2)
1994
reissue of 1977 album - now deleted
Quando nascesti tune
Dischi del Sole/Ala Bianca/Bravo
(BR 1285 53751-2)
2000
reissue of 1973 album
Lassa sta' la me creatura
Fonè (192 SACD)
2018
reissue of 1974 album on SACD
Spirito bono
Intingo/Mondadori (11)
2019
reissue of 1976 album - mini-LP gatefold cover with booklet - no.11 in the Mondadori "Prog Italia" series


VARIOUS ARTISTS COMPILATIONS
Parco Lambro
(with Tarantella dei baraccati)
Laboratorio (LB/LP 201)
1976
live recordings from the 1976 Parco Lambro festival - also features Agorà, Ricky Gianco, Area, Sensation's Fix, Toni Esposito, Paolo Castaldi, Eugenio Finardi.
Stampa Alternativa (RP 02)
2005
CD reissue of the above with different mini LP cover - only sold with the book Area/Musica e rivoluzione by Gianpaolo Chiaricò
La musica dissennata degli anni '70
(with Mogadishu)
Cramps (5208 004)
1980
released in the "Successo" series by Polygram - also includes tracks by Arti & Mestieri, Bella Band, Venegoni & Co.


SINGLES (with picture covers)
Ballo in re - Festa
Su ballu
Intingo (ITG 406)
1976
both tracks from Spirito bono
Spirito bono coccodè
Morte di Pulcinella
Intingo (ITG 407)
1976
both tracks from Spirito bono
Tarantella dei baraccati
Su ballu
Intingo (ITG 410)
1976
side A originally on Quando nascesti tune, side B taken from Spirito bono


PROMOTIONAL AND JUKEBOX SINGLES (with blank cover)
Nu gatto come nu lione
Cramps (CRSJB 1301)
1977
jukebox single - backed with Eugenio Finardi/Affetto

All the Canzoniere del Lazio Italian albums are not particularly hard to find nor expensive.
The German album listed in the discography was recorded "live in studio" in Berlin, during the 1977 "Festivals des politischen Liedes" with the appearence of Mauro Pagani, and issued in the same year by the East German state record company. It contains five tracks (Su ballu, Nu gatto come nu lione, Morte di Pulcinella, Tarantella dei baraccati, Tarantellone) present in different versions on their other albums.
The LP is rather hard to find due to the limited distribution it had abroad.
Also in Germany a track from that album was also included in a 2-LP compilation released in 1989, Das Beste Aus 20 Jahren "Festival Des Politischen Liedes" (Amiga 845 374/375).
No counterfeits or other foreign issues have been released.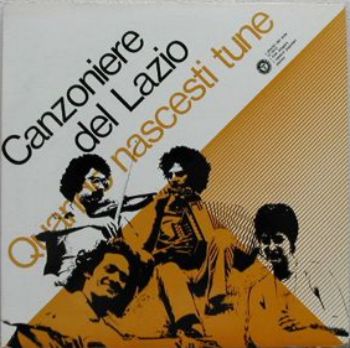 Quando nascesti tune - front cover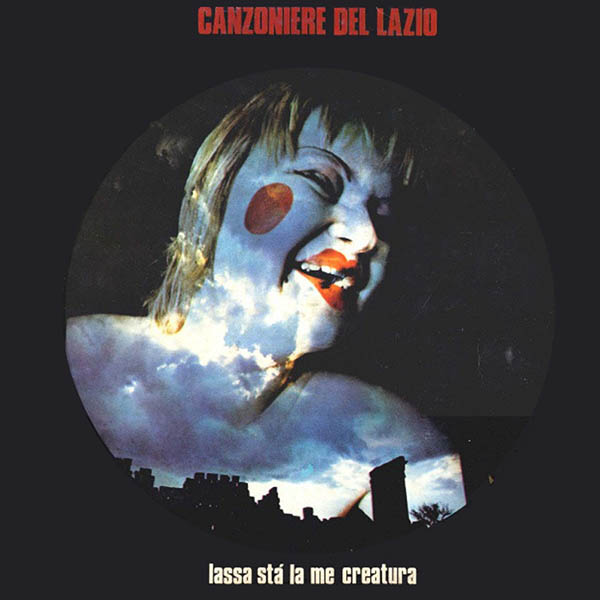 Lassa sta' la me' creatura - front cover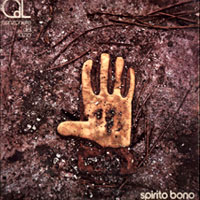 Spirito bono - front cover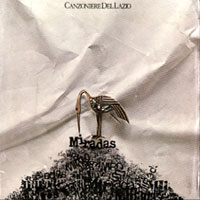 Miradas - front cover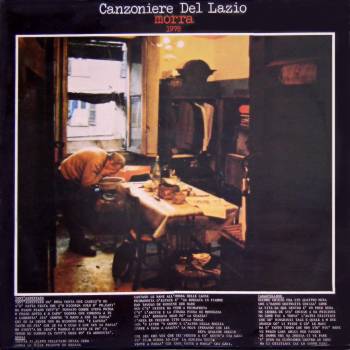 Morra 1978 - front cover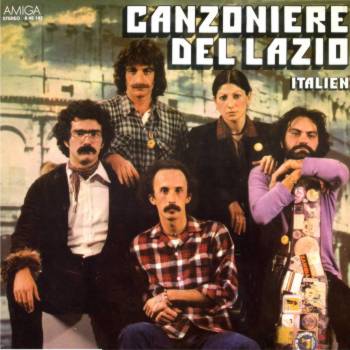 Canzoniere del Lazio-Italien - LP East Germany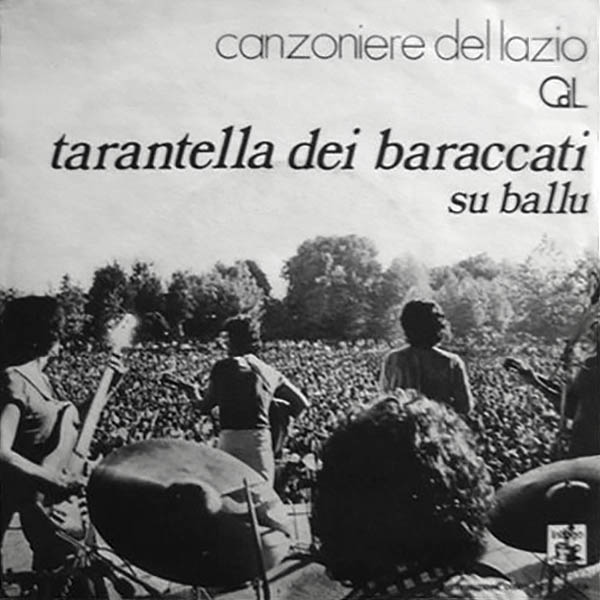 Tarantella dei baraccati - 7" single

Bassist/guitarist Pasquale Minieri has his own website at www.minieri.com
Founder member Carlo Siliotto has a website at www.carlosiliotto.com/ even including a detailed discography of Canzoniere del Lazio
Luigi Cinque has his own website, www.luigicinque.it, and a MySpace page at www.myspace.com/luigicinque

Thanks to Aldo Winkler for pictures and information on the German LP and to Luigi Cinque for info on his solo activity