Artist

VENEGONI & CO.

Gigi Venegoni (guitar, bass, percussion)
Ludovico Einaudi (keyboards)
Luca Francesconi (keyboards)
Ciro Buttari (percussion, vocals, piano)
Pietro Pirelli (percussion)
Massimo Aimone (drums)

Formed by ex-Arti & Mestieri guitarist Luigi "Gigi" Venegoni and taking its name by him, this was an open band which more than twenty musicians collaborated with during the years. A stable nucleus of the six musicians above recorded the band's two LP's on Cramps, being augmented in the studio by guest musicians like sax players Claudio Pascoli and Maurizio Gianotti.
More jazz-rock oriented than Arti & Mestieri, Venegoni & Co. are always ideally close to the old group, as demonstrated by Memoria on their first album, a reworking of the Positivo/Negativo theme from the old band's Tilt album. Their music is instrumental, obviously dominated by Venegoni's fluid guitar playing.
Though definitely less impressive and prog-inspired than the first two Arti & Mestieri albums, both Rumore rosso and Sarabanda can be an interesting listen for jazz-rock fans.
Two later studio albums on CD by Venegoni, Nocturne (as a trio with Marco Cimino from Errata Corrige and Marino Paire) and Mosaico were more in a new-age style, while the recent live CD's Rumore rosso vivo and Live...somewhere in the seventies... feature live recordings from different line-ups in 1978 and 1979.
In 2001 Venegoni joined Arti & Mestieri for their Murales album, playing with them in many concerts. He also appeared on their 2013 double CD The live and their 2015 studio album Universi paralleli.
In 2007, with Planetarium, the Venegoni & Co. group was reformed with the original line-up musicians. Their last release is a double CD with new recordings issued in 2017, Canvas, an ideal compendium of their 40 years activity.
.

LP
Rumore rosso
Cramps (CRSLP 5503)
1977
single cover with inner
Cramps (5205 503)
1978
as above
Sarabanda
Cramps (5205 504)
1979
gatefold cover with inner

CD

Nocturne
Dynamo (DYN 8801)
1989
Rumore rosso
Cramps (CRSCD 024)
1994
reissue of 1977 album - now deleted
Electromantic (TJRS 1963)
2004
as above with 1 bonus live track
Mosaico
Electromantic (ARTS 9003)
2000
Sarabanda
Edel (CRA 0136562)
2002
reissue of 1979 album with digipack cover
Rumore rosso vivo
Electromantic (ARTS 9012)
2002
live recordings from 1978/79
Live...somewhere in the 70's
Edel (ERE 0151792)
2004
live recordings from 1979 - digipack cover
Ante Tilt
Electromantic (AEMS 0983)
2007
old recordings from 1972 and 1973
Planetarium
Electromantic (TJRS F002)
2007
new studio album
Canvas
Canvas (CVS 001)
2017
2 CD


VARIOUS ARTISTS COMPILATIONS
1979: Il concerto
(with Coesione)
Cramps (5203 001)
1979
2LP - gatefold with inner - from the Demetrio Stratos tribute concert - also features Area, Banco del Mutuo Soccorso, Francesco Guccini, Angelo Branduardi, Antonello Venditti, Roberto Vecchioni, Roberto Ciotti and others
Edel (CRA 013653-2)
2002
single CD reissue of the above - digipack cover
Akarma (AK 1026)
2002
single CD reissue of the above - mini gatefold cover
Cramps/De Agostini (5203 001)
2018
2 LP - gatefold cover and 8-page insert - no.12 in the De Agostini "Prog Rock Italiano" series
La musica dissennata degli anni '70
(with Coesione, Ubud)
Cramps (5208 004)
1980
released in the "Successo" series by Polygram - also includes tracks by Arti & Mestieri, Bella Band, Canzoniere del Lazio

Both the Venegoni & Co. albums are still rather common to find and cheap. No counterfeits exist.
During the 80's Venegoni collaborated as composer in some dance music 12-inch records, among which one released under the name Mike Up in 1986.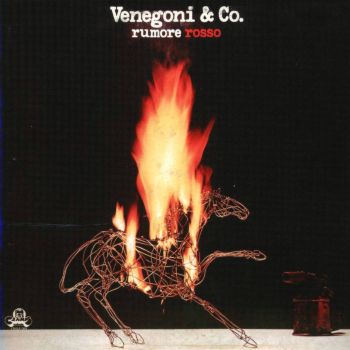 Rumore rosso - LP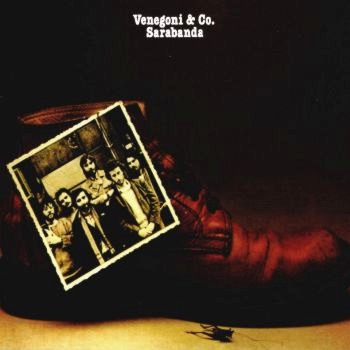 Sarabanda - LP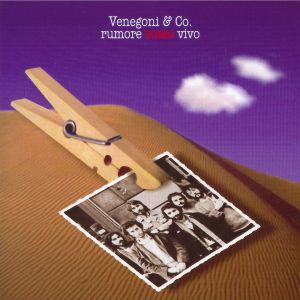 Rumore rosso vivo - CD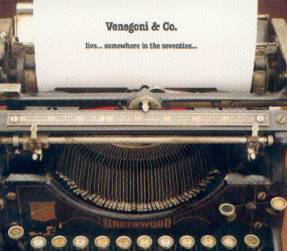 Live...somewhere in the seventies... - CD
Canvas - CD

A site on Venegoni & Co. is at www.venegonieco.com

Thanks to Lorenzo Pittan of Amarcord Records for information