Artist

CAPSICUM RED

Bruno "Red" Canzian (guitar, vocals)
Mauro Bolzan (keyboards)
Paolo Steffan (bass, vocals, piano)
Roberto Balocco (drums)

Many Italian music fans only know Capsicum Red by name because their singer and guitarist Red Canzian had a very successful career (until now!) with pop band Pooh, and this four-piece from Treviso didn't catch so much interest in their short career.
The name Capsicum Red was chosen by the producer Pino Massara when he discovered Canzian, singer and guitarist with I Prototipi, and took him to his newly-born label Bla Bla in 1970. To attract the press interest, Capsicum Red were presented as a foreign band, this helped the success of their two singles.
The first single, Ocean, was recorded by Canzian with studio musicians, and was a huge hit in Italy, even because it was used as main theme in a TV show, ...e ti dir˛ chi sei. Another single, Tarzan, came soon later, recorded in London with the musicians of the group Stone the Crows, but it wasn't as successful as the previous one.
Both singles contained commercial songs very far from the album sound, and were lately included in the rare Tarzan label sampler, issued by Bla Bla in 1972.
To support Canzian in the live concerts some musicians from the Treviso area were chosen: the first line-up included Bolzan, drummer Paul Podda and bass player Valter Gasparini, soon replaced by Steffan. Once again the label's strategies tried to attract interest arond the group: they said that was born to an Italian father in England, that he started playing in that country and that the group had been formed in London where the musicians had met and had their first concerts.
In 1972, with newcomer Roberto Balocco, from Panna Fredda, the group strongly moved with the Appunti per un'idea fissa LP towards progressive music with classical influences.
Side 1 contains the long Beethoven-derived Patetica suite, a very interesting piece of classical prog with keyboards to the fore. Side 2 is on a lower level with three shorter songs that in some cases seem to be weaker.
The band came to its end in 1973, with Red Canzian briefly joining Osage Tribe and later Pooh, and Paolo Steffan forming country-inspired duo Genova & Steffan with an album release in 1975.

LP
Appunti per un'idea fissa
Bla Bla (BBL 11051)
1972
gatefold laminated cover - lyric inner
Vinyl Magic (VM 050LP)
2008
reissue of the above on black or gold vinyl - gatefold cover with inner


CD
Appunti per un'idea fissa
Artis (ARCD 029)
1991
reissue of 1972 album - now deleted
Vinyl Magic (VM 050)
1995
as above but with 4 bonus tracks from singles - reissued in 1999 with same catalogue number and new label name VM2000
BTF/Vinyl Magic (VM 050)
2014
reissue of the above with mini-LP gatefold cover


VARIOUS ARTISTS COMPILATIONS
Tarzan
(with Tarzan, Shangrj-la, Ocean and She's a stranger)
Bla Bla (BOP 90001)
1972
single cover Bla Bla label sampler - also includes Osage Tribe, Well's Fargo, Black Sunday Flowers
Artis (ARCD 043)
1992
CD reissue of 1972 album - now deleted
BTF/Vinyl Magic (VMCD120)
2007
new CD reissue of the above with mini-gatefold cover and 6 bonus tracks


SINGLES (with picture sleeve except where noted)
Ocean
She's a stranger
Bla Bla (BBR 1306)
1971
gatefold cover
Tarzan
Shangrj-la
Bla Bla (BBR 1322)
1971
gatefold cover


PROMOTIONAL AND JUKEBOX SINGLES (with blank cover)
Ocean
Phonogram (ASC 1031)
1971
juke box single with 4 tracks, also includes Patty Pravo/Love story, I Nuovi Angeli/Donna felicitÓ, Lorenzo Pilat/71
Ocean
Phonogram (ASC 1032)
1971
juke box single with 4 tracks, also includes Patty Pravo/Love story, The Mixtures/The pushbike song, Brian Hyland/Gypsy woman
Tarzan
Shangrj-la
Bla Bla (ZB 2P)
1971
juke box single
In una sera
Un fiore
Bla Bla (BBR 1332)
1972
promotional single never officially released - same recordings as on the 1970 Migrants single

Not easy to find, the Capsicum Red album has a nice laminated gatefold cover and a lyric inner as most of the Bla Bla releases. Non-laminated covers are also reported to exist, this is probably a slightly later pressing, as it happened with similar records.
The first vinyl reissue came out in 2008.
The two officially released singles also have gatefold covers.
The very rare single In una sera was issued in 1972 in a limited promotional pressing. Both tracks had already been published on a 1970 single by Migrants (Bla Bla BBR 1304) and both records contain the same recordings!
Two CD reissues exist of Appunti per un'idea fissa, a first one by Artis and a later one on Vinyl Magic with a better sound quality and four bonus tracks from their singles. The latter, originally issued in 1995 with standard jewel case, was reissued in 2014 with a gatefold mini-LP cover.
The first single Ocean was also released in Greece by DPA (cat.no.5203) with company sleeve and in France on Philips (6115 001) with an art sleeve.
No counterfeits exist.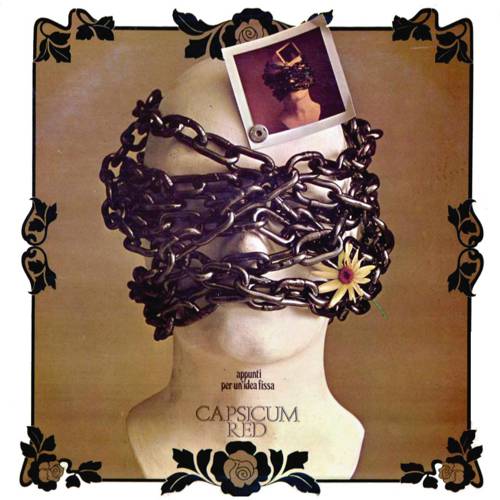 Appunti per un'idea fissa - LP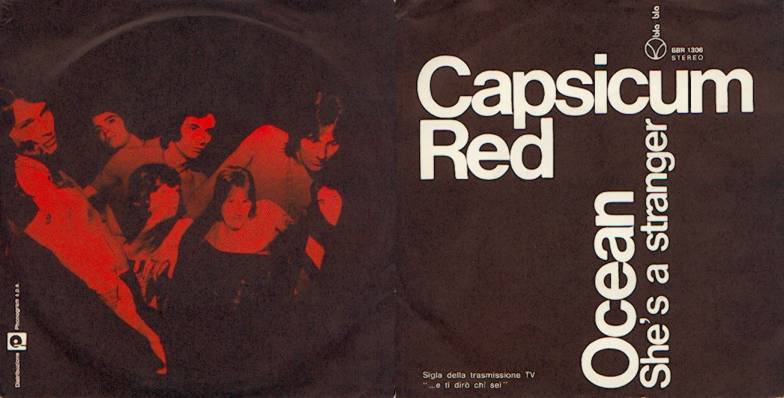 Ocean - 7" single gatefold cover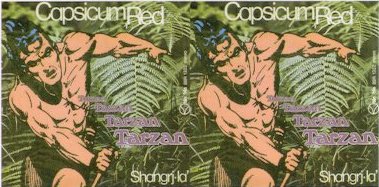 Tarzan - 7" single gatefold cover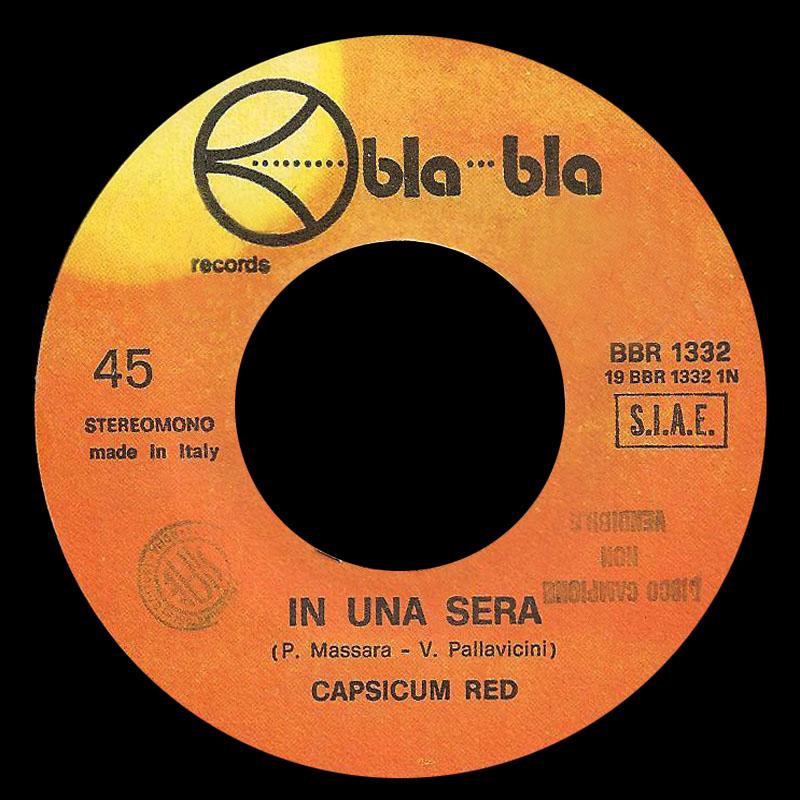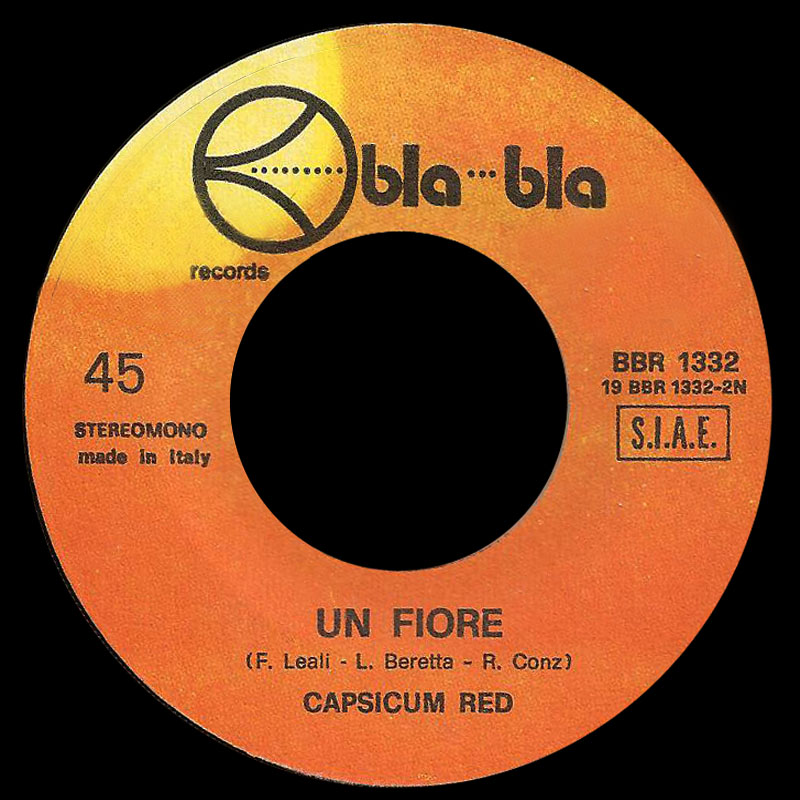 In una sera/Un fiore - promo-only 7" single

Thanks to Alos and Valerio D'Angelo for information and pictures