Artist

I POOH

1966-67
Roby Facchinetti (vocals, keyboards)
Mario Goretti (guitar)
Mauro Bertoli (guitar)
Riccardo Fogli (bass, vocals)
Valerio Negrini (drums)
1968
Bertoli quits
1969
Goretti replaced by
Dodi Battaglia (guitar, vocals)
1971
Negrini replaced by
Stefano D'Orazio (drums, vocals)
1973 until now
Roby Facchinetti (keyboards, vocals)
Dodi Battaglia (guitar, vocals)
Red Canzian (bass, vocals)
Stefano D'Orazio (drums, vocals)

Like I Nomadi, even Pooh are a marginal inclusion here, name them to an Italian prog fan and you'll probably cause strange visual expressions. Anyway, they're highly regarded by some foreign collectors, especially from Japan and Korea, and smart dealers often describe their albums as "prog classics".
Another beat band, I Pooh started in 1964 in Bologna with an early repertoire, as common to many beat groups of that time, mainly based on Italian-sung covers of English and American hits.
Their first LP, Per quelli come noi, is an enjoyable beat classic, with covers of songs by the Who, the Kinks, Spencer Davis Group, along with original material.
Two later albums went in a more melodic pop direction, and at the turn of the 70's, with a line-up and record company change the band took their typical pomp pop style. In 1973 one of the founder members, Riccardo Fogli, left for a successful career and was replaced by former Capsicum Red guitarist Red Canzian, now on bass. The stable line-up lasts today, and Pooh are still in the 2000's one of the main live attractions in Italy with a long series of gold albums.
In the 70's production, prog fans can find something interesting in Parsifal and Un po' del nostro tempo migliore, but the multivocal falsetto parts and orchestral arrangements will sound disturbing to many.

LP (up to 1975)
Per quelli come noi
Vedette (VRM 36033)
1966
single laminated cover
Vedette / Scacco Matto (SM 7020)
1982
reissue in budget-price series
Suoni Rari (SR5)
1995
picture disc with cutout cover - 1000 copies
Memorie
Vedette (VPA 8083)
1968
Contrasto
Vedette (VRMS 358)
1969
Opera prima
CBS (64592)
1971
gatefold cover
Alessandra
CBS (69023)
1972
gatefold with insert
Parsifal
CBS (69043)
1973
gatefold with 12-page photo booklet
BTF/Vinyl Magic (VM 161LP)
2014
reissue with the same cover as the original - orange vinyl
Un po' del nostro tempo migliore
CBS (69118)
1975
gatefold with stapled 4-page lyric booklet
BTF/Vinyl Magic (VM 162LP)
2014
reissue with the same cover as the original - orange vinyl
All albums have been reissued on CD

SINGLES (with picture sleeve - up to 1975)
Vieni fuori
L'uomo di ieri
Vedette (VVN 33106)
1966
Bikini beat
Quello che non sai
Vedette (VVN 33114)
1966
Brennero '66
Per quelli come noi
Vedette (VVN 33121)
1966
Nel buio
Cose di questo mondo
Vedette (VVN 33138)
1967
La solita storia
Nel buio
Vedette (VVN 33145)
1967
Piccola Katy
In silenzio
Vedette (VVN 33148)
1968
Buonanotte Penny
Il tempio dell'amore
Vedette (VVN 33159)
1968
Mary Ann
E dopo questa notte
Vedette (VVN 33170)
1969
Goodbye madama Butterfly
Un minuto prima dell'alba
Vedette (VVN 33182)
1969
Tanta voglia di lei
Tutto alle tre
CBS (7216)
1971
Pensiero
A un minuto dall'amore
CBS (7514)
1971
Noi due nel mondo e nell'anima
Nascerņ con te
CBS (8054)
1972
initially with white gatefold cover, later with group photo on cover
Cosa si puņ dire di te
Quando una lei va via
CBS (8478)
1972
Io e te per altri giorni
Lettera da Marienbad
CBS (1640)
1973
Infiniti noi
Solo cari ricordi
CBS (1790)
1973
Se sai se puoi se vuoi
Inutili memorie
CBS (2440)
1974
Per te qualcosa ancora
E vorrei
CBS (2837)
1974
Ninna nanna
E' bello riaverti
CBS (3530)
1975

From a collector's point of view the first three albums by Pooh on Vedette are particularly rare and expensive, the hardest to find being Contrasto, released in a very limited quantity.
The first one has been reissued by Raro magazine on picture disc with a cutout cover. It includes a small insert with the song titles.
Later production on CBS is still very easy to find in Italy, though the early pressings often contained inserts or booklets. All these LP's were reissued on grey/orange CGD label.
Parsifal and Un po' del nostro tempo migliore were both reissued in 2014 by BTF with the same covers with booklets as the originals and on orange vinyl.
No counterfeits exist of these not foreign issues.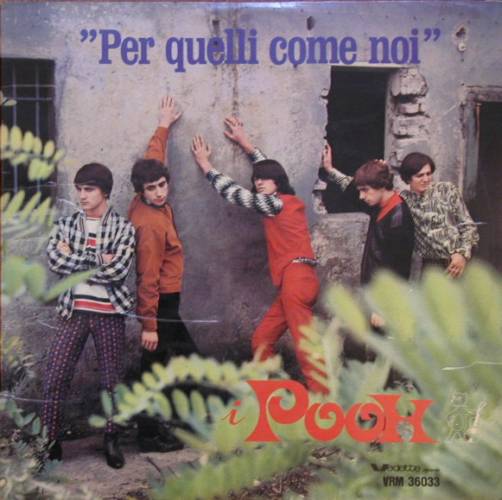 Per quelli come noi - front cover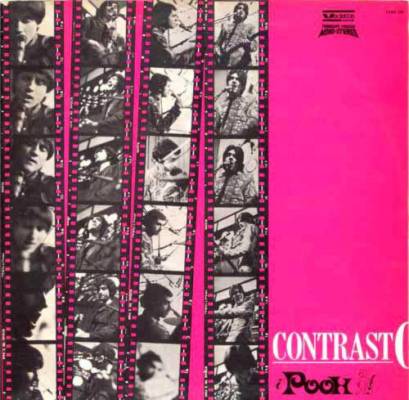 Contrasto - front cover