Artist

CERVELLO

Gianluigi Di Franco (vocals, flute, percussion)
Corrado Rustici (guitar, flute, vibes, voice)
Giulio D'Ambrosio (sax, flute, vocals)
Antonio Spagnolo (bass, acoustic guitar, flute, vocals)
Remigio Esposito (drums, vibes)

One of many bands from Naples, and strictly connected to Osanna, with Corrado Rustici being the younger brother of that group's guitarist Danilo. Not unlike Osanna they had a highly interesting fusion of progressive sounds with typical southern Italy and mediterranean rhythms.
A very good voice/instruments interplay is present throughout their majestic one and only album, Melos, released on Ricordi in 1973 with seven long tracks. Their sound is characterised by acoustic instruments such as flutes and horns (with four of the five players dealing with flutes) and acoustic guitars, but the album is by no means an acoustic one, with complex rhythm changes that sometimes resemble the Lizard-era King Crimson.
The band, formed in 1970 with an early line-up including singer Renato Lori and drummer Pino Prota replaced by Di Franco and Esposito had a successful appearance at "III Festival d'avanguardia e nuove tendenze" held in Naples in June 1973, but broke up in 1974.
Some of the members kept playing, most notably Corrado Rustici that joined Osanna for their fourth album Landscape of life, played with Uno as live guitarist, was later in Nova and then had a successful career as solo musician and producer.
Singer Gianluigi Di Franco collaborated with percussionist Toni Esposito during the 80's also releasing a solo album in 1988, he never left music and his main activity was in the Music Therapy field until his death in 2005.
A new line-up of Cervello, with original members Corrado Rustici, Giulio D'Ambrosio and Antonio Spagnolo along with young singer Virginio Simonelli and with Sasà Priore (keyboards, also with Osanna) and Davide Devito (drums), played a one-off concert in Tokyo in July 2017, that was recorded and released as Live in Tokyo 2017.

LP
Melos
Ricordi (SMRL 6119)
1973
single cover with small can-shaped window opening on the front - lyric inner
Contempo (CONTE 002)
1991
as above
Sony Music (88843 00482 1)
2013
single cover with inner - limited edition of 500 copies on black vinyl and 100 copies on red vinyl
Sony Music/BMG (88985 36553 1)
2017
single cover with inner
Ricordi/De Agostini (SMRL 6119)
2019
single cover with inner and with 8-page insert - no.35 in the De Agostini "Prog Rock Italiano" series


CD
Melos
Contempo (CONTECD 002)
1991
reissue of 1973 album - now deleted
BMG (74321-98444-2)
2003
as above with mini LP gimmix cover with small window on front - now deleted
BMG (88697-85360-2)
2011
as above with mini-LP cover
Live in Tokyo 2017
Belle Antique (BELLE 172831) - Japan
2017
mini-LP gatefold cover
Corrado Rustici (CDV 30)
2019
CD+DVD version of the above

Not very easy to find despite being released on a major label like Ricordi, Melos has been reissued by Contempo in early 90's with an identical design as the original, having an open-up tomato can on the cover. Under the cover a black & white picture of the band wrapped in plastic foil. A lyric inner is included.
New vinyl editions were issued by Sony Music in 2013, a numbered pressing of 500 black vinyl and 100 red vinyl copies, and again in 2017 and 2019, all with a standard single cover.
No counterfeits were ever made.
The album has been reissued on CD in March 2003 by BMG with a mini-LP gimmix cover reproducing the original and obi, as part of their "Dei di un perduto rock" series, and later repressed in October of the same year when a second batch of those CD's came out.
The CD was announced by BMG as being also available with standard jewel case (cat.no. 74321-98443-2) but was probably never issued in this form.
The LP was released in Japan (Seven Seas/King K22P325) with the same gimmix cover as the original, and in Korea (Seven Seas 61) and Venezuela (Orbe ORLP 4401) with a standard single cover.
CD issues exist, again with miniaturized gimmix cover, made by Si-Wan in Korea, released in 1999 with catalogue number SRMC 1049 and by BMG in Japan, released in 2004, with catalogue number BVCM-37426.
The reunion concert was released on Live in Tokyo 2017, first issued on CD in Japan by Belle Antique (BELLE 172831) with a mini-LP gatefold cover and later as CD+DVD by Corrado Rustici. The latter is dated 2018 on the cover but was actually released in 2019.
An instrumental unreleased track by Cervello, recorded live and entitled Templi acherontei was only made available for download through Corrado Rustici's site. A live album by the group entitled Live 1974 sold in 2015 for a very high price, this is quite probably a bootleg.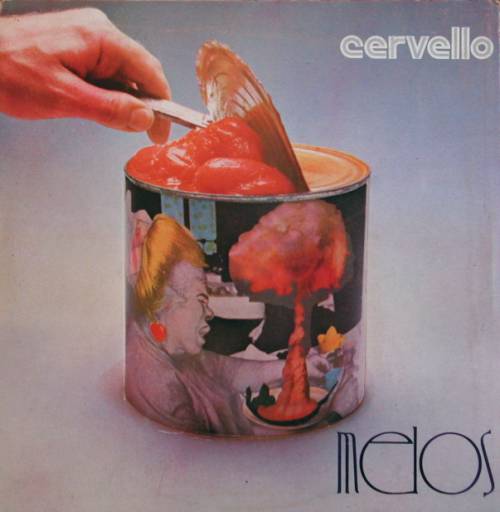 Melos - LP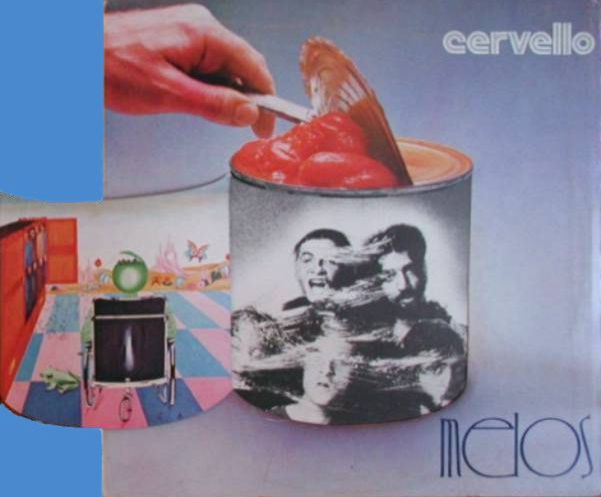 Melos - detail of the gimmix cover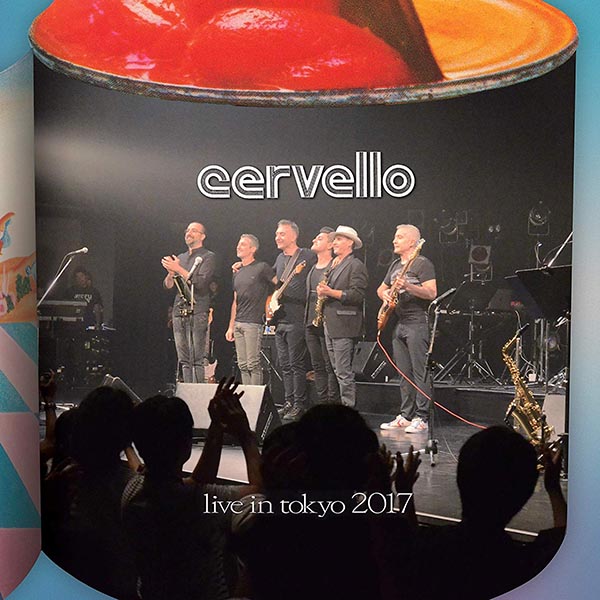 Live in Tokyo 2017 - CD (Japan)

For more information and to purchase the Live in Tokyo 2017 CD+DVD you can visit guitarist Corrado Rustici's website www.corradorustici.com