Artist

NOVA

1975
Corrado Rustici (guitar, voice)
Danilo Rustici (guitar)
Elio D'Anna (sax, flute)
Luciano Milanese (bass)
Franco "Dede" Loprevite (drums)
1976
Corrado Rustici (guitar, voice)
Elio D'Anna (sax, flute)
Renato Rosset (keyboards)
1977-78
enter new members:
Barry "SunJon" Johnson (bass)
Ric Parnell (drums)

More active abroad than in Italy (where only one of their 4 albums was released), Nova are a unique case of an Italian progressive group that spent almost all of its career in foreign countries. After the split of Uno, former Osanna founders Elio D'Anna and Danilo Rustici stayed in London and formed another band called Nova with two other well-known Italian musicians, Corrado Rustici from Cervello and Dede Loprevite from Circus 2000.
The band, with a stronger jazz-rock influence than their previous groups, released their first album, Blink, in 1975, aided by such big names as Pete Townshend and with help from lyricist Nick J.Sedwick (who also wrote the lyrics for Uno). An usual Osanna feeling was still in the air, but the style was changing to a more commercial kind of music. Only two of the six tracks are instrumental, the singer role been taken by Corrado Rustici, and the album has some good moments.
This was the only album in their production to have an Italian issue, but it came out a year later than the original UK release.
Second album, Vimana, saw the band reduced to a trio, original members Elio D'Anna and Corrado Rustici augmented by ex-New Trolls Atomic System's keyboardist Renato Rosset and with help from international stars like Percy Jones (bass), Narada Michael Walden (drums), Phil Collins (percussion).
Though some of the typical Osanna/Cervello sound elements can still be heard (listen to Elio D'Anna's sax or Corrado Rustici's frantic guitar), the band's style is slowly approaching a mainstream jazz-rock with a funky edge, and the last two albums will go to a lower level.
The fourth and last one, Sun city was recorded in the USA in 1978 and showed a harder sound with the magic guitar of Corrado Rustici (one of the most talented guitarists from that era) in great evidence.
D'Anna then returned to Italy for a career as producer, then left the musical scene, while Corrado Rustici stayed in the USA, returning back to Italy where he's long collaborated with such artists as Zucchero and Elisa, both as musician and producer.
During their early days in England with Nova, both Elio DíAnna and Corrado Rustici (credited on the cover as Carrado Rusticci!) appeared on the 1976 album Sunset wading by Caravanís bass player John G.Perry.
Original drummer Dede Loprevite, who left Nova after the first album, came back to Italy and played for many years with Kim & the Cadillacs. Loprevite played on the popular Anima latina by Lucio Battisti but wasn't credited on the cover. He passed away in 2014.

LP
Blink
Arista (ARTY 118) - UK
1975
single cover
Ariston (AR/LP 12300)
1976
single cover
Vimana
Arista (AB 4110) - USA
1976
single cover with inner - also in UK as Arista ARTY 138
Wings of love
Arista (AB 4150) - USA
1977
single cover with inner - also in UK as Arista SPARTY 1021 with different cover
Sun city
Arista (AB 4203) - USA
1978
single cover with inner


CD
Blink
Vinyl Magic (VM 020)
1994
reissue of 1974 album

The only album by Nova that had an Italian pressing was the first, Blink, issued by Ariston in 1976 with a rather anonymous single cover and is not easy to find. It had been previously issued in the UK and was also released in Holland (Arista AR1), France (Motors).
Later albums were issued by Arista in UK, USA, Canada, Germany, Chile, Argentina, and by Motors in France.
No counterfeits exist.
In Japan BMG/Arista issued on CD Blink (BVCM-37771) and Wings of love (BVCM-37772) both in 2006, and Vimana (BVCM-37615) in 2008, all with papersleeve.
Wings of love has also been reissued on CD by the UK label Northworld in 2013 (cat.NW0045CD).
An unreleased track by Nova, recorded live and entitled Conchis Funk was put on sale by download through Corrado Rustici's site.

Blink - LP

Vimana - UK album LP

Wings of love - UK album LP

Wings of love - US album LP

Sun city - US album LP



Click on pictures to enlarge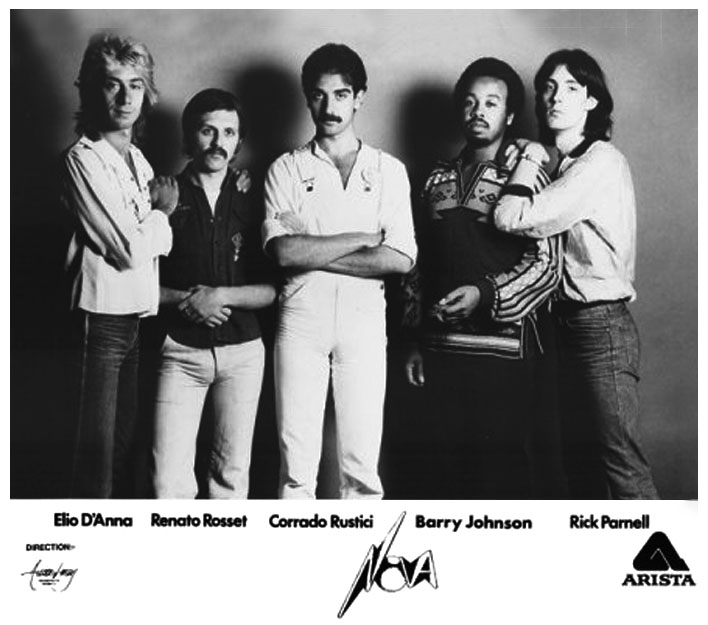 Nova - Promo picture 1977

Former Nova and Cervello guitarist Corrado Rustici has his own site www.corradorustici.com.
The site of keyboardist Renato Rosset is www.renatorosset.com