Artist

ALBERTO RADIUS

Founder member of Formula Tre and well respected session guitarist, Alberto Radius also had a good solo career following his band's split.
His first solo album, regarded as one of the Italian prog rarest though not particularly representative of the genre, was issued in 1972 when Formula Tre were still active, and was a sort of jam session with important Italian musicians of the time, including Franz Di Cioccio from Premiata Forneria Marconi and Area's Demetrio Stratos and Giulio Capiozzo along with Gianni Dall'Aglio and Vince Tempera that were later with him in Il Volo. The album was produced by Lucio Battisti under the fantasy name of Lo Abracek
Later works were halfway between pop and rock, with Nel ghetto from 1977 being a successful single.

LP (up to 1980)
Radius
Numero Uno (ZSLN 55153)
1972
single cover
BMG (88697 36958 1)
2008
reissue in limited numbered series
Sony Music/De Agostini (54)
2019
single cover with 8-page insert - no.54 in the De Agostini "Prog Rock Italiano" series
Numero Uno/Sony Music (19439 85676 17)
2021
numbered issue - red vinyl - issued for Record Store Day 2021
Che cosa sei?
CBS (81476)
1975
gatefold cover with inner
Carta straccia
CGD (20008)
1976
single cover with inner
America goodbye
CGD (20122)
1979
gatefold plastic window cover with and inner
Leggende
CGD (20236)
1980
single cover with inner


CD
Carta straccia
CGD (9031 77232-2)
1990
reissue of 1976 album
BTF/Vinyl Magic (VM 152CD)
2011
new reissue with mini-LP cover
Che cosa sei?
CBS ()
90's
reissue of 1975 album
America goodbye
CGD (8573 80700-2)
90's
reissue of 1979 album
Leggende
CGD ( )
90's
reissue of 1980 album
Radius
BMG/Vinyl Magic (74321-26545-2)
1995
reissue of 1972 album
BMG (74321-98506-2)
2003
as above with mini LP cover - now deleted
BMG (88697-85361-2)
2011
as above with mini LP cover
Numero Uno/Mondadori (19)
2019
mini-LP gatefold cover with booklet - no.19 in the Mondadori "Prog Italia" series


VARIOUS ARTISTS COMPILATION ALBUMS
Qui giovani
(with Rock 1°)
Numero Uno (2G2KY 19279)
1972
compilation, also featuring Demetrio Stratos, Premiata Forneria Marconi, Formula 3, Adriano Pappalardo
Quelli della Numero Uno
(with Il mio cane si chiama Zenone)
Numero Uno (CFD 01080-10)
1999
10 CD - box set with tracks from singles


SINGLES (with picture sleeve - up to 1977)
Che cosa sei?
Il respiro di Laura
CBS (4529)
1975
Nel ghetto
Pensami
CGD (10004)
1977

The first solo album by Alberto Radius is very rare and in many collectors' wantlists. Strange, because Numero Uno releases were never very limited, but probably this sold poorly at the time.
The album has been reissued on CD in March 2003 by BMG with mini-LP cover and obi, as part of their "Dei di un perduto rock" series, and later repressed in October of the same year when a second batch of those CD's came out.
The CD was announced by BMG as being also available with standard jewel case (cat.no. 74321-98505-2) but was probably never issued in this form.
The first Italian vinyl reissue was released in 2008 by BMG, in a limited numbered series.
The following Radius production is all easy to find in original issues.
Che cosa sei? and Carta straccia were issued in Japan, both on LP (King K22P-224 and K22P-367) and CD (Arcangelo ARC-7094 and ARC-7142).
No counterfeits exist.

Radius - LP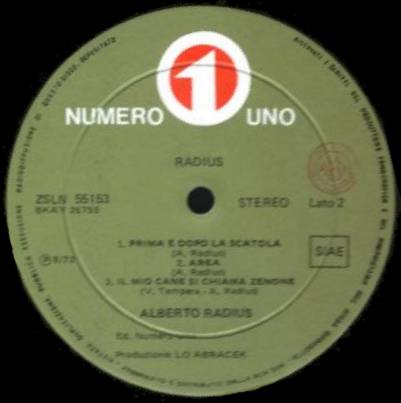 LP label

Thanks to Giorgio Meloni, Marcelo Bacha and Antonio Calcagno for information