Artist

SALIS

1970-72
Antonio Salis (vocals, bass)
Francesco Salis (guitar, vocals)
Pier Paderni (organ)
Paolo Gerardini (drums)
1978-79
Francesco Salis (guitar, vocals)
Antonio Salis (bass, flute, vocals)
Antonio Lotta (keyboards)
Antonio Sardu (drums)

The brothers Salis, Antonio and Francesco from Santa Giusta, Oristano in Sardinia, began their career in the first half of 60's under the name of Barrittas, releasing a bunch of singles until the end of the decade.
Produced by their elder cousin Lucio, they changed name to Salis'n'Salis in 1969, but by the time their first album was released the name has changed again to Salis.
Their debut album, Sa vida ita est, came in 1971, a very good mix of 60's inspired pop/psych music and slightly progressive rock arrangements, but went totally unnoticed.
The group had moved by now near Cremona, in Lombardy, with a four piece line-up including two musicians from Brescia, Pier Paderni and Paolo Gerardini, both having played in the JB Club group which had also featured Mauro Pagani. This line-up lasted until 1972, and for a short time during the following year Salis, relocated to Sardinia, featured bass player Pino Martini and drummer Salvatore Garau, later the rhythm section of Stormy Six.
In 1974 a second album was recorded, this was in fact a solo album by Antonio Salis; one of the first quadraphonic records from Italy, and released by EMI subsidiary CiPiTi, this was later re-released on the small local label La Strega, owned by Lucio Salis (that was also the lyricist for all the Salis songs).
Again a lightweight pop/prog album, much more than the first, this had much in common with another group from Sardinia, Gruppo 2001.
Antonio Salis was helped on the album by his brother Francesco and Gianni Serra on guitars, Dario Baldan Bembo on keyboards and drummers Andy Surdy and Furio Bozzetti.
After five years a new quartet was formed, and a third album appeared, called Dopo il buio la luce.
A totally different album from the previous two, this has a much more keyboard-led and prog-inspired sound, being almost entirely instrumental and with extended jazz-rock influenced parts like in the long Rapsodia per emigrazione and Dopo il buio...la luce.
This last album is the best one for the progressive fans, but it wasn't successful and the group sadly disappeared again after 1980.
Antonio and Francesco Salis never quit music, recording in their Santa Giusta studio a CD with old tracks in 1988 and another one in 2003 with new compositions, helped in the last work by the musician and composer Gianni De Montis.
Francesco Salis, an excellent guitarist and composer, sadly died in May 2007.

LP
Sa vida ita est
Produttori Associati (PA/LP 37)
1971
gatefold cover
Seduto sull'alba a guardare
CiPiTi (LP OK 13)
1974
gatefold cover
La Strega (LSP 802)
1980
reissue of the above with different single cover
Dopo il buio la luce
IAF (LPA 89018)
1979
single cover
AMS/BTF (AMS LP 115)
2016
reissue of the above


CD
Signora del porto
Salistudio/Santa Giusta Sound (CD001)
90's
reissue of 1988 cassette with 1 bonus track
Sa vida ita est
OFF (2861-2)
1997
reissue of 1971 album with 2 extra tracks - now deleted
Dopo il buio la luce
Giallo (SAF 031)
1998
reissue of 1979 album
Giallo (MMM 112)
2009
new issue of the above
Statue e fiori
Florias ( )
2003
new studio album - credited to Salis & Salis
Seduto sull'alba a guardare
AMS/BTF (AMS 177CD)
2010
reissue of 1974 album with mini-LP gatefold cover


ORIGINAL TAPES
Sacco a pelo
Tekno Records ()
1984
Signora del porto
BU (BU100)
1988
new recordings of old tracks


SINGLES (with picture sleeve)
Maribel
Nell'oscurità
Belldisc (BD 8007)
1968
as Salis'n'Salis
Manchi solo tu
Piccola bimba
Belldisc (BD 8015)
1969
as Salis'n'Salis
Il tuo ritorno
Maribel
Belldisc (BD 8021)
1969
as Salis'n'Salis
Chissà se la luna ha una mamma
Cronaca di una cosa
Liberty (LIB 9062)
1970
gatefold cover
Sorella morte
Matrimonio
Produttori Associati (PA 3192)
1971
both tracks from Sa vida ita est
Betty
Auguri
Produttori Associati (PA 3197)
1971
side B taken from Sa vida ita est
Salis addio
Festa mancata
CiPiTi (NP 1029)
1974
both tracks from Seduto sull'alba a guardare
Brio
Viva lei
La Strega (CM 0009)
1975
issued as Antonio Salis - both tracks from Seduto sull'alba a guardare
Terra de isparu e de fogu
Rocca 'e craboni
Madau (DA 01)
1980
Ninna nanna del vecchio facchino
Santa Cecilia
Tirsu (257)
199?
issued as Tonietto Salis - B side credited to L'Orchestrina d'Interludio


PROMOTIONAL AND JUKEBOX SINGLES (with blank cover)
Nell'oscurità
Belldisc/Canadian American ()
1968
as Salis & Salis - jukebox single, backed with Santo & Johnny/Io per lei
Manchi solo tu
Belldisc (JB 022)
1969
as Salis'n'Salis - jukebox single, backed with a track by Fiammetta
Chissà se la luna ha una mamma
Cronaca di una cosa
Belldisc (BD 8032)
1970
probably only issued as a promo with blank cover
Chissà se la luna ha una mamma
Liberty (JB 035)
1970
jukebox single, backed with Gli Alunni del Sole/Fantasia
Sorella morte
Produttori Associati (JB 59)
1971
jukebox single, backed with Santo & Johnny/Adagio

All the Salis albums are not particularly easy to find, especially their debut album Sa vida ita est, despite it being released by a major company like Produttori Associati, and their third Dopo il buio la luce, that probably had a very limited pressing and distribution.
Seduto sull'alba a guardare exists in two different issues, the original having a gatefold cover with lyrics in the inside.
A second issue came on the local La Strega label (that also issued the first and only album by Pierpaolo Bibbò) some years later with an anonymous different single cover; the vinyl matrix of this reissue carries the original CiPiTi number, while the yellow/brown label credits the album to Antonio Salis only. This reissue is rather common to find.
Some copies exist of the reissue vinyl housed in an original (but non-gatefold) cover.
Some of the Salis records of the 80's were originally issued on cassette. This is the case with Sacco a pelo and Signora del porto, the latter reissued on CD with new arrangements and an extra track.
Among the Italian CD reissues, Sa vida ita est is deleted and difficult to find. A CD entitled Salis & Salis - Sa vida ita est on Duck Records (DKCD 485) with an ugly cover, is in fact a compilation including the first 5 singles and some tracks from the first album.
Dopo il buio la luce was reissued on CD by Giallo Records in 1998 and again, in remastered edition, in 2009. The two issues can be easily identified by the catalogue number.
A Japanese CD reissue exists of Seduto sull'alba a guardare, on Neverland label.
The only foreign issue on vinyl should be the one released in Venezuela for the first album Sa vida ita est, renamed La vida es de esta manera (Car/Venevox CAR-703 - 1971), but sung in Italian. The name of the group's home town, Santa Giusta, is translated to Santa Justicia on the cover!
A rare single by Francesco Salis exixts, released around 1974 under the name L'Apostolo with Dimensione and Io ti ringrazierò (Bambara VP 7777). Both tracks were by composer Valbruno, who also wrote songs for other italian groups and collaborated with Salis at the time of their first LP.

Sa vida ita est -LP

La vida es de esta manera (Sa vida ita est) - Venezuelan LP

Seduto sull'alba a guardare -original issue LP

Seduto sull'alba a guardare -second issue LP

Dopo il buio la luce - LP

Maribel - 7" single
Il tuo ritorno - 7" single
Chissà se la luna ha una mamma - 7" single
Sorella morte - 7" single
Salis addio - 7" single
Antonio Salis/Brio - 7" single
Terra de isparu e de fogu - 7" single
Tonietto Salis/Ninna nanna del vecchio facchino - 7" single
Signora del porto - orignal tape
Signora del porto - CD
Statue e fiori - CD
L'Apostolo (Francesco Salis) / Dimensione - 7" single



Click on the pictures to enlarge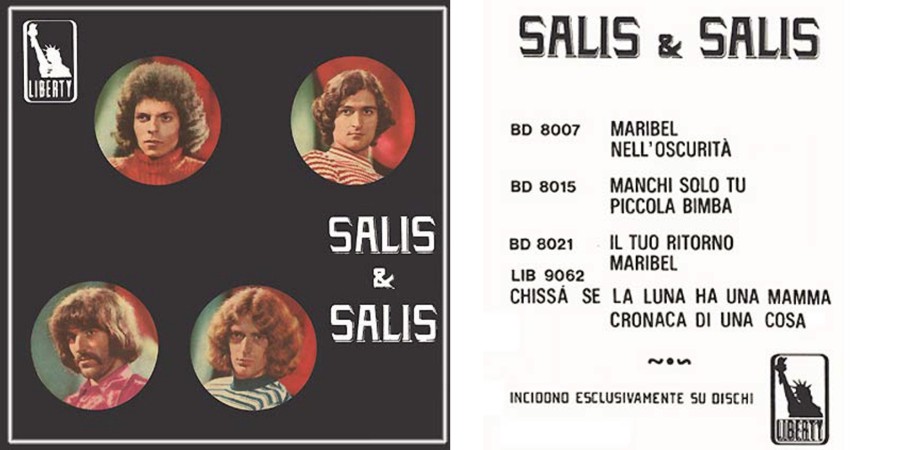 Salis & Salis - promotional card 1970, front and back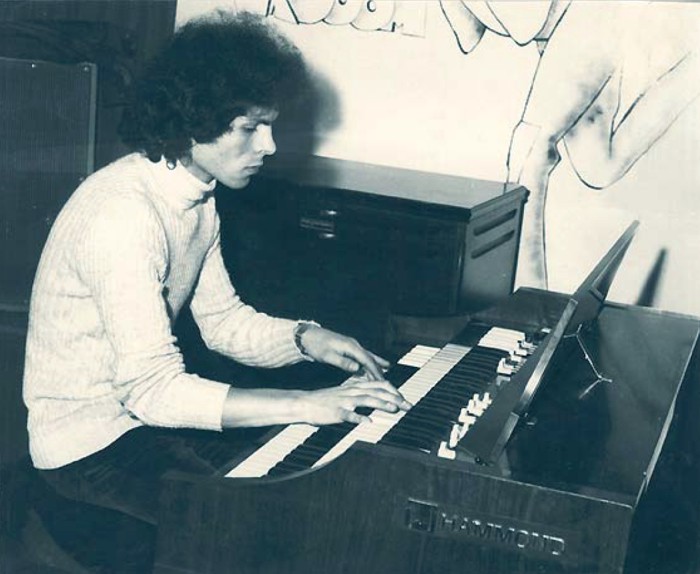 Salis - Pier Paderni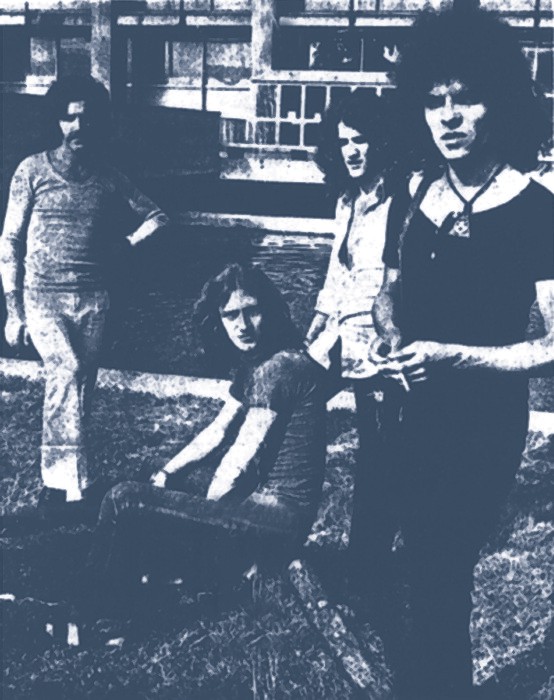 Salis & Salis - promotional picture 1971

An interview with Pier Paderni, by Augusto Croce, March 2008
1 - What do you know about the beginnings of Salis?
Before joining his brother Francesco, Antonio (he was in fact called Antonietto) used to play with I Barrittas, also coming from Santa Giusta near Oristano (Sardinia). I Barrittas were fronted by Benito Urgu, and became popular with the Beat Mass, they also played it in Rome where they often used to play even at the Piper. Francesco Salis, the guitarist, had played with Edoardo Vianello [a popular singer of the 60's] and was very well trained even in the field of jazz and library music. He had a really astounding technique and good taste (which can be distinctly heard in the Sa vida ita est album, where there are guitar solos by him which can be easily be compared with the best rock guitarists!).
2 - When did you heard them for the first time?
Through a friend musician from Brescia, Romano Romanini, who had been at the Cantagiro in 1969 and had heard a song by this duo entitled Il tuo ritorno. In the summer of 1969 I was playing with the JB Club, a group from Brescia, and we used to play on the Garda Lake. So we heard that song, Il tuo ritorno by Salis & Salis, and we liked it so much that we arranged it, along with Giorgio Cordini and Mauro Pagani (then members of JB Club), and it was so nice that it was a success for us, one of just 3 or 4 Italian songs in our repertoire.
3 - What kind of music did you play with JB Club?
We only played music by other artists, like John Mayall, Traffic, Jethro Tull, King Crimson, Rolling Stones and Beatles, and lots of blues, as Pagani is an excellent harp player, as well as a violinist and flutist, and among the musicians in Brescia this has always been considered as one of the best groups of all the times. In January 1970 JB Club, then in a very good creative period, was playing at the Paradise Club in Brescia (one of the best clubs around, where groups like Il Balletto di Bronzo, Banco del Mutuo Soccorso and many others often used to play). In those days we used to play three sets a night, while for the rest of the time people was dancing to records, Thursday nights were dedicated to jam sessions. Around the end of that month Salis & Salis came to the Paradise for three nights, they were now a quartet with Francesco Salis on guitar and vocals (Gibson Les Paul and Vox AC 30), Antonietto Salis on bass and voice (he had a Hofner like Paul McCartney), Nino Scalas on drums (a double bass drum Ludwig) and a Mariano (I can't remember his surname) on Hammond organ, the portable model. They were extremely successful: along with their own songs, they had a wide repertoire of Beatles' songs, and it seemed that the real Beatles were playing them! Antonietto was wonderful because he used to play and sing exactly as Paul McCartney, and Francesco had the same guitar sound as George Harrison, they were real monsters of good taste, technique and power! So one night we played together in an improvised jam session, and we had a very nice time.
4 - Then you were approached by them?
In mid-February Salis & Salis contacted me in Brescia asking if I wanted to play with them, as their organist Mariano was going to get married and return to Sardegna. To be honest I was not so sure, because my band with Pagani and Cordini was going on very well, but.... the temptation was strong, and considering that Pagani was thinking about something else, I accepted.
Salis & Salis had then moved near Crema because they were trying to step up in class and it was fundamental for them to stay on the "continent" as they used to call the rest of Italy, rather than in Sardinia. So, after the latest concerts with JB Club, in mid-April 1970 I went to Modena and started rehearsing with Salis & Salis. It was a very rewarding experience to work with Francesco and Antonio. Francesco in particular was a classy musician, accurate, stylish, a real Artist with a capital A! Around mid-May we started a long series of concerts. We used to play mostly discotheques, with two 45 minutes sets. I played all over Italy, from Grado to Barletta, from Turin to Palermo in every kind of places (theatres, discotheques, private clubs, etc). many many times. It was a hard work (the weight of my Hammond A 100 was 250 kg.!! And my Leslie was the heaviest model!). Nino Scalas, the drummer, stayed with us until the end of the summer 1970, we played for two moths in Sardinia where we were popular like the Beatles, a really incredible experience! But even Nino wanted to get married, so in the autumn I had to contact a drummer which used to play with us in JB Club from time to time, Paolo Gerardini from Brescia. He had a twin bass drum Ludwig as well and was an excellent drummer. He came with us, learned the songs and we kept touring.
5 - What are your recollections of the LP recording?
In the spring of 1971 we went in the studio in studio and recorded the album Sa vida ita est witb lyrics written by Lucio Salis and music by Francesco and Antonietto. The arrangements were made by all of us and we worked heavily during the pre-recording phase, but it was then that I understood that I couldn't last long, seeing that the producer didn't want anything that was not commercial for the time (I don't want to say the names of the record company executives at the time!). We had different ideas and intentions, but I didn't have a contract like the Salis brothers, so when I saw that we couldn't do what we wanted I started thinking that my days with the group were counted. Gerardini suddenly left us in the summer of '71, Scalas came back to help us on drums, and then we found a new Sardinian drummer. In February 1972 my last concert with Salis was at the Tivoli in Travagliato (Brescia), then a swiss organist whose name I can't remember took my place. The album Sa vida ita est couldn't be mixed and produced as we wanted, but the raw material shows a very nice quality and creativity and demonstrates that these brothers were real geniuses: I would have played for all my life with musicians like them, but I didn't accept the compromises with the record company's representatives.
6 - On which of the group's singles do you appear?
On those that were taken from the Sa vida ita est album, the sound of my Hammond is unmistakeable!
7 - What did you do afterwards?
In the end I took a unique holiday, and started going around India, Pakistan and Afghanistan, searching for new sounds and colours, out of the confusion (it was the time of the first acts of violence in Italy, Led Zeppelin had to leave the stage and Santana had took a big risk, the live concerts were going to become too "political"!), it was not what I liked!
8 - Do you remember any particularly relevant concert or playing with other important groups?
The most pleasant recollections I have come from the concerts in the squares of Sardinia in 1970. I played in many places and people come from everywhere because Salis & Salis were as popular as the Beatles for Sardinian people. I remember a concert in Capoterra with at least 30,000 people (that was a very high number for that time), in every square in Sardinia we found ourselves surrounded by a sea of fans, these were usually concerts held during the town festivals, it was a unique experience to me, considering that the country was the most charming place I had ever seen. Then the tours in Sicily: the Garibaldi theatre in Enna, other theatres, an exciting contact with the people. The same applies to Naples and Calabria. In northern Italy we played in the usual places where other bands used to play (Formula 3, Balletto di Bronzo, Le Orme, etc…) and it was always discotheques, sometimes theatres when we had to promote the records. I didn't experience, during my life with Salis (as I had done with JB Club) supporting big names, except for a few concerts with Brian Auger, which I had already met when playing with JB Club, and the honour of having Deep Purple watching us at Hungaria in Montreux in December 1971, they were astonished by the technique of Antonietto on bass. In those years the world of music was not as wee see it today. It was more fascinating and we mostly worked in discotheques and dance halls, the stadiums were "dangerous" and not often used, it was more common to play in theatres or Palasport [Sports arenas].
9 - Did you have any more relations with Sardinia? Did you know about the death of Francesco last year?
Yes, I knew about his death through some friends living in Sardinia. By the way I work since 1982 with a flutist from Cagliari, Andrea Ortu, with which I made various works and lots of concerts, and I organized there the festival "Sui Sentieri della Fantasia" for eight years. I met Francesco for the last time in the early 90's, I was at his home in Santa Giusta and it was nice to see such a beautiful and pure artist.

Original keyboardist Pier Paderni has a site at http://it.dada.net/freeweb/pierpaderni/

Thanks to Pier Paderni for help, information and the detailed interview, and to Paolo Mura, Jacopo Marchetti, Fabio Marchignoli, Federico Bordo, Alessio Saba, John Elvis Gualtieri, for pictures and information